Abstract
Germline mutations in BRCA1 and BRCA2 account for approximately 50% of inherited breast and ovarian cancers. Three founder mutations in BRCA1/2 have been reported in Colombia, but the pattern of mutations in other cancer susceptibility genes is unknown. This study describes the frequency and type of germline mutations in hereditary breast and/or ovarian cancer genes in a referral cancer center in Colombia. Eighty-five women referred to the oncogenetics unit of the Instituto de Cancerologia Las Americas in Medellin (Colombia), meeting testing criteria for hereditary breast and ovarian cancer syndrome (NCCN 2015), who had germline testing with a commercial 25-gene hereditary cancer panel, were included in the analysis. Nineteen patients (22.4%) carried a deleterious germline mutation in a cancer susceptibility gene: BRCA1 (7), BRCA2 (8), PALB2 (1), ATM (1), MSH2 (1) and PMS2 (1). The frequency of mutations in BRCA1/2 was 17.6%. One BRCA2 mutation (c.9246dupG) was recurrent in five non-related individuals and is not previously reported in the country. Seventeen mutation-carriers had a diagnosis of breast cancer (median age of diagnosis of 36 years) and two of ovarian cancer. All BRCA1 mutation-carriers with breast cancer had triple negative tumors (median age of diagnosis of 31 years). Variants of unknown significance were reported in 35% of test results. This is the first report of a multi-gene study for hereditary breast and/or ovarian cancer in a Latin American country. We found a high frequency and a wide spectrum of germline mutations in cancer susceptibility genes in Colombian patients, some of which were not previously reported in the country. We observed a very low frequency of known Colombian founder BRCA1/2 mutations (1.2%) and we found mutations in other genes such as PALB2, ATM, MSH2 and PMS2. Our results highlight the importance of performing multi-gene panel testing, including comprehensive BRCA1/2 analysis (full gene sequencing and large rearrangement analysis), in high-risk breast and/or ovarian cancer patients in Colombia.
Access options
Buy single article
Instant access to the full article PDF.
US$ 39.95
Tax calculation will be finalised during checkout.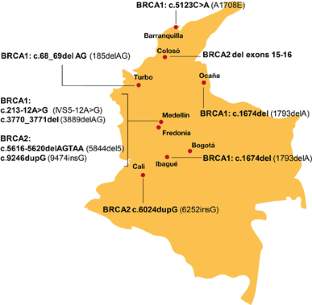 References
1.

Foulkes WD (2008) Inherited susceptibility to common cancers. N Engl J Med 359:2143–2153

2.

Castéra L, Krieger S, Rousselin A et al (2014) Next-generation sequencing for the diagnosis of hereditary breast and ovarian cancer using genomic capture targeting multiple candidate genes. Eur J Hum Genet 22:1305–1313

3.

van der Groep P, van der Wall E, van Diest PJ (2011) Pathology of hereditary breast cancer. Cell Oncol (Dordr) 34: 71–88

4.

Walsh T, Casadei S, Lee MK et al (2011) Mutations in 12 genes for inherited ovarian, fallopian tube, and peritoneal carcinoma identified by massively parallel sequencing. Proc Natl Acad Sci USA 108:18032–18037

5.

Daly MB, Pilarski R, Axilbund JE et al (2016) Genetic/familial high-risk assessment: breast and ovarian, version 2.2015. J Natl Compr Canc Netw 14:153–162

6.

Ferla R, Calò V, Cascio S et al (2007) Founder mutations in BRCA1 and BRCA2 genes. Ann Oncol 18(6):vi93–vi98

7.

Villarreal-Garza C, Alvarez-Gómez RM, Pérez-Plasencia C et al (2015) Significant clinical impact of recurrent BRCA1 and BRCA2 mutations in Mexico. Cancer 121:372–378

8.

Ossa CA, Torres D (2016) Founder and recurrent mutations in BRCA1 and BRCA2 Genes in Latin American countries: state of the art and literature review. Oncologist 21:832–839

9.

Torres D, Rashid MU, Gil F et al (2007) High proportion of BRCA1/2 founder mutations in hispanic breast/ovarian cancer families from Colombia. Breast Cancer Res Treat 103:225–232

10.

Hernández JE, Llacuachaqui M, Palacio GV et al (2014) Prevalence of BRCA1 and BRCA2 mutations in unselected breast cancer patients from medellín, Colombia. Hered Cancer Clin Pract 12:11

11.

Ruiz-Linares A, Adhikari K, Acuña-Alonzo V et al (2014) Admixture in Latin America: geographic structure, phenotypic diversity and self-perception of ancestry based on 7342 individuals. PLoS Genet 10:e1004572

12.

Rojas W, Parra MV, Campo O et al (2010) Genetic make up and structure of Colombian populations by means of uniparental and biparental DNA markers. Am J Phys Anthropol 143:13–20

13.

Solano AR, Cardoso FC, Romano V et al (2016) Spectrum of BRCA1/2 variants in 940 patients from Argentina including novel, deleterious and recurrent germline mutations: impact on healthcare and clinical practice. Oncotarget. doi: 10.18632/oncotarget.10814

14.

Alemar B, Herzog J, Brinckmann Oliveira Netto C et al (2016) Prevalence of Hispanic BRCA1 and BRCA2 mutations among hereditary breast and ovarian cancer patients from Brazil reveals differences among Latin American populations. Cancer Genet. doi: 10.1016/j.cancergen.2016.06.008

15.

Gutiérrez-Enríquez S, de la Hoya M, Martínez-Bouzas C et al (2007) Screening for large rearrangements of the BRCA2 gene in Spanish families with breast/ovarian cancer. Breast Cancer Res Treat 103:103–107

16.

Vasen HF, Mecklin JP, Khan PM, Lynch HT (1991) The International Collaborative Group on Hereditary Non-Polyposis Colorectal Cancer (ICG-HNPCC). Dis Colon Rectum 34:424–425

17.

Vasen HF, Watson P, Mecklin JP, Lynch HT (1999) New clinical criteria for hereditary nonpolyposis colorectal cancer (HNPCC, Lynch syndrome) proposed by the International Collaborative group on HNPCC. Gastroenterology 116:1453–1456

18.

Rodríguez AO, Llacuachaqui M, Pardo GG et al (2012) BRCA1 and BRCA2 mutations among ovarian cancer patients from Colombia. Gynecol Oncol 124:236–243

19.

Hall MJ, Reid JE, Burbidge LA et al (2009) BRCA1 and BRCA2 mutations in women of different ethnicities undergoing testing for hereditary breast-ovarian cancer. Cancer 115:2222–2233

20.

Dutil J, Golubeva VA, Pacheco-Torres AL, Diaz-Zabala HJ, Matta JL, Monteiro AN (2015) The spectrum of BRCA1 and BRCA2 alleles in Latin America and the Caribbean: a clinical perspective. Breast Cancer Res Treat 154:441–453

21.

Dean M, Boland J, Yeager M et al (2015) Addressing health disparities in Hispanic breast cancer: accurate and inexpensive sequencing of BRCA1 and BRCA2. Gigascience 4:50

22.

Vogel KJ, Atchley DP, Erlichman J et al (2007) BRCA1 and BRCA2 genetic testing in Hispanic patients: mutation prevalence and evaluation of the BRCAPRO risk assessment model. J Clin Oncol 25:4635–4641

23.

Weitzel JN, Lagos V, Blazer KR et al (2005) Prevalence of BRCA mutations and founder effect in high-risk Hispanic families. Cancer Epidemiol Biomarkers Prev 14:1666–1671

24.

Weitzel JN, Clague J, Martir-Negron A et al (2013) Prevalence and type of BRCA mutations in Hispanics undergoing genetic cancer risk assessment in the southwestern United States: a report from the clinical cancer genetics community research network. J Clin Oncol 31:210–216

25.

Lagos-Jaramillo VI, Press MF, Ricker CN, Dubeau L, Mai PL, Weitzel JN (2011) Pathological characteristics of BRCA-associated breast cancers in Hispanics. Breast Cancer Res Treat 130:281–289

26.

Adhikari K, Mendoza-Revilla J, Chacón-Duque JC, Fuentes-Guajardo M, Ruiz-Linares A (2016) Admixture in Latin America. Curr Opin Genet Dev 41:106–114

27.

Lynce F, Isaacs C (2016) How far do we go with genetic evaluation? gene, panel, and tumor testing. Am Soc Clin Oncol Educ Book 35:e72–e78

28.

Bravo LE, García LS, Carrascal E, Rubiano J (2014) Burden of breast cancer in Cali, Colombia: 1962–2012. Salud Publica Mex 56:448–456

29.

Robledo JF, Caicedo, J.J, Suarez R.D (2005) Análisis de sobrevida en una cohorte de 1328 pacientes con carcinoma de seno. Revista Colombiana de Cirugía 20, 4–20
Acknowledgements
This study was supported and funded by the Instituto de Cancerologia Las Americas and the Comité para el Desarollo de la Investigación—CODI, CPT 1229, Universidad de Antioquia. We also thank the team of the Instituto de Cancerologia Las Americas: Dr. Mauricio Borrero, Dr. Fernando Herazo, Dr. Gonzalo A. Angel, Dr. Rene Pareja, Dr. Gabriel J. Rendon, Dr. Luis J. Palacios, Dr. Maria E. Montoya, Dr. Diego M. Gonzalez, Dr. Luz D. Suarez, Dr. Alejo Jimenez, Dr. Eduardo Gutierrez, Dr. Leon D. Ortiz, Dr. Pedro A. Reyes, Dr. Adolfo L. Lopez, Dr. Aminta Perez, Dr. Franz Usuga, Dr. Isabel C. Duque, Dr. Lina M. Arbelaez, Dr. Joaquin P. Rueda, Dr. David A. Mosquera, Paula Arboleda, Alejandra Saldarriaga, Adine Carvajal, Viviana Sanchez, Angela Estrada and Tatiana Gutierrez.
Authors contributions
AMCR and AO drafted the manuscript. AMCR performed Genetic Counseling of the patients. All authors revised the article critically and approved the final manuscript.
Ethics declarations
Conflict of interest
AMCR received financial support from Gencell for attending the meeting "IARC 2016: Global Cancer, Ocurrence, Causes and Avenues to Prevention" in France and the "XIV Congreso Nacional y VIII Congreso Internacional de Genética Humana" in Colombia in 2016. The other co-authors declare that they have no conflict of interest.
Ethical approval
All procedures performed involving human participants were in accordance with the ethical standards of the institutional and with the 1964 Helsinki declaration and its later amendments or comparable ethical standards. Informed consent was obtained from all individual participants included in the study.
About this article
Cite this article
Cock-Rada, A.M., Ossa, C.A., Garcia, H.I. et al. A multi-gene panel study in hereditary breast and ovarian cancer in Colombia. Familial Cancer 17, 23–30 (2018). https://doi.org/10.1007/s10689-017-0004-z
Keywords
Hereditary breast and/or ovarian cancer

Multi-gene cancer panels

BRCA1

BRCA2

Latin America

Hispanic