Abstract
Background: Family health history (FHH) is an underutilized tool in primary care to identify and risk-stratify individuals with increased cancer risk. Objective: Evaluate the influence of patient education on quantity and quality of FHH entered into a primary care-based software program, and impact on the program's cancer risk management recommendations. Design: Two primary care practices within a larger type II hybrid implementation-effectiveness controlled clinical trial. Participants: English speaking non-adopted patients with a well visit appointment December 2012–March 2013. Interventions: One to two weeks prior to their well visit appointment, participants entered their FHH into the program. Participants were then provided educational materials describing key FHH components. They were instructed to use the interval to collect additional FHH information. Patients then returned for their scheduled appointment, and updated their FHH with any new information. Main Measures: Percentage per pedigree of relatives meeting individual quality criteria. Changes made after patient education and changes to recommendations for surveillance, chemoprevention or genetic counseling referral. Key Results: Post patient education, pedigrees exhibited a greater percentage (per pedigree) of: deceased relatives with age at death (84 vs. 81 % p = 0.02), deceased relatives with cause of death (91 vs. 87 % p = 0.02), relatives with a named health condition (45 vs. 42 % p = 0.002), and a greater percentage of relatives with high quality records (91 vs. 89 % p = 0.02). Of 43 participants with pedigree changes that could trigger changes in risk stratified prevention recommendations, 12 participants (28 %) received such changes. Conclusions: Patient education improves FHH collection and subsequent risk stratification utilized in providing actionable evidence-based care recommendations for cancer risk management.
Access options
Buy single article
Instant access to the full article PDF.
US$ 39.95
Tax calculation will be finalised during checkout.
Subscribe to journal
Immediate online access to all issues from 2019. Subscription will auto renew annually.
US$ 79
Tax calculation will be finalised during checkout.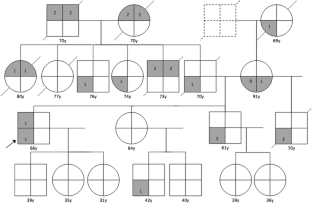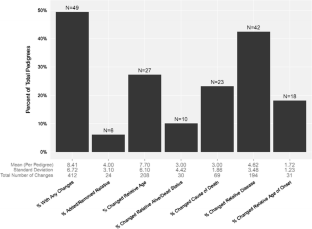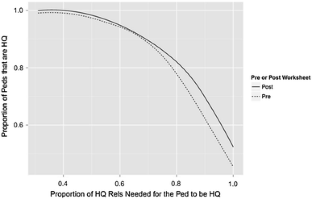 References
1.

Scheuner MT, Wang SJ, Raffel LJ, Larabell SK, Rotter JI (1997) Family history: a comprehensive genetic risk assessment method for the chronic conditions of adulthood. Am J Med Genet 71(3):315–324

2.

Scheuner MT, Whitworth WC, McGruder H, Yoon PW, Khoury MJ (2006) Familial risk assessment for early-onset coronary heart disease. Genet Med 8(8):525–531. doi:10.1097/01.gim.0000232480.00293.00

3.

Hariri S, Yoon PW, Qureshi N, Valdez R, Scheuner MT, Khoury MJ (2006) Family history of type 2 diabetes: a population-based screening tool for prevention? Genet Med 8(2):102–108. doi:http://www.ncbi.nlm.nih.gov/pubmed/16481893

4.

Valdez R, Yoon PW, Liu T, Khoury MJ (2007) Family history and prevalence of diabetes in the U.S. population: the 6-year results from the National Health and Nutrition Examination Survey (1999–2004). Diabetes Care 30(10):2517–2522. doi:10.2337/dc07-0720

5.

Acheson L (2010) Family history and genetic testing for cancer risk. American family physician 81(8):934–938; author reply 934–938

6.

Qureshi N, Armstrong S, Dhiman P, Saukko P, Middlemass J, Evans PH, Kai J (2012) Effect of adding systematic family history enquiry to cardiovascular disease risk assessment in primary care: a matched-pair, cluster randomized trial. Ann Intern Med 156(4):253–262. doi:10.7326/0003-4819-156-4-201202210-00002

7.

Hayflick SJ, Eiff MP, Carpenter L, Steinberger J (1998) Primary care physicians' utilization and perceptions of genetics services. Genet Med Off J Am Coll Med Genet 1(1):13–21. doi:10.1097/00125817-199811000-00005

8.

Levin B, Lieberman DA, McFarland B, Smith RA, Brooks D, Andrews KS, Dash C, Giardiello FM, Glick S, Levin TR, Pickhardt P, Rex DK, Thorson A, Winawer SJ, American Cancer Society Colorectal Cancer Advisory G, Force USM-ST, American College of Radiology Colon Cancer C (2008) Screening and surveillance for the early detection of colorectal cancer and adenomatous polyps, 2008: a joint guideline from the American Cancer Society, the US Multi-Society Task Force on Colorectal Cancer, and the American College of Radiology. CA Cancer J Clin 58(3):130–160. doi:10.3322/CA 2007.0018

9.

Smith RA, Cokkinides V, Brawley OW (2008) Cancer screening in the United States, 2008: a review of current American Cancer Society guidelines and cancer screening issues. CA Cancer J Clin 58(3):161–179. doi:10.3322/CA.2007.0017

10.

Greenland P, Alpert JS, Beller GA, Benjamin EJ, Budoff MJ, Fayad ZA, Foster E, Hlatky MA, Hodgson JM, Kushner FG, Lauer MS, Shaw LJ, Smith SC Jr, Taylor AJ, Weintraub WS, Wenger NK, Jacobs AK, American College of Cardiology Foundation/American Heart Association Task Force on Practice G (2010) 2010 ACCF/AHA guideline for assessment of cardiovascular risk in asymptomatic adults: a report of the American College of Cardiology Foundation/American Heart Association Task Force on Practice Guidelines. Circulation 122(25):e584–e636. doi:10.1161/CIR.0b013e3182051b4c

11.

American Diabetes A (2011) Standards of medical care in diabetes—2011. Diabetes Care 34(Suppl 1):S11–S61. doi:10.2337/dc11-S011

12.

Bennett RL (2004) The family medical history. Primary Care 31 (3):479–495, vii–viii. doi:10.1016/j.pop.2004.05.004

13.

Guttmacher AE, Porteous ME, McInerney JD (2007) Educating health-care professionals about genetics and genomics. Nat Rev Genet 8(2):151–157. doi:10.1038/nrg2007

14.

Qureshi N, Carroll JC, Wilson B, Santaguida P, Allanson J, Brouwers M, Raina P (2009) The current state of cancer family history collection tools in primary care: a systematic review. Genet Med 11(7):495–506. doi:10.1097/GIM.0b013e3181a7e8e0

15.

Berg AO, Baird MA, Botkin JR, Driscoll DA, Fishman PA, Guarino PD, Hiatt RA, Jarvik GP, Millon-Underwood S, Morgan TM, Mulvihill JJ, Pollin TI, Schimmel SR, Stefanek ME, Vollmer WM, Williams JK (2009) National Institutes of Health State-of-the-Science Conference Statement: family history and improving health. Ann Intern Med 151:878–885. doi:10.1059/0003-4819-151-12-200912150-00165

16.

Rich EC, Burke W, Heaton CJ, Haga S, Pinsky L, Short MP, Acheson L (2004) Reconsidering the family history in primary care. J Gen Intern Med 19(3):273–280

17.

Watson EK, Shickle D, Qureshi N, Emery J, Austoker J (1999) The 'new genetics' and primary care: GPs' views on their role and their educational needs. Fam Pract 16(4):420–425

18.

Acton RT, Burst NM, Casebeer L, Ferguson SM, Greene P, Laird BL, Leviton L (2000) Knowledge, attitudes, and behaviors of Alabama's primary care physicians regarding cancer genetics. Acad Med 75(8):850–852

19.

Fry A, Campbell H, Gudmunsdottir H, Rush R, Porteous M, Gorman D, Cull A (1999) GPs' views on their role in cancer genetics services and current practice. Fam Pract 16(5):468–474

20.

Acheson LS, Wiesner GL, Zyzanski SJ, Goodwin MA, Stange KC (2000) Family history-taking in community family practice: implications for genetic screening. Genet Med 2(3):180–185. doi:http://www.ncbi.nlm.nih.gov/pubmed/11256663

21.

Jaen CR, Stange KC, Nutting PA (1994) Competing demands of primary care: a model for the delivery of clinical preventive services. J Fam Pract 38(2):166–171

22.

Qureshi N, Wilson B, Santaguida P, Little J, Carroll J, Allanson J, Raina P (2009) Family history and improving health. Evid Rep Technol Assess (Full Rep) 186:1–135

23.

Feero WG, Bigley MB, Brinner KM (2008) New standards and enhanced utility for family health history information in the electronic health record: an update from the American Health Information Community's Family Health History Multi-Stakeholder Workgroup. J Am Med Inform Assoc 15(6):723–728. doi:10.1197/jamia.M2793

24.

Powell KP, Christianson CA, Hahn SE, Dave G, Evans LR, Blanton SH, Hauser ER, Agbaje AB, Orlando LA, Ginsburg GS, Hinrich VC (2013) Collection of family health history for assessment of chronic disease risk in primary care. NCMJ 74(4):279–286

25.

Christianson CA, Powell KP, Hahn SE, Blanton SH, Bogacik J, Henrich VC (2012) The use of a family history risk assessment tool within a community health care system: views of primary care providers. J Genet Couns. doi:10.1007/s10897-011-9479-1

26.

Orlando LA, Henrich VC, Hauser ER, Wilson C, Ginsburg GS (2013) The genomic medicine model: an integrated approach to implementation of family health history in primary care. Personal Med 10(3):295–306. doi:10.2217/pme.13.20

27.

Orlando LA, Buchanan AH, Hahn SE, Christianson CA, Powell KP, Skinner CS, Chesnut B, Blach C, Due B, Ginsburg GS, Henrich VC (2013) Development and validation of a primary care-based family health history and decision support program (MeTree©). NCMJ 74(4):287–296

28.

Green MJ, Peterson SK, Baker MW, Friedman LC, Harper GR, Rubinstein WS, Peters JA, Mauger DT (2005) Use of an educational computer program before genetic counseling for breast cancer susceptibility: effects on duration and content of counseling sessions. Genet Med 7(4):221–229. doi:http://www.ncbi.nlm.nih.gov/pubmed/15834239

29.

Meilleur KG, Littleton-Kearney MT (2009) Interventions to improve patient education regarding multifactorial genetic conditions: a systematic review. Am J Med Genet A 149A(4):819–830. doi:10.1002/ajmg.a.32723

30.

Cohen SA, McIlvried DE (2011) Impact of computer-assisted data collection, evaluation and management on the cancer genetic counselor's time providing patient care. Fam Cancer 10(2):381–389. doi:10.1007/s10689-011-9417-2

31.

Albada A, Ausems MG, Otten R, Bensing JM, van Dulmen S (2011) Use and evaluation of an individually tailored website for counselees prior to breast cancer genetic counseling. J Cancer Educ 26(4):670–681. doi:10.1007/s13187-011-0227-x

32.

Orlando LA, Hauser ER, Christianson C, Powell KP, Buchanan AH, Chesnut B, Agbaje AB, Henrich VC, Ginsburg G (2011) Protocol for implementation of family health history collection and decision support into primary care using a computerized family health history system. BMC Health Serv Res 11:264. doi:10.1186/1472-6963-11-264

33.

R Core Team (2013) R: a language and environment for statistical computing. R foundation for statistical computing. http://www.R-project.org. Accessed 2013

34.

Wu RW, Orlando LA, Himmel T, Buchanan AH, Powell KP, Hauser ER, Agbaje A, Henrich VC, Ginsburg GS (2013) Patient and primary care provider experience using a family health history collection, risk stratification, and clinical decision support tool. BMC Family Pract 14:111
Acknowledgments
The authors received funds from Department of Defense.
Conflict of interest
None.
Additional information
Study registry number: NCT 01372553
Electronic supplementary material
About this article
Cite this article
Beadles, C.A., Ryanne Wu, R., Himmel, T. et al. Providing patient education: impact on quantity and quality of family health history collection. Familial Cancer 13, 325–332 (2014). https://doi.org/10.1007/s10689-014-9701-z
Keywords
Family history

Patient education

Risk assessment

Clinical decision support