Abstract
Genetic counseling (GC) and genetic testing are vital risk management strategies in hereditary breast and ovarian cancer (HBOC) syndromes. Hitherto, cancer genetic testing amongst Asians has been described only in developed and high-income Asian countries. We studied the uptake and acceptance of GC and genetic testing services to Asian BRCA carriers in a middle-income country. A total of 363 patients were tested by full sequencing and large rearrangement analysis of both BRCA1 and BRCA2 genes in the Malaysian Breast Cancer (MyBrCa) Genetic Study. Of these, 49 index patients (13.5%) were found to carry deleterious mutations. GC pre- and post- result disclosures were provided and these groups of patients and their families were studied. GC and genetic testing were accepted by 82% of Malaysian patients at high risk for HBOC syndromes. However, risk assessment was limited by large, geographically dispersed, often polygamous or polyandrous families, and the lack of complete cancer registry. Cultural taboos about cancer diagnoses, social marginalization and lack of regulatory control of genetic discrimination were significant concerns. Only 78% of index patients informed their families of their risks and 11% of relatives came forward when offered free counseling and testing. Even when GC and genetic testing are provided at no cost, there remain significant societal and regulatory barriers to effective cancer genetic services in this underserved Asian population. Families believe there is a need for regulatory protection against genetic discrimination. Further studies are needed in the area of increasing awareness about the potential benefits of GC and genetic testing in Asians.
This is a preview of subscription content,
to check access.
Access this article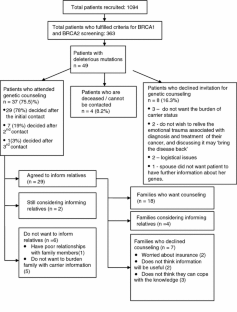 Similar content being viewed by others
References
Parkin DM (2000) Global cancer statistics in the year 2000. Lancet Oncol 2(9):533–543

Huo D, Olopade OI (2007) Genetic testing in diverse populations: are researchers doing enough to get out the correct message? JAMA 298(24):2910–2911

Simon MS, Petrucelli N (2009) Hereditary breast and ovarian cancer syndrome: the impact of race on uptake of genetic counseling and testing. Methods Mol Biol 471:487–500

Palmero EI, Ashton-Prolla P, da Rocha JC et al (2007) Clinical characterization and risk profile of individuals seeking genetic counseling for hereditary breast cancer in Brazil. J Genet Couns 16(3):363–371

Barlow-Stewart K, Yeo SS, Meiser B et al (2006) Toward cultural competence in cancer genetic counseling and genetics education: lessons learned from Chinese-Australians. Genet Med 8(1):24–32

Armstrong K, Micco E, Carney A et al (2005) Racial differences in the use of BRCA1/2 testing among women with a family history of breast or ovarian cancer. JAMA 293(14):1729–1736

Halbert CH, Kessler L, Stopfer JE et al (2006) Low rates of acceptance of BRCA1 and BRCA2 test results among African American women at increased risk for hereditary breast-ovarian cancer. Genet Med 8(9):576–582

Hall MJ, Reid JE, Burbidge LA et al (2009) BRCA1 and BRCA2 mutations in women of different ethnicities undergoing testing for hereditary breast-ovarian cancer. Cancer 115(10):2222–2233

Lagos VI, Perez MA, Ricker CN et al (2008) Social-cognitive aspects of underserved Latinas preparing to undergo genetic cancer risk assessment for hereditary breast and ovarian cancer. Psycho-oncology 17(8):774–782

Susswein LR, Skrzynia C, Lange LA et al (2008) Increased uptake of BRCA1/2 genetic testing among African American women with a recent diagnosis of breast cancer. J Clin Oncol 26(1):32–36

Chin TM, Tan SH, Lim SE et al (2005) Acceptance, motivators, and barriers in attending breast cancer genetic counseling in Asians. Cancer Detect Prev 29(5):412–418

Zhang WJ, Gao YJ, Li QB et al (2006) Breast cancer in China: demand for genetic counseling and genetic testing. Genet Med 8(3):196–197

Thirthagiri E, Lee SY, Kang P et al (2008) Evaluation of BRCA1 and BRCA2 mutations and risk-prediction models in a typical Asian country (Malaysia) with a relatively low incidence of breast cancer. Breast Cancer Res 10(4):R59

Toh GT, Kang P, Lee SS et al (2008) BRCA1 and BRCA2 germline mutations in Malaysian women with early-onset breast cancer without a family history. PLoS One 3(4):e2024

Kang P, Mariapun S, Phuah SY et al (2010) Large BRCA1 and BRCA2 genomic rearrangements in Malaysian high risk breast-ovarian cancer families. Breast Cancer Res Treat. doi:10.1007/s10549-010-1018-521

Purnomosari D, Pals G, Wahyono A et al (2007) BRCA1 and BRCA2 germline mutation analysis in the Indonesian population. Breast Cancer Res Treat 106(2):297–304

Tang NL, Choy KW, Pang CP et al (2001) Prevalence of breast cancer predisposition gene mutations in Chinese women and guidelines for genetic testing. Clin Chim Acta 313(1–2):179–185

Hedau S, Jain N, Husain SA et al (2004) Novel germline mutations in breast cancer susceptibility genes BRCA1, BRCA2 and p53 gene in breast cancer patients from India. Breast Cancer Res Treat 88(2):177–186

The General Report of the Population and Housing Census (2000) Department of Statistics, Malaysia

Lim GCC, Yahaya H (2008) Third report of the national cancer registry: cancer incidence in Malaysia (2003–2005): ministry of health, Malaysia

Heshka JT, Palleschi C, Howley H et al (2008) A systematic review of perceived risks, psychological and behavioral impacts of genetic testing. Genet Med 10(1):19–32

Meiser B, Gaff C, Julian-Reynier C et al (2006) International perspectives on genetic counseling and testing for breast cancer risk. Breast Dis 27:109–125

Vadaparampil ST, Ropka M, Stefanek ME (2005) Measurement of psychological factors associated with genetic testing for hereditary breast, ovarian and colon cancers. Fam Cancer 4(2):195–206

Keogh LA, Southey MC, Maskiell J et al (2004) Uptake of offer to receive genetic information about BRCA1 and BRCA2 mutations in an Australian population-based study. Cancer Epidemiol Biomarkers Prev 13(12):2258–2263

Finlay E, Stopfer JE, Burlingame E et al (2008) Factors determining dissemination of results and uptake of genetic testing in families with known BRCA1/2 mutations. Genet Test 12(1):81–91

Murff HJ, Byrne D, Haas JS et al (2005) Race and family history assessment for breast cancer. J Gen Intern Med 20(1):75–80

Qureshi N, Carroll JC, Wilson B et al (2009) The current state of cancer family history collection tools in primary care: a systematic review. Genet Med 11(7):495–506

Murff HJ, Spigel DR, Syngal S (2004) Does this patient have a family history of cancer? An evidence-based analysis of the accuracy of family cancer history. JAMA 292(12):1480–1489

Fortuny D, Balmaña J, Graña B et al (2009) Opinion about reproductive decision making among individuals undergoing BRCA1/2 genetic testing in a multicentre Spanish cohort. Hum Reprod 24(4):1000–1006

Menon U, Harper J, Sharma A et al (2007) Views of BRCA gene mutation carriers on preimplantation genetic diagnosis as a reproductive option for hereditary breast and ovarian cancer. Hum Reprod 22(6):1573–1577

Douglas HA, Hamilton RJ, Grubs RE (2009) The effect of BRCA gene testing on family relationships: a thematic analysis of qualitative interviews. J Genet Couns 18(5):418–435
Acknowledgments
The study was approved by the University Malaya Medical Centre Ethics Committee and all participants gave informed consent before taking part in the research. This study was funded by the Ministry of Science, Technology and Innovation, University Malaya and Cancer Research Initiatives Foundation. The study funders did not have any role in the study design; collection, analysis and interpretation of data; in the writing of the report; and in the decision to submit the article for publication.
Conflict of interest
All authors declare that the answer to the questions on your competing interest form are all "No" and therefore have nothing to declare.
Additional information
Sook-Yee Yoon and Meow-Keong Thong contributed equally.
Researchers are independent from the funders.
All authors had full access to all of the data in the study and can take responsibility for the integrity of the data and the accuracy of the data analysis.
About this article
Cite this article
Yoon, SY., Thong, MK., Taib, N.A.M. et al. Genetic counseling for patients and families with hereditary breast and ovarian cancer in a developing Asian country: an observational descriptive study. Familial Cancer 10, 199–205 (2011). https://doi.org/10.1007/s10689-011-9420-7
Published:

Issue Date:

DOI: https://doi.org/10.1007/s10689-011-9420-7
Keywords