Abstract
Temporary changes in biological state, such as hunger, can impact decision making differently for men and women. Food scarcity is correlated with a host of negative economic outcomes. Two explanations for this correlation are that hunger affects economic preferences directly or that hunger creates a mindset that focuses on scarcity management to the detriment of other decisions. To test these predictions, we conduct a lab-in-the-field experiment in a health screening clinic in Shanghai, recruiting participants who finish their annual physical exam either before or after they have eaten breakfast. We compare the hungry and sated groups on their risk, time and generosity preferences as well as their cognitive performance. Our results show that men and women respond to hunger in opposite directions, thus hunger reduces the gender gap in decision quality, risk aversion and cognitive performance, but creates one in generosity. Finally, we examine several biomarkers and find that higher blood lipid levels are correlated with greater choice inconsistency, risk aversion and generosity. We contribute to emerging insights on the biological foundations for economic preferences and outcomes.
Access options
Buy single article
Instant access to the full article PDF.
US$ 39.95
Tax calculation will be finalised during checkout.
Subscribe to journal
Immediate online access to all issues from 2019. Subscription will auto renew annually.
US$ 79
Tax calculation will be finalised during checkout.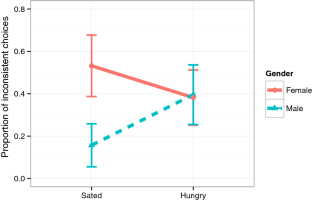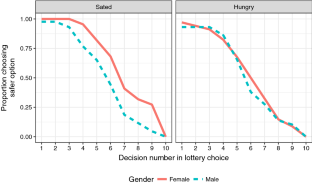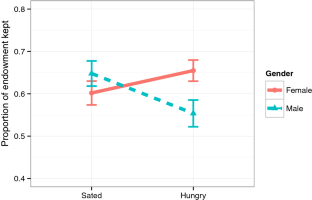 Notes
1.

Using micro-level data, Kearney (2005) demonstrates that household lottery spending is financed primarily by a reduction in non-gambling expenditures. In particular, low-income households experience significant declines in expenditures on food, rent, mortgage, and other bills.

2.

The brain consumes about 20% of the energy used by the body even though it accounts for only about 2% of the body's mass (Fonseca-Azevedo and Herculano-Houzel 2012). For this reason it is considered one of the largest consumers of energy in the body.

3.

Another possible mechanism for why hunger could impact decision quality is that hunger creates stress. This stress, in turn, lowers decision quality (Haushofer and Fehr 2014). In this paper, we explore the mind-set hypothesis in several ways but do not directly measure stress.

4.

When we review the literature, we specify a study's sample size when it is below 100, an admittedly arbitrary cutoff.

5.

The body's quantity of glucose increases with eating, and as such, we include glucose manipulations as part of our review. Here, we focus on those studies where glucose levels are manipulated experimentally with food or liquid intake.

6.

Related to our study, Cassar et al. (2016) find that the gender gap in competitiveness disappears when women compete for a bookstore voucher (instead of cash), which can be used to benefit their children.

7.

One of the unique features of China's health insurance system is that annual health checkups and other preventive health care procedures are not covered by the national health insurance. Instead, they are provided by employers as part of an employee's benefit package. On the supply side, private health clinics provide these annual health checkups. The largest of these private health clinic chains is our research partner, MeiNian.

8.

Previous work testing for glucose tolerance among active and sedentary people, finds that the impact of ingesting glucose is present at 30 min after ingestion and as much as 2 h after ingestion (Heath et al. 1983). Further, that this pattern of impact (30 min to 2 h after) is not affected by the activity level of the individual, but the levels of impact are. Because the time between getting breakfast and participating in a session did not exceed 2 h, we can conclude that the biological impact of eating breakfast was present during our sated treatments.

9.

The exchange rate at the time of the experiment was $1 \(= 6.25\) CNY.

10.

A bat and a ball cost 1.10 in total. The bat costs 1.00 more than the ball. How much does the ball cost? If it takes 5 machines 5 min to make 5 widgets, how long would it take 100 machines to make 100 widgets? In a lake, there is a patch of lily pads. Every day, the patch doubles in size. If it takes 48 days for the patch to cover the entire lake, how long would it take for the patch to cover half of the lake?

11.

12.

13.

Our proportion of participants exhibiting inconsistent responses is in line with that obtained in studies using non-college-student samples in developing countries, e.g., in Rwanda and Peru (55% and 52% for risk measures) (Jacobson and Petrie 2009; Ashraf et al. 2006). In comparison, the proportion of individuals displaying inconsistent behavior in US populations ranges from 8 to 30% (Holt and Laury 2002; Prasad and Salmon 2013; Dave et al. 2010).

14.

Researchers using the CTB methodology typically find very few subjects who choose an option that implies an upward-sloping demand curve. For example, Andreoni and Sprenger (2012) find that only 8/97 subjects did so. However, they caution that this relatively small percentage should be understood within the context of the fact that a high fraction of subjects (37% in the 2012 study) have no interior choices. Cheung (2015), Ashton (2014) and Andreoni et al. (2015) have similar findings.

15.

Several comments have been published regarding this measure (Cheung 2015; Harrison et al. 2013; Epper and Fehr-Duda 2015; Miao and Zhong 2015). These authors note that one major empirical challenge with CTB is that the majority of observations are at the edges of the choice set. This response pattern is not well suited to the nonlinear least squares modeling approach used for data analysis. It also suggests that subjects may not fully comprehend the task.

16.

Recall that the price of giving is defined as the ratio of one's own token value to the other's token value.
References
Aarøe, L., & Petersen, M. B. (2013). Hunger games: Fluctuations in blood glucose levels influence support for social welfare. Psychological Science, 24(12), 2550–2556.

Aarts, H., Dijksterhuis, A., & Vries, P. (2001). On the psychology of drinking: Being thirsty and perceptually ready. British Journal of Psychology, 92(4), 631–642.

Ai, C., & Norton, E. C. (2003). Interaction terms in logit and probit models. Economics Letters, 80(1), 123–129.

Andreoni, J., Kuhn, M. A., & Sprenger, C. (2013). On measuring time preferences. Technical report, National Bureau of Economic Research.

Andreoni, J., Kuhn, M. A., & Sprenger, C. (2015). Measuring time preferences: A comparison of experimental methods. Journal of Economic Behavior and Organization, 116, 451–464.

Andreoni, J., & Miller, J. (2002). Giving according to GARP: An experimental test of the consistency of preferences for altruism. Econometrica, 70(2), 737–753.

Andreoni, J., & Sprenger, C. (2012). Estimating time preferences from convex budgets. The American Economic Review, 102, 3333–3356.

Andreoni, J., & Vesterlund, L. (2001). Which is the fair sex? Gender differences in altruism. The Quarterly Journal of Economics, 116(1), 293–312.

Ashraf, N., Karlan, D., & Yin, W. (2006). Tying Odysseus to the mast: Evidence from a commitment savings product in the Philippines. The Quarterly Journal of Economics, 121, 635–672.

Ashton, L. (2014). Hunger Games: Does Hunger and cognitive fatigue affect time preferences? Available at SSRN 2538740.

Askew, E. W., Munro, I., Sharp, M. A., Siegel, S., Popper, R., Rose, M. S., et al. (1987). Nutritional status and physical and mental performance of special operations soldiers consuming the ration, lightweight, or the meal, ready-to-eat military field ration during a 30-day field training exercise. Technical report, DTIC Document 1987.

Baumeister, R. F., & Vohs, K. D. (2007). Self-regulation, ego depletion, and motivation. Social and Personality Psychology Compass, 1(1), 115–128.

Beasley, J. M., Ange, B. A., Anderson, C. A. M., Miller, E. R., Holbrook, J. T., & Appel, L. J. (2009). Characteristics associated with fasting appetite hormones (obestatin, ghrelin, and leptin). Obesity, 17(2), 349–354.

Benton, D., & Parker, P. Y. (1998). Breakfast, blood glucose, and cognition. The American Journal of Clinical Nutrition, 67(4), 772S–778S.

Bertrand, M. (2010). New perspectives on gender. In O. Ashenfelter & D. Card (Eds.), Handbook of labor economics (Vol. 4B, pp. 1543–1590). Amsterdam: Elsevier.

Blank, R. M., & Barr, M. S. (2009). Insufficient funds: Savings, assets, credit, and banking among low-income households. New York, NY: Russell Sage Foundation.

Caraco, T., Martindale, S., & Whittam, T. S. (1980). An empirical demonstration of risk-sensitive foraging preferences. Animal Behaviour, 28(3), 820–830.

Carroll, J. F., Kaiser, K. A., Franks, S. F., Deere, C., & Caffrey, J. L. (2007). Influence of BMI and gender on postprandial hormone responses. Obesity, 15(12), 2974–2983.

Carvalho, L. S., Meier, S., & Wang, S. W. (2016). Poverty and economic decision-making: Evidence from changes in financial resources at payday. The American Economic Review, 106(2), 260–84.

Cassar, A., Wordofa, F., & Zhang, Y. J. (2016). Competing for the benefit of offspring eliminates the gender gap in competitiveness. Proceedings of the National Academy of Sciences, 113(19), 5201–5205.

Cheung, S. L. (2015). Comment on 'risk preferences are not time preferences': On the elicitation of time preference under conditions of risk. The American Economic Review, 105(7), 2242–2260.

Cornier, M.-A., Salzberg, A. K., Endly, D. C., Bessesen, D. H., & Tregellas, J. R. (2010). Sex-based differences in the behavioral and neuronal responses to food. Physiology and Behavior, 99(4), 538–543.

Croson, R. T. A., & Gneezy, U. (2009). Gender differences in preferences. Journal of Economic Literature, 47(2), 448–474.

Danziger, S., Levav, J., & Avnaim-Pesso, L. (2011). Extraneous factors in judicial decisions. Proceedings of the National Academy of Sciences, 108(17), 6889–6892.

Dave, C., Eckel, C. C., Johnson, C. A., & Rojas, C. (2010). Eliciting risk preferences: When is simple better? Journal of Risk and Uncertainty, 41(3), 219–243.

Del Parigi, A., Chen, K., Gautier, J.-F., Salbe, A. D., Pratley, R. E., Ravussin, E., et al. (2002). Sex differences in the human brain's response to hunger and satiation. The American Journal of Clinical Nutrition, 75(6), 1017–1022.

Devore, E., Ridker, P., & Grodstein, F. (2004). O3-01-02 Plasma cholesterol levels and cognitive function in aging women. Neurobiology of Aging, 25(Suppl 2), S52 (Abstracts from the 9th International Conference on Alzheimer's Disease and Related Disorders).

Dickinson, D. L., McElroy, T., & Stroh, N. (2014). The impact of glucose on Bayesian versus heuristic-based decision making. Journal of Neuroscience, Psychology, and Economics, 7(4), 237–247.

Dohmen, T., Falk, A., Huffman, D., & Sunde, U. (2010). Are risk aversion and impatience related to cognitive ability? The American Economic Review, 100(3), 1238–60.

Dohmen, T., Falk, A., Huffman, D., Sunde, U., Schupp, J., & Wagner, G. G. (2011). Individual risk attitudes: Measurement, determinants, and behavioral consequences. Journal of the European Economic Association, 9(3), 522–550.

Eckel, C. C., & Grossman, P. J. (2008). Differences in the economic decisions of men and women: Experimental evidence. In C. R. Plott & V. L. Smith (Eds.), Handbook of experimental economics results (Vol. 1). Amsterdam: North-Holland.

Epper, T., & Fehr-Duda, H. (2015). Comment on 'risk preferences are not time preferences': Balancing on a budget line. The American Economic Review, 105(7), 2261–2271.

Fonseca-Azevedo, K., & Herculano-Houzel, S. (2012). Metabolic constraint imposes tradeoff between body size and number of brain neurons in human evolution. Proceedings of the National Academy of Sciences, 109(45), 18571–18576.

Food and Agriculture Organization. (2015). The state of food insecurity in the world.

Frank, S., Laharnar, N., Kullmann, S., Veit, R., Canova, C., & Hegner, Y. L. (2010). Processing of food pictures: Influence of hunger, gender and calorie content. In A. F. Sved & T. H. Moran (Eds.), Brain research: Neural mechanisms of ingestive behaviour and obesity (Vol. 1350, pp. 159–166). Amsterdam: Elseiver.

Frederick, S. (2005). Cognitive reflection and decision making. Journal of Economic Perspectives, 19, 25–42.

Frederick, S., Loewenstein, G., & O'Donoghue, T. (2002). Time discounting and time preference: A critical review. Journal of Economic Literature, 40, 351–401.

Gailliot, M. T., Baumeister, R. F., Nathan DeWall, C., Maner, J. K., Ashby Plant, E., Tice, D. M., et al. (2007). Self-control relies on glucose as a limited energy source: Willpower is more than a metaphor. Journal of Personality and Social Psychology, 92(2), 325.

Guiso, L., & Paiella, M. (2008). Risk aversion, wealth, and background risk. Journal of the European Economic Association, 6(6), 1109–1150.

Haier, R. J., & Benbow, C. P. (1995). Sex differences and lateralization in temporal lobe glucose metabolism during mathematical reasoning. Developmental Neuropsychology, 11(4), 405–414.

Harrison, G. W., Lau, M. I., & Rutström, E. E. (2013). Identifying time preferences with experiments: Comment. Center for the Economic Analysis of Risk, Working Paper, 9.

Haushofer, J., & Fehr, E. (2014). On the psychology of poverty. Science, 344(6186), 862–867.

Heath, G. W., Gavin, J. R, III, Hinderliter, J. M., Hagberg, J. M., Bloomfield, S. A., & Holloszy, J. O. (1983). Effects of exercise and lack of exercise on glucose tolerance and insulin sensitivity. Journal of Applied Physiology, 55(2), 512–517.

Hersch, J. (1996). Smoking, seat belts and other risky consumer decisions: Differences by gender and race. Managerial and Decision Economics, 17(5), 471–481.

Holt, C. A., & Laury, S. K. (2002). Risk aversion and incentive effects. The American Economic Review, 92(5), 1644–1655.

Jacobson, S., & Petrie, R. (2009). Learning from mistakes: What do inconsistent choices over risk tell us? Journal of Risk and Uncertainty, 38(2), 143–158.

Jensen, A. (1998). The g factor: The science of mental ability. Westport: Praeger.

Jianakoplos, N. A., & Bernasek, A. (1998). Are women more risk averse? Economic Inquiry, 36, 620–630.

Kalmijn, S., Foley, D., White, L., Burchfiel, C. M., Curb, J. D., Petrovitch, H., et al. (2000). Metabolic cardiovascular syndrome and risk of dementia in Japanese–American elderly men: The Honolulu-Asia aging study. Arteriosclerosis, Thrombosis, and Vascular Biology, 20(10), 2255–2260.

Katz, S. J., & Hofer, T. P. (1994). Socioeconomic disparities in preventive care persist despite universal coverage: Breast and cervical cancer screening in Ontario and the United States. Journal of the American Medical Association, 272(7), 530–534.

Kearney, M. S. (2005). State lotteries and consumer behavior. Journal of Public Economics, 89(11), 2269–2299.

Kim, B.-J., Carlson, O. D., Jang, H.-J., Elahi, D., Berry, C., & Egan, J. M. (2005). Peptide YY is secreted after oral glucose administration in a gender-specific manner. The Journal of Clinical Endocrinology and Metabolism, 90(12), 6665–6671.

Kivipelto, M., Helkala, E.-L., Laakso, M. P., Hänninen, T., Hallikainen, M., Alhainen, K., et al. (2001). Midlife vascular risk factors and Alzheimer's disease in later life: Longitudinal, population based study. BMJ, 322(7300), 1447–1451.

Kuhn, M. A., Kuhn, P., & Villeval, M. C. (2017). Decision-environment effects on intertemporal financial choices: How relevant are resource-depletion models? Journal of Economic Behavior and Organization, 137, 72–89.

Levy, D. J., Thavikulwat, A. C., & Glimcher, P. W. (2013). State Dependent valuation: The effect of deprivation on risk preferences. PLoS ONE, 8(1), e53978.

Mani, A., Mullainathan, S., Shafir, E., & Zhao, J. (2013). Poverty impedes cognitive function. Science, 341(6149), 976–980.

Miao, B., & Zhong, S. (2015). Comment on 'Risk preferences are not time preferences': Separating risk and time preference. The American Economic Review, 105(7), 2272–2286.

Mullainathan, S., & Shafir, E. (2013). Scarcity: Why having too little means so much. London: Macmillan.

Niederle, M. (2016). Gender. In J. H. Kagel & A. E. Roth (Eds.), The handbook of experimental economics (Vol. 2). Princeton, NJ: Princeton University Press.

Prasad, K., & Salmon, T. C. (2013). Self selection and market power in risk sharing contracts. Journal of Economic Behavior and Organization, 90, 71–86.

Radel, R., & Clément-Guillotin, C. (2012). Evidence of motivational influences in early visual perception hunger modulates conscious access. Psychological Science, 23(3), 232–234.

Schofield, H. (2014). The economic costs of low caloric intake: Evidence from India. Harvard University (Unpublished).

Shah, A. K., Mullainathan, S., & Shafir, E. (2012). Some consequences of having too little. Science, 338(6107), 682–685.

Symmonds, M., Emmanuel, J. J., Drew, M. E., Batterham, R. L., & Dolan, R. J. (2010). Metabolic state alters economic decision making under risk in humans. PLOS ONE, 5(6), 1–7. 06.

Tanaka, T., Camerer, C. F., & Nguyen, Q. (2010). Risk and time preferences: Linking experimental and household survey data from Vietnam. The American Economic Review, 100(1), 557–571.

Wang, G.-J., Volkow, N. D., Telang, F., Jayne, M., Ma, Y., Pradhan, K., et al. (2009). Evidence of gender differences in the ability to inhibit brain activation elicited by food stimulation. Proceedings of the National Academy of Sciences, 106(4), 1249–1254.

Wang, W., Zhao, D., & Wu, Z. (2001). Study of triglyceride distribution aged 35–64, and their association with other cardiovascular disease risk factors in 11 provinces. Chinese Journal of Epidemiology, 22, 26–29.

Whitmer, R. A., Sidney, S., Selby, J., Johnston, S. C., & Yaffe, K. (2005). Midlife cardiovascular risk factors and risk of dementia in late life. Neurology, 64(2), 277–281.

Yamada, H., Tymula, A., Louie, K., & Glimcher, P. W. (2013). Thirst-dependent risk preferences in monkeys identify a primitive form of wealth. Proceedings of the National Academy of Sciences, 110(39), 15788–15793.
Additional information
We would like to thank Colin Camerer, Soo Hong Chew, Uri Gneezy, Muriel Niederle, Georg Weizsäcker, Maytal Shabat-Simon, and participants at Michigan (Ross), the Jerusalem Conference on the Typologies of Bounded Rationality (2015), the International ESA meetings (Sydney, Australia, 2015) for helpful comments, Jim Andreoni, Peter Kuhn and Charles Sprenger for sharing their data and code with us, as well as Carrie Wenjing Xu, Linfeng Li and Kurtis Drodge for excellent research assistance. We thank two anonymous referees and the Editor, Lata Gangadharan, for their thoughtful and constructive comments which significantly improved the paper. The financial support from the National Science Foundation through Grant No. BCS-1111019 to Chen is gratefully acknowledged. The research has been approved by the University of Michigan IRB.
Electronic supplementary material
Below is the link to the electronic supplementary material.
About this article
Cite this article
Chen, Y., Jiang, M. & Krupka, E.L. Hunger and the gender gap. Exp Econ 22, 885–917 (2019). https://doi.org/10.1007/s10683-018-9589-9
Received:

Revised:

Accepted:

Published:

Issue Date:
Keywords
Hunger

Scarcity

Gender

Risk preference

Altruism
JEL Classification