Abstract
Environment and plant interactions are important drivers of forest community assembly and dynamics. This study explored how forest dynamics influence the phylogenetic structure of Tropical Atlantic Forests. We hypothesized that: (a) maximum diameter and maximum height are conserved traits within the phylogenetic lineages; (b) the set of dead large trees are more closely related to the set of living large trees than expected by chance; (c) mortality, recruitment and biomass variation are related to phylogenetic effects. We gathered data from 12,920 trees with diameter (DBH) ≥ 3.2 cm, from nine sites, distributed among seasonal semideciduous submontane forests, evergreen dense forests and gallery forests in Brazil. With this data we computed annual dynamic rates (mortality, recruitment, loss and gain of basal area), phylogenetic turnover and phylogenetic distance between dead and surviving trees, and recruits and surviving trees, within distinct size (DBH) classes. We found an overall tendency for higher mortality than recruitment, and higher gain than loss of basal area. Concomitantly, we detected an increase of phylogenetic clustering caused by exclusion of distant relatives, and a phylogenetic overdispersion among large trees (≥ 30 cm DBH) caused by exclusion of close relatives. We also observed high values of phylogenetic distance among recruits and surviving trees across different size classes. As the maximum height and maximum diameter are conserved functional traits, these findings indicate that negative interactions such as competition-like effects among large trees influence the phylogenetic structure and the forest dynamics, meanwhile successional change continuously excludes unfit phylogenetic lineages while recruits fit phylogenetic lineages.
Access options
Buy single article
Instant access to the full article PDF.
US$ 39.95
Tax calculation will be finalised during checkout.
Subscribe to journal
Immediate online access to all issues from 2019. Subscription will auto renew annually.
US$ 79
Tax calculation will be finalised during checkout.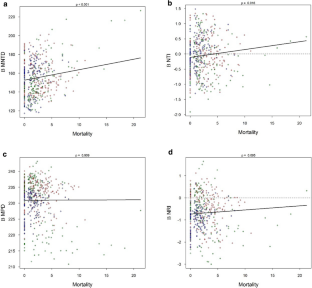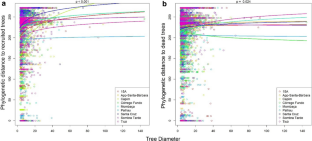 References
Bastin J-F, Barbier N, Réjou-Méchain M et al (2015) Seeing Central African forests through their largest trees. Sci Rep 5:13156. https://doi.org/10.1038/srep13156

Beaudet M, Messier C (2002) Variation in canopy openness and light transmission following selection cutting in northern hardwood stands: an assessment based on hemispherical photographs. Agric For Meteorol 110:217–228. https://doi.org/10.1016/S0168-1923(01)00289-1

Belcher JW, Keddy PA, Twolan-Strutt L (1995) Root and shoot competition intensity along a soil depth gradient. J Ecol 83:673–682

Berntson GM, Wayne PM (2000) Characterizing the size dependence of resource acquisition within crowded plant populations. Ecology 81:1072–1085

Biging GS, Dobbertin M (1992) A comparison of distance dependent competition measured for height and basal area growth of individual conifer trees. Forest Sci 38:695–720

Blomberg SP, Garland T, Ives AR (2003) Testing for phylogenetic signal in comparative data: behavioral traits are more labile. Evolution 57:717–745

Blonder B, Nogués-Bravo D, Borregaard MK et al (2015) Linking environmental filtering and disequilibrium to biogeography with a community climate framework. Ecology 96:972–985. https://doi.org/10.1890/14-0589.1

Borcard D, Gillet F, Legendre P (2011) Numerical ecology with R. Springer, New York

Brokaw NVL (1987) Gap-phase regeneration of three pioneer tree species in a tropical forest. J Ecol 75:9–19. https://doi.org/10.2307/2260533

Burns JH, Strauss SY (2012) Effects of competition on phylogenetic signal and phenotypic plasticity in plant functional traits. Ecology 93:126–137. https://doi.org/10.1890/11-0401.1

Cahill JF Jr, Kembel SW, Lamb EG, Keddy PA (2008) Does phylogenetic relatedness influence the strength of competition among vascular plants? Perspect Plant Ecol Evol Systematics 10:41–50. https://doi.org/10.1016/j.ppees.2007.10.001

Cavender-Bares J, Ackerly DD, Baum DA, Bazzaz FA (2004) Phylogenetic overdispersion in Floridian oak communities. Am Nat 163:823–843

Cavender-Bares J, Kozak KH, Fine PVA, Kembel SW (2009) The merging of community ecology and phylogenetic biology. Ecol Lett 12:693–715. https://doi.org/10.1111/j.1461-0248.2009.01314.x

Chazdon RL (2008a) Chance and determinism in tropical forest succession. In: Carson WP, Schnitzer SA (eds) Tropical forest community ecology. Blackwell Scientific, Oxford, pp 384–408

Chazdon RL (2008b) Beyond deforestation: restoring forests and ecosystem services on degraded lands. Science 320:1458–1460

Coley PD, Barone JA (1996) Herbivory and plant defenses in tropical forests. Annu Rev Ecol Syst 27:305–335

Comita LS, Muller-Landau HC, Aguilar S, Hubbell SP (2010) Asymmetric density dependence shapes species abundances in a Tropical Tree Community. Science 329:330–332

Connell JH (1971) On the role of natural enemies in preventing competitive exclusion in some marine animals and in rain forest trees. In: den Boer PJ, Gradwell G (eds) Centre for Agricultural Publishing and Documentation, Wageningen, pp 298–312

Darwin C (1859) On the origin of species by means of natural selection, or the preservation of favoured races in the struggle for life. John Murray, London

Dormann CF, McPherson JM, Araújo MB et al (2007) Methods to account for spatial autocorrelation in the analysis of species distributional data: a review. Ecography 30:609–628. https://doi.org/10.1111/j.2007.0906-7590.05171.x

Dormann CF, Elith J, Bacher S et al (2013) Collinearity: a review of methods to deal with it and a simulation study evaluating their performance. Ecography 36:027–046. https://doi.org/10.1111/j.1600-0587.2012.07348.x

Farrior CE, Dybzinski R, Simon AL, Pacala SW (2013) Competition for water and light in closed-canopy forests: a tractable model of carbon allocation with implications for carbon sinks. Am Nat 181:314–330. https://doi.org/10.1086/669153

Farrior CE, Bohlman SA, Hubbell S, Pacala SW (2016) Dominance of the suppressed: Power-law size structure in tropical forests. Science 351:2014–2016. https://doi.org/10.1126/science.aad0592

Fay MP (2010) Two-sided exact tests and matching confidence intervals for discrete data. R J 2:53–58

Fine PVA, Kembel SW (2011) Phylogenetic community structure and phylogenetic turnover across space and edaphic gradients in western Amazonian tree communities. Ecography 34:552–565. https://doi.org/10.1111/j.1600-0587.2010.06548.x

Fox J, Weisberg S (2019) An R companion to applied regression, 3rd edn. Sage, Thousand Oaks

Freckleton RP, Harvey PH, Pagel M (2002) Phylogenetic analysis and comparative data: a test and review of evidence. Am Nat 160:712–726

Gastauer M, Silva JR, Caldeira Junior CF et al (2018) Mine land rehabilitation: modern ecological approaches for more sustainable mining. J Clean Prod 172:1409–1422

Godoy O, Kraft NJB, Levine J (2014) Phylogenetic relatedness and the determinants of competitive outcomes. Ecol Lett 17:836–844. https://doi.org/10.1111/ele.12289

Goldberg D, Novoplansky A (1997) On the relative importance of competition in unproductive environments. J Ecol 85:409–418

Gravel D, Canham CD, Beaudet M, Messier C (2010) Shade tolerance, canopy gaps and mechanisms of coexistence of forest trees. Oikos 119:475–484

Grime JP (2006) Plant strategies, vegetation processes, and ecosystem properties, 2nd edn. Wiley-Blackwell, New York

Hardy OJ, Jost L (2008) Interpreting and estimating measures of community phylogenetic structuring. J Ecol 96:849–852

Harms KE, Wright SJ, Calderón O et al (2000) Pervasive density-dependent recruitment enhances seedling diversity in a tropical forest. Nature 404:493–495. https://doi.org/10.1038/35006630

Holst KK (2020) gof: model-diagnostics based on cumulative residuals. R package version 1.0.1. https://CRAN.R-project.org/package=gof

Hubbell SP, Ahumada JA, Condit R, Foster RB (2001) Local neighborhood effects on long-term survival of individual trees in a neotropical forest. Ecol Res 16:859–875. https://doi.org/10.1046/j.1440-1703.2001.00445.x

IBGE (2012) Manual Técnico da Vegetação Brasileira. IBGE, Rio de Janeiro

Iv APG (2016) An update of the Angiosperm Phylogeny Group classification for the orders and families of flowering plants. Bot J Linn Soc 181:1–20

Janzen DH (1970) Herbivores and the number of tree species in tropical forests. Am Nat 104:501–528. https://doi.org/10.1086/282687

Jin Y, Qian H (2019) V.PhyloMaker: an R package that can generate very large phylogenies for vascular plants. Ecography 42:1353–1359. https://doi.org/10.1111/ecog.04434

Kalogirou S (2019) lctools: local correlation, spatial inequalities, geographically weighted regression and other tools. R package version 0.2-7. https://CRAN.R-project.org/package=lctools

Keck F, Rimet F, Bouchez FA (2016) phylosignal: an R package to measure, test, and explore the phylogenetic signal. Ecol Evol 6:2774–2780

Keddy P (1999) Wetland restoration: the potential for assembly rules in the service of conservation. Wetlands 19:716–732. https://doi.org/10.1007/BF03161780

Kelly CK, Paterson RAA, Toensend CRR et al (2008) Phylogeny, niches, and relative abundance in natural communities. Ecology 89:962–970. https://doi.org/10.1890/07-1861.1

Kelly CK, Bowler MG, Joy JB, Williams JN (2010) Fractional abundance and the ecology of community structure. https://arxiv.org/1008.2527K

Kembel SW, Hubbell SP (2006) The phylogenetic structure of a neotropical forest tree community. Ecology 87:86–99. https://doi.org/10.1890/0012-9658(2006)87[86:TPSOAN]2.0.CO;2

Kembel SW, Cowan PD, Helmus MR et al (2010) Picante: R tools for integrating phylogenies and ecology. Bioinformatics 26:1463–1464. https://doi.org/10.1093/bioinformatics/btq166

Kraft NJB, Cornwell WK, Webb CO, Ackerly DD (2007) Trait evolution, community assembly, and the phylogenetic structure of ecological communities. Am Nat 170:271–283. https://doi.org/10.1086/519400

Kunstler G, Falster D, Coomes DA et al (2016) Plant functional traits have globally consistent effects on competition. Nature 529:1–15. https://doi.org/10.1038/nature16476

Laliberté E, Zemunik G, Turner BL (2014) Environmental filtering explains variation in plant diversity along resource gradients. Science 345:1602–1605. https://doi.org/10.1126/science.1256330

Lebrija-Trejos E, Pérez-García EA, Meave JA et al (2010) Functional traits and environmental filtering drive community assembly in a species-rich tropical system. Ecology 91:386–398

Letcher SG (2010) Phylogenetic structure of angiosperm communities during tropical forest succession. Proc R Soc Biol Sci 277:97–104. https://doi.org/10.1098/rspb.2009.0865

Letcher SG, Chazdon RL (2009) Rapid recovey of biomass, species richness and species composition in a forest chronosequence in Northeastern Costa Rica. Biotropica 41:608–617. https://doi.org/10.1111/j.1744-7429.2009.00517.x

Lin DY, Wei LJ, Ying Z (2002) Model-checking techniques based on cumulative residuals. Biometrics 58:1–12

Losos JB (2008) Phylogenetic niche conservatism, phylogenetic signal and the relationship between phylogenetic relatedness and ecological similarity among species. Ecol Lett 11:995–1003. https://doi.org/10.1111/j.1461-0248.2008.01229.x

Martin GL, Ek AR (1984) A comparison of competition measures and growth models for predicting plantation red pine diameter and height growth. For Sci 30:731–743

Mayfield MM, Levine JM (2010) Opposing effects of competitive exclusion on the phylogenetic structure of communities. Ecol Lett 13:1085–1093. https://doi.org/10.1111/j.1461-0248.2010.01509.x

McDowell NG, Beerling DJ, Breshears DD et al (2011) The interdependence of mechanisms underlying climate-driven vegetation mortality. Trends Ecol Evol 26:523–532

Mohler CL, Marks PL, Sprugel DG (1978) Stand structure and allometry of trees during self-thinning of pure stands. J Ecol 66:599–614

Münkemüller T, Lavergne S, Bzeznik B et al (2012) How to measure and test phylogenetic signal. Methods Ecol Evol 3:743–756. https://doi.org/10.1111/j.2041-210X.2012.00196.x

Muscarella R, Uriarte M, Aide TM et al (2016) Functional convergence and phylogenetic divergence during secondary succession of subtropical wet forests in Puerto Rico. J Veg Sci 27:283–294. https://doi.org/10.1111/jvs.12354

Nipperess D, Wilson P (2020) PDcalc: An implementation of the Phylogenetic Diversity (PD) calculus in R

Novotny V, Basset Y, Miller SE et al (2002) Low host specicity of herbivorous insects in a tropical forest. Nature 416:841–844

O'Brien ST, Hubbell SP, Spiro P et al (1995) Diameter, height, crown, and age relationship in eight neotropical tree species. Ecology 76:1926–1939. https://doi.org/10.1017/CBO9781107415324.004

Oldeman RAA (1989) Dynamics in tropical rain forests. In: Holm-Nielsen LB, Nielsen IC, Balslev H (eds) Tropical forest: botanical dynamics, speciation and diversity. Academic, London, pp 3–21

Pagel M (1999) Inferring the historical patterns of biological evolution. Nature 401:877–884

Peters HA (2003) Neighbour-regulated mortality: The influence of positive and negative density dependence on tree populations in species-rich tropical forests. Ecol Lett 6:757–765. https://doi.org/10.1046/j.1461-0248.2003.00492.x

Peterson BG, Carl P (2019) Performance analytics: econometric tools for performance and risk analysis. R package version 1.5.3

Pinheiro J, Bates D, DebRoy S, et al (2019) nlme: linear and nonlinear mixed effects models. R package version 3.1-140. https://CRAN.Rproject.org/package=nlme>

Poorter L, Bongers F, Aide TM et al (2016) Biomass resilience of Neotropical secondary forests. Nature 530:211–214

Qian H, Jin Y (2016) An updated megaphylogeny of plants, a tool for generating plant phylogenies and an analysis of phylogenetic community structure. J Plant Ecol 9:233–239. https://doi.org/10.1093/jpe/rtv047

R Development Core Team. (2019) R: A language and environment for statistical computing

Rangel TF, Colwell RK, Grave GR et al (2015) Phylogenetic uncertainty revisited: implications for ecological analyses. Evolution 69:1301–1312. https://doi.org/10.1111/evo.12644

Rozendall DMA, Chazdon RL (2015) Demographic drivers of tree biomass change during secondary succession in northeastern Costa Rica. Ecol Appl 25:506–516

Russel J (2020) MicEco: various functions for microbial community data. R package version 0.9.9. https://github.com/Russel88/MicEco

Sarkar D (2008) Lattice: multivariate data visualization with R. Springer, New York

Schwinning S, Kelly CK (2013) Plant competition, temporal niches and implications for productivity and adaptability to climate change in water-limited environments. Funct Ecol 27:886–897. https://doi.org/10.1111/1365-2435.12115

Segre H, Ron R, Malach ND et al (2014) Competitive exclusion, beta diversity, and deterministic vs. stochastic drivers of community assembly. Ecol Lett 17:1400–1408. https://doi.org/10.1111/ele.12343

Sheil D, May RM (1996) Mortality and recruitment rate evaluations in heterogeneous tropical forests. J Ecol 84:91–100

Sheil D, Burslem DRP, Alder D (1995) The interpretation and misinterpretation of mortality rate measures. J Ecol 83:331–333

Sheil D, Jennings S, Savill P (2000) Long-term permanent plot observations of vegetation dynamics in Budongo, a Ugandan rain forest. J Trop Ecol 16:785–800. https://doi.org/10.1017/S0266467400001723

Sinclair ARE, Byrom AE (2006) Understanding ecosystem dynamics for conservation of biota. J Anim Ecol 75:64–79. https://doi.org/10.1111/j.1365-2656.2006.01036.x

Soliveres S, Torices R, Maestre F (2012) Environmental conditions and biotic interactions acting together promote phylogenetic randomness in semi-aridplant communities: new methods help to avoid misleading conclusions. J Veg Sci 23:822–836

Stearns SC, Hoekstra RF (2005) Evolution: an introduction, 2nd edn. Oxford University Press, Oxford

Suding K, Spotswood E, Chapple D et al (2016) Ecological dynamics and ecological restoration. In: Palmer MA, Zedler JB, Falk DA (eds) Foundations of restoration ecology. Island Press/Center for Resource Economics, Washington, DC, pp 27–56

Swenson NG (2009) Phylogenetic resolution and quantifying the phylogenetic diversity and dispersion of communities. PLoS ONE. https://doi.org/10.1371/journal.pone.0004390

Swenson NG (2014) Functional and phylogenetic ecology in R. Springer, New York

Taubert F, Jahn MW, Dobner HJ et al (2015) The structure of tropical forests and sphere packings. Proc Natl Acad Sci USA 112:15125–15129

Temperton VM, Hobbs RJ, Nuttle T, Halle S (2004) Assembly rules and restoration ecology: bridging the gap between theory and practice. Island Press, Washington, D.C.

Thorpe AS, Aschehoug ET, Atwater DZ, Callaway RM (2011) Interactions among plants and evolution. J Ecol 99:729–740. https://doi.org/10.1111/j.1365-2745.2011.01802.x

Tilman D, Pacala S (1993) The maintenance of species richness in plant communities. In: Ricklefs RE, Schluter D (eds) Species diversity in ecological communities. University of Chicago Press, Chicago, pp 13–25

Violle C, Nemergut DR, Pu Z, Jiang L (2011) Phylogenetic limiting similarity and competitive exclusion. Ecol Lett 14:782–787. https://doi.org/10.1111/j.1461-0248.2011.01644.x

Webb CO, Ackerly DD, Mcpeek MA, Donoghue MJ (2002) Phylogenies and community ecology. Annu Rev Ecol Syst 33:475–505

Webb CO, Gilbert GS, Donogue MJ (2006) Phylodiversity-dependent seedling mortality, size structure, and disease in a Bornean rain forest. Ecology 87:123–131. https://doi.org/10.1890/0012-9658(2006)87

Weiner J (1990) Asymmetric competition in plant populations. Trends Ecol Evol 5:360–364. https://doi.org/10.1016/0169-5347(90)90095-U

Welden CW, Slauson WL (1986) The intensity of competition versus its importance: an overlooked distinction and some implications. Q Rev Biol 61:23–44. https://doi.org/10.1086/414724

Wiens JJ, Ackerly DD, Allen AP et al (2010) Niche conservatism as an emerging principle in ecology and conservation biology. Ecol Lett 13:1310–1324. https://doi.org/10.1111/j.1461-0248.2010.01515.x

Wright SJ (2002) Plant diversity in tropical forests: a review of mechanisms of species coexistence. Oecologia 130:1–14. https://doi.org/10.1007/s004420100809

Zhang W, Zhao J, Pan F et al (2015) Changes in nitrogen and phosphorus limitation during secondary succession in a karst region in southwest China. Plant Soil. https://doi.org/10.1007/s11104-015-2406-8
Acknowledgements
This research was funded by CAPES, FAPEMIG and Marie Curie Actions. We thank Arcelor Mittal for the support during the field campaigns, all generations of graduate students that passed by the Laboratory of Plant Ecology and Evolution of the Federal University of Viçosa who helped to compile the forest dynamics monitoring dataset that was used in this study and colleagues and partners in Germany for the sharing of great knowledge on statistical modeling. The authors declare no conflicts of interest.
Additional information
Publisher's Note
Springer Nature remains neutral with regard to jurisdictional claims in published maps and institutional affiliations.
Supplementary Information
Below is the link to the electronic supplementary material.
About this article
Cite this article
Diniz, É.S., Gastauer, M., Thiele, J. et al. Phylogenetic dynamics of Tropical Atlantic Forests. Evol Ecol 35, 65–81 (2021). https://doi.org/10.1007/s10682-020-10094-6
Received:

Accepted:

Published:

Issue Date:
Keywords
Competition

Phylogenetic overdispersion

Environmental filtering

Limiting similarity

Density-dependence