Abstract
Due to drastic changes in pollinators between native and invaded habitats, we might expect that pollinator-mediated selection on floral traits of alien plants differ from that in their native ranges. Here, through geometric morphometric tools and phenotypic selection analyses, we examined whether adaptation in flower shape and length occurred in Nicotiana glauca as a response to pollinator selection in contrasting pollination environments. We assessed populations of this plant species in the native range (South America), where plants depend on hummingbird pollination, and in two invaded areas, one where sunbirds act as pollinators (South Africa), and another where nectar feeding birds are absent and reproduction is entirely by autonomous self-pollination (Mallorca, Spain). Corolla length and shape varied significantly among pollination environments. Non-native sites were less variable and their range of variation fell within the native range of variation. Flower length in native populations and in a South African population matched the bill length of their respective pollinators. In contrast with the straight floral tubes in the native range, both non-native areas had significantly curved tubes. Curvature may improve the fit with the curved bills of sunbirds in South Africa (versus straight beaks of hummingbirds) and may enhance self-pollination in Mallorca, but this similarity between invaded areas may equally be due to drift and a shared colonization route. We found spatial variation in selection acting on corolla length but not on corolla shape. Overall, selection patterns were not consistent with floral trait variation. Although some results are consistent with both drift and selection, our study suggests that population divergence in flower shape and length is more likely the result of long-term diversifying pollinator-driven selection, which is difficult to detect by studying a single selection event.
This is a preview of subscription content,
to check access.
Access this article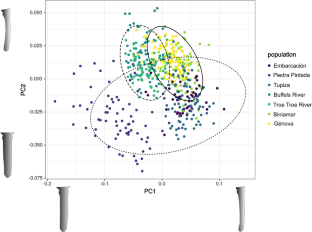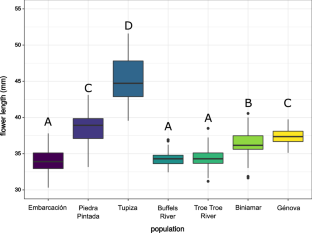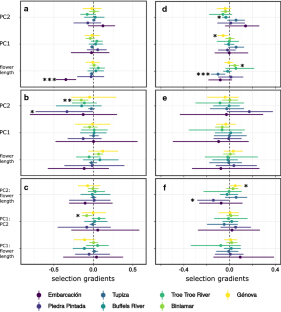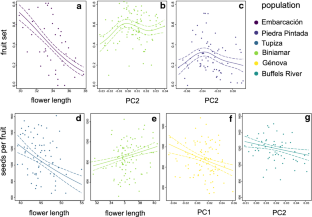 Similar content being viewed by others
References
Benítez-Vieyra S, Medina AM, Cocucci AA (2009) Variable selection patterns on the labellum shape of Geoblasta pennicillata, a sexually deceptive orchid. J Evol Biol 22:2345–2362

Benítez-Vieyra S, Glinos E, Medina AM et al (2012) Temporal variation in the selection on floral traits in Cyclopogon elatus (Orchidaceae). Evol Ecol 26:1451–1468

Bodbyl Roels SA, Kelly JK (2011) Rapid evolution caused by pollinator loss in Mimulus guttatus. Evolution 65(9):2541–2552

Bookstein FL (1997) Morphometric tools for landmark data: geometry and biology. Cambridge University Press, Cambridge

Brodie E III, Moore A, Janzen F (1995) Visualizing and quantifying natural selection. Trends Ecol Evol 10(8):313–318

Bromilow C (2001) Problem plants of South Africa. Briza Publications, Pretoria

Camargo ID, Nattero J, Careaga SA, Núñez-Farfán J (2017) Flower-level developmental plasticity to nutrient availability in Datura stramonium: implications for the mating system. Ann Bot 120(4):603–615

Campbell DR (1996) Evolution of floral traits in a hermaphroditic plant: field measurements of heritabilities and genetic correlations. Evolution 50(4):1442–1453

Campos EO, Bradshaw HD, Daniel TL (2015) Shape matters: corolla curvature improves nectar discovery in the hawkmoth Manduca sexta. Func Ecol 29:462–468

Carroll AB, Pallardy SG, Galen C (2001) Drought stress, plant water status, and floral trait expression in fireweed, Epilobium angustifolium (Onagraceae). Am J Bot 88(3):438–446

Caruso CM, Peterson SB, Ridley CE (2003) Natural selection on floral traits of Lobelia (Lobeliaceae): spatial and temporal variation. Am J Bot 90(9):1333–1340

Caruso CM, Eisen KE, Martin RA et al (2019) A meta-analysis of the agents of selection on floral traits. Evolution 73(1):4–14

Charlesworth B, Morgan MT, Charlesworth D (1991) Multilocus models of inbreeding depression with synergistic selection and partial self-fertilization. Genet Res 57(2):177–194

Charlesworth D (2003) Effects of inbreeding on the genetic diversity of populations. Philos Trans R Soc B 358(1434):1051–1070

Charlesworth D, Willis JH (2009) The genetics of inbreeding depression. Nat Rev Genet 10(11):783–796

Colautti RI, Eckert CG, Barrett SC (2010) Evolutionary constraints on adaptive evolution during range expansion in an invasive plant. Proc R Soc B Biol Sci 277(1689):1799–1806

Colautti RI, Lau JA (2015) Contemporary evolution during invasion: evidence for differentiation, natural selection, and local adaptation. Mol Ecol 24(9):1999–2017

Conner JK, Rush S, Jennetten P (1996) Measurements of natural selection on floral traits in wild radish (Raphanus raphanistrum). I. Selection through lifetime female fitness. Evolution 50(3):1127–1136

Cronk QCB, Fuller JL (1995) Invasive plants: the threat to natural ecosystems worldwide. Chapman & Hall, London

Dixon PM (1993) The bootstrap and the jackknife: describing the precision of ecological indices. In: Scheiner SM, Gurevitch J (eds) Design and analysis of ecological experiments. Chapman & Hall, New York, pp 290–318

Dlugosch KM, Parker IM (2008) Founding events in species invasions: genetic variation, adaptive evolution, and the role of multiple introductions. Mol Ecol 17:431–449

Endler JA (1986) Natural selection in the wild. Princeton University Press, Princeton

Falconer DS, Mackay TFC (1996) Inbreeding and crossbreeding. In: Introduction to quantitative genetics. Longman Group Ltd, Essex, pp 247–262

Faucheux MJ (2013) Sensillum types on the proboscis of the Lepidoptera: a review. Ann Soc Entomol Fr 49(1):73–90

Fenster CB, Ritland K (1994) Evidence for natural selection on mating system in Mimulus (Schrophulariaceae). Int J Plant Sci 155:588–596

Fishman L, Willis JH (2008) Pollen limitation and natural selection on floral characters in the yellow monkeyflower, Mimulus guttatus. New Phytol 177(3):802–810

Galen C (1999) Why do flowers vary? Bioscience 49(8):631–640

Galetto L, Bernardello L (1993) Nectar secretion pattern and removal effects in three species of Solanaceae. Can J Bot 71:1394–1398

Geerts S, Pauw A (2009) African sunbirds hover to pollinate an invasive hummingbird-pollinated plant. Oikos 118:573–579

Gómez JM, Zamora R (2000) Spatial variation in the selective scenarios of Hormathophylla spinosa (Cruciferae). Am Nat 155:657–668

Gómez JM, Bosch J, Perfectti F et al (2008) Spatial variation in selection on corolla shape in a generalist plant is promoted by the preference patterns of its local pollinators. Proc R Soc B Biol Sci 275:2241–2249

Gómez JM, Abdelaziz M, Muñoz-Pujares J, Perfectti F (2009) Heritability and genetic correlation of corolla shape and size in Erysimum mediohispanicum. Evolution 63:1820–1831

Goodspeed TH (1954) The genus Nicotiana. Chronica Botanica Co, Massachusetts

Gunz P, Mitteroecker P (2013) Semilandmarks: a method for quantifying curves and surfaces. Hystrix 24(1):103–109

Herrera CM, Castellanos MC, Medrano M (2006) Geographical context of floral evolution: towards an improved research programme in floral diversification. In: Harder LD, Barrett SCH (eds) Ecology and evolution of flowers. Oxford University Press, Oxford, pp 278–294

Hierro JL, Maron JL, Callaway RM (2005) A biogeographical approach to plant invasions: the importance of studying exotics in their introduced and native range. J Ecol 9:5–15

Issaly EA, Sérsic AN, Pauw A et al (2020) Reproductive ecology of the bird-pollinated Nicotiana glauca across native and introduced ranges with contrasting pollination environments. Biol Invasions 22:485–498

Jiménez-Lobato V, Martínez‐Borda E, Núñez‐Farfán J et al (2018) Changes in floral biology and inbreeding depression in native and invaded regions of Datura stramonium. Plant Biol 20:214–223

Kaczorowski RL, Seliger AR, Gaskett AC et al (2012) Corolla shape vs. size in flower choice by a nocturnal hawkmoth pollinator. Funct Ecol 26(3):577–587

Kingsolver JG, Pfennig DW (2007) Patterns and power of phenotypic selection in nature. Bioscience 57(7):561–572

Klingenberg CP (2011) MorphoJ: an integrated software package for geometric morphometrics. Mol Ecol Resour 11:353–357

Lande R, Arnold SJ (1983) The measurement of selection on correlated characters. Evolution 37:1210–1226

Lloyd DG (1987) Allocations to pollen, seeds and pollination mechanisms in self-fertilizing plants. Funct Ecol 1:83–89

Lloyd DG, Schoen DJ (1992) Self- and cross-fertilization in plants. I. Functional dimensions. Int J Plant Sci 153(3):358–369

Maad J, Alexandersson R (2004) Variable selection in Platanthera bifolia (Orchidaceae): phenotypic selection differed between sex functions in a drought year. J Evol Biol 17(3):642–650

Mitchell-Olds T, Shaw R (1987) Regression analysis of natural selection: statistical inference and biological interpretations. Evolution 41(6):1149–1161

Moeller DA (2006) Geographic structure of pollinator communities, reproductive assurance, and the evolution of self-pollination. Ecology 87:1510–1522

Molina-Montenegro MA, Quiroz CL, Torres-Díaz C et al (2011) Functional differences in response to drought in the invasive Taraxacum officinale from native and introduced alpine habitat ranges. Plant Ecol Divers 4:37–44

Moragues E, Rita J (2005) Els vegetals introduïts a les Illes Balears. Govern de les Illes Balears, Palma de Mallorca

Murren CJ, Chang CC, Dudash MR (2009) Patterns of selection of two North American native and nonnative populations of monkeyflower (Phrymaceae). New Phytol 183:691–701

Nattero J, Cocucci AA (2007) Geographical variation in floral traits of the tree tobacco in relation to its hummingbird pollinator fauna. Biol J Linn Soc 90:657–667

Nattero J, Sérsic AN, Cocucci AA (2010a) Patterns of contemporary phenotypic selection and flower integration in the hummingbird-pollinated Nicotiana glauca between populations with different flower-pollinator combinations. Oikos 119:852–863

Nattero J, Cocucci AA, Medel R (2010b) Pollinator-mediated selection in a specialized pollination system: matches and mismatches across populations. J Evol Biol 23:1957–1968

Nattero J, Sérsic AN, Cocucci AA (2011) Geographic variation of floral traits in Nicotiana glauca: relationships with biotic and abiotic factors. Acta Oecol 37:503–511

Núñez-Farfán J, Schlichting CD (2005) Natural selection in Potentilla glandulosa revisited. Evol Ecol Res 7(1):105–119

Ollerton J, Watts S, Connerty S et al (2012) Pollination ecology of the invasive tree tobacco Nicotiana glauca: comparisons across native and non-native ranges. J Pollinat Ecol 9:85–95

Palacio FX, Ordano M, Benitez-Vieyra S (2019) Measuring natural selection on multivariate phenotypic traits: a protocol for verifiable and reproducible analyses of natural selection. Israel J Ecol Evol 1(aop):1–7

Paton DC, Collins BG (1989) Consequences of differences in body mass, wing length and leg morphology for nectar-feeding birds. Aust J Ecol 14:269–289

R Core Team (2020) R: a language and environment for statistical computing. R Foundation for Statistical Computing, Vienna, Austria. http://www.R-project.org/. Accessed April 2020

Richardson DM, Allsopp N, D'Antonio CM et al (2000) Plant invasions: the role of mutualisms. Biol Rev 75:65–93

Rohlf FJ (2010) tpsDig v2. 16. Free software available. http://morphometrics.org/morphmet.html. Accessed May 2017

Sakai A, Allendorf F, Holt JS et al (2001) The population biology of invasive species. Ann Rev Ecol Evol Syst 32:305–332

Schueller SK (2004) Self-pollination in island and mainland populations of the introduced hummingbird- pollinates. Am J Bot 91:672–681

Schueller SK (2007) Island–mainland difference in Nicotiana glauca (Solanaceae) corolla length: a product of pollinator mediated selection? Evol Ecol 21:81–98

Sheets HD (2017) CoordGen 8. Department of Physics, Canisius College, Buffalo, USA.  http://www3.canisius.edu/~sheets/morphsoft.html. Accessed May 2017

Takebayashi N, Wolf DE, Delph LF (2006) Effect of variation in herkogamy on outcrossing within a population of Gilia achilleifolia. Heredity 96(2):159–165

Temeles EJ, Koulouris CR, Sander SE et al (2009) Effect of flower shape and size on foraging performance and trade-offs in a tropical hummingbird. Ecology 90:1147–1161

Traveset A, Richardson DM (2014) Mutualistic interactions and biological invasions. Ann Rev Ecol Evol Syst 45:89–113

Warton DI, Hui FKC (2011) The arcsine is asinine: the analysis of proportions in ecology. Ecology 92(1):3–10

Westerkamp C (1990) Bird-flowers hovering versus perching exploitation. Bot Acta 103:366–371

Westley PA (2011) What invasive species reveal about the rate and form of contemporary phenotypic change in nature. Am Nat 177(4):496–509

Wood SN (2017) Generalized additive models: an introduction with R. CRC Press/Taylor & Francis Group, Boca Raton London

Zelditch ML, Swiderski DL, Sheets HD (2012) Geometric morphometrics for biologists: a primer. Academic Press, Cambridge

Zuur A, Ieno EN, Walker NJ et al (2009) Mixed effects models and extensions in ecology with R. Springer, New York
Acknowledgements
AAC, ANS, SBV and VP acknowledge the National Research Council of Argentina (CONICET) and the Universidad Nacional de Córdoba (UNC) as researchers. We thank the two anonymous reviewers, and associated editor for their valuable suggestions; we also thank MC Baranzelli, G Bertone, R Castro, A Coetzee, MC Díaz-Vélez, MC Maubecin, X Rotllán Puig, C Tur, and C Vignolo for assistance in the field work, and C Vignolo and F Gilles for assistance in the lab. This work was supported by FONCyT (PICT 2015-3089; PICT-2011-0837) to ANS, the Department of Science and Technology of South Africa (438 75946) and the Spanish Ministry of Economy and Competitiveness (CGL2013-44386-P)
Additional information
Publisher's Note
Springer Nature remains neutral with regard to jurisdictional claims in published maps and institutional affiliations.
Electronic supplementary material
Below is the link to the electronic supplementary material.
About this article
Cite this article
García, M., Benítez-Vieyra, S., Sérsic, A.N. et al. Is variation in flower shape and length among native and non-native populations of Nicotiana glauca a product of pollinator-mediated selection?. Evol Ecol 34, 893–913 (2020). https://doi.org/10.1007/s10682-020-10082-w
Received:

Revised:

Accepted:

Published:

Issue Date:

DOI: https://doi.org/10.1007/s10682-020-10082-w
Keywords