Abstract
In animals that communicate for pair formation, generally one sex invests more effort in mate searching. Differential predation risk of mate searching between the sexes is hypothesised to determine which sex invests more effort in mate searching. Although searching by males is prevalent in most animals, in orthopteran insects and some other taxa females physically move to localise signalling males who are predominantly sedentary. Although the two sexes thus share mate searching effort in orthopterans, their behavioural strategies are different and sexual selection theory predicts that signalling males may be following the riskier strategy and incurring higher costs. However, relative levels of risk posed by the two mate searching strategies remain largely unexplored. Hence, we estimated the relative predation risk experienced in natural populations by signalling males and responding females. We did this by quantifying predation risk as a probability of mortality in the context of acoustic communication in a tree cricket, Oecanthus henryi from its ecologically relevant predator, a lynx spider, Peucetia viridans. Spiders may perceive calling in males and movement in females by their ability to detect both airborne acoustic cues and substrate-borne vibratory cues. Probability of mortality was quantified by partitioning it into three spatial components at which crickets and spiders interact, using a combination of extensive field observations and manipulative experiments in a semi-natural setup. We found no differences in predation risk faced by calling males and responding females, supporting the prediction that similar sex-specific costs can explain shared mate searching responsibilities. Our findings therefore suggest that direct benefits offered by males to females upon pair formation may better explain shared mate searching effort between the sexes in orthopterans.
Access options
Buy single article
Instant access to the full article PDF.
US$ 39.95
Tax calculation will be finalised during checkout.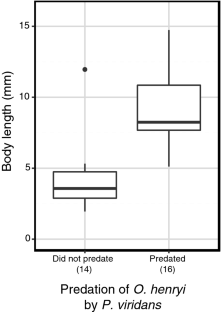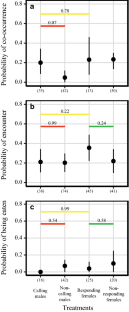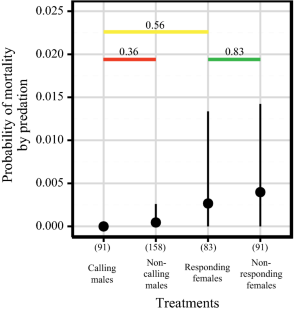 References
Alem S, Koselj K, Siemers BM, Greenfield MD (2011) Bat predation and the evolution of leks in acoustic moths. Behav Ecol Sociobiol 65:2105–2116

Andersson MB (1994) Sexual selection. Princeton University Press, Princeton

Arnqvist G, Nilsson T (2000) The evolution of polyandry: multiple mating and female fitness in insects. Anim Behav 60:145–164

Balakrishnan R (2016) Behavioral ecology of insect acoustic communication. In: Pollack GS, Mason AC, Popper AN, Fay RR (eds) Insect hearing. Springer International Publishing, Bern, pp 49–80

Barth FG (2002) A spider's world: senses and behavior. Springer, New York

Bateman AJ (1948) Intra-sexual selection in Drosophila. Heredity 2:349–368

Bell PD (1979) Acoustic attraction of herons by crickets. J N Y Entomol Soc 87:126–127

Belwood JJ, Morris GK (1987) Bat predation and its influence on calling behavior in neotropical katydids. Science 238:64–67

Bhattacharya M (2016) Investigating pattern recognition and bi-coordinate sound localization in the tree cricket species. Ph.D. dissertation, Centre for Ecological Sciences, Indian Institute of Science, Bangalore, India

Brechbühl R, Casas J, Bacher S (2011) Diet choice of a predator in the wild: overabundance of prey and missed opportunities along the prey capture sequence. Ecosphere 2:1–15

Byers J, Dunn S (2012) Bateman in nature: predation on offspring reduces the potential for sexual selection. Science 338:802–804

Cumming G, Finch S (2005) Inference by eye: confidence intervals and how to read pictures of data. Am Psychol 60:170–180

Dangles O, Ory N, Steinmann T, Christides JP, Casas J (2006) Spider's attack versus cricket's escape: velocity modes determine success. Anim Behav 72:603–610

Darwin C (1871) The descent of man and selection in relation to sex. John Murray, London

Deb R (2015) Mate choice, mate sampling and baffling behaviour in the tree cricket. Ph.D. dissertation, Centre for Ecological Sciences, Indian Institute of Science, Bangalore, India

Ercit K (2013) Size and sex of cricket prey predict capture by a sphecid wasp. Ecol Entomol 39:195–202

Fromhage L, Jennions MD, Kokko H (2016) The evolution of sex roles in mate searching. Evolution 70:617–624

Fulton BB (1915) The tree crickets of New York: life history and bionomics. N Y Agric Exp Station Tech Bull 42:1–47

Gwynne DT (1987) Sex-biased predation and the risky mate-locating behaviour of male tick-tock cicadas (Homoptera: Cicadidae). Anim Behav 35:571–576

Gwynne DT (1995) Phylogeny of the Ensifera (Orthoptera): a hypothesis supporting multiple origins of acoustical signalling, complex spermatophores and maternal care in crickets, katydids, and weta. J Orthop Res 4:203–218

Gwynne DT (1997) The evolution of edible 'sperm sacs' and other forms of courtship feeding in crickets, katydids and their kin (Orthoptera: Ensifera). In: Choe JC, Crespi BJ (eds) The evolution of mating systems in insects and arachnids. Cambridge University Press, Cambridge, pp 110–129

Hammerstein P, Parker GA (1987) Sexual selection: games between the sexes. In: Bradbury JW, Andersson MB (eds) Sexual selection: testing the alternatives. Wiley, Chichester, pp 119–142

Hebblewhite M, Merrill EH, McDonald TL (2005) Spatial decomposition of predation risk using resource selection functions: an example in a wolf–elk predator–prey system. Oikos 111:101–111

Hedrick AV, Kortet R (2006) Hiding behaviour in two cricket populations that differ in predation pressure. Anim Behav 72:1111–1118

Heller KG (1992) Risk shift between males and females in the pair-forming behavior of bushcrickets. Naturwissenschaften 79:89–91

Heller KG, Arlettaz R (1994) Is there a sex ratio bias in the bushcricket prey of the scops owl due to predation on calling males? J Orthop Res 2:41–42

Holling CS (1959) The components of predation as revealed by a study of small-mammal predation of the European Pine Sawfly. Can Entomol 91:293–320

Houghton CO (1909) Observations on the mating habits of Oecanthus. Entomol News 274–279

Lima SL, Dill LM (1990) Behavioral decisions made under the risk of predation: a review and prospectus. Can J Zool 68:619–640

Lohrey AK, Clark DL, Gordon SD, Uetz GW (2009) Antipredator responses of wolf spiders (Araneae: Lycosidae) to sensory cues representing an avian predator. Anim Behav 77:813–821

Magnhagen C (1991) Predation risk as a cost of reproduction. TREE 6:183–186

Manly BFJ (2006) Randomization, bootstrap and Monte Carlo methods in biology, 3rd edn. Chapman and Hall/CRC, New York

McCartney J, Kokko H, Heller KG, Gwynne DT (2012) The evolution of sex differences in mate searching when females benefit: new theory and a comparative test. Proc R Soc Lond B Biol Sci 279:1225–1232

Metrani S, Balakrishnan R (2005) The utility of song and morphological characters in delineating species boundaries among sympatric tree crickets of the genus Oecanthus (Orthoptera: Gryllidae: Oecanthinae): a numerical taxonomic approach. J Orthop Res 14:1–16

Nakagawa S, Cuthill IC (2007) Effect size, confidence interval and statistical significance: a practical guide for biologists. Biol Rev Camb Philos Soc 82:591–605

O'Neill KM, O'Neill RP (2003) Sex allocation, nests, and prey in the grass-carrying wasp Isodontia mexicana (Saussure) (Hymenoptera: Sphecidae). J Kans Entomol Soc 76:447–454

Ponce-Wainer JX, Del Castillo RC (2008) Female mate choice and no detected predation risk in relation to the calling song of Oecanthus niveus (Gryllidae: Oecanthinae). Ann Entomol Soc Am 101:260–265

R Core Team (2017) A language and environment for statistical computing. R Foundation for Statistical Computing. http://www.R-project.org

Raghuram H, Deb R, Nandi D, Balakrishnan R (2015) Silent katydid females are at higher risk of bat predation than acoustically signalling katydid males. Proc R Soc Lond B Biol Sci 282:20142319

Rodríguez-Muñoz R, Bretman A, Slate J, Walling CA, Tregenza T (2010) Natural and sexual selection in a wild insect population. Science 328:1269–1272

Ryan MJ, Tuttle MD, Rand SA (1982) Bat predation and sexual advertisement in a neotropical anuran. Am Nat 119:136–139

Shamble PS, Menda G, Golden JR, Nitzany EI, WaldenK Beatus T, Elias DO, Cohen I, Miles RN, Hoy RR (2016) Airborne acoustic perception by a jumping spider. Curr Biol 26:2913–2920

Sih A (2005) Predator–prey space use as an emergent outcome of a behavioral response race. In: Barbosa P, Castellanos I (eds) Ecology of predator–prey interactions. Oxford University Press, New York, pp 240–255

Storm JJ, Lima SL (2010) Mothers forewarn offspring about predators: a transgenerational maternal effect on behavior. Am Nat 175:382–390

Thornhill R (1979) Male and female sexual selection and the evolution of mating strategies in insects. In: Blum M, Blum N (eds) Sexual selection and reproductive competition in insects. Academic Press, New York, pp 81–121

Trivers RL (1972) Sexual selection and parental investment. In: Campbell BG (ed) Sexual selection and the descent of man. Aldine Press, Chicago, pp 136–179

Tuttle MD, Ryan MJ (1981) Bat predation and the evolution of frog vocalizations in the neotropics. Science 214:677–678

Walker TJJ (1957) Specificity in the response of female tree crickets (Orthoptera, Gryllidae, Oecanthinae) to calling songs of the males. Ann Entomol Soc Am 50:626–636

Walker TJJ (1964) Experimental demonstration of a cat locating orthopteran prey by the prey's calling song. The Florida Entomol 47:163–165

Wickham W (2009) ggplot2: Elegant graphics for data analysis. Springer, New York

Zuk M, Kolluru GR (1998) Exploitation of sexual signals by predators and parasitoids. Q Rev Biol 73:415–438

Zuk M, Rotenberry JT, Tinghitella RM (2006) Silent night: adaptive disappearance of a sexual signal in a parasitized population of field crickets. Biol Lett 2:521–524
Acknowledgements
We thank the DBT-IISc partnership programme (2012–2017) of the Department of Biotechnology, Government of India for funding the fieldwork and Ministry of Human Resource Development, Government of India for funding the research fellowship of VRT. We thank the DST-FIST program of the Govt. of India for some of the equipment used in the study. We thank Diptarup Nandi, Rittik Deb and Monisha Bhattacharya for helpful discussions and Diptarup Nandi for comments on the manuscript. We thank Mr. B. Sridhar (Garden and Nursery Technical Officer) and Nursery staff for their support. We would like to thank Ayan, Babu, Chaithra, Chirag, Dakshin, Girish, Himamshu, Harsha, Ismail, Lakshmipriya, Manoj, Meenakshi, Meghana, Murthy, Shivaraju, Sidanth, Sonu, Sriniketh, Srinivasan, Sunaina and Vinayaka for their help in making behavioural observations and Manjunatha Reddy for his assistance in fieldwork.
Ethics declarations
Conflict of interest
The authors declare that they have no conflict of interest.
Ethical approval
All behavioural data sampling and experiments were performed in accordance with the national guidelines for the ethical treatment of animals laid out by the National Biodiversity Authority (Government of India).
Additional information
Publisher's Note
Springer Nature remains neutral with regard to jurisdictional claims in published maps and institutional affiliations.
Electronic supplementary material
Below is the link to the electronic supplementary material.
About this article
Cite this article
Torsekar, V.R., Isvaran, K. & Balakrishnan, R. Is the predation risk of mate-searching different between the sexes?. Evol Ecol 33, 329–343 (2019). https://doi.org/10.1007/s10682-019-09982-3
Received:

Accepted:

Published:

Issue Date:
Keywords
Communication

Sex-specific costs

Sex roles

Predation risk

Mate searching

Crickets