Abstract
In many ecosystems, the factors that determine landscape-scale community structure of soil nematodes are poorly understood. We were interested in discovering whether deterministic or stochastic factors dominate nematode community variation. We used a novel metagenetic approach to investigate variation in nematode community structure in the Fynbos vegetation of South Africa. We compared 23 samples of soil nematode communities from five different Fynbos landscapes. Nematode DNA was 454-pyrosequenced for the 18S rRNA gene. We investigated the community structure, diversity, and the relative role of both deterministic (niche-based) and neutral processes may play in delimiting the nematode phylogenetic community structure in different Fynbos vegetation types. Nematode diversity showed no relationship to any measured soil parameter. The phylogenetic signal showed that more closely related types of nematodes in the Fynbos tended to co-occur more often than would be expected by chance, demonstrating that (a) closely related lineages occupy similar niches spatially and (b) community variation is influenced more by determinism than stochasticity. The standardised beta mean nearest taxon distance (ses.βMNTD) index showed no association with vegetation type. Both ses.NTI (nearest taxon index) and ses.βMNTD deviated significantly from null models, indicating that deterministic processes were important in the assembly of nematode communities. Furthermore, at local scale, the ses.NTI was significantly higher than null expectations, indicating that co-occurrence of related nematode lineages is determined by the differences in environmental conditions across the sites. We conclude that in the Fynbos there is niche overlap between closely related types of nematodes, that nematode speciation tends to occur conservatively into closely related niches, and that the phylogenetic community structure reveals that deterministic (rather than stochastic) processes are more important in delimiting the community assembly.
Access options
Buy single article
Instant access to the full article PDF.
US$ 39.95
Tax calculation will be finalised during checkout.
Subscribe to journal
Immediate online access to all issues from 2019. Subscription will auto renew annually.
US$ 79
Tax calculation will be finalised during checkout.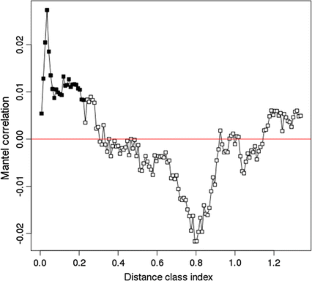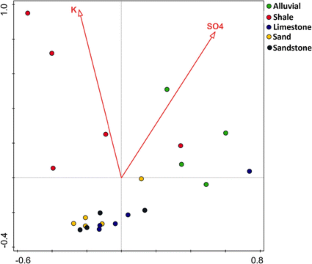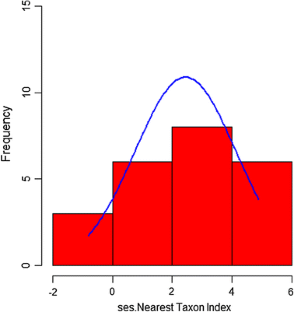 References
Allsopp N (2014) Fynbos: ecology, evolution, and conservation of a megadiverse region. Oxford University Press, Oxford

Anderson MJ (2001) A new method for non-parametric multivariate analysis of variance. Austral Ecol 26:32–46

Anderson LC, Wesselingh FP, Hartman JH (2010) A phylogenetic and morphologic context for the radiation of an endemic fauna in a long-lived lake: corbulidae (Bivalvia; Myoida) in the Miocene Pebas Formation of western Amazonia. Paleobiology 36:534–554

Behnke A, Bunge J, Barger K, Breiner HW, Alla V, Stoeck T (2006) Microeukaryote community patterns along an O-2/H2S gradient in a supersulfidic anoxic Fjord (Framvaren, Norway). Appl Environ Microb 72:3626–3636

Bik HM, Porazinska DL, Creer S, Caporaso JG, Knight R, Thomas WK (2012) Sequencing our way towards understanding global eukaryotic biodiversity. Trends Ecol Evol 27:233–243

Blomberg SP, Garland T (2002) Tempo and mode in evolution: phylogenetic inertia, adaptation and comparative methods. J Evolution Biol 15:899–910

Bond WJ, Keeley JE (2005) Fire as a global 'herbivore': the ecology and evolution of flammable ecosystems. Trends Ecol Evol 20:387–394

Bongers T, Bongers M (1998) Functional diversity of nematodes. Appl Soil Ecol 10:239–251

Bray JR, Curtis JT (1957) An ordination of the upland forest communities of southern Wisconsin. Ecol Monogr 27:326–349

Cavender-Bares J, Holbrook NM (2001) Hydraulic properties and freezing-induced cavitation in sympatric evergreen and deciduous oaks with, contrasting habitats. Plant Cell Environ 24:1243–1256

Cerevkova A, Renco M (2009) Soil nematode community changes associated with windfall and wildfire in forest soil at the High Tatras National Park, Slovak Republic. Helminthologia 46:123–130

Certini G (2005) Effects of fire on properties of forest soils: a review. Oecologia 143:1–10

Cowling RM (1992) The ecology of fynbos: nutrients, fire and diversity. Oxford University Press, Cape Town

Cowling RM, Proches S, Partridge TC (2009) Explaining the uniqueness of the Cape flora: incorporating geomorphic evolution as a factor for explaining its diversification. Mol Phylogenet Evol 51:64–74

Cuttelod A, García N, Malak DA, Temple HJ, Katariya V (2009) The Mediterranean: a biodiversity hotspot under threat. Wildlife in a Changing World–an analysis of the 2008 IUCN Red List of Threatened Species, 89

De Marco A, Gentile AE, Arena C, De Santo AV (2005) Organic matter, nutrient content and biological activity in burned and unburned soils of a Mediterranean maquis area of southern Italy. Int J Wildland Fire 14:365–377

Diniz JAF, Terribile LC, da Cruz MJR, Vieira LCG (2010) Hidden patterns of phylogenetic non-stationarity overwhelm comparative analyses of niche conservatism and divergence. Global Ecol Biogeogr 19:916–926

Dixon P (2003) VEGAN, a package of R functions for community ecology. J Veg Sci 14:927–930

Docherty KM, Balser TC, Bohannan BJM, Gutknecht JLM (2012) Soil microbial responses to fire and interacting global change factors in a California annual grassland. Biogeochemistry 109:63–83

Edgecombe GD, Giribet G, Dunn CW, Hejnol A, Kristensen RM, Neves RC, Rouse GW, Worsaae K, Sorensen MV (2011) Higher-level metazoan relationships: recent progress and remaining questions. Org Divers Evol 11:151–172

Ferrenberg S, O'Neill SP, Knelman JE, Todd B, Duggan S, Bradley D, Robinson T, Schmidt SK, Townsend AR, Williams MW, Cleveland CC, Melbourne BA, Jiang L, Nemergut DR (2013) Changes in assembly processes in soil bacterial communities following a wildfire disturbance. ISME J 7:1102–1111

Ferris H, Matute M (2003) Structural and functional succession in the nematode fauna of a soil food web. Appl Soil Ecol 23:93–110

Ferris H, Griffiths BS, Porazinska DL, Powers TO, Wang KH, Tenuta M (2012) Reflections on plant and soil nematode ecology: past, present and future. J Nematol 44:115–126

Fine PVA, Kembel SW (2011) Phylogenetic community structure and phylogenetic turnover across space and edaphic gradients in western Amazonian tree communities. Ecography 34:552–565

Fourie H, McDonald AH, Loots GC (2001) Plant-parasitic nematodes in field crops in South Africa. 6. Soybean. Nematology 3:447–454

Goberna M, Garcia C, Insam H, Hernandez M, Verdu M (2012) Burning fire-prone mediterranean Shrublands: immediate changes in soil microbial community structure and ecosystem functions. Microbial Ecol 64:242–255

Graham CH, Fine PVA (2008) Phylogenetic beta diversity: linking ecological and evolutionary processes across space in time. Ecol Lett 11:1265–1277

Green JL, Holmes AJ, Westoby M, Oliver I, Briscoe D, Dangerfield M, Gillings M, Beattie AJ (2004) Spatial scaling of microbial eukaryote diversity. Nature 432:747–750

Griffiths BS, Philippot L (2013) Insights into the resistance and resilience of the soil microbial community. FEMS Microbiol Rev 37:112–129

Hardy OJ, Couteron P, Munoz F, Ramesh B, Pélissier R (2012) Phylogenetic turnover in tropical tree communities: impact of environmental filtering, biogeography and mesoclimatic niche conservatism. Global Ecol Biogeogr 21:1007–1016

Holterman M, van der Wurff A, van den Elsen S, van Megen H, Bongers T, Holovachov O, Bakker J, Helder J (2006) Phylum-wide analysis of SSU rDNA reveals deep phylogenetic relationships among nematodes and accelerated evolution toward crown clades. Mol Biol Evol 23:1792–1800

Horner-Devine MC, Bohannan BJM (2006) Phylogenetic clustering and overdispersion in bacterial communities. Ecology 87:S100–S108

Huse SM, Welch DM, Morrison HG, Sogin ML (2010) Ironing out the wrinkles in the rare biosphere through improved OTU clustering. Environ Microbiol 12:1889–1898

Jenkins WR (1980) Citation classic—a rapid centrifugal-flotation technique for separating nematodes from soil. CC/Agr Biol Environ 41:14

Jenny H, Gessel S, Bingham F (1949) Comparative study of decomposition rates of organic matter in temperate and tropical regions. Soil Sci 68:419–432

Jordaan EM, Vandenberg E, Dewaele D (1992) Plant-parasitic nematodes on field crops in South-Africa. 5. Wheat. Fund Appl Nematol 15:531–537

Kembel SW (2009) Disentangling niche and neutral influences on community assembly: assessing the performance of community phylogenetic structure tests. Ecol Lett 12:949–960

Kembel SW, Cowan PD, Helmus MR, Cornwell WK, Morlon H, Ackerly DD, Blomberg SP, Webb CO (2010) Picante: R tools for integrating phylogenies and ecology. Bioinformatics 26:1463–1464

Langenheder S, Szekely AJ (2011) Species sorting and neutral processes are both important during the initial assembly of bacterial communities. ISME J 5:1086–1094

Legendre P, Lapointe FJ, Casgrain P (1994) Modeling brain evolution from behavior—a permutational regression approach. Evolution 48:1487–1499

Losos JB (2008) Phylogenetic niche conservatism, phylogenetic signal and the relationship between phylogenetic relatedness and ecological similarity among species. Ecol Lett 11:995–1003

Lozupone C, Knight R (2005) UniFrac: a new phylogenetic method for comparing microbial communities. Appl Environ Microb 71:8228–8235

Mallatt J, Giribet G (2006) Further use of nearly complete, 28S and 18S rRNA genes to classify Ecdysozoa: 37 more arthropods and a kinorhynch. Mol Phylogenet Evol 40:772–794

Manning J, Goldblatt P (2012) Plants of the greater cape floristic region. SANBI, Biodiversity for Life. Pretoria

Marais M, Swart A (2013) Plant nematodes in South Africa. 11. Checklist of plant nematodes of the protected areas of KwaZulu-Natal. Koedoe 55:01–02

Matlack GR (2001) Factors determining the distribution of soil nematodes in a commercial forest landscape. Forest Ecol Manag 146:129–143

Meyer F, Paarmann D, D'Souza M, Olson R, Glass EM, Kubal M, Paczian T, Rodriguez A, Stevens R, Wilke A, Wilkening J, Edwards RA (2008) The metagenomics RAST server—a public resource for the automatic phylogenetic and functional analysis of metagenomes. BMC Bioinformatics 9:386

Mucina L, Rutherford MC (2006) The vegetation of South Africa, Lesotho and Swaziland. South African National Biodiversity Institute, Pretoria

Nakacwa R, Kiggundu A, Talwana H, Namaganda J, Lilley C, Tushemereirwe W, Atkinson H (2013) Nematode 18S rRNA gene is a reliable tool for environmental biosafety assessment of transgenic banana in confined field trials. Transgenic Res 22:1003–1010

Nielsen UN, Ayres E, Wall DH, Li G, Bardgett RD, Wu TH, Garey JR (2014) Global-scale patterns of assemblage structure of soil nematodes in relation to climate and ecosystem properties. Global Ecol Biogeogr 23:968–978

Nosenko T, Schreiber F, Adamska M, Adamski M, Eitel M, Hammel J, Maldonado M, Muller WEG, Nickel M, Schierwater B, Vacelet J, Wiens M, Worheide G (2013) Deep metazoan phylogeny: when different genes tell different stories. Mol Phylogenet Evol 67:223–233

Ntidi KN, Fourie H, Mc Donald AH, De Waele D, Mienie CMS (2012) Plant-parasitic nematodes associated with weeds in subsistence agriculture in South Africa. Nematology 14:875–887

Nunan N, Wu KJ, Young IM, Crawford JW, Ritz K (2003) Spatial distribution of bacterial communities and their relationships with the micro-architecture of soil. FEMS Microbiol Ecol 44:203–215

Ofiteru ID, Lunn M, Curtis TP, Wells GF, Criddle CS, Francis CA, Sloan WT (2010) Combined niche and neutral effects in a microbial wastewater treatment community. Proc Natl Acad Sci USA 107:15345–15350

Oksanen J, Blanchet FG, Kindt R, Legendre P, Minchin PR, O'Hara R, Simpson GL, Solymos P, Stevens M, Wagner H (2013) Package 'vegan'. R Packag ver 254:20–28

Oteifa BA (1952) Potassium nutrition of the host in relation to infection by a root-knot nematode Meloidogyne incognita. Proc Helminthol Soc Wash 19:99–104

Pen-Mouratov S, Ginzburg O, Whitford WG, Steinberger Y (2012) Forest fire modifies soil free-living nematode communities in the Biriya Woodland of Northern Israel. Zool Stud 51:1018–1026

Pérez-Harguindeguy N, Díaz S, Cornelissen JH, Vendramini F, Cabido M, Castellanos A (2000) Chemistry and toughness predict leaf litter decomposition rates over a wide spectrum of functional types and taxa in central Argentina. Plant Soil 218:21–30

Pettigrew W, Meredith W, Young L (2005) Potassium fertilization effects on cotton lint yield, yield components, and reniform nematode populations. Agron J 97:1245–1251

Pontarp M, Canback B, Tunlid A, Lundberg P (2012) Phylogenetic analysis suggests that habitat filtering is structuring marine bacterial communities across the globe. Microb Ecol 64:8–17

Porazinska DL, Giblin-Davis RM, Powers TO, Kanzaki N, Ye W, Morris K, Thomas WK (2007) 454 pyrosequencing for metagenomic analysis of nematode diversity. J Nematol 39:90

Porazinska DL, Giblin-Davis RM, Faller L, Farmerie W, Kanzaki N, Morris K, Powers TO, Tucker AE, Sung W, Thomas WK (2009) Evaluating high-throughput sequencing as a method for metagenomic analysis of nematode diversity. Mol Ecol Resour 9:1439–1450

Porazinska DL, Giblin-Davis RM, Esquivel A, Powers TO, Sung W, Thomas WK (2010) Ecometagenetics confirms high tropical rainforest nematode diversity. Mol Ecol 19:5521–5530

Price MN, Dehal PS, Arkin AP (2010) FastTree 2-approximately maximum-likelihood trees for large alignments. Plos One 5:e9490

Procter DLC (1984) Towards a biogeography of free-living soil nematodes. 1. Changing species richness, diversity and densities with changing latitude. J Biogeogr 11:103–117

R Development Core Team (2007) R: a language and environment for statistical computing. R Foundation for Statistical Computing, Vienna. http://www.R-project.org

Ren L, Jeppesen E, He D, Wang J, Liboriussen L, Xing P, Wu QL (2015) pH influences the importance of niche-related and neutral processes in lacustrine bacterioplankton assembly. Appl Environ Microbiol 81:3104–3114

Renčo M, Čerevková A (2015) Long-term effects of a wildfire on the soil nematode communities in the spruce forest ecosystem of High Tatra National Park. Int J Wildland Fire 24:702–711

Richards TA, Bass D (2005) Molecular screening of free-living microbial eukaryotes: diversity and distribution using a meta-analysis. Curr Opin Microbiol 8:240–252

Schloss PD, Westcott SL, Ryabin T, Hall JR, Hartmann M, Hollister EB, Lesniewski RA, Oakley BB, Parks DH, Robinson CJ, Sahl JW, Stres B, Thallinger GG, Van Horn DJ, Weber CF (2009) Introducing mothur: open-source, platform-independent, community-supported software for describing and comparing microbial communities. Appl Environ Microb 75:7537–7541

Stegen JC, Lin XJ, Konopka AE, Fredrickson JK (2012) Stochastic and deterministic assembly processes in subsurface microbial communities. ISME J 6:1653–1664

Stegen JC, Lin XJ, Fredrickson JK, Chen XY, Kennedy DW, Murray CJ, Rockhold ML, Konopka A (2013) Quantifying community assembly processes and identifying features that impose them. ISME J 7:2069–2079

Thomas WK, Porazinska DL, Giblin-Davis RM, Sung W, Bik H, Fournier DR (2010) Ecometagenetics for the analysis of nematode communities in a tropical rain forest. J Nematol 42:273

Thornton CW, Matlack GR (2002) Long-term disturbance effects in the nematode communities of south Mississippi woodlands. J Nematol 34:88–97

Tripathi BM, Kim M, Tateno R, Kim W, Wang J, Lai-Hoe A, Shukor NAA, Rahim RA, Go R, Adams JM (2015) Soil pH and biome are both key determinants of soil archaeal community structure. Soil Biol Biochem 88:1–8

van Megen H, van den Elsen S, Holterman M, Karssen G, Mooyman P, Bongers T, Holovachov O, Bakker J, Helder J (2009) A phylogenetic tree of nematodes based on about 1200 full-length small subunit ribosomal DNA sequences. Nematology 11:927

Van Veen J, Kuikman P (1990) Soil structural aspects of decomposition of organic matter by micro-organisms. Biogeochemistry 11:213–233

Vellend M (2010) Conceptual synthesis in community ecology. Q Rev Biol 85:183–206

Verheyen W, De la Rosa D (2005) Mediterranean soils in land use and land cover. Encyclopedia of life support systems (EOLSS). Eolss Publishers, Oxford

Viglierchio DR, Schmitt RV (1983) On the methodology of nematode extraction from field samples—baermann funnel modifications. J Nematol 15:438–444

Vincent A (1979) Biological control of rice nematodes using sulphate reducing bacteria. Revue Nématol 2:41–50

Wang JJ, Soininen J, He JZ, Shen J (2012) Phylogenetic clustering increases with elevation for microbes. Environ Microbiol Rep 4:217–226

Wang JJ, Shen J, Wu YC, Tu C, Soininen J, Stegen JC, He JZ, Liu XQ, Zhang L, Zhang EL (2013a) Phylogenetic beta diversity in bacterial assemblages across ecosystems: deterministic versus stochastic processes. ISME J 7:1310–1321

Wang JJ, Soininen J, Shen J (2013b) Habitat species pools for phylogenetic structure in microbes. Environ Microbiol Rep 5:464–467

Webb CO (2000) Exploring the phylogenetic structure of ecological communities: an example for rain forest trees. Am Nat 156:145–155

Webb CO, Ackerly DD, McPeek MA, Donoghue MJ (2002) Phylogenies and community ecology. Annu Rev Ecol Syst 33:475–505

Whitford WG, Pen-Mouratov S, Steinberger Y (2014) The effects of prescribed fire on soil nematodes in an arid juniper savanna. Open J Ecol 4:66

Wilding LP, Smeck NE, Hall GF (1983) Pedogenesis and soil taxonomy. Elsevier Science Publication Co, New York

Wintle BA, Bekessy SA, Keith DA, van Wilgen BW, Cabeza M, Schroder B, Carvalho SB, Falcucci A, Maiorano L, Regan TJ, Rondinini C, Boitani L, Possingham HP (2011) Ecological-economic optimization of biodiversity conservation under climate change. Nat Clim Change 1:355–359

Wu TH, Ayres E, Bardgett RD, Wall DH, Garey JR (2011) Molecular study of worldwide distribution and diversity of soil animals. Proc Natl Acad Sci USA 108:17720–17725

Yeates G, Boag B (2004) Background for nematode ecology in the 21st century. Nematol Adv Perspect 1:406–437

Yeates GW, Bongers T, Degoede RGM, Freckman DW, Georgieva SS (1993) Feeding-habits in soil nematode families and genera—an outline for soil ecologists. J Nematol 25:315–331

Yergeau E, Bezemer TM, Hedlund K, Mortimer SR, Kowalchuk GA, van der Putten WH (2010) Influences of space, soil, nematodes and plants on microbial community composition of chalk grassland soils. Environ Microbiol 12:2096–2106

Zrzavy J, Mihulka S, Kepka P, Bezdek A, Tietz D (1998) Phylogeny of the Metazoa based on morphological and 18S ribosomal DNA evidence. Cladistics 14:249–285
Acknowledgments
The authors would like to thank the South African National Parks (SAN Parks) and Cape Nature for giving us access to the study sites (Permit No. 0028-AAA005-00161, 25/01/2010: SBM Chimphango). Also, Dr Binu Tripathi for providing invaluable advice with the analysis of the data. This work was supported by a grant from the National Research Foundation (NRF) funded by the Korean government, Ministry of Education, Science and Technology (MEST) (NRF2013-031400). Also, the authors would like to thank the Department of Biological Science, University of Cape Town for use of their laboratory facilities.
Electronic supplementary material
Below is the link to the electronic supplementary material.
About this article
Cite this article
Moroenyane, I., Dong, K., Singh, D. et al. Deterministic processes dominate nematode community structure in the Fynbos Mediterranean heathland of South Africa. Evol Ecol 30, 685–701 (2016). https://doi.org/10.1007/s10682-016-9837-4
Received:

Accepted:

Published:

Issue Date:
Keywords
Nematode

Fynbos

18S rRNA gene

Community assembly

Ecological determinism

Stochasticity