Abstract
Many autumn migrating and phloem-feeding insects, like aphids, use leaf reflectance to distinguish senescing foliage. They consume resources in autumn and lay eggs that hatch in spring when trees need phloem nutrients for developing leaves. The herbivores may thus drive the evolution of tree senescence and autumn leaf colours. In accordance with this, the yellowing birch leaves attract aphids (Euceraphis betulae) and the genotypic variation in the timing of autumn leaf colouration is associated with the abundance of oviparous wingless female aphids in a natural Betula pendula population. Currently, however, there are no published studies investigating the potential association of autumn senescence and the number of overwintering aphid eggs. We examined a local B. pendula population in 2001 and 2002 for genotypic differences in the timing of shoot growth termination and for the abundance of overwintering birch aphid eggs. There were heritable differences in the timing of shoot growth termination among B. pendula genotypes. The genotypes that terminated shoot growth early had higher aphid egg loads after a short but not after a long autumn. We suggest that this is because the egg laying period was cut off due to a rather sudden and substantial change in the temperature in the shorter autumn. We are the first to find genotypic differences associated with the overwintering offspring of autumn-migrating aphids on a widely distributed temperate broadleaved tree. As shoot growth termination directly precedes leaf senescence, autumn-migrating aphids may have an additional potential to influence indirectly but significantly the onset of autumn leaf senescence at an evolutionary scale.
Access options
Buy single article
Instant access to the full article PDF.
USD 39.95
Price includes VAT (USA)
Tax calculation will be finalised during checkout.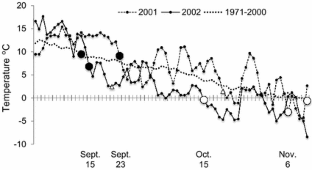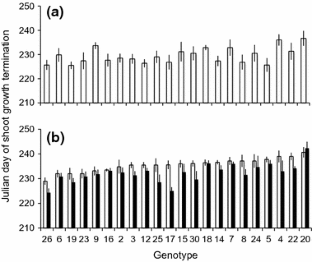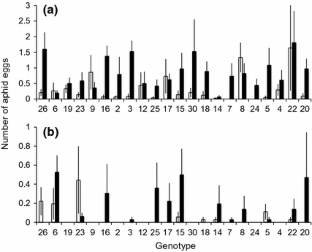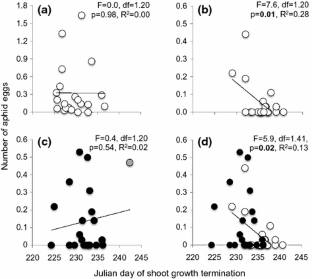 References
Anderson MJ (2001) A new method for non-parametric multivariate analysis of variance. Austral Ecol 26:32–46

Anderson MJ, Gorley RN, Clarke KR (2008) Permanova+ for primer: guide to software and statistical methods. Primer-E, Plymouth

Andersson A, Keskitalo J, Sjödin A et al (2004) A transcriptional timetable of autumn senescence. Genome Biol 5:R24

Archetti M (2009) Decoupling vigour and quality in the autumn colours game: weak individuals can signal, cheating can pay. J Theor Biol 25:479–484

Archetti M, Döring TF, Hagen SB et al (2009) Unravelling the evolution of autumn colours: an interdisciplinary approach. Trends Ecol Evol 24:166–173

Dixon AFG (1971) The role of aphids in wood formation. I. The effect of the sycamore aphid, Drepanosiphum platanoides (Schr.) (Aphididae), on the growth of sycamore, Acer pseudoplatanus (L.). J Appl Ecol 8:165–179

Döring T (2014) How do aphids find their host plants, and how they don't. Ann Appl Biol 165:3–26

Döring TF, Archetti M, Hardie J (2009) Autumn leaves seen through herbivore eyes. Proc R Soc B 276:121–127

Fracheboud Y, Luquez V, Björkén L et al (2009) The control of autumn senescence in European aspen. Plant Physiol 149:1982–1991

Grant PR, Grant BR (2002) Unpredictable evolution in a 30-year study of Darwin's finches. Science 296:707–711

Hamilton WD, Brown SP (2001) Autumn tree colours as a handicap signal. Proc R Soc Lond B 268:1489–1493

Hänninen H, Häkkinen R, Hari P et al (1990) Timing of growth cessation in relation to climatic adaptation of northern woody plants. Tree Physiol 6:29–39

Heie OE (1982) The aphidoidea (Hemiptera) of Fennoscandia and Denmark. II. Fauna. Entomol Scand 11:1–176

Hoch WA, Zeldin EL, McCown BH (2001) Physiological significance of anthocyanins during autumnal leaf senescence. Tree Physiol 21:1–8

Holopainen JK, Peltonen PA (2002) Bright autumn colours of deciduous trees attract aphids: nutrient retranslocation hypothesis. Oikos 99:184–188

Holopainen JK, Semiz G, Blande JD (2009) Life history strategies affect aphid preference for yellowing leaves. Biol Lett 5:603–605

Jalonen J, Vanha-Majamaa I, Tonteri T (1998) Optimal sample and plot size for inventory of field and ground layer vegetation in a mature Myrtillus-type boreal spruce forest. Ann Bot Fenn 35:191–196

Karageorgou P, Buschmann C, Manetas Y (2008) Red leaf color as a warning signal against insect herbivory: honest or mimetic? Flora 203:648–652

Laitinen M-L, Julkunen-Tiitto R, Tahvanainen J et al (2005) Variation in birch (Betula pendula) shoot secondary chemistry due to genotype, environment, and ontogeny. J Chem Ecol 31:697–717

Lee DW (2002) Anthocyanins in leaves: distribution, phylogeny and development. Adv Bot Res 37:37–53

Lev-Yadun S, Gould KS (2007) What do red and yellow autumn leaves signal? Bot Rev 73:279–289

Lev-Yadun S, Holopainen JK (2009) Why red-dominated autumn leaves in America and yellow-dominated autumn leaves in Northern Europe? New Phytol 183:506–512

Lev-Yadun S, Keasar T (2012) Prerequisites for evolution: variation and selection in yellow autumn birch leaves. New Phytol 195:282–284

Lev-Yadun S, Dafni A, Flaishman MA et al (2004) Plant colouration undermines herbivorous insect camouflage. BioEssays 26:1126–1130

Lev-Yadun S, Yamazaki K, Holopainen JK et al (2012) Spring versus autumn leaf colours: evidence for different selective agents and evolution in various species and floras. Flora 207:80–85

Ougham HJ, Morris P, Thomas H (2005) The colors of autumn leaves as symptoms of cellular recycling and defenses against environmental stresses. Curr Top Dev Biol 66:135–160

Rousi M, Pusenius J (2005) Variations in phenology and growth of European white birch (Betula pendula) clones. Tree Physiol 25:201–210

Schaberg PG, Van den Berg AK, Murakami PF et al (2003) Factors influencing red expression in sugar maple trees. Tree Physiol 23:325–333

Silfver T, Roininen H, Oksanen E et al (2009) Genetic and environmental determinants of silver birch growth and herbivore resistance. For Ecol Manag 257:2145–2149

Silfver T, Rousi M, Oksanen E et al (2014) Genetic and environmental determinants of insect herbivore community structure in a Betula pendula population. F1000Research 3:34

Sinkkonen A (2006a) Do autumn leaf colours serve as a reproductive insurance against sucking herbivores? Oikos 113:557–562

Sinkkonen A (2006b) Sexual reproduction advances autumn leaf colours in mountain birch (Betula pubescens ssp. czerepanovii). J Evol Biol 19:1722–1724

Sinkkonen A (2008) Red reveals branch dieback in Norway maple Acer platanoides. Ann Bot 102:361–366

Sinkkonen A, Somerkoski E, Paaso U et al (2012) Genotypic variation in yellow autumn leaf colours explains aphid load in silver birch. New Phytol 195:461–469

Vollenweider P, Günthardt-Goerg MS (2005) Diagnosis of abiotic and biotic stress factors using the visible symptoms in foliage. Environ Pollut 137:455–465

White TCR (2009) Catching a red herring: autumn colors and aphids. Oikos 118:1610–1612

Wilkinson DM, Sherratt TN, Phillip DM et al (2002) The adaptive significance of autumn leaf colours. Oikos 99:402–407

Zvereva EL, Lanta V, Kozlov MV (2010) Effects of sap-feeding insect herbivores on growth and reproduction of woody plants: a meta-analysis of experimental studies. Oecologia 163:949–960
Acknowledgments
We thank the Punkaharju Research Unit of the Finnish Forest Research Institute for facilities and help. Hanni Sikanen, Mari Tuominen and Pirkko Pasanen are thanked for the field assistance, Boy Possen for digging quickly up the long term weather data for us and Simcha Lev-Yadun and anonymous reviewers for many instructive comments on the earlier versions of the paper. This study was supported by the Academy of Finland, and funding granted to T.S. by Kone and Niemi foundations.
About this article
Cite this article
Silfver, T., Sinkkonen, A., Oksanen, E. et al. Early shoot growth termination in Betula pendula is associated with the number of overwintering aphid eggs on boreal birches. Evol Ecol 29, 157–167 (2015). https://doi.org/10.1007/s10682-014-9741-8
Received:

Accepted:

Published:

Issue Date:
Keywords
Growth termination

Senescence

Aphid eggs

Genetic variation

Heritability

Genetic correlation

Deciduous tree