Abstract
Bird-pollinated plants typically have reddish flowers, but it is not clear whether this trait can be attributed to selection by birds. Here we experimentally test for the first time the foraging behaviour of sunbirds in relation to flower colour, using the Orange-breasted Sunbird Anthobaphes violacea (Nectariniidae) and the colour dimorphic Erica perspicua (Ericaceae). Pink and white flower morphotypes co-flower in intermixed populations and have similar nectar volumes and concentrations. Using floral arrays in a field aviary, we found that sunbirds preferred pink flowers; 95 % of their first choices were to pink inflorescences and they visited and probed more pink inflorescences and flowers, respectively. We also tested for flower constancy (the tendency to move between same colour rather than different colour morphotypes), but found no evidence for this in the sequence of their foraging choices, indicating that this mechanism did not maintain flower colour differences in sympatry. There was evidence for optimal foraging: 80 % of moves were to adjacent inflorescences. Unexpectedly, the preference for pink flowers observed in the aviary did not translate into a female fitness advantage for this morphotype in the field, since no difference is found in natural pollination rate, fruit or seed set. This may be because the minimization of flight distances between plants is the primary factor in sunbird foraging choices, overriding their colour preference. Antagonistic nectar robbers did not act as a selective force on the polymorphism, since nectar-robbing rates were equal between white and pink morphotypes in the field.
Access options
Buy single article
Instant access to the full article PDF.
US$ 39.95
Tax calculation will be finalised during checkout.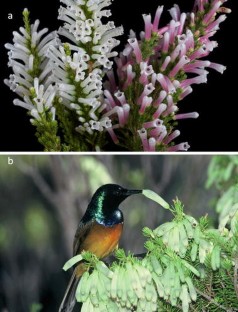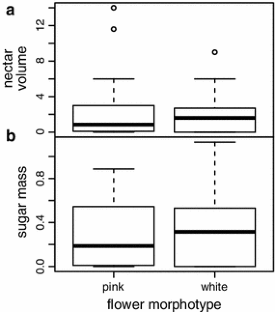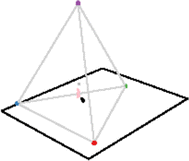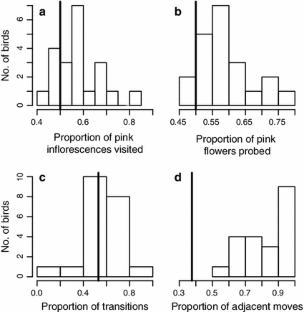 References
Aldridge G, Campbell DR (2007) Variation in pollinator preference between two Ipomopsis contact sites that differ in hybridization rate. Evolution 61:99–110

Arista M, Talavera M, Berjano R, Ortiz PL (2013) Abiotic factors may explain the geographical distribution of flower colour morphs and the maintenance of colour polymorphism in the scarlet pimpernel. J Ecol 101:1613–1622

Backhaus W, Menzel R (1987) Color distance derived from a receptor model of color vision in the honeybee. Biol Cybern 55:321–331

Barnes K, Nicolson SW, Vanwyk BE (1995) Nectar sugar composition in Erica. Biochem Syst Ecol 23:419–423

Baum KA, Grant WE (2001) Humming bird for aging behavior in different patch types: simulation of alternative strategies. Ecol Model 137:201–209

Bené F (1941) Experiments on the color preference of black-chinned hummingbirds. Condor 43:237–242

Broekhuysen GJ (1963) The breeding biology of the orange-breasted Sunbird Anthobaphes violacea (Linnaeus). Ostrich 34:187–234

Brown MB, Forsyth AB (1974) Robust tests for equality of variances. J Am Stat Assoc 69:364–367

Brown M, Downs CT, Johnson SD (2010) Concentration-dependent sugar preferences of the Malachite Sunbird (Nectarinia famosa). Auk 127:151–155

Burd M, Stayton CT, Shrestha M, Dyer AG (2014) Distinctive convergence in Australian floral colors seen through the eyes of Australian birds. Proceedings of the Royal Society B. In Press

Burke D, Fulham BJ (2003) An evolved spatial memory bias in a nectar-feeding bird? Anim Behav 66:695–701

Carlson JE, Holsinger KE (2010) Natural selection on inflorescence color polymorphisms in wild protea populations: the role of pollinators, seed predators, and intertrait correlations. Am J Bot 97:934–944

Carlson JE, Holsinger KE (2013) Direct and indirect selection on floral pigmentation by pollinators and seed predators in a color polymorphic South African shrub. Oecologia 171:905–919

Chittka L, Thomson JD, Waser NM (1999) Flower constancy, insect psychology, and plant evolution. Naturwissenschaften 86:361–377

de Jager ML, Ellis AG, Dreyer LL (2009) The assembly of flower colour within communities of Oxalis (Oxalidaceae) through pollinator-mediated selection. South Afr J Bot 75:397–398

Delph LF, Lively CM (1989) The evolution of floral color change: pollinator attraction versus physiological constraints in Fuchsia excorticata. Evolution 43:1252–1262

Dudash MR, Hassler C, Stevens PM, Fenster CB (2011) Experimental floral and inflorescence trait manipulations affect pollinator preference and function in a hummingbird-pollinated plant. Am J Bot 98:275–282

Eckhart VM, Rushing NS, Hart GM, Hansen JD (2006) Frequency-dependent pollinator foraging in polymorphic Clarkia xantiana ssp. xantiana populations: implications for flower colour evolution and pollinator interactions. Oikos 112:412–421

Faegri K, Van der Pijl L (1979) The principles of pollination ecology, 2nd edn. Pergamon, Oxford

Geerts S, Pauw A (2011) Easy technique for assessing pollination rates in the genus Erica reveals road impact on bird pollination in the Cape fynbos, South Africa. Austral Ecol 36:656–662

Gegear RJ, Laverty TM (2005) Flower constancy in bumblebees: a test of the trait variability hypothesis. Anim Behav 69:939–949

Gigord LDB, Macnair MR, Smithson A (2001) Negative frequency-dependent selection maintains a dramatic flower color polymorphism in the rewardless orchid Dactylorhiza sambucina (L) Soò. Proc Natl Acad Sci USA 98:6253–6255

Gill FB, Wolf LL (1977) Nonrandom foraging by sunbirds in a patchy environment. Ecology 58:1284–1296

Grant V (1994) Modes and origins of mechanical and ethological isolation in angiosperms. Proc Natl Acad Sci USA 91:3–10

Hart NS, Partridge JC, Cuthill IC (1998) Visual pigments, oil droplets and cone photoreceptor distribution in the European Starling (Sturnus vulgaris). J Exp Bio 201:1433–1446

Henderson J, Hurly TA, Healy SD (2001) Rufous hummingbirds' memory for flower location. Anim Behav 61:981–986

Heystek A, Pauw A (2013) Does competition for pollinators contribute to structuring Erica communities? J Veg Sci. doi:10.1111/jvs.12127

Irwin RE, Strauss SY (2005) Flower color microevolution in wild radish: evolutionary response to pollinator-mediated selection. Am Nat 165:225–237

Irwin RE, Strauss SY, Storz S, Emerson A, Guibert G (2003) The role of herbivores in the maintenance of a flower color polymorphism in wild radish. Ecology 84:1733–1743

Jones KN, Reithel JS (2001) Pollinator-mediated selection on a flower color polymorphism in experimental populations of Antirrhinum (Scrophulariaceae). Am J Bot 88:447–454

Kearns C, Inouye DW (1993) Techniques for pollination biologists. University Press of Colorado, Colorado

Kimura M (1985) The neutral theory of molecular evolution. Cambridge University Press, Cambridge

Krauss SL, He T, Barrett LG, Lamont BB, Enright NJ, Miller BP, Hanley ME (2009) Contrasting impacts of pollen and seed dispersal on spatial genetic structure in the bird-pollinated Banksia hookeriana. Heredity 102:274–285

Levin DA, Watkins L (1984) Assortative mating in Phlox. Heredity 53:595–602

Lotz CN, Nicolson SW (1996) Sugar preferences of a nectarivorus passerine bird, the lesser double-collared Sunbird (Nectarinia chalybea). Funct Ecol 10:360–365

Lunau K, Papiorek S, Eltz T, Sazima M (2011) Avoidance of achromatic colours by bees provides a private niche for hummingbirds. J Exp Biol 214:1607–1612

McDade LA (1983) Long-tailed hermit hummingbird visits to inflorescence color morphs of Heliconia irrasa. Condor 85:360–364

Meléndez-Ackerman E, Campbell DR, Waser NM (1997) Hummingbird behavior and mechanisms of selection on flower color in Ipomopsis. Ecology 78:2532–2541

Montgomerie RD, Eadie JM, Harder LD (1984) What do foraging hummingbirds maximize? Oecologia 63:357–363

Ödeen A, Håstad O (2010) Pollinating birds differ in spectral sensitivity. J Comp Physiol Neuroethol Sens Neural Behav Physiol 196:91–96

Oliver EGH, Oliver IM (2005) The genus Erica (Ericaceae) in southern Africa: taxonomic notes 2. Bothalia 35:121–148

Proctor M, Yeo P, Lack A (1996) The natural history of pollination. Timber Press Inc, Portland

Pyke GH (1981) Optimal foraging in hummingbirds—rule of movement between inflorescences. Anim Behav 29:889–896

R Development Core Team (RDCT). 2006. R: a language and environment for statistical computing

Rebelo AG, Siegfried WR (1985) Colour and size of flowers in relation to pollination of Erica species. Oecologia 65:584–590

Rodríguez-Gironés MA, Santamaría L (2004) Why are so many bird flowers red? PLoS Biol 2:1515–1519

Schemske DW, Bierzychudek P (2001) Perspective: evolution of flower color in the desert annual Linanthus parryae: Wright revisited. Evolution 55:1269–1282

Schemske DW, Bierzychudek P (2007) Spatial differentiation for flower color in the desert annual Linanthus parryae: was Wright right? Evolution 61:2528–2543

Schumann D, Kirsten G, Oliver EGH (1992) Ericas of South Africa. Fernwood Press, Vlaeberg

Skead CJ (1967) The sunbirds of southern Africa, also the sugarbirds, the white-eyes and the spotted creeper. Cape and Transvaal printers, Cape Town

Stiles FG (1976) Taste preferences, color preferences, and flower choice in hummingbirds. Condor 78:10–26

Sutherland GD, Gass CL (1995) Learning and remembering of spatial patterns by hummingbirds. Anim Behav 50:1273–1286

Van der Niet T, Pirie MD, Shuttleworth A, Johnson SD, Midgley JJ (2014) Do pollinator distributions underlie the evolution of pollination ecotypes in the Cape shrub Erica plukenetii? Ann Bot 113:301–316

Waser NM (1982) A comparison of distances flown by different visitors to flowers of the same species. Oecologia 55:251–257

Waser NM (1986) Flower constancy: definition, cause and measurement. Am Nat 127:593–603
Acknowledgments
We thank Mr. A. James for making his property available to us and several field assistants for their help. R. Maia and E. Newman are thanked for their statistical assistance. A.H. was funded by the Harry Crossley Fund.
Electronic supplementary material
Below is the link to the electronic supplementary material.
About this article
Cite this article
Heystek, A., Geerts, S., Barnard, P. et al. Pink flower preference in sunbirds does not translate into plant fitness differences in a polymorphic Erica species. Evol Ecol 28, 457–470 (2014). https://doi.org/10.1007/s10682-014-9693-z
Received:

Accepted:

Published:

Issue Date:
Keywords
Bird-pollination

Cape Floristic Region

Colour polymorphism

Flower constancy

Nectar robbing

Optimal foraging