Abstract
Adult life spans are an important life history variable in butterflies, but have rarely been investigated in cross-species comparisons. Using 377 captive specimens from a Bornean rainforest assemblage (wild catches with low wing wear, belonging to 102 species) under standardized feeding conditions, substantial differences in the average adult life spans of species were observed, ranging from few days to almost three weeks. Analyses were carried out on the 30 most common species (247 specimens, only males). They revealed that related taxa had similar life spans, with nymphalids and some lycaenid groups being generally longer-lived than other taxa. Two traits of adult feeding behaviour are strong predictors of longevity in multivariate, phylogeny-controlled analyses: Fruit-feeding (versus nectar feeding) is associated with longer life spans, whereas the occurrence of mud-puddling behaviour is associated with short adult life. Larval feeding, male territoriality and a number of morphological measures showed no independent relationships with life spans. Furthermore, there was no evidence that long-lived species have larger geographic distributions (i.e., are better dispersers). Explanatory hypotheses are put forward, which may be a starting point for further investigations.
Access options
Buy single article
Instant access to the full article PDF.
USD 39.95
Price excludes VAT (USA)
Tax calculation will be finalised during checkout.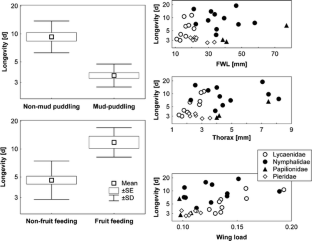 References
Abouheif E (1999) A method for testing the assumption of phylogenetic independence in comparative data. Evol Ecol Res 1:895–909

APG (Angiosperm Phylogeny Group) (2003) An update of the Angiosperm Phylogeny Group classification for the orders and families of flowering plants: APG II. Bot J Linn Soc 141:399–436

Bauernfeind SS, Fischer K (2005) Effects of adult-derived carbohydrates, amino acids and micronutrients on female reproduction in a fruit-feeding butterfly. J Ins Physiol 51:545–554

Beck J (2007) The importance of amino acids in the adult diet of male tropical rainforest butterflies. Oecologia 151:741–747

Beck J, Kitching IJ (2007) Correlates of range size and dispersal ability: a comparative analysis of sphingid moths from the Indo-Australian tropics. Glob Ecol Biogeogr 16:341–349

Beck J, Kitching IJ, Linsenmair KE (2006) Diet breadth and host plant relationships of Southeast-Asian sphingid caterpillars. Ecotropica 12:1–13

Beck J, Mühlenberg E, Fiedler K (1999) Mud-puddling behaviour in tropical butterflies: in search of protein or minerals? Oecologia 119:140–148

Beck J, Schulze CH (2000) Diversity of fruit-feeding butterflies (Nymphalidae) along a gradient of tropical rainforest succession in Borneo with some remarks on the problem of 'pseudoreplicates'. Transact lepidopt Soc Japan 51:89–98

Beck J, Wagner K (2006) Observations on the territoriality of male Arhopala aurea, a lycaenid butterfly of the rainforest understorey. Sepilok Bull 5:17–25

Boggs CL (1997) Reproductive allocation from reserves and income in butterfly species with differing adult diets. Ecology 78:181–191

Braby MF (2002) Life history strategies and habitat templets of tropical butterflies in north-eastern Australia. Evol Ecol 16:399–413

Braby MF, Jones RE (1995) Reproductive patterns and resource allocation in tropical butterflies: Influence of adult diet and seasonal phenotype on fecundity, longevity and egg size. Oikos 72:189–204

Braby MF, Trueman JWH, Eastwood R (2005) Where and when did troidine butterflies (Lepidoptera: Papilionidae) evolve? Phylogenetic and biogeographic evidence suggests an origin in remnant Gondwana in the late Cretaceous. Invertebrate Syst 19:113–143

Braby MF, Vila R, Pierce NE (2006) Molecular phylogeny and systematics of the Pieridae (Lepiodoptera: Papilionoidea): higher classification and biogeography. Zool J Linn Soc 147:239–275

Bronikowski AM, Promislow DEL (2005) Testing evolutionary theories of aging in wild populations. Trends Ecol Evol 20:271–273

Burger J, Gochfeld M (2001) Smooth-billed ani (Crotophaga ani) predation on butterflies in Mato Grosso, Brazil: risk decreases with increased group size. Behav Ecol Sociobiol 49:482–492

Carey JR (2001) Insect biodemography. Annu Rev Entomol 46:79–110

Corbet AS, Pendlebury HM (1992) The butterflies of the Malay peninsula. (4th edn, revised by JN Eliot). Malayan Nat Soc, Kuala Lumpur

Cranbrook E, Edwards DS (1994) A tropical rainforest—the nature of biodiversity in Borneo at Belalong, Brunei. The Royal Geographic Society, London & Sun Tree Publishing, Singapore

de Boer AF, Duffels JP (1996) Historical biogeography of the cicadas of Wallacea, New Guinea and the West Pacific: a geotectonic explanation. Palaeogeography, Palaeoclimatology, Palaeoecology 124:153–177

Diniz-Filho JAF, de Sant'Ana CER, Bini LM (1998) An eigenvector method for estimating phylogenetic inertia. Evolution 52:1247–1262

Dudley R, Srygley RB (1994) Flight physiology of Neotropical butterflies: allometry of airspeeds during natural free flight. J Exp Biol 191:125–139

Dykes AP (2000) Climatic pattern in a tropical rainforest in Brunei. The Geogr J 166:63–80

Erhardt A, Baker I (1990) Pollen amino acids—an additional diet for a nectar feeding butterfly? Plant Syst Evol 169:111–121

Fischer K, O'Brien DM, Boggs CL (2004) Allocation of larval and adult resources to reproduction in a fruit-feeding butterfly. Funct Ecol 18:656–663

Gotthard K, Nylin S, Wiklund C (2000) Mating opportunity and the evolution of sex-specific mortality rates in a butterfly. Oecologia 122:36–43

Jervis M, Boggs CL, Ferns PN (2005) Egg maturation strategy and its associated trade-offs: a synthesis focusing on Lepidoptera. Ecol Entomol 30:359–375

Kaitala A, Wiklund C (1994) Polyandrous female butterflies forage for matings. Behav Ecol Sociobiol 35:385–388

Karlson B, Wiklund C (2005) Butterfly life history and temperature adaptations; dry open habitats select for increased fecundity and longevity. J Anim Ecol 74:99–104

Kelson R (2002) Longevity of tropical butterflies in a butterfly house in California. Invertebrates in Captivity (Conference Proceedings). Sonoran Arthorpod Studies Institute, Arizona (USA), pp 169–177

Kemp DJ (2001) Age-related site fidelity in the territorial butterfly Hypolimnas bolina (L.) (Lepidoptera: Nymphalidae). Austr J Entomol 40:65–68

Maruyama K (1991) Butterflies of Borneo, vol. 2, no. 2: Hesperiidae. Tobishima Corp, Tokyo

Mevi-Schütz J, Erhardt A (2004) Mating frequency influences nectar amino acid preference of Pieris napi. Proc R Soc B 271:153–158

Mevi-Schütz J, Erhardt A (2005) Amino acids in nectar enhance butterfly fecundity: a long-awaited link. Am Nat 165:411–419

Molleman F, Grunsve RHA, Liefting M, Zwaan BJ, Brakefield PM (2005b) Is male puddling behaviour of tropical butterflies targeted at sodium for nuptial gifts or activity? Biol J Linn Soc 86:345–361

Molleman F, Krenn HW, van Alphen M, Brakefield PM, DeVries P, Zwaan BJ (2005a) Food intake of fruit-feeding butterflies: evidence for adaptive variation in proboscis morphology. Biol J Linn Soc 86:333–343

Molleman F, van Alphen ME, Brakefield PM, Zwaan BJ (2005c) Preferences and food quality of fruit-feeding butterflies in Kibale Forest, Uganda. Biotropica 37:657–663

Molleman F, Zwaan BJ, Brakefield PM, Carey JR (2007) Extraordinary long life spans in fruit-feeding butterflies can provide window on evolution of life span and aging. Experimental Gerontology (in press; doi:10.1016/j.exger.2007.01.008)

Nowicki P, Richter A, Glinka U, Holzschuh A, Toelke U, Henle K, Woyciechowski M, Settele J (2005) Less input same output: simplified approach for population size assessment in Lepidoptera. Popul Ecol 47:203–212

Nylin S, Gotthard K (1998) Plasticity in life history traits. Annu Rev Entomol 43:63–83

Orr AG, Haeuser CL (1996) Temporal and spatial patterns of butterfly diversity in a lowland tropical rainforest. In: Edwards DS, Booth WE, Choy SC (eds) Tropical rainforest research—current issues. Kluwer, Drodrecht, pp 125–138

Otsuka K (1988) Butterflies of Borneo, vol 1. Tobishima Corp, Tokyo

Peña C, Wahlberg N, Weingartner E, Kodandaramaiah U, Nylin S, Freitas AVL, Brower AVZ (2006) Higher level phylogeny of Satyrinae butterflies (Lepidoptera: Nymphalidae) based on DNA sequence data. Molecul Phylogen Evol 40:29–49

Reeve J, Abouheif E (2003) Phylogenetic Independence, v 2.0. Dept Biol, McGill University (distributed freely by the authors on request)

Robinson GS, Ackery PR, Kitching IJ, Beccaloni GW, Hernández LM (2001) Hostplants of the moth and butterfly caterpillars of the Oriental Region. Nat Hist Mus (Lond) & Southdene Sdn Bhd, Kuala Lumpur

Schneider D (1993) Danaine butterflies: a didactic story about chemical ecology. In: Malcolm SB, Zalucki MP (eds) Biology and conservation of the monarch butterfly. Nat Hist Mus, Los Angeles, pp 19–28

Seki Y, Takanmi Y, Otsuka K (1991) Butterflies of Borneo, vol. 2, no. 1: Lycaenidae. Tobishima Corp, Tokyo

Simberloff DS (1978) Use of rarefaction and related methods in ecology. In: Dickson KL, Cairns J Jr, Livingston RJ (eds) Biological Data in Water Pollution Assessment: Quantitative and Statistical Analyses. American Society for Testing and Materials STP 652, Philadelphia, pp 150–165

StatSoft (2001) Statistica 6.0. Computer program and manual. StatSoft, Inc., Tulsa, OK (USA). http://www.statsoft.com

Stearns SC (1992) The evolution of life histories. Oxford University Press, Oxford

Tangah J, Hill JK, Hamer KC, Dawood MM (2004) Vertical distribution of fruit-feeding butterflies in Sabah, Borneo. Sepilok Bull 1:15–25

Trueblood DD, Gallagher ED, Gould DM (1994) The three stages of seasonal succession on the Savin Hill Cove mudflat, Boston Harbor. Limnol Oceanogr 39:1440–1454

Wahlberg N, Braby MF, Brower AVZ, de Jong R, Lee M-M, Nylin S, Pierce NE, Sperling FAH, Vila R, Darren AD, Zakharov E (2005) Synergistic effects of combining morphological and molecular data in resolving the phylogeny of butterflies and skippers. Proc R Soc (B) 272: 1577–1586

Wendeln MC, Runkle LR, Kalko EKV (2000) Nutritional values of 14 fig species and bat feeding preferences in Panama. Biotropica 32:489–501

Wiens JJ, Graham CH (2005) Niche conservatism: Integrating evolution, ecology, and conservation biology. Annu Rev Ecol Evol Syst 36:519–539

Wiklund C, Gotthard K, Nylin S (2003) Mating system and the evolution of sex-specific mortality rates in two nymphalid butterflies. Proc R Soc (B) 270:1823–1828
Acknowledgements
I thank the staff of KBFSC, as well as J.-P. Lessard, A. Keller, K. Wagner and Dyg. Siti Nortasha for help with routine lab work. Furthermore, I am grateful to N. Blüthgen for supplying amino acids, K. Fiedler for advice on butterfly keeping, G. Robinson for sharing the latest version of his hostplant database, and U. Grafe for helpful discussions. Two anonymous reviewers provided very useful criticisms on earlier drafts of the manuscript, Simon P. Loader helped with the presentation. The study was financed by a Research Fellowship of the University of Brunei Darussalam.
Electronic supplementary material
Below is the link to the electronic supplementary material.
About this article
Cite this article
Beck, J. Phylogenetic and ecological correlates with male adult life span of rainforest butterflies. Evol Ecol 22, 507–517 (2008). https://doi.org/10.1007/s10682-007-9179-3
Received:

Accepted:

Published:

Issue Date:

DOI: https://doi.org/10.1007/s10682-007-9179-3
Keywords