Abstract
In Argentina, the yield potential of rice (Oryza sativa L.) under suboptimal temperatures of temperate regions and during early sowing in tropical regions depends on its low-temperature germinability (LTG) and subsequent cold tolerance at the seedling stage (CTS). This study focused on the phenotyping and identification of contrasting henotypes for LTG and CTS of 18 rice genotypes genotyped with 49 markers previously linked to cold tolerance. The selected markers revealed phenotypic variability among the genotypes evaluated. The results also demonstrated that both traits are regulated by different genes and that CTS is associated with differential alleles of candidate gene (CG)-based markers. Biplot clustering analysis allowed the selection of two cultivars, H298a/90 and Puitá INTA CL, contrasting for LTG, CTS and CG alleles. An F2 population (n = 128) derived from these two cultivars was genotyped with 43 SSR- and CG-based markers and 89 F2:3 families (~ 1800 seedlings) phenotyped for CTS. Single-marker analysis detected two major QTL that had been previously reported for CTS: qCTS11, which explained 18.35% of the phenotypic variance at 7 days of treatment, and qCTS12, which explained 26.62% and 47.94% of the phenotypic variance at 7 and 14 days of treatment, respectively. Marker-assisted introgression of QTL alleles favorable for CTS into Puitá INTA CL, which has high LTG, could contribute to obtaining breeding lines with early seedling vigor adapted to the sowing season in Argentina.
Access options
Buy single article
Instant access to the full article PDF.
US$ 39.95
Tax calculation will be finalised during checkout.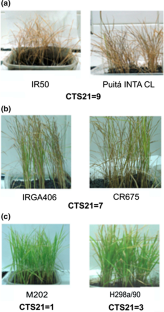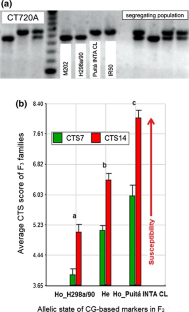 References
Andaya VC, Mackill DJ (2003a) Mapping of QTLs associated with cold tolerance during the vegetative stage in rice. J Exp Bot 54:2579–2585. https://doi.org/10.1093/jxb/erg243

Andaya V, Mackill D (2003b) QTLs conferring cold tolerance at the booting stage of rice using recombinant inbred lines from a japonica × indica cross. Theor Appl Genet 106:1084–1090. https://doi.org/10.1007/s00122-002-1126-7

Andaya VC, Tai TH (2006) Fine mapping of the qCTS12 locus, a major QTL for seedling cold tolerance in rice. Theor Appl Genet 113:467–475. https://doi.org/10.1007/s00122-006-0311-5

Baruah AR, Ishigo-Oka N, Adachi M et al (2009) Cold tolerance at the early growth stage in wild and cultivated rice. Euphytica 165:459–470. https://doi.org/10.1007/s10681-008-9753-y

Bernardo R (2008) Molecular markers and selection for complex traits in plants: learning from the last 20 years. Crop Sci 48:1649. https://doi.org/10.2135/cropsci2008.03.0131

Bertin P, Kinet J, Bouharmont J (1996) Evaluation of chilling sensitivity in different rice varieties. Relationship between screening procedures applied during germination and vegetative growth. Euphytica 89:201–210. https://doi.org/10.1093/jxb/erg243

Bonnecarrère V, Quero G, Monteverde E et al (2015) Candidate gene markers associated with cold tolerance in vegetative stage of rice (Oryza sativa L.). Euphytica 203:385–398. https://doi.org/10.1007/s10681-014-1290-2

Broman K.W., Sen Ś. (2009) Non-normal phenotypes. In: A guide to QTL mapping with R/qtl. Statistics for biology and health. Springer, New York, NY

Collard BCY, Mackill DJ (2008) Marker-assisted selection: an approach for precision plant breeding in the twenty-first century. Philos Trans R Soc B Biol Sci 363:557–572. https://doi.org/10.1098/rstb.2007.2170

Collard BCY, Vera Cruz CM, McNally KL, et al (2008) Rice molecular breeding laboratories in the genomics era: Current status and future considerations. Int J Plant Genom 2008

Crossa J, Pérez-Rodríguez P, Cuevas J et al (2017) Genomic selection in plant breeding: methods, models, and perspectives. Trends Plant Sci 22:961–975. https://doi.org/10.1016/j.tplants.2017.08.011

da Cruz RP, Milach SCK (2004) Cold tolerance at the germination stage of rice: methods of evaluation and characterization of genotypes. Sci Agric 61:1–8. https://doi.org/10.1590/S0103-90162004000100001

da Cruz RP, Sperotto RA, Cargnelutti D et al (2013) Avoiding damage and achieving cold tolerance in rice plants. Food Energy Secur 2:96–119. https://doi.org/10.1002/fes3.25

Dellaporta SL, Wood J, Hicks JB (1983) A plant DNA minipreparation: Version II. Plant Mol Biol Report 1:19–21. https://doi.org/10.1007/BF02712670

Di Rienzo JA, Guzmán AW, Casanoves F (2002) A multiple-comparisons method based on the distribution of the root node distance of a binary tree. J Agric Biol Environ Stat 7:129–142. https://doi.org/10.1198/10857110260141193

Fujino K, Matsuda Y (2010) Genome-wide analysis of genes targeted by qLTG3-1 controlling low-temperature germinability in rice. Plant Mol Biol 72:137–152. https://doi.org/10.1007/s11103-009-9559-x

Hospital F (2009) Challenges for effective marker-assisted selection in plants. Genetica 136:303–310. https://doi.org/10.1007/s10709-008-9307-1

Huang M, Guo Z (2005) Responses of antioxidative system to chilling stress in two rice cultivars differing in sensitivity. Biol Plant 49:81–84

INTA (2019) Estadísticas Temperaturas Mínimas. Instituto Nacional de Tecnología Agropecuaria Sistemas de Información Clima y Agua. https://climayagua.inta.gob.ar/estadísticas_temperaturas_mínimas.

IRRI (2013) Standard evaluation system (SES) for rice, 5th edn. International Rice Research Institute, Los Baños, Philippines

Janmohammadi M, Zolla L, Rinalducci S (2015) Low temperature tolerance in plants: changes at the protein level. Phytochemistry 117:76–89

Kim SI, Tai TH (2011) Evaluation of seedling cold tolerance in rice cultivars: a comparison of visual ratings and quantitative indicators of physiological changes. Euphytica 178:437–447. https://doi.org/10.1007/s10681-010-0343-4

Kim S-I, Andaya VC, Tai TH (2011) Cold sensitivity in rice (Oryza sativa L) is strongly correlated with a naturally occurring Ile99Val mutation in the multifunctional glutathione transferase isozyme GSTZ2. Biochem J. https://doi.org/10.1042/BJ20101610

Krishnasamy V, Seshu DV (1989) Seed germination rate and associated characters in rice. Crop Sci 29:904. https://doi.org/10.2135/cropsci1989.0011183X002900040012x

Lancashire PD, Bleiholder H, Van Den BT et al (1991) A uniform decimal code for growth stages of crops and weeds. Ann Appl Biol 119:561–601. https://doi.org/10.1111/j.1744-7348.1991.tb04895.x

Maguire JD (1962) Speed of germination—aid in selection and evaluation for seedling emergence and vigor1. Crop Sci 2:176. https://doi.org/10.2135/cropsci1962.0011183X000200020033x

Mahender A, Anandan A, Pradhan SK (2015) Early seedling vigour, an imperative trait for direct-seeded rice: an overview on physio-morphological parameters and molecular markers. Planta 241:1027–1050. https://doi.org/10.1007/s00425-015-2273-9

Martínez CP, Torres EA, Chatel M et al (2014) Rice breeding in Latin America. Plant Breed Rev 38:187–278. https://doi.org/10.1002/9781118916865.ch05

Mizoi J, Yamaguchi-Shinozaki K (2013) Molecular approaches to improve rice abiotic stress tolerance. In: Yang Y (ed) Rice protocols. Humana Press, Totowa, NJ, pp 269–283

Pachecoy MI, Ramirez IA, Marín A, Pontaroli AC (2014) Assessment of cold tolerance at early developmental stages and allelic variation at candidate genes in South American rice germplasm. Euphytica 197:423–434. https://doi.org/10.1007/s10681-014-1078-4

Ranal MA, de Santana DG (2006) How and why to measure the germination process? Rev Bras Botânica 29:1–11. https://doi.org/10.1590/S0100-84042006000100002

Satoh T, Tezuka K, Kawamoto T et al (2016) Identification of QTLs controlling low-temperature germination of the East European rice (Oryza sativa L.) variety Maratteli. Euphytica 207:245–254. https://doi.org/10.1007/s10681-015-1531-z

Shakiba E, Edwards JD, Jodari F et al (2017) Genetic architecture of cold tolerance in rice (Oryza sativa) determined through high resolution genome-wide analysis. PLoS ONE 12:e0172133. https://doi.org/10.1371/journal.pone.0172133

Sperotto RA, de Araújo Junior AT, Adamski JM et al (2017) Deep RNAseq indicates protective mechanisms of cold-tolerant indica rice plants during early vegetative stage. Plant Cell Rep 37:1–29. https://doi.org/10.1007/s00299-017-2234-9

Sthapit BR, Witcombe JR (1998) Inheritance of tolerance to chilling stress in rice during germination and plumule greening. Crop Sci 38:660–665

Tello-Ruiz MK, Naithani S, Stein JC et al (2018) Gramene 2018: unifying comparative genomics and pathway resources for plant research. Nucleic Acids Res 46:D1181–D1189. https://doi.org/10.1093/nar/gkx1111

Van Ooijen G, Mayr G, Kasiem MMA et al (2008) Structure-function analysis of the NB-ARC domain of plant disease resistance proteins. J Exp Bot 59:1383–1397. https://doi.org/10.1093/jxb/ern045

Wang J, Li H, Zhang L, Meng L (2012) User's manual of QTL Icimapping version 3.2. 2012) Quant Genet group, Inst Crop Sci Chinese Acad Agric Sci (CAAS), Beijing 100081, China Genet Resour Program CIMMYT, Mex p208 208.

Wang H, Lee A-R, Park S-Y et al (2018) Genome-wide association study reveals candidate genes related to low temperature tolerance in rice (Oryza sativa) during germination. 3 Biotech 8:235. https://doi.org/10.1007/s13205-018-1252-9

Ye CA, Fukai SA, Godwin IA et al (2009) Cold tolerance in rice varieties at different growth stages. Crop Pasture Sci 60:328–338

Yoshida R, Kanno A, Kameya T (1996) Cool-temperature-lnduced chlorosis in rice plants. Plant Physiol 110:997–1005

Zhang Z-H, Yu S-B, Yu T et al (2005) Mapping quantitative trait loci (QTLs) for seedling-vigor using recombinant inbred lines of rice (Oryza sativa L.). F Crop Res 91:161–170. https://doi.org/10.1016/j.fcr.2004.06.004

Zhang Q, Chen Q, Wang S et al (2014) Rice and cold stress: methods for its evaluation and summary of cold tolerance-related quantitative trait loci. Rice (N Y) 7:24. https://doi.org/10.1186/s12284-014-0024-3

Zhi-Hong Z, Li S, Wei L et al (2005) A major QTL conferring cold tolerance at the early seedling stage using recombinant inbred lines of rice (Oryza sativa L.). Plant Sci 168:527–534. https://doi.org/10.1016/j.plantsci.2004.09.021
Acknowledgments
We thank Dr. Sofía Eugenia Olmos and Dr. Julia Verónica Sabio Garcia for their useful comments and suggestions to improve the manuscript. Financial support from the National Institute of Agricultural Technology of Argentina (INTA) (Grant No. PNBIO1131042) (Research Grant # AEBIO 241311 and Graduate Scholarship for M.L. Bonell) is acknowledged.
Additional information
Publisher's Note
Springer Nature remains neutral with regard to jurisdictional claims in published maps and institutional affiliations.
Electronic supplementary material
Below is the link to the electronic supplementary material.
About this article
Cite this article
Bonell, M.L., Arguissain, G.G., Crepy, M.A. et al. Phenotyping and QTL mapping for cold tolerance at the germination and seedling stages in Argentine temperate rice. Euphytica 216, 128 (2020). https://doi.org/10.1007/s10681-020-02661-3
Received:

Accepted:

Published:
Keywords
Cold tolerance (CT)

Low-temperature germination ability (LTG)

Cold tolerance at seedling stage (CTS)

Candidate genes

Marker-assisted selection (MAS)