Abstract
With the exception of Cajanus cajan (L.) Millspaugh (pigeonpea), the remaining species of genus Cajanus have not been domesticated. For millennia these taxa have persisted in natural habitats through self-sown seeds. These wild species are an asset for sustaining future pigeonpea breeding programmes since they contain certain traits (genes) that are necessary for encountering various breeding challenges related to crop improvement and adaptation. In this review we identify the key traits from wild Cajanus species, and discuss various physical and genetic constraints encountered in their utilization in introgression breeding. Some noteworthy achievements recorded from inter-specific breeding programmes in pigeonpea are also discussed. These include the development of (1) high protein (> 28%) genotypes (2) cytoplasmic nuclear male sterility systems (3) highly (> 95%) self-pollinating genotypes, and (4) resistance sources to sterility mosaic disease, nematodes, salinity, photo-insensitivity, pod borers, podfly, bruchids, and Phytophthora blight. To help pigeonpea breeders engaged in inter-specific breeding programmes, we suggest the division of the secondary gene pool germplasm into two sub-group/tiers on the basis of ease in hybridization.
This is a preview of subscription content, log in to check access.
Access options
Buy single article
Instant access to the full article PDF.
US$ 39.95
Price includes VAT for USA
Subscribe to journal
Immediate online access to all issues from 2019. Subscription will auto renew annually.
US$ 199
This is the net price. Taxes to be calculated in checkout.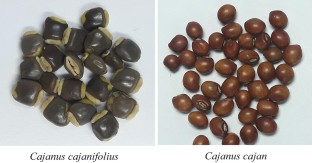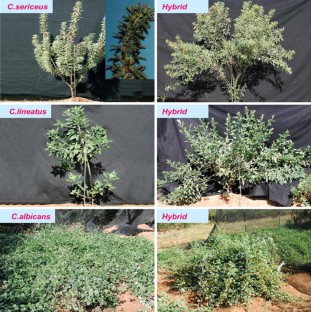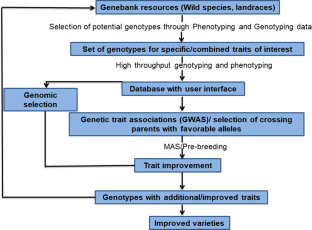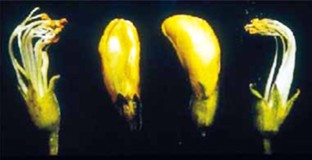 References
Ahlawat IPS, Sharma P, Singh U (2016) Production, demand, and import of pulses in India. Indian J Agron 61:S33–S41

Ajay BC, Prasad PS, Gowda MB, Ganapathy KN, Gnanesh BN, Fiyaz RA, Veerakumari GN, Babu HP, Venkatesha S, Ramya KT (2013) Inheritance of resistance to Bangalore race of Fusarium wilt disease in pigeon pea (Cajanus cajan L.). Aust J Crop Sci 7:1520–1524

Alexandratos N, Bruinsma J (2012) World agriculture towards 2030/2050: the 2012 revision ESA. Working paper no 12-03, FAO, Rome

Ariyanayagam RP, Rao AN, Zaveri PP (1995) Cytoplasmic male-sterility in interspecific matings of Cajanus. Crop Sci 35:981–985

Aruna R, Rao DM, Reddy LJ, Upadhyaya HD, Sharma HC (2005) Inheritance of trichomes and resistance to pod borer (Helicoverpa armigera) and their association in inter-specific crosses between cultivated pigeonpea (Cajanus cajan) and its wild relatives. Euphytica 145:247–257

Bohra A, Mallikarjuna N, Saxena KB, Upadhyaya HD, Vales MI, Varshney R (2010) Harnessing the potential of crop wild relatives through genomics tool for pigeonpea improvement. J Plant Biol 37:83–98

Bohra A, Dubey A, Saxena RK, Penmetsa RV, Poornima KN, Kumar N, Farmer AD, Srivani G, Upadhyaya HD, Gothalwal R, Ramesh S, Singh D, Saxena KB, Kishor PBK, Singh NK, Town CD, May GD, Cook DR, Varshney RK (2011) Analysis of BAC-end sequences (BESs) and development of BES-SSR markers for genetic mapping and hybrid purity assessment in pigeonpea (Cajanus spp.). BMC Plant Biol 11:56

Brar HS, Jhaljj HS, Gatoria GC (1992) Abundance and activity of the bee visits to pigeonpea (Cajanus cajan (L.) Millsp.), and role of Apis mellifera (L.) in its pollination. Indian Bee J 54:76–80

Changaya AG, Melis R, Derera J, Laing M, Saka V (2012) Inheritance of resistance to Fusarium wilt and yield traits in pigeonpea. Euphytica 186:883–896

De DN (1974) Pigeonpea: evolutionary studies in world crops; diversity, and change in the Indian sub-continent. Cambridge University Press, London, pp 79–87

Deodikar GB, Thakar CV (1956) Cytot-axonomic evidence for the affinity between C. indicus, Spreng and certain erect species of Atylosia W and A. Proc Indian Acad Sci B 43(B):37–45

Dodia DA, Patel AJ, Patel IS, Dhulia FK, Tikka SBS (1996) Antibiotic effect of pigeonpea wild relatives on Helicoverpa armigera. Int Chickpea Pigeonpea Newsl 3:100–101

Dundas IS (1990) Pigeonpea: cytology and cytogenetics—perspectives and prospects. In: The pigeonpea, CAB international, Wallingford, UK, pp 117–136

Hajjar R, Hodgkin T (2007) The use of wild relatives in crop improvement: a survey of developments over the last 20 years. Euphytica 156(1–2):1–13

Harlan JR, de Wet JMJ (1971) Towards a rational classification of cultivated plants. Taxon 20:507–517

Hoyt E (1988) Conserving the wild relatives of crops. IPGRI/IUCN/WWF, Rome

Jain KC, Reddy MV (1995) Inheritance of resistance to Fusarium wilt in pigeonpea (Cajanus cajan (L.) Millsp.). Ind J Genet Plant Breed 55:434–437

Jupe F, Witek K, Verweij W, Śliwka J, Pritchard L, Etherington GJ, Maclean D, Cock PJ, Leggett RM, Bryan GJ, Cardle L, Hein I, Jones JDG (2013) Resistance gene enrichment sequencing (RenSeq) enables reannotation of the NB-LRR gene family from sequenced plant genomes and rapid mapping of resistance loci in segregating populations. Plant J 76(3):530–544

Kahraman A, Pandey A, Khan MK, Lindsay D, Moenga S, Vance L et al (2017) Distinct subgroups of Cicer echinospermum are associated with hybrid sterility and hybrid breakdown in interspecific crosses with cultivated chickpea. Crop Sci 57:3101–3111

Kajale MD (1974) Plant economy at Bhokardan. In: Deo SB, Gupte RS (Eds) Excavations at Bhokardan (Bhogacardhana). Nagpur University, Aurangabad, pp 217–224

Karimi R, Owuoche JO, Silim SN (2010) Inheritance of fusarium wilt resistance in pigeonpea (Cajanus cajan (L.) Millspugh). Indian J Genet 70:271–276

Kassa MT, Varma RP, Garciel N, Sarma BK, Datta S, Upadhyaya HD, Varshney RK, Wettberg EJB, Cook DR (2012) Genetic patterns of domestication in pigeonpea (Cajanus cajan (L.) Millsp.) and wild Cajanus relatives. PLoS ONE 7:e39563

Kaul MLH (1988) Male sterility in higher plants. Springer, Berlin

Kotresh H, Fakrudin B, Punnuri SM, Rajkumar BK, Thudi M, Paramesh H, Lohithswa H, Kuruvinashetti MS (2006) Identification of two RAPD markers genetically linked to a recessive allele of a fusarium wilt resistance gene in pigeonpea (Cajanus cajan (L.) Millsp.). Euphytica 149:113–120

Krieg CP, Kassa MT, von Wettberg EJ (2017) Germplasm resources and trait characterization. In: Varshney RK, Saxena RK, Jackson SA (eds) The pigeonpea genome: a compendium. Springer, Berlin, pp 1–4

Lateef SS (1992) Scope and limitations of host plant resistance in pulses for the control of Helicoverpa armigera. In: Sachan JN (ed) Helicoverpa management—current status and future strategies in pigeonpea IIPR. Kanpur, India, pp 31–37

Malikarjuna N, Saxena KB (2002) Production of hybrid between C. acutifolius and Cajanus cajan. Euphytica 124:107–110

Malikarjuna N, Saxena KB (2005) A new cytoplasmic nuclear male-sterility system derived from cultivated pigeonpea cytoplasm. Euphytica 142:143–148

Mallikarjuna N, Moss JP (1995) Production of hybrid between Cajanus platycarpus and Cajanus cajan. Euphytica 83:43–46

Mallikarjuna N, Jadhav D, Reddy MV, Dutta-Tawar U (2005) Introgression of phytophthora blight disease resistance from Cajanus platycarpus into short duration pigeonpeas. Indian J Genet 65:261–264

Mallikarjuna N, Jadhav DR, Reddy P (2006) Introgression of Cajanus platycarpus genome into cultivated pigeonpea Cajanus cajan. Euphytica 149:161–167

Mallikarjuna N, Senthivel S, Deepak RJ, Saxena KB, Sharma HC, Upadhyaya HD, Rathore A, Varshney R (2011) Progress in the utilization of Cajanus platycarpus (Benth.) Maesen in pigeonpea improvement. Plant Breed 130(5):507–514

Mallikarjuna N, Saxena KB, Lakshami J, Varshney RK, Srikanth S, Jadbav DR (2012) Differences between Cajanus cajan (L.) Millsp. and Cajanus cajanifolius (Haines) van der Maesen, the progenitor species of pigeonpea. Genet Res Crop Evol 59:411–417

Nadimpalli RG, Jarret JL, Pathak SC, Kochert G (1993) Phylogenetic relationships of pigeonpea (Cajanus cajan (L.) Millsp.) based on nuclear restriction fragment length polymorphism. Genome 36:216–223

Ohri P, Singh SP (2002) Karyotypic and genome size variation in Cajanus cajan (L) Millsp. (pigeonpea) and some wild relatives. Genet Resour Crop Evol 49:1–10

Okiror MA (2002) Genetics of resistance to Fusarium udum in pigeonpea [Cajanus cajan (L.) Millsp.]. Ind J Genet Plant Breed 62:218–220

Pandey S, Sharma M, Mangala U, Ghosh R, Sundaresan G (2011) Phytophthora blight of pigeonpea (Cajanus cajan (L.) Millsp.): an updating review of biology, pathogenicity and disease management. Crop Prot 30:951–957

Pathak GN (1970) Red gram: pulse crops of India. Indian Council of Agricultural Research, New Delhi, pp 14–53

Patil P, Singh LP, Dhar V, Chaudhary RG, Datta S, Chaturvedi SK, Nadarajan N (2013) Variant specific studies on inheritance for resistance to Fusarium wilt in pigeonpea [Cajanus cajan (L.) Millsp.]. Legume Res 36:576–581

Plucknett D, Smith N, Williams J, Murthi AN (1987) Gene banks and the Worlds Food Princeton. University Press, Princeton

Pundir RPS, Singh RB (1985) Cross ability relationships among Cajanus, Atylosia and Rhynchosia species and detection of crossing barriers. Euphytica 34:303–308

Pundir RPS, Singh RB (1987) Possibility of genetic improvement in pigeonpea utilizing the wild genetic resources. Euphytica 36:33–37

Ranga Rao GV, Rao R, Ghaffar MA (2013) Hand book on chickpea and pigeonpea: insect pests identification and management. Information bulletin 57, International Crops Research Institute for the Semi-Arid Tropics (ICRISAT), Patancheru, 90 pp

Ratnaparkhe MB, Gupta VS, Murthy MRV, Ranjekar PK (1995) Genetic fingerprinting of pigeonpea (Cajanus cajan (L.) Millsp.) and its wild relatives using RAPD marker. Theor Appl Genet 91:893–898

Reddy LJ (1981) Pachytene analyses in Cajanus cajan, Atylosia lineatus and their hybrids. Cytologia 46:397–412

Reddy LJ (1990) Pigeonpea: morphology. In: The pigeonpea, CAB international, Wallingford, Oxon, UK, pp 47–88

Rick CW (1984) Plant germplasm resources. In: Evans DA, Sharp WR, Ammirato PV, Yamada Y (eds) Hand book of cell culture. MacMilan, New York, pp 9–37

Rieseberg LH, Blackman BK (2010) Speciation genes in plants. Ann Bot 106:439–455

Romies J, Shanower TG, Peter AJ (1999) Trichomes on pigeonpea (Cajanus cajan (L.) Millsp.) and two wild Cajanus spp. Crop Sci 39:564–569

Saxena KB (2008) Genetic improvement of pigeonpea—a review. Trop Plant Biol 1:159–178

Saxena KB (2013) A novel source of CMS in pigeonpea derived from Cajanus reticulatus. Indian J Genet 73:259–263

Saxena KB (2014) Temperature-sensitive male sterility system in pigeonpea. Curr Sci 107:277–281

Saxena KB (2015) From concept to field: evolution of hybrid pigeonpea technology in India. Indian J Genet 75:279–293

Saxena KB, Kumar RV (2003) Development of a cytoplasmic nuclear male-sterility system in pigeonpea using C. scarabaeoides (L.) Thouars. Ind J Genet 63:225–229

Saxena KB, Kumar RV (2010) Insect-aided natural out-crossing in four wild relatives of pigeonpea. Euphytica 173:329–335

Saxena KB, Sawargaonkar SL (2016) Genetic enhancement of seed proteins in pigeonpea—methodologies, accomplishments, and opportunities. Int J Sci Res 4:3–7

Saxena KB, Sharma D (1995) Sources of dwarfism in pigeonpea. Indian J Pulses Res 8:1–6

Saxena KB, Tikle AN (2015) Believe it or not, hybrid technology is the way to enhance pigeonpea yields. Intl J Sci Res 5:1–7

Saxena KB, Faris DG, Singh U, Kumar RV (1987) Relationship between seed size and protein content in newly developed high protein lines of pigeonpea. Food Hum Nutr 36:335–340

Saxena KB, Singh L, Reddy MV, Singh U, Lateef SS, Sharma SB, Remanandan P (1990) Intra species variation in Atylosia scarabaeoides (L.) Benth., a wild relative of pigeonpea (Cajanus cajan (L.) Millsp.). Euphytica 49:185–191

Saxena KB, Singh L, Ariyanayagam RP (1993) Role of cleistogamy in maintaining genetic purity of pigeonpea. Euphytica 66:225–229

Saxena KB, Jayasekara SJBA, Ariyaratne HP, Fonseka HHD (1994) Frequency of natural out-crossing in partially cleistogamous pigeonpea lines in diverse environments. Crop Sci 34:660–662

Saxena KB, Kumar RV, Srivastava N, Shiying B (2005) A cytoplasmic-nuclear male-sterility system derived from a cross between Cajanus cajanifolius and Cajanus cajan. Euphytica 145:289–294

Saxena KB, Kumar RV, Dalvi VA, Pandey LB, Gaddikeri G (2010a) Development of cytoplasmic nuclear male sterility, its inheritance, and potential use in pigeonpea hybrid breeding. J Heredity 101:497–503

Saxena KB, Kumar RV, Sultana R (2010b) Quality nutrition through pigeonpea - a review. Health 2:1335–1344

Saxena KB, Sultana R, Mallikarjuna N, Saxena RK, Kumar RV, Sawargaonkar SL, Varshney RK (2010c) Male sterility systems in pigeonpea and their role in enhancing yield. Plant Breed 129:125–134

Saxena RK, Varma Penmetsa R, Upadhyaya HD, Kumar A, Carrasquilla-Garcia N (2012) Large-scale development of cost-effective single-nucleotide polymorphism marker assays for genetic mapping in pigeonpea and comparative mapping in legumes. DNA Res 19:449–461

Saxena RK, von Wettberg E, Upadhyaya HD, Sanchez V, Songok S, Saxena KB, Kimurto P, Varshney RK (2014) Genetic diversity and demographic history of Cajanus spp. illustrated from genome-wide SNPs. PLoS ONE 9:e88568

Saxena KB, Tikle AN, Kumar RV, Choudhary AK, Bahadur B (2016) Nectarivore-aided cross-pollination and its exploitation in genetic enhancement of productivity in pigeonpea. Int J Sci Res 6:321–328

Saxena KB, Kumar RV, Ramarao Saxena RK (2018) Maternal inheritance of male sterility in the progeny of a natural hybrid between Cajanus lineatus and C. cajan. Plant Breed. https://doi.org/10.1111/pbr.12571

Shanower TG, Yoshida M, Peter AJ (1997) Survival, growth, fecundity, and behaviour of Helicoverpa armigera on pigeonpea and two wild Cajanus spp. J Eco Entmol 90:837–841

Sharma Shivali (2017) Pre-breeding using wild species for genetic enhancement of grain legumes at ICRISAT. Crop Sci 57:1132–1144

Sharma D, Green JM (1980) Pigeonpea. In: Hybridization of Crop Plants. Amer Soc Agron Crop Sci. Society of America, Wisconsin, pp 471–481

Sharma S, Upadhyaya HD (2016) Pre-breeding to expand primary genepool through introgression of genes from wild Cajanus species for pigeonpea improvement. Legume Perspect 11:17–20

Sharma HC, Green PW, Stevenson PC, Simmonds MJ (2001) What makes it so tasty for the pest. In: Identification of Helicoverpa armigera (Hubner) feeding stimulates and location of their production on the pod surface of pigeonpea [Cajanus cajan (L.) Millsp.]. Technical report, Competitive Research Facility Project R7029, ICRISAT, Patancheru

Singh N, Tyagi RK, Pandey C (2013) Genetic resources of pigeonpea: conservation for use. National Bureau of Plant Genetic Resources (NBPGR), New Delhi, pp 1–49

Singh IP, Bohra A, Singh F (2016) An overview of varietal development program of pigeonpea in India. Legume Perspect 11:39–42

Smartt J (ed) (1990) Evolution of genetic resources of Pigeonpea. In: Grain legumes, Cambridge University Press, Cambridge, pp 278–293

Srikanth S, Saxena RK, Rao MV, Varshney RK, Mallikarjuna N (2015) Development of a new CMS system in pigeonpea utilizing crosses with Cajanus lanceolatus (WV Fitgz) van der Maesen. Euphytica 204:289–302

Sujana G (2005) Mechanisms of resistance to pod borer Helicoverpa armigera (Hubner) in wild relatives of pigeonpea. PhD theses, Osmania University, Hyderabad, India

Sun ZX, Min SK, Xiong ZM (1989) A temperature-sensitive male sterile line found in rice. Rice Genet Newsl 6:116–117

Tanksley SD, McCouch S (1997) Seed banks and molecular maps: unlocking genetic potential from the wild. Science 277:1063–1066

Tikka SBS, Parmar LD, Chauhan RM (1997) First record of cytoplasmic-genic male-sterility system in pigeonpea [Cajanus cajan (L.) Millsp.] through wide hybridization. Gujarat Agric Univ Res J 22:160–162

Tuteja R, Saxena RK, Davila J, Shah T, Chen W, Xiao YL, Fan G, Saxena KB, Alverson AJ, Spillane C, Town C, Varshney RK (2013) Cytoplasmic male sterility-associated chimeric open reading frames identified by mitochondrial genome sequencing of four Cajanus genotypes. DNA Res 20:485–495

Upadhayaya HD, Reddy K, Gowda CLLG, Singh S (2007) Phenotypic diversity in the pigeonpea core collection. Genet Resour Crop Evol 54:1167–1184

van der Maesen LJG (1980) India is the native home of pigeonpea. In: de Wit HCD (ed) Liber Grantulatorius innonerem. Agricultural University, Wageningen, pp 257–262

van der Maesen LJG (1986) Cajanus DC and Alylosia W & A (Leguminosae). Agricultural University Wageningen papers 85–4. Agricultural University, Wageningen, 222 pp

van der Maesen LJG (1990) Pigeonpea: origin, history, evolution, and taxonomy. In: The pigeonpea, CAB international, Wallingford, UK, pp 15–46

van der Maesen LJG (1995) Pigeonpea. In: Smartt J, Sommond N (eds) Evolution of crop plants. Wiley, Hoboken, pp 251–255. ISBN 9780582086432

Varshney RK, Chen W, Li Y, Bharti AK, Saxena RK, Schlueter JA, Donoghue MT, Azam S, Fan G, Whaley AM, Farmer AD, Sheridan J, Iwata A, Tuteja R, Penmetsa RV, Wu W, Upadhyaya HD, Yang SP, Shah T, Saxena KB, Michael T, McCombie WR, Yang B, Zhang G, Yang H, Wang J, Spillane C, Cook DR, May GD, Xu X, Jackson SA (2012) Draft genome sequence of pigeonpea (Cajanus cajan), an orphan legume crop of resource-poorfarmers. Nat Biotechnol 30:83–89

Varshney RK, Saxena RK, Upadhyaya HD, Khan AW, Yu Y, Kim C, Rathore A, Kim D, Kim J, An S, Kumar V, Anuradha G, Yamini KN, Zhang W, Muniswamy S, Kim JS, Penmetsa RV, von Wettberg E, Datta SK (2017) Whole-genome re-sequencing of 292 pigeonpea accessions identifies genomic regions associated with domestication and agronomic traits. Nat Genet 49:1082–1088

Vavilov N, Freier F (1951) Studies on the origin of cultivated plants. Acme Agency, Buenos Aires, pp 1–185

Verma MM, Sandhu PS (1995) Pigeonpea hybrids: historical development, present status and future prospective in Indian context. Hybrid research and development. Indian Society for Seed Technology, IARI, New Delhi, pp 121–137

Wallis ES, Byth DE, Saxena KB (1981) Flowering responses of thirty-seven early maturing lines of pigeonpea. In: International Workshop on Pigeonpeas, Vol 2, 15–19 Dec 1980, ICRISAT, Patancheru, AP, India, pp 143–150

Weller JL, Ortega R (2015) Genetic control of flowering time in legumes. Front Plant Sci 6:207

Williams IH (1977) Behaviour of insects foraging on pigeonpea (Cajanus cajan (L.) Millsp.). Trop Agric 54:353–363

Yang S, Pang W, Ash G, Harper J, Carling J, Wenzl P, Huttner E, Zong X, Kilian A (2006) Low level of genetic diversity in cultivated pigeonpea compared to its wild relatives is revealed by diversity arrays technology. Theor Appl Genet 113:585–595

Yuan L (1986) Hybrid rice in China. China J Rice Sci 1:8–18

Zeven AC, Zhukossky PM (1975) Dictionary of cultivated plants and their centre of diversity. Centre for Agriculture Publication and Documentation, Wageningen
Acknowledgements
Authors are thankful to the Department of Agriculture Cooperation and Farmers Welfare, Ministry of Agriculture and Farmers Welfare, Government of India; United States Agency for International Development (USAID); Crop Trust; Department of Biotechnology, Government of India and ICRISAT for funding various projects related to pigeonpea. This work has been undertaken as part of the CGIAR Research Program on Legumes and Dryland Cereals (GLDC). ICRISAT is a member of CGIAR Consortium.
Ethics declarations
Conflict of interest
The authors declare that they have no conflict of interest.
About this article
Cite this article
Saxena, K.B., Saxena, R.K., Sharma, S. et al. The drivers and methodologies for exploiting wild Cajanus genome in pigeonpea breeding. Euphytica 214, 222 (2018). https://doi.org/10.1007/s10681-018-2298-9
Received:

Accepted:

Published:
Keywords
Cajanus

Gene introgression

Pigeonpea

Useful traits

Wild species