Abstract
Rice is mainly a self-pollinating crop, but some outcrossing has been reported. Outcrossing with an undesirable donor would lead to the creation of segregants or off-types, which would adversely affect genetic purity and uniformity of the crop. Outcrossing rates in rice under field conditions were investigated using cultivar WAB96-1-1 as a pollen donor and WAB56-104, NERICA 2, NERICA 4 and NERICA 7 as pollen recipients. Levels of outcrossing were investigated up to 30 m from the pollen donor. Dominant morphological markers of red kernel colour and pubescent leaves of the donor were used to identify hybrids. A total of 721 134 plants were investigated. There was an average outcrossing rate of 0.7 ± 0.51%, with a potential outcrossing rate of 2.45 ± 0.86%. Outcrossing rates decreased with increase in distance. It ranged from 2.45% at 0.2 m from the donor to 0.05% at 25 m from the donor. Differences were observed between genotypes and seasons. In season 1 the highest average outcrossing rate of 1.2 ± 0.63% was with WAB56-104 and in season 2 it was 1.1 ± 0.69% with NERICA 4. Outcrossing occurred up to 30 m from the donor. This has implications for germplasm management and conservation and the production of high quality seed. Spatial isolation remains the most practical method to prevent undesirable gene flow. The study indicated that red kernel colour and leaf pubescence can be used to effectively assess outcrossing under field conditions in rice.
Access options
Buy single article
Instant access to the full article PDF.
US$ 39.95
Tax calculation will be finalised during checkout.
Subscribe to journal
Immediate online access to all issues from 2019. Subscription will auto renew annually.
US$ 119
Tax calculation will be finalised during checkout.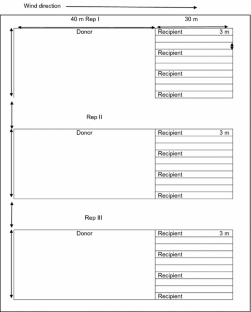 References
Addinsoft (2008) XLSTAT Version 3.02. http://www.xlstat.com/en/

AfricaRice (Africa Rice Center) (2011) Boosting Africa's rice sector: a research for development strategy 2011–2020, Cotonou, Benin

AGROBASE (2013) Version 36.8.1, Agronomix, Winnipeg, Canada

Bioversity International, IRRI, WARDA (2007) Descriptors for wild and cultivated rice (Oryza spp.). Bioversity International, Rome, Italy; International Rice Research Institute, Los Baños, Philippines; WARDA, Africa Rice Center, Cotonou, Benin

Brookes G, Barfoot P (2012) Global impact of biotech crops: environmental effects, 1996–2010. GM Crops Food 3:129–137

Chen LJ, Lee DS, Song ZP, Suh HS, Lu BR (2004) Gene flow from cultivated rice (Oryza sativa) to its weedy and wild relatives. Ann Bot 93:67–73

Chen H, Lin YJ, Zhang QF (2009) Review and prospect of transgenic rice research. Chin Sci Bull 54:4049–4068

Da Silva EF, Da Silva LM, Montalvan R (2005) Crossing rate and distance in upland rice. Bragantia 64:197–201

Devos Y, Reheul D, Schrijver AD (2006) Considerations of cross-fertilization between GM and non-GM maize. ISB News Report March 2006. http://www.isb.vt.edu/articles/mar0603.htm

Ellstrand NC, Prentice HC, Hancock JFE (1999) Gene flow and introgression from domesticated plants into their wild relatives. Annu Rev Ecol Syst 30:539–563

Endo T, Sato H, Yamaguchi M, Kataoka T, Nakagomi K, Ito T, Mori K (2009) Estimate of outcrossing rates in a rice plant (Oryza sativa L.) under field conditions using a purple grain rice cultivar, Okunomurasaki. Breed Sci 59:195–202

Gealy D, Mitten D, Rutger N (2003) Gene flow between red rice and herbicide resistant rice: implications for weed management. Weed Technol 17:627–645

Hoyle M, Cresswell JE (2007) The effect of wind direction on cross-pollination in wind-pollinated GM crops. Ecol Appl 17:1234–1243

Ikeda R, Sokei Y, Akintayo I (2009) Seed fertility of F1 hybrids between upland rice NERICA cultivars and Oryza sativa L. or O. glaberrima Steud. Breed Sci 59:27–35

IRGSP (International Rice Genome Sequencing Project) (2005) The map-based sequence of the rice genome. Nature 436:793–800

ISAAA (2012) Brief 44. Executive summary: global status of commercialized Biotech/GM Crops. http://www.isaaa.org/resources/publications/briefs/44/executivesummary/

ISAAA (2014) ISAAA brief 49. Executive summary: global status of commercialized Biotech/GM Crops. http://www.isaaa.org/resources/publications/briefs/44/executivesummary/

Ishii T, Numaguchi I, Miura K, Yoshida K, Thanh PT, Htun TM, Yamasaki M, Komeda N, Matsumoto T, Terauchi R, Ishikawa R, Ashikari M (2013) OsLG1 regulates a closed panicle trait in domesticated rice. Nat Genet 45:462–465

Jagadish SVK, Craufurd PQ, Wheeler TR (2007) High temperature stress and spikelet fertility in rice (Oryza sativa L.). J Exp Bot 58:1627–1635

Jones MP, Dingkuhn M, Aluko GK, Semon M (1997) Interspecific Oryza sativa L × O. glaberrima Steud. progenies in upland rice improvement. Euphytica 92:237–246

Kanya JI, Kinyamario JI, Amugune NO, Hauser TP (2009) Dispersal distance of rice (Oryza sativa L.) pollen at the Tana River delta in the coast province, Kenya. Afr J Biotechnol 8:2265–2270

Langevin SA (1990) The incidence and effects of hybridization between cultivated rice and its related weed red rice (Oryza sativa L.). Evolution 44:1000–1008

Lee J, Park JH, Koh HJ (2013) Morphological and genetic characterization of off-type rice plants collected from farm fields in Korea. J Plant Biol 56:160–167

Lu BR (2008) Transgene escape from GM crops and potential biosafety consequences: an environmental perspective. Collect Biosaf Rev 4:66–141

Matsui T, Kagata H (2003) Characteristics of floral organs related to reliable self-pollination in rice (Oryza sativa L.). Ann Bot 91:473–477

Matsui T, Omasa K, Horie T (2000) High temperature at flowering inhibits swelling of pollen grains, a driving force for thecae dehiscence in rice (Oryza sativa L.). Plant Prod Sci 3:430–434

Messeguer J, Fogher C, Guiderdoni E, Marfa V, Catala MM, Baldi G, Mele E (2001) Field assessments of gene flow from transgenic to cultivated rice (Oryza sativa L.) using a herbicide resistance gene as trace marker. Theor Appl Genet 103:1151–1159

Messeguer J, Marfà V, Català MM, Guiderdoni E, Melé E (2004) A field study of pollen-mediated gene flow from Mediterranean GM rice to conventional rice and the red rice weed. Mol Breed 13:103–112

Nuijten E, Van Treuren R, Struik PC, Mokuwa A, Okry F, Teeken B, Richards P (2009) Evidence for the emergence of new rice types of interspecific hybrid origin in West African farmers' fields. PLoS ONE 4:1–9

Phan PDT, Kageyama H, Ishikawa R, Ishii T (2012) Estimation of the outcrossing rate for annual Asian wild rice under field conditions. Breed Sci 62:256–262

Rong J, Xia H, Zhu Y, Wang Y, Lu BR (2004) Asymmetric gene flow between traditional and hybrid rice varieties (Oryza sativa) indicated by nuclear simple sequence repeats and implications for germplasm conservation. New Phytol 163:439–445

Rong J, Lu BR, Song Z, Su J, Snow AA, Zhang X, Sun S, Chen R, Wang F (2007) Dramatic reduction of crop-to-crop gene flow within a short distance from transgenic rice fields. New Phytol 173:346–353

Sarla N, Swamy BPM (2005) Oryza glaberrima: a source for the improvement of Oryza sativa. Curr Sci 89:955–963

Shivrain VK, Burgos NR, Sales MA, Mauromoustakos A, Gealy DR, Smith KL, Black HW, Jia M (2009) Factors affecting the outcrossing rate between Clearfield™ rice and red rice (Oryza sativa). Weed Sci 57:394–403

Somaratne LHMYK, Abayawickrama ASMT, Wickramasinghe IP, Samarasinghe WLG (2012) Estimating out-crossing rate of Bg 379-2 using morphological markers and confirmation by molecular markers. Rice Sci 19:166–168

Song ZP, Lu BR, Zhu YG, Chen JK (2003) Gene flow from cultivated rice to the wild species Oryza rufipogon under experimental field conditions. New Phytol 157:657–665

Song Z, Lu BR, Chen J (2004) Pollen flow of cultivated rice measured under experimental conditions. Biodivers Conserv 13:579–590

Sweeney MT, Thomson MJ, Pfeil BE, McCouch S (2006) Caught red-handed: Rc encodes a basic helix-loop-helix protein conditioning red pericarp in rice. Plant Cell 18:283–294

Wolfenbarger LL, Phifer PR (2000) The ecological risks and benefits of genetically engineered plants. Science 290:2088–2093

YueHui Z, YongSheng Z, Ling L, HongGuang X, JianFu Z, HuaAn X (2013) Genetic analysis and fine mapping of the pubescence gene GL6 in rice (Oryza sativa L.). Chin Sci Bull 58:2992–2999
Acknowledgements
This study was sponsored by AfricaRice.
Electronic supplementary material
Below is the link to the electronic supplementary material.
About this article
Cite this article
Bah, S., van der Merwe, R. & Labuschagne, M.T. Estimation of outcrossing rates in intraspecific (Oryza sativa) and interspecific (Oryza sativa × Oryza glaberrima) rice under field conditions using agro-morphological markers. Euphytica 213, 81 (2017). https://doi.org/10.1007/s10681-017-1872-x
Received:

Accepted:

Published:
Keywords
Agro-morphological markers

Gene flow

Outcrossing

Rice

Seed quality