Abstract
The spring wheat belt of Western Siberia and Northern Kazakhstan covers more than 15 million ha. While moisture stress is the main factor limiting production, rusts also represent a major challenge, especially in years with higher rainfall. Stem rust was not considered economically important until 2015 when a local epidemic occurred in the Omsk region of Russia and neighboring areas of Kazakhstan and affected more than 1 million ha. It occurred again in 2016 though the spread, severity and losses were less. This study used 16 pathotypes and 17 molecular markers to characterize a set of 146 spring wheat varieties and breeding lines identified as stem rust resistant in Kenya and the Kazakhstan–Siberia region for the presence of major genes. The genetic basis of resistance in the material was limited to Sr25, Sr31, Sr36, Sr6Ai, Sr6Ai#2, and some unknown major genes. Genes Sr25 and Sr6Ai#2 also provided high levels of resistance to leaf rust through linkages with Lr19 and Lr6Ai#2. Adult plant resistance to stem rust was observed in 26 genotypes (16.5 %), including eight possessing Sr57 gene. The high risk of stem rust—as indicated by the 2015 Siberian epidemic—means that there is an urgent need to diversify the genetic bases of resistance and to promote resistant varieties with farmers.
Access options
Buy single article
Instant access to the full article PDF.
USD 39.95
Price excludes VAT (USA)
Tax calculation will be finalised during checkout.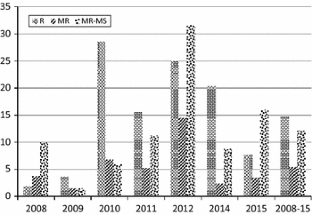 References
Bajgain P, Rouse MN, Bulli P, Bhavani S, Gordon T, Wanyera R, Njau PN, Legesse W, Anderson JA, Pamphrey MO (2015) Association mapping of North American spring wheat breeding germplasm reveals loci conferring resistance to Ug99 and other African stem rust races. BMC Plant Biol 15:249

DePauw RM, Fetch T, Hiebert CW, Humphreya DG, Knox R, Pozniak CJ, Thomas JB, Singh AK, Graf R, Randhawa HS, Fox SL, Brown PD, Clarke FR, McIntosh R (2009) Sources of resistance to stem rust race Ug99 and its variants in Canadian wheat germplasm. Borlaug Global Rust Initiative, Ithaca. In: Proceedings, oral papers and posters, 2009 technical workshop, BGRI, Cd. Obregon, 17–20 Mar, 2009, pp 171–178

Haile JK, Roder MS (2013) Status of genetic research for resistance to Ug99 race of Puccinia graminis f. sp. tritici: a review of current research and implications. African J Agric Res 8:6670–6680

Jain SK, Prashar M, Bhardwaj SC, Singh SB, Sharma YP (2009) Emergence of virulence to Sr25 of Puccinia graminis f. sp. tritici on wheat in India. Plant Dis 93:840

Jin Y, Singh RP, Ward RW, Wanyera R, Kinyua MG, Njau P, Fetch T, Pretorius ZA, Yahyaoui A (2007) Characterization of seedling infection types and adult plant infection responses of monogenic Sr gene lines to race TTKS of Puccinia graminis f. sp. tritici. Plant Dis 91:1096–1099

Jin Y, Szabo LJ, Pretorius ZA, Singh RP, Ward R, Fetch T Jr (2008) Detection of virulence to resistance gene Sr24 within race TTKS of Puccinia graminis f. sp. tritici. Plant Dis 92:923–926

Jin Y, Szabo LJ, Rouse MN, Fetch T, Pretorius ZA, Wanyera R, Njau P (2009) Detection of virulence to resistance gene Sr36 within the TTKS race lineage of Puccinia graminis f. sp. tritici. Plant Dis 93:367–370

Kiseleva AA, Shcherban AB, Leonova IN, Frenkel Z, Salina EA (2016) Identification of new heading date determinants in wheat 5B chromosome. BMC Plant Biol 16(1):8. doi:10.1186/s12870-015-0688-x

Lagudah E, Krattinger S, Herrera-Foessel S, Singh R, Huerta-Espino J, Spielmeyer W, Brown-Guedira G, Selter L, Keller B (2009) Gene-specific markers for the wheat gene Lr34/Yr18/Pm38 which confers resistance to multiple fungal pathogens. Theor Appl Genet 119(5):889–898

Laido G, Panio G, Marone D, Russo MA, Ficco DBM, Ciovanelli V, Cattivelli L, Steffenson B, Vita P, de. Mastrangelo AM (2015) Identification of new resistance loci to African stem rust race TTKSK in tetraploid wheat based on linkage and genome-wide association mapping. Front Plant Sci. doi:10.3389/fpls.2015.01033

Morgounov A, Zykin V, Sereda G, Urazaliev R (2001) Siberian and north Kazakhstan wheat pool. In: Bonjean A, Angus W (eds) The world wheat book: a history of wheat breeding. Lavoisier, Paris, pp 755–772

Morgounov A, Zykin V, Belan I, Roseeva L, Zelenskiy Y, Gomez-Becerra H, Budak H, Bekes F (2010) Genetic gains for grain yield in high latitude spring wheat grown in western Siberia in 1900–2008. Field Crop Res 117:101–112

Morgounov A, Ablova I, Babayants O, Babayants L, Bespalova L, Khudokormov Zh, Litvinenko N, Shamanin V, Syukov V (2011) Genetic protection of wheat from rusts and development of resistant varieties in Russia and Ukraine. Euphytica 179:297–311

Newcomb M, Olivera PD, Rouse MN, Szabo LJ, Johnson J, Gale S, Luster DG, Wanyera R, Macharia G, Bhavani S, Hodson D, Patpour M, Hovmøller MS, Fetch TG, Jin Y (2016) Kenyan isolates of Puccinia graminis f. sp. tritici from 2008 to 2014: virulence to SrTmp in the Ug99 race group and implications for breeding programs. Phytopathology 106:729–736

Njau PN, Jin Y, Huerta-Espino J, Keller B, Singh RP (2010) Identification and evaluation of sources of resistance to stem rust race Ug99 in wheat. Plant Dis 94:413–419

Olivera PD, Jin Y, Rouse M, Badebo A, Fetch T, Singh RP, Yahyaoui A (2012) Races of Puccinia graminis f. sp. tritici with combined virulence to Sr13 and Sr9e in a field stem rust screening nursery in Ethiopia. Plant Dis 96:623–628

Olivera P, Newcomb M, Szabo LJ, Rouse MN, Johnson J, Gale S, Luster DG, Hodson D, Cox JA, Burgin L, HortM Gilligan CA, Patpour M, Justesen AF, Hovmøller MS, Woldeab G, Hailu E, Hundie B, Tadesse K, Pumphrey M, Singh RP, Jin Y (2015) Phenotypic and genotypic characterization of race TKTTF of Puccinia graminis f. sp. tritici that caused a wheat stem rust epidemic in southern Ethiopia in 2013-14. Phytopathology 105:917–928

Purnhauser L, Bona L (2009) Detection of Sr31 and Sr36 stem rust resistant genes by molecular markers in wheat cultivars registered in Hungary. Res J Agric Sci 41:318–322

Rouse MN, Wanyera R, Njau P, Jin Y (2011) Sources of resistance to stem rust race Ug99 in spring wheat germplasm. Plant Dis 95:762–766

Salina EA, Adonina IG, Badaeva ED, Kroupin PYu, Stasyuk AI, Leonova IN, Shishkina AA, Divashuk M, Starikova EV (2015) A Thinopyrum intermedium chromosome in bread wheat cultivars as a source of genes conferring resistance to fungal diseases. Euphytica 204:91–101

Shamanin VP, Morgounov AI, Petukhovskiy SL, Likhenko IE, Levshunov MA, Salina EA, Potostkaya IV, Trushenko AYu (2015) Spring bread wheat breeding for resistance to stem rust in western Siberia. Osmk State Aric. University, Omsk 152 p

Sibikeev SN, Markelova TS, Baukenova EA, Druzhi AE (2016) Likely threat of the spread of race UG99 of Puccinia graminis f. sp. tritici on wheat in south-eastern Russia. Rus Agric Sci 42(2):145–148

Singh RP, Hodson DP, Huerta-Espino J, Jin Y (2008) Will stem rust destroy the world's wheat crop? Adv Agron 98:271–309

Skolotneva ES, Lekomtseva SN, Kosman E (2013) The wheat stem rust pathogen in the central region of the Russian Federation. Plant Path 62:1003–1010

Trethowan R, Morgounov A, He Z, DePauw R, Crossa J, Warburton M, Baytasov A, Zhang C, Mergoum M, Alvarado G (2006) The global adaptation of bread wheat at high latitudes. Euphytica 152:303–316

Weng Y, Azhaguvel P, Devkota RN, Rudd JC (2007) PCR-based markers for detection of different sources of 1AL.1RS and 1BL.1RS wheat-rye translocations in wheat background. Plant Breed 126:482–486

Yu LX, Lorenz A, Rutkovski J, Singh RP, Bhavani S, Huerto-Espino J, Sorrels ME (2011) Association mapping and gene-gene interaction for stem rust resistance in CIMMYT spring wheat germplasm. Theor Appl Genet 123:1257–1268

Yu LX, Morgounov A, Wanyera R, Keser M, Singh SK, Sorrells M (2012) Identification of Ug99 stem rust resistance loci in winter wheat germplasm using genome-wide association analysis. Theor Appl Genet 125:749–758

Zhang DD, Bowden RL, Yu JM, Carver BF, Bai GH (2014) Association analysis of stem rust resistance in U.S. winter wheat. PLoS One 9(7):e103747
Acknowledgments
The International Maize and Wheat Improvement Center (CIMMYT) is financially supported by CRP WHEAT. The Kazakhstan–Siberia Network for Spring Wheat Improvement (KASIB) is supported by the Government of Kazakhstan through the Ministry of Agriculture, and by the Government of the Russian Federation through the Eurasian Center of Food Security. Support from the Borlaug Global Rust Initiative (BGRI) was essential for testing germplasm in Kenya. Molecular marker analysis was supported by the Ministry of Education and Science of the Russian Federation (Agreement No. 14.604.21.0106 from 07.07.2014; identification number RFMEFI 60414X0106). Research at Omsk State Agrarian University was supported by Russian Science Foundation (Project No. 16-16-1005 signed 10.05.2016). Dr. Yue Jin from the United States Department of Agriculture Cereal Disease Laboratory (USDA-CDL) is acknowledged for his cooperation in this study and substantial contribution to the manuscript through discussion and editing. Dr. Tamara Kolomiets from the All-Russian Institute of Phytopathology (Moscow Region), Ms. Aygul Akhmetova from CIMMYT-Kazakhstan, and Dr. Igor Belan from the Siberian Agricultural Research Institute (Omsk) are acknowledged for evaluating the germplasm for diseases. Dr. Sergey Martynov from the Vavilov Institute assisted with statistical analysis and Dr. Matthew Rouse from the USDA Cereal Disease Laboratory provided useful information concerning gene postulations. The scientific editorial contribution of Ms. Emma Quilligan is highly appreciated.
Electronic supplementary material
Below is the link to the electronic supplementary material.
About this article
Cite this article
Shamanin, V., Salina, E., Wanyera, R. et al. Genetic diversity of spring wheat from Kazakhstan and Russia for resistance to stem rust Ug99. Euphytica 212, 287–296 (2016). https://doi.org/10.1007/s10681-016-1769-0
Received:

Accepted:

Published:

Issue Date:

DOI: https://doi.org/10.1007/s10681-016-1769-0
Keywords
Wheat

Disease resistance

Genes

Stem rust