Abstract
Chickpea (Cicer arietinum L.), the second largest grown pulse crop of the world, is an important source of protein for millions of people, particularly in South Asia. Development of chickpea cultivars with further enhanced levels of protein is highly desired. This study was aimed at understanding the genetic control of protein content and its association with other traits so that suitable breeding strategies can be prepared for development of high protein content cultivars. A high protein (29.2 %) desi chickpea line ICC 5912 with pea-shaped small seed, grey seed coat and blue flower was crossed with a low protein (20.5 %) kabuli line ICC 17109 with owl's head shaped large seed, beige seed coat, and white flower. The F2 population was evaluated under field conditions and observations were recorded on protein content and other traits on individual plants. The protein content of F2 segregants showed continuous distribution suggesting that it is a quantitative trait controlled by multiple genes. The blue flowered segregants had pea shaped seed with grey seed coat, while the white flowered segregants had owl's head shaped seed with beige seed coat indicating pleiotropic effects of gene(s) on these traits. On an average, blue flowered segregants had smaller seed, lower grain yield per plant and higher protein content than the pink flowered and the white flowered segregants. The protein content was negatively correlated with seed size (r = −0.40) and grain yield per plant (r = −0.18). Thus, an increment in protein content is expected to have a negative effect on seed size and grain yield. However, careful selection of transgressive segregants with high protein content along with moderate seed size and utilizing diverse sources of high protein content will be usefull in developing chickpea cultivars with high protein content and high grain yield.
This is a preview of subscription content, log in to check access.
Access options
Buy single article
Instant access to the full article PDF.
US$ 39.95
Tax calculation will be finalised during checkout.
Subscribe to journal
Immediate online access to all issues from 2019. Subscription will auto renew annually.
US$ 119
Tax calculation will be finalised during checkout.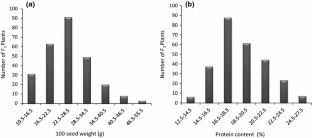 References
Alam M (1935) A genetic analysis for Cicer arietinum L. Proc Indian Sci Congr 22:369–370

Argikar GP (1956) Some qualitative and quantitative observation on the genetic improvement for green seeded strains of Cicer arietinum L. Indian J Genet 16:52–56

Atta BM, Haq MA, Shah TM, Sadiq M, Hassan M, Syed H (2003) Chickpea induced flower color mutations. Int Chickpea Newslett 10:6–7

Ayyar VR, Balasubramanian R (1936) Inheritance of certain colour characters in gram (Cicer arietinum L.). Proc Indian Acad Sci 4:1–26

Bahl PN, Singh SP, Ram H, Raju DB, Jain HK (1979) Breeding for improved plant architecture and high protein yields. In: Proceedings of the Symposium on seed protein improvement in cereals and grain legumes. Neuherberg, Federal Republic of Germany, pp 297–306

Bellaloui N, Smith JR, Ray JD, Gillen AM (2009) Effect of maturity on seed composition in the early soybean production system as measured on near-isogenic soybean lines. Crop Sci 49:608–620

Bhapkar DG, Patil JA (1963) Inheritance of foliage, flower and seed coat colours in gram. Crop Sci 3:361

Brar HS, Athwal DS (1970) Identification of gene controlling seed colour in Cicer arietinum L. Indian J Genet 30:690–703

Chitra U, Vimala V, Singh U, Geervani P (1995) Variability in phytic acid content and protein digestibility of grain legumes. Plant Foods Hum Nutr 47:163–172

Cobos MJ, Rubio J, Fernandez-Romero MD, Garza R, Moreno MT, Millan T, Gil J (2007) Genetic analysis of seed size, yield and days to flowering in a chickpea recombinant inbred line population derived from a kabuli × desi cross. Ann Appl Biol 151:33–42

Copur O, Gur MA, Demirel U, Karakus M (2009) Performance of some soybean (Glycine max L.) genotypes double cropped in semi-arid conditions. Not Bot Horti Agrobot Cluj-Napoca 37:85–91

D' Cruz R, Tendulkar AV (1970) Genetics studies in Bengal gram (Cicer arietinum L.) I. Double pod × white flower gram. II. Res J Mahatma Phule Krishi Vidyapeeth 1:121–127

FAOSTAT (2015) http://faostat.fao.org/faostat/. Accessed 03 Nov 2015

Frimpong A, Sinha A, Tar'an B et al (2009) Genotype and growing environment influence chickpea (Cicer arientinum L.) seed composition. J Sci Food Agric 89:2052–2063

Gangola M, Khedikar Y, Gaur P, Baga M, Varshney RK, Chibbar R (2012) Variation in important seed constituents among various chickpea genotypes. Qual Assur Safety Crops Foods 4:139

Gaur PM, Gour VK (2001) A gene inhibiting flower colour in chickpea (Cicer arietinum L.). Indian J Genet 61:41–44

Gaur PM, Samineni S, Sajja S, Chibbar RN (2015) Achievements and challenges in improving nutritional quality of chickpea. Legume Perspect 9:31–33

Ghatge RD (1993) Inheritance of seed size in chickpea (Cicer arietinum L.). J Soils Crops 3:56–59

Hossain S, Ford R, McNeil D, Pittock C, Panozzo J (2010) Inheritance of seed size in chickpea (Cicer arietinum L.) and identification of QTL based on 100-seed weight and seed size index. Aust J Crop Sci 4:126–135

Jadhav AA, Rayate SJ, Mhase LB, Thudi M, Chitikineni A, Harer PN, Jadhav AS, Varshney RK, Kulwal PL (2015) Marker-trait association study for protein content in chickpea (Cicer arietinum L.). J Genet 94:279–286

Jones DB (1941) Factors for converting percentages of nitrogen in foods and feeds into percentages of protein. U.S. Department of Agriculture, Circular No. 83

Jones JB Jr, Wolf B, Mills HA (1991) Methods of elemental analysis (Chapter 4). Plant analysis handbook. Micro-Macro Publishing Inc, Athens, pp 27–38

Jukanti AK, Gaur PM, Gowda CLL, Chibbar RN (2012) Nutritional quality and health benefits of chickpea (Cicer arietinum L.): a review. Br J Nutr 108:S11–S26

Knights EJ, Wood JA, Harden S (2011) A gene influencing seed shape of desi type chickpea (Cicer arietinum L.). Plant Breed 130:278–280

Kumar J, Smithson JB, Singh I (1982) High seed protein percentage in chickpea. I. Relationships among protein content, seed size and flower color. Int Chickpea Newslett 7:20–21

Kumar J, Bhal PN, Raju DB (1985) Seed type variation in desi-kabuli crosses of chickpea. Int Chickpea Newslett 3:1–2

Malhotra RS, Bejiga G, Singh KB (1997) Inheritance of seed size in chickpea. J Genet Breed 51:45–50

Meena HS, Kumar J, Yadav SS (2004) Genetics of seed shape in chickpea (Cicer arietinum L.). Ann Agric Res 25:439–441

More DC (1976) Genetic studies in gram. M.Sc. (Agric.) Thesis, University of Poona, Poona

Paredes-Lopez O, Ordorica-Falomir C, Olivares-Vazquez MR (1991) Chickpea protein isolates: physicochemical, functional and nutritional characterization. J Food Sci 56:726–729

Pawar AM, Patil JA (1979) Genetic studies in Bengal Gram (Cicer arietinum L.). J Maharashtra Agric Univ 4:61–64

Pundir RPS, Reddy KN, Mengesha MH (1988) ICRISAT chickpea germplasm catalog: evaluation and analysis. Patancheru India 94:89–100

Rincon F, Martinez B, Ibanez MV (1998) Proximate composition and antinutritive substances in chickpea (Cicer arietinum L.) as affected by the biotype factor. J Sci Food Agric 78:382–388

Sahrawat KL, Ravi KG, Murthy KVS (2002) Sulfuric acid-selenium digestion for multi-element analysis in a single plant digest. Commun Soil Sci Plant Anal 33:3757–3765

Sanchez-Vioque R, Clemente A, Vioque J, Bautista J, Millan F (1999) Protein isolates from chickpea (Cicer arietinum L.): chemical composition, functional properties and protein characterization. Food Chem 64:237–243

Saxena KB, Faris DG, Singh U, Kumar RV (1987) Relationship between seed size and protein content in newly developed high protein lines of pigeonpea. Plant Foods Hum Nutr 36:335–340

Sharma S, Upadhyaya HD, Gowda CLL, Kumar Shiv, Singh Sube (2013) Genetic analysis for seed size in three crosses of chickpea (Cicer arietinum L.). Can J Plant Sci 93:387–395

Singh U, Kumar J, Jambunathan R, Smithson JB (1980) Variability in the seed coat content of desi and kabuli chickpea cultivars. Int Chickpea Newslett 3:61–72

Tripathi S, Sridhar V, Jukanti AK, Suresh K, Rao BV, Gowda CLL, Gaur PM (2012) Genetic variability and inter-relationships of phenological, physicochemical and cooking quality traits in chickpea. Plant Genet Resour 10:194–201

Upadhyaya HD, Kumar S, Gowda CLL, Singh S (2006) Two major genes for seed size in chickpea (Cicer arietinum L.). Euphytica 147:311–315

Vijayalakshmi NVS, Kumar J, Rao TN (2001) Inheritance of protein content in chickpea (Cicer arietinum L.). Legume Res 24:28–31
Acknowledgments
This study was supported by the Ministry of Agriculture and Farmers Welfare, Government of India under Integrated Scheme of Oilseeds Pulses, Oil Palm and Maize (ISOPOM).
About this article
Cite this article
Gaur, P.M., Singh, M.K., Samineni, S. et al. Inheritance of protein content and its relationships with seed size, grain yield and other traits in chickpea. Euphytica 209, 253–260 (2016). https://doi.org/10.1007/s10681-016-1678-2
Received:

Accepted:

Published:

Issue Date:
Keywords
Chickpea

Cicer arietinum

Correlations

Flower color

Inheritance

Protein content

Seed size