Abstract
Soluble sugar and organic acid levels are important evaluation indices for breeding new varieties of pear. In order to investigate the inheritance of sugars and acids, this study analyzed the inheritance of soluble sugar and organic acid in pear fruit using the reciprocal crossing populations 'Dangshansuli' and 'Housui' over two successive years. The results showed that the content of most individual acids and sugars, total acid and total sugar content were higher than that of 'Dangshansuli' and lower than that of 'Housui', trending to an average between the parents. The content of oxalate, quinate, malate, shikimate, and total acid in progenies were higher when 'Housui' was the maternal parent, suggesting that the selection of the maternal parent during the breeding process has important effects on the acid content. Conversely, individual and total sugar content did not show significant effects of the maternal parent. In addition, glucose content in progenies showed the increasing trend and sorbitol content showing the transgressive inheritance trait. The correlations for total sugar and total acid of the two populations between 2 years were significant and positive, showing stable sugar and acid traits for fruit in different years. Significant and positive correlations were also found between different components, including oxalate and malate, shikimate and quinate, and citrate and shikimate. Principal component analysis also revealed that oxalate, quinate, malate and shikimate components are closely correlated. Our study thus offers useful information for future pear breeding to improve sugar and acidity quality.
Access options
Buy single article
Instant access to the full article PDF.
USD 39.95
Price excludes VAT (USA)
Tax calculation will be finalised during checkout.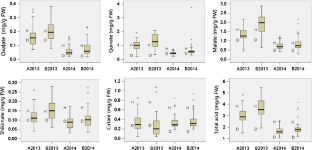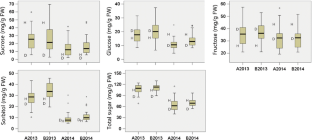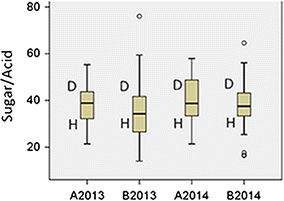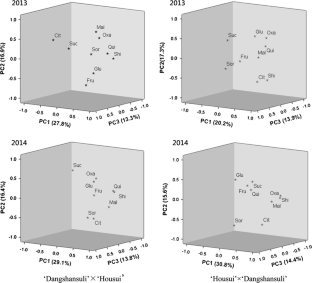 Similar content being viewed by others
References
Beaulieu JC, Lea JM, Eggleston G (2003) Sugar and organic acid variations in commercial cantaloupes and their inbred parents. J Am Soc Hortic Sci 128(4):531–536

Bell RL (1990) Pears (Pyrus). In: Moore JN, Ballington JR (eds) Genetic resources of temperate fruit and nut crops I. International Society for Horticultural Science, Wageningen, pp 655–697

Bell RL, Quamme HA, Layne REC, Skirvin RM (1996) Pears. In: Janick J, Moore JN (eds) Fruit breeding, vol. I: tree and tropical fruits. Wiley, New York, pp 441–514

Blanke MM, Lenz F (1980) Fruit photosynthensis. Plant, Cell Environ 12:31–36

Brown AG, Harvey DM (1971) The nature and inheritance of sweetness and acidity in cultivated apple. Euphytica 20:68–80

Burton WG, van Es A, Hartmans KJ (1992) The physics and physiology of storage. In: Harris PM (ed) The potato crop. Chapman and Hall, London

Chen JL, Wang ZH, Wu JH, Wang Q, Hu XS (2007) Chemical compositional characterization of eight pear cultivars grown in China. Food Chem 104(1):504–506

Cui YB, Chen H, Le WQ, Zhang SJ, Wu T, Tao ST, Zhang SL (2011) Studies on genetic tendency of fruit characters in reciprocal crosses generation between 'Jingbaili' and 'Yali' pear cultivars. Acta Hortic Sin 38:215–224

Dirlewanger E, Moing A, Rothan C, Svanella L, Pronier V, Guye A, Plomion C, Monet R (1999) Mapping QTLs controlling fruit quality in peach (Prunus persica L. Batsch). Theor Appl Genet 98:18–31

Doty TE (1976) Fructose sweetness: a new dimension. Cereal Foods World 21:62–63

Draths KM, Ward TL, Frost JW (1992) Biocatalysis and 19th-century organic-chemistry-conversion of d-glucose into quinoid organics. J Am Chem Soc 114(24):9725

Esti M, Messia MC, Sinesio F, Nicotra A, Conte L, Notte EL, Palleschi G (1997) Quality evaluation of peaches and nectarines by electrochemical and multivariate analyses: relationships between analytical measurements and sensory attributes. Food Chem 60:659–666

Gao HY, Wang SG, Liao XJ, Hu XS (2004) Study on determination and correlation of soluble sugar and organic acids in pear juice from different cultivars. Acta Agric Boreal Sin 19(2):104–107

Gilsinger JJ, Burton JW, Carter TE Jr (2010) Maternal effects on fatty acid composition of soybean seed oil. Crop Sci 50:1874–1881

Guil JL, Torija ME, Giménez JJ, Rodríguez-García I, Giménez A (1996) Oxalic acid and calcium determination in wild edible plant. J Agric Food Chem 44:1821–1823

Gurrieri F, Audergon JM, Albagnac G, Reich M (2001) Soluble sugars and carboxylic acids in ripe apricot fruit as parameters for distinguishing different cultivars. Euphytica 117:183–189

Hansen P (1970) 14C-studies on apple tree. V. Translocation of labelled compounds from leaves to fruit and their conversion within the fruit. Physiol Plant 23:564–573

Hudina M, Stampar F (2000) Sugars and organic acids contents of European (Pytus commun L.) and Asian (Pytus serotina Rehd.) pear cultivars. Acta Alimentaria 29(3):217–230

Hudina M, Stampar F (2004) Effect of climatic and soil conditions on sugars and organic acids content of pear fruits (Pyrus communis L.) cvs. 'Williams' and 'Conference'. Acta Hortic 636:527–531

Jassem M, Sliwińska E, Pilarczyk W (2000) Maternal inheritance of sugar concentration. J Sugar Beet Res 37:41–53

Kouassi AB, Charles-Eric Durel CE, Costa F, Tartarini S, Weg E, Evans K, Fernandez-Fernandez F, Govan C, Boudichevskaja A, Dunemann F, Antofie A, Lateur M, Stankiewiez-Kosyl M, Soska A, Tomala K, Lewandowski M, Rutkovski K, Zurawicz E, Guerra W, Laurens F (2009) Estimation of genetic parameters and prediction of breeding values for apple fruit-quality traits using pedigreed plant material in Europe. Tree Genet Genomes 5:659–672

Kumar S, Garrick DJ, Bink MCAM, Whitworth C, Chagne D, Volz RK (2013) Novel genomic approaches unravel genetic architecture of complex traits in apple. BMC Genom 14:393

Liang ZC, Sang M, Ma AH, Zhao SJ, Zhong GY, Li SH (2011) Inheritance of sugar and acid contents in the ripe berries of a tetraploid 3 diploid grape cross population. Euphytica 182:251–259

Liu HF, Wu BH, Fan PG, Xu HY, Li SH, Li LS (2006) Sugar and acid concentrations in 98 grape cultivars analyzed by principal component analysis. J Sci Food Agric 86:1526–1536

Liu HF, Wu BH, Fan PG, Xu HY, Li SH (2007) Inheritance of sugars and acids in berries of grape (Vitis vinifera L.). Euphytica 153(1–2):99–107

Liu YC, Wei YX, Wang XD, Liu C, Jiang MS, Zhang D, Yuan XF, Tao CG (2014) Inheritance tendency of sugar and acid contents in the reciprocal cross progenies fruits of southern × northern high bush blueberry (Vaccinium). Sci Agric Sin 47(24):4878–4885

Loescher WH (1987) Physiology and metabolism of sugar alcohols in higher plants. Physiol Plant 70:553–557

Ma BQ, Chen J, Zheng HY, Fang T, Collins O, Li SH, Han YP, Wu BH (2015) Comparative assessment of sugar and malic acid composition in cultivated and wild apples. Food Chem 172:86–91

Mateja C, Franci S, Anita S, Metka H (2006) Influence of branch bending on sugar, organic acid and phenolic content in fruits of 'Williams' pears (Pyrus communis L.). J Sci Food Agric 86:2463–2467

Pangborn RM (1963) Relative taste of selected sugars and organic acids. J Food Sci 28:726–733

Rita TT, Carina K, Kristina G (2005) Modified sucrose, starch, and ATP levels in two alloplasmic male-sterile lines of B. napus. J Exp Bot 56(414):1245–1253

Sandke G (1973) Metabolisierung von Saccharose, Fructose and sorbit in der apfelfrucht. Biochem Physiol Pflanzen 164:142–152

Sha SF (2012) Pear organic acid components, content changes and genetic identification. Dissertation, Nanjing Agricultural University

Smirnoff N, Cumbes QJ (1989) Hydroxyl radical scavenging activity of compatible solutes. Phytochemistry 28(4):1057–1060

Souty M, André P (1975) Composition biochimique et qualité des pêches. Ann Technol Agric 24:217–236

Tari I, Kiss G, Deér AK, Csiszár J, Erdei L, Gallé Á, Gémes K, Horváth F, Poór P, Szepesi Á, Simon LM (2010) Salicylic acid increased aldose reductase activity and sorbitol accumulation. Biol Plant 54(4):677–683

Vesser T, Verhaegh JJ (1978) Inheritance and selection of some fruit characters of apple. I. Inheritance of low and high acidity. Euphytica 27:753–760

Visser T, Schaap AA, de Vries DP (1968) Acidity and sweetness in apple and pear. Euphytica 17:153–167

Wang SY, Steffens GL, Faust M (1986) Effect of paclobutrazol on accumulation of carbohydrates on apple wood. Hortic Sci 21(6):1419–1421

Wu BH, Quilot B, Kervella J, Genard M, Li SH (2003) Analysis of genotypic variation of sugar and acid contents in peaches and nectarines through the Principle Component Analysis. Euphytica 132:375–384

Wu BH, Zhao JB, Chen J, Xi HF, Jiang Q, Li SH (2012) Maternal inheritance of sugars and acids in peach (Prunus persica (L) . Batsch) fruit. Euphytica 188:333–345

Wu J, Wang ZW, Shi ZB et al (2013) The genome of pear (Pyrus bretschneideri Rehd). Genome Res 23:396–408

Xu JH, Yu D, Wei XQ, Xu L, Jiang JM, Huang JS (2008) Genetic analysis of fruit agronomic characters in reciprocal hybrid progeny of loquat. J Yunnan Agric Univ 23:663–667

Yao GF, Zhang SL, Cao YF, Liu J, Wu J, Yuan J, Zhang HP, Xiao CC (2010) Characteristics of components and contents of soluble sugars in pear fruits from different species. Sci Agric Sin 43(20):4229–4237

Yao GF, Yang ZJ, Zhang SL, Cao YF, Liu J, Wu J (2014) Characteristics of components and contents of organic acid in pear fruit from different cultivated species. Sci Agric Sin 41(4):755–764

Zhang H, Wang HS, He CX, Zhang ZB, Zhang X, Yi HP, Wu MZ (2009) Genetic study on sugar and sour traits of melon (Cucumis melo L.). Sci Agric Sin 36(7):989–996

Zimmermann M, Ziegler H (1975) List of sugars and sugar alcohols in sieve-tube exudates. Encycl Plant Physiol 1:245–271
Acknowledgments
This work was supported by the National Natural Science Foundation of China (31171928), the Ministry of Education Program for New Century Excellent Talents in University (NCET-13-0864) and the Six Talent Peaks Project in Jiangsu Province (2014-NY-025).
About this article
Cite this article
Liu, L., Chen, CX., Zhu, YF. et al. Maternal inheritance has impact on organic acid content in progeny of pear (Pyrus spp.) fruit. Euphytica 209, 305–321 (2016). https://doi.org/10.1007/s10681-015-1627-5
Received:

Accepted:

Published:

Issue Date:

DOI: https://doi.org/10.1007/s10681-015-1627-5
Keywords