Abstract
Bird attack is a serious limitation to sunflower yield in several regions of the world, but it could also cause selection. The wild Helianthus annuus, naturalized in several regions of the world, hybridizes with the crop and produces crop–wild offspring. It is unknown how the selective force of seed predation by birds could drive evolution after a hybridization event. After two generations of natural selection exerted by birds (mostly by Eared Dove and Monk Parakeets), achene and plant traits of the crop–wild hybrid progeny were compared with the same hybrid progeny without any selection by birds. After two generations of bird selection the achene width, thickness and weight decreased by an average of 18.5, 26.7 and 49.2 %, respectively. Also in response to bird selection there was a correlated increase in the plant height, stem diameter, number of heads and a reduction in head diameter and the number of achenes per head. The phenotype of crop–wild plants selected by birds resembles wild plants, whereas the plants without any selection were intermediate between the parents. These results indicate that selection exerted by birds could result in the rapid evolution of crop–wild sunflower populations.
Access options
Buy single article
Instant access to the full article PDF.
USD 39.95
Price includes VAT (USA)
Tax calculation will be finalised during checkout.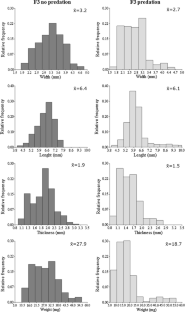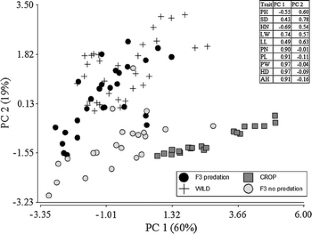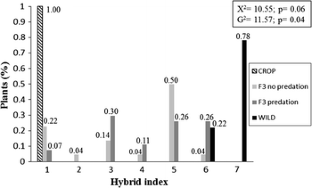 References
Alexander HM, Cummings CL, Kahn L, Snow AA (2001) Seed size variation and predation of seeds produced by wild and crop–wild sunflowers. Am J Bot 88:623–627

Alexander HM, Emry DJ, Pace BA, Kost MA, Sparks KA, Mercer KL (2014) Roles of maternal effects and nuclear genetic composition change across the life cycle of crop–wild hybrids. Am J Bot 101:1176–1188. doi:10.3732/ajb.1400088

Arias DM, Rieseberg LH (1994) Gene flow between cultivated and wild sunflowers. Theor Appl Genet 89:655–660. doi:10.1007/BF00223700

Baack EJ, Sapir Y, Chapman MA, Burke JM, Rieseberg LH (2008) Selection on domestication traits and quantitative trait loci in crop–wild sunflower hybrids. Mol Ecol 17:666–677. doi:10.1111/j.1365-294X.2007.03596.x

Bagavathiannan MV, Van Acker RC (2008) Crop ferality: implications for novel trait confinement. Agric Ecosyst Environ 127:1–6. doi:10.1016/j.agee.2008.03.009

Bone E, Farres A (2001) Trends and rates of microevolution in plants. In: Hendry AP, Kinnison MT (eds) Microevolution rate, pattern, process. Springer, Dordrecht, pp 165–182

Bonner JT (1988) The evolution of complexity by means of natural selection. Princeton University Press, Princeton

Bucher EH, Ranvaud RD (2006) S31-4 eared dove outbreaks in South America: patterns and characteristics. Acta Zool Sin 52:564–567

Burke JM, Tang S, Knapp SJ, Rieseberg LH (2002) Genetic analysis of sunflower domestication. Genetics 161:1257–1267

Canavelli SB, Branch LC, Cavallero P, González C, Zaccagnini ME (2014) Multi-level analysis of bird abundance and damage to crop fields. Agric Ecosyst Environ 197:128–136. doi:10.1016/j.agee.2014.07.024

Casquero M, Presotto A, Cantamutto M (2013) Exoferality in sunflower (Helianthus annuus L.): a case study of intraspecific/interbiotype interference promoted by human activity. Field Crops Res 142:95–101. doi:10.1016/j.fcr.2012.11.022

Chapman MA, Pashley CH, Wenzler J, Hvala J, Tang S, Knapp SJ, Burke JM (2008) A genomic scan for selection reveals candidates for genes involved in the evolution of cultivated sunflower (Helianthus annuus). Plant Cell Online 20:2931–2945. doi:10.1105/tpc.108.059808

Crawley MJ (2000) Seed predators and plant populations dynamics. In: Fenner M (ed) Seeds: the ecology of regeneration in plant communities, 2nd edn. CABI Publishing, Wallingford, pp 167–182

Cummings CL, Alexander HM, Snow AA (1999) Increased pre-dispersal seed predation in sunflower crop–wild hybrids. Oecologia 121:330–338. doi:10.1007/s004420050936

Darwin C (1859) On the origin of species by means of natural selection. John Murray, London

Dechaine JM, Burger JC, Burke JM (2010) Ecological patterns and genetic analysis of post-dispersal seed predation in sunflower (Helianthus annuus) crop–wild hybrids. Mol Ecol 19:3477–3488. doi:10.1111/j.1365-294X.2010.04740.x

Di Rienzo JA, Casanoves F, Balzarini MG, Gonzalez L, Tablada M, Robledo CW (2014) InfoStat versión 2014. Grupo InfoStat, FCA, Universidad Nacional de Córdoba, Argentina. http://www.infostat.com.ar

Dry P, Burdon J (1986) Genetic structure of natural populations of wild sunflowers (Helianthus annuus L.) in Australia. Aust J Biol Sci 39:255–270

Ellstrand NC (2003) Dangerous liaisons? When cultivated plants mate with their wild relatives. JHU Press, Baltimore

Ellstrand NC, Meirmans P, Rong J, Bartsch D, Ghosh A, de Jong TJ, Haccou P, Lu B-R, Snow AA, Neal Stewart C, Strasburg JL, van Tienderen PH, Vrieling K, Hooftman D (2013) Introgression of crop alleles into wild or weedy populations. Annu Rev Ecol Evol Syst 44:325–345. doi:10.1146/annurev-ecolsys-110512-135840

Fenner M, Cresswell J, Hurley R, Baldwin T (2002) Relationship between capitulum size and pre-dispersal seed predation by insect larvae in common Asteraceae. Oecologia 130:72–77

Gingerich PD (1993) Quantification and comparison of evolutionary rates. Am J Sci 293:453–478. doi:10.2475/ajs.293.A.453

Gingerich PD (2009) Rates of evolution. Annu Rev Ecol Evol Syst 40:657–675. doi:10.1146/annurev.ecolsys.39.110707.173457

Gutierrez A, Cantamutto M, Poverene M (2011) Persistence of sunflower crop traits and fitness in Helianthus petiolaris populations. Plant Biol Stuttg Ger 13:821–830. doi:10.1111/j.1438-8677.2010.00433.x

Haldane JBS (1949) Suggestions as to quantitative measurement of rates of evolution. Evolution 3:51–56. doi:10.2307/2405451

Heiser CB (1954) Variation and subspeciation in the common sunflower, Helianthus Annuus. Am Midl Nat 51:287–305. doi:10.2307/2422222

Hendry AP, Kinnison MT (1999) Perspective: the pace of modern life: measuring rates of contemporary microevolution. Evolution 53:1637–1653. doi:10.2307/2640428

Hulme PE, Benkman CW (2002) Granivory. In: Herrera CM, Pellmyr O (eds) Plant animal interactions: an evolutionary approach. Blackwell Scientific Publications, Oxford, pp 132–154

Humphrey PE, Peterson RT (1978) Nesting behavior and affinities of monk parakeets of southern Buenos Aires province, Argentina. Wilson Bull 90:544–552

ISTA—International Seed Testing Association (2004) International rules for seed testing Glattbrugg

Jan C-C, Seiler G (2007) Sunflower. In: Singh R (ed) Genetic resources, chromosome engineering, and crop improvement. CRC Press, Boca Raton, pp 103–165

Kolb A, Ehrlén J, Eriksson O (2007) Ecological and evolutionary consequences of spatial and temporal variation in pre-dispersal seed predation. Perspect Plant Ecol Evol Syst 9:79–100

Linder CR, Taha I, Rieseberg LH, Seiler GJ, Snow AA (1998) Long-term introgression of crop genes into wild sunflower populations. TAG Theor Appl Genet Theor Angew Genet 96:339–347. doi:10.1007/s001220050746

Linz GM, Hanzel JJ (1997) Birds and sunflower. In: Schneiter AA (ed) Sunflower technology and production. American Society of Agronomy Inc, Wisconsin, pp 381–394

Louda SM (1989) Chapter 3—predation in the dynamics of seed regeneration. In: Leck MA, Parker VT, Simpson RL (eds) Ecology of soil seed banks. Academic Press, San Diego, pp 25–51

Mercer KL, Andow DA, Wyse DL, Shaw RG (2007) Stress and domestication traits increase the relative fitness of crop–wild hybrids in sunflower. Ecol Lett 10:383–393. doi:10.1111/j.1461-0248.2007.01029.x

Mott D (1973) Monk parakeet damage to crops in Uruguay and its control. Bird Control Semin Proc Paper 102

Muller M-H, Délieux F, Fernández-Martínez JM, Garric B, Lecomte V, Anglade G, Leflon M, Motard C, Segura R (2009) Occurrence, distribution and distinctive morphological traits of weedy Helianthus annuus L. populations in Spain and France. Genet Resour Crop Evol 56:869–877. doi:10.1007/s10722-009-9409-3

Muller M-H, Latreille M, Tollon C (2011) The origin and evolution of a recent agricultural weed: population genetic diversity of weedy populations of sunflower (Helianthus annuus L.) in Spain and France. Evol Appl 4:499–514. doi:10.1111/j.1752-4571.2010.00163.x

Peer BD, Homan HJ, Linz GM, Bleier WJ (2003) Impact of blackbird damage to sunflower: bioenergetic and economic models. Ecol Appl 13(1):248–256. doi:10.1890/1051-0761(2003)013[0248:IOBDTS]2.0.CO;2

Poverene MM, Cantamutto MA, Carrera AD, Ureta MS, Salaberry MT, Echeverria MM, Rodríguez RH (2002) El girasol silvestre (Helianthus spp.) en la Argentina: caracterización para la liberación de cultivares transgénicos. Rev Investig Agropecu 31:97–116

Presotto A, Fernández-Moroni I, Poverene M, Cantamutto M (2011) Sunflower crop–wild hybrids: identification and risks. Crop Prot 30:611–616. doi:10.1016/j.cropro.2011.02.022

Ribeiro A, Gouveia M, Bessa A, Ferreira A, Magumisse AT, Manjate M, Faria T (2010) Population structure and genetic diversity of wild Helianthus species from Mozambique. Russ J Genet 46:967–975. doi:10.1134/S1022795410080089

Schaefer HM, Valido A, Jordano P (2014) Birds see the true colours of fruits to live off the fat of the land. Proc R Soc B Biol Sci 281:20132516. doi:10.1098/rspb.2013.2516

Schneiter AA, Miller JF (1981) Description of sunflower growth stages. Crop Sci 21:901–903. doi:10.2135/cropsci1981.0011183X002100060024x

Ureta MS, Carrera AD, Cantamutto MA, Poverene MM (2008) Gene flow among wild and cultivated sunflower, Helianthus annuus in Argentina. Agric Ecosyst Environ 123:343–349. doi:10.1016/j.agee.2007.07.006

Warwick S, Stewart N (2005) Crops come from wild plants—how domestication, transgenes, and linkage together shape ferality. Crop ferality and volunteerism, Gressel. J. Taylor & Francis Group, Boca Raton, pp 9–30

Whitton J, Wolf DE, Arias DM, Snow AA, Rieseberg LH (1997) The persistence of cultivar alleles in wild populations of sunflowers five generations after hybridization. Theor Appl Genet 95:33–40. doi:10.1007/s001220050529

Wills DM, Burke JM (2007) Quantitative trait locus analysis of the early domestication of sunflower. Genetics 176:2589–2599. doi:10.1534/genetics.107.075333
Acknowledgments
We thank the National Research Council of Argentina (CONICET) for a fellowship for CP. We also thank to Ing. Agr. Luciano Zubiaga for his technical assistance, and to the anonymous referees who contributed to improve this manuscript. This research was supported by grants ANPCYT-PICT 2286.
About this article
Cite this article
Presotto, A., Pandolfo, C., Poverene, M. et al. Can achene selection in sunflower crop–wild hybrids by pre-dispersal seed predators hasten the return to phenotypically wild sunflowers?. Euphytica 208, 453–462 (2016). https://doi.org/10.1007/s10681-015-1579-9
Received:

Accepted:

Published:

Issue Date:
Keywords
Bird selection

Achene

Phenotype

Wild sunflower