Abstract
Wild Cicer species are known to be more responsive to vernalization (induce early flowering when exposed to low temperatures) than the cultivated chickpea. This study was aimed at molecular mapping of vernalization response quantitative trait loci (QTLs) in chickpea. An interspecific recombinant inbred line (RIL) population [ICC 4958 (Cicer arietinum) × PI 489777 (Cicer reticulatum)] was phenotyped for vernalization response for two consecutive years (2009–2010 and 2010–2011) under field conditions. A linkage map already available for this population was used for QTL analysis. A major QTL contributing 55 % of phenotypic variation for vernalization response trait was identified on LG 3 at LOD score of 27. The simple sequence repeat (SSR) markers TA64 and CaM1515 were flanking the QTL which spans a distance of 22 cM. Six Bacterial Artificial Chromosome (BAC)-end sequence derived SSRs (CaM0717, CaM2086, CaM1760, CaM1364, CaM1122, and CaM0886) are present in this QTL region and can be used for isolation of vernalization response genes. Among 84 flowering related genes present in this region, Ca_06280 related to MADS box genes, was reported to play important role in vernalization in cereals. Understanding the genetic control of vernalization response in chickpea will help in exploitation of wild Cicer species in chickpea improvement.
This is a preview of subscription content, log in to check access.
Access options
Buy single article
Instant access to the full article PDF.
US$ 39.95
Tax calculation will be finalised during checkout.
Subscribe to journal
Immediate online access to all issues from 2019. Subscription will auto renew annually.
US$ 119
Tax calculation will be finalised during checkout.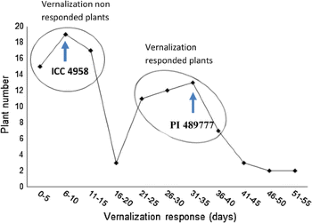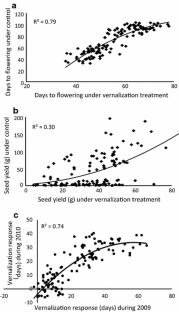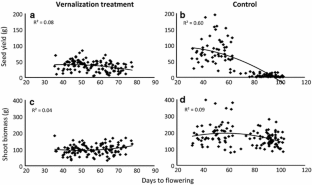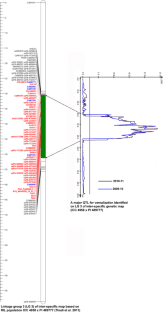 References
Abbo S, Lev-Yadun S, Galwey N (2002) Vernalization response of wild chickpea. New Phytol 154:695–701

Arumuganathan K, Earle ED (1991) Nuclear DNA content of some important plant species. Plant Mol Biol 9:208–218

Aryamanesh N, Nelson MN, Yan G, Clarke HJ, Siddique KHM (2010) Mapping a major gene for growth habit and QTLs for ascochyta blight resistance and flowering time in a population between chickpea and Cicer reticulatum. Euphytica 173:307–319

Berger JD, Turner NC, Siddique KHM, Knights EJ, Brinsmead RB, Mock I, Edmondson C, Khan TN (2004) Genotype by environment studies across Australia reveal the importance of phenology for chickpea (Cicer arietinum L.) improvement. Aust J Agric Res 55:1–14

Berger JD, Ali M, Basu PS, Chaudhary BD, Chaturvedi SK et al (2006) Genotype by environment studies demonstrate the critical role of phenology in adaptation of chickpea (Cicer arietinum L.) to high and low yielding environments of India. Field Crops Res 98:230–244

Berger JD, Milroy SP, Turner NC, Siddique KHM, Imtiaz M, Malhotra R (2011) Chickpea evolution has selected for contrasting phenological mechanisms among different habitats. Euphytica 180:1–15

Cobos MJ, Winter P, Kharrat M, Cubero JI, Gil J, Milian T et al (2009) Genetic analysis of agronomic traits in a wide cross of chickpea. Field Crops Res 111:130–136

Dubcovsky J, Luo MC, Zhong GY, Bransteitter R, Desai A, Kilian A, Kleinhofs A, Dworak J (1996) Genetic map of diploid wheat, Triticum monococcum L., and its comparison with maps of Hordeum vulgare L. Genetics 143:983–989

Dubcovsky J, Lijavetzky D, Appendino L, Tranquilli G (1998) Comparative RFLP mapping of Triticum monococcum genes controlling vernalization requirement. Theor Appl Genet 97:968–975

Gaur PM, Samineni S, Gowda CLL, Rao BV (2007) Rapid generation advancement in chickpea. J SAT Agric Res 3(1). Available online at http://www.icrisat.org/journal/

Gaur PM, Kumar J, Gowda CLL, Pande S, Siddique KHM, Khan TN, Warkentin TD, Chaturvedi SK, Than AM, Ketema D (2008) Breeding chickpea for early phenology: perspectives, progress and prospects. In: Kharkwal MC (ed) Food legumes for nutritional security and sustainable agriculture, vol vol 2. Indian Society of genetics and Plant Breeding, New Delhi, pp 39–48

Gaur PM, Mallikarjuna N, Knights T, Beebe S, Debouck D, Mejía A, Malhotra RS, Imtiaz M, Sarker A, Tripathi S, Gowda CLL (2010) Gene introgression in grain legumes. In: Gupta S, Ali M, Singh BB (eds) Grain legumes: genetic improvement, management and trade. Indian Society of Pulses Research and Development. Indian Institute of Pulses Research, Kanpur, pp 1–17

Gaur PM, Samineni S, Kamatam S, Thudi M, Varshney RK, Gowda CLL (2015) Allelic relationships of flowering time genes in chickpea. Euphytica 203:295–308

Gororo NN, Flood RG, Eastwood RF, Eagles HA (2001) Photoperiod and vernalization responses in Triticum turgidum × T. tauschii synthetic hexaploid wheats. Ann Bot 88:947–952

Hiremath PJ, Kumar A, Penmetsa RV, Farmer A, Schlueter JA, Chamarthi SK, Whaley AM, Carrasquilla-Garcia N, Gaur PM, Upadhyaya HD et al (2012) Large-scale development of cost-effective SNP marker assays for diversity assessment and genetic mapping in chickpea and comparative mapping in legumes. Plant Biotechnol J 10:716–732

Holland B, Portyanko A, Hoffman L, Lee M (2002) Genomic regions controlling Vernalization ans photoperiod responses in oat. Theor Appl Genet 105:113–126

Hossain S, Ford R, McNeil D, Pittock C, Panozzo JF (2010) Development of a selection tool for seed shape and QTL analysis of seed shape with other morphological traits for selective breeding in chickpea (Cicer arietinum L.). Aust J Crop Sci 4:278–288

Jukanti AK, Gaur PM, Gowda CLL, Chibbar RN (2012) Chickpea: nutritional properties and its benefits. Br J Nutr 108:S11–S16

Ladizinsky G (1975) A new Cicer from Turkey. Notes Res Bot Gard 34:201–202

Lang A (1965) Physiology of flower initiation. In: Ruhland W (ed) Encyclopedia of plant physiology. Springer, Berlin, pp 1371–1536

Laurie DA (1997) Comparative genetics of flowering time. Plant Mol Biol 35:167–177

Nayak SN, Zhu H, Varghese N, Datta S, Choi H-K, Horres R, Jungling R, Singh J, Kishore PB, Sivaramakrishnan S et al (2010) Integration of novel SSR and gene-based SNP marker loci in the chickpea genetic map and establishment of new anchor points with Medicago truncatula genome. Theor Appl Genet 120:1415–1441

Nene YL, Haware MP (1980) Screening chickpea for resistance to wilt. Plant Dis 64:379–380

Pfaff T, Kahl G (2003) Mapping of gene-specific markers on the genetic map of chickpea (Cicer arietinum L.). Mol Gen Genomics 269:243–251

Rehman AU, Malhotra RS, Bett K, Tar'an B, Bueckert R, Warkentin TD (2011) Mapping QTL associated with traits affecting grain yield in chickpea (Cicer arietinum L.) under terminal drought stress. Crop Sci 51:450–463

Robertson LD, Singh KB, Ocampo B (1995) A catalog of annual wild Cicer species. ICARDA, Aleppo, Syria

Roorkiwal M, Sawargaonkar S.L, A. Chitikineni, M. Thudi, R.K. Saxena, H.D. Upadhyaya, M.I. Vales, O. Riera-Lizarazu, R.K. Varshney. (2013) Single nucleotide polymorphism genotyping for breeding and genetics applications in chickpea and pigeonpea using the beadxpress platform plant Gen. 6:2. doi:10.3835/plantgenome2013.05.0017

Saxena NP, Krishnamurthy L, Johansen C (1993) Registration of a drought-resistance chickpea germplasm. Crop Sci 33:1424

Sethi SC, Byth DE, Gowda CLL, Green JM (1981) Photoperiodic response and accelerated generation turnover in chickpea. Field Crop Res 4:215–225

Singh KB, Hawtin GC, Nene YL, Reddy MV (1981) Resistance in chickpeas to Ascochyta rabiei. Plant Dis 65:586–587

Singh KB, Malhotra RS, Saxena MC (1990) Source for tolerance to cold in Cicer species. Crop Sci 30:1136–1138

Singh KB, Ocampo B, Robertson LD (1998) Diversity for abiotic and biotic stress resistance in the wild annual Cicer species. Genet Resour Crop Evol 45:9–17

Sorrells ME, Simmons SR (1992) Influence of environment on the development and adaptation of oat. In: Marshall HG, Sorrells ME (eds) Oat science and technology. American Society of Agronomy, Madison, pp 115–163

Sung S, Amasino RM (2005) Remembering winter: toward a molecular understanding of vernalizations. Annu Rev Plant Biol 56:491–508

Thudi M, Bohra A, Nayak SN, Varghese N, Shah TM, Penmetsa RV, Thirunavukkarasu N, Gudipati S, Gaur PM, Kulwal PL et al (2011) Novel SSR markers from BAC-End sequences, DArT Arrays and a comprehensive genetic map with 1291 marker loci for chickpea (Cicer arietinum L.). PLoS One 6:e27275

Toker C (2005) Preliminary screening and selection for cold tolerance in annual wild Cicer species. Genet Resour Crop Evol 52:1–5

Tranquilli G, Dubcovsky J (2000) Epistatic interaction between vernalization genesVrn-Am 1 and Vrn-Am2 in diploid wheat. J Hered 91:304–306

Trevaskis B, Bagnall DJ, Ellis MH, James Peacock W, Dennis ES (2003) MADS box genes control vernalization-induced flowering in cereals. PNAS 100:13099–13104

van der Maesen LJG (1987) Origin, history and taxonomy of chickpea. In: Saxena MC, Singh KB (eds) The Chickpea. CAB International, Wallingford, pp 11–34

van der Maesen LJG, Pundir RPS (1984) Availability and use of wild Cicer germplasm. Plant Genet Resour Newslett 57:282–285

van der Maesen LJG, Pundir RPS (1987) Availability and use of wild Cicer germplasm. Plant Genet Resour Newslett 57:19–24

Varshney RK, Hiremath PJ, Lekha P, Kashiwagi J, Balaji J, Deokar AA, Vadez V, Xiao Y, Srinivasan R, Gaur PM, Siddique KHM, Town CD, Hoisington DA (2009) A comprehensive resource of drought-and salinity responsive ESTs for gene discovery and marker development in chickpea (Cicer arietinum L.). BMC Genom 10:523

Varshney RK, Song C, Saxena RK, Azam S, Yu S, Sharpe AG, Cannon S, Baek J, Rosen BD, Tar'an B, Millan T et al (2013) Draft genome sequence of chickpea (Cicer arietinum) provides a resource for trait improvement. Nat Biotechnol 31:240–246

Varshney R, Thudi M, Nayak S, Gaur P, Kashiwagi J, Krishnamurthy L et al (2014) Genetic dissection of drought tolerance in chickpea (Cicer arietinum L.). Theor Appl Genet 127:445–462

Wang S, Basten CJ, Zeng ZB (2010) Windows QTL Cartographer 2.5, Department of Statistics, North Carolina State University, Raleigh, NC, USA (Available from http://statgen.ncsu.edu/qticart/WQTLCart.htm)
Acknowledgments
Thanks are due to Dadakhalandar Doddamani for useful discussions on Gene Ontology. This work was supported by International Crops Research Institute for the Semi-Arid Tropics (ICRISAT) and undertaken as part of the CGIAR Research Program on Grain Legumes.
Electronic supplementary material
Below is the link to the electronic supplementary material.
About this article
Cite this article
Samineni, S., Kamatam, S., Thudi, M. et al. Vernalization response in chickpea is controlled by a major QTL. Euphytica 207, 453–461 (2016). https://doi.org/10.1007/s10681-015-1571-4
Received:

Accepted:

Published:

Issue Date:
Keywords
Flowering time

Cold treatment

QTL

Linkage map