Abstract
Phytoene synthase (Psy) is a key gene influencing semolina yellowness. Specific molecular markers have been developed to identify some of the known allelic variants of Psy1-A1 (Psy1-A1a, Psy1-A1l, Psy1-A1o) and Psy1-B1 (Psy1-B1a, Psy1-B1b) associated to semolina yellow color. This study was undertaken to assess the genetic variability existing for Psy1, and to evaluate the relationship between genotype and phenotype, in two contrasting durum wheat panels formed mostly by American breeding lines (BL panel), and a collection that included 155 Mediterranean landraces and 20 modern cultivars (M panel). The BL panel showed h 2 values over 0.93 for two indicators of yellowness [i.e. semolina yellow pigments absorbance, and b* values that were strongly correlated (r = 0.95, P < 0.0001)], reflecting the strong genetic control of semolina yellowness. Compared to the BL panel, the M panel showed greater variability in Psy1-A1 and Psy1-B1 allelic frequencies, but only Psy1-A1 exhibited significant differences in yellowness. This suggests that using molecular markers associated with Psy1-A1 (i.e., Psy1-A1_STS and YP7A-2 jointly) for marker assisted selection can be sufficient and valuable to improve grain yellowness. The presence of the Psy1-A1l allele was associated with the highest values of semolina yellowness, whereas the presence of the Psy1-A1a allele was associated with the lowest values for this trait in the M panel. Fourteen genotypes carrying high-yellowness Psy1 allelic variants were identified in both the BL and the M panels. These can be used as parents for increasing yellowness in durum breeding programs.
Access options
Buy single article
Instant access to the full article PDF.
US$ 39.95
Tax calculation will be finalised during checkout.
Subscribe to journal
Immediate online access to all issues from 2019. Subscription will auto renew annually.
US$ 119
Tax calculation will be finalised during checkout.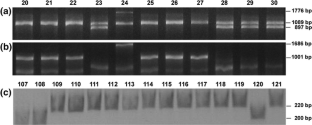 References
AACC (1995) Approved methods of the American Association of Cereal Chemists, 11th edn. American Association of Cereal Chemists Inc., St Paul

Abdalla O, Dieseth JA, Singh RP (1992) Breeding durum wheat at CIMMYT. In: Rajaram S, Saari EE, Hettez GP (eds) Durum wheats: challenges and opportunities. CIMMYT, Ciudad Obregon, p 13

Blanco A, Colasuonno P, Gadaleta A, Mangini G, Schiavulli A, Simeone R, Digesù AM, De Vita P, Mastrangelo AM, Cattivelli L (2011) Quantitative trait loci for yellow pigment concentration and individual carotenoid compounds in durum wheat. J Cereal Sci 54:255–264

Clarke FR, Clarke JM, McCaig TN, Knox RE, DePauw RM (2006) Inheritance of yellow pigment concentration in seven durum wheat crosses. Can J Plant Sci 86:133–141

Crawford AC, Stefanova K, Lambe W, McLean R, Wilson R, Barclay I, Francki MG (2011) Functional relationships of phytoene synthase 1 alleles on chromosome 7A controlling flour colour variation in selected Australian wheat genotypes. Theor Appl Genet 123:95–108

Digesù AM, Platani C, Cattivelli L, Mangini G, Blanco A (2009) Genetic variability in yellow pigment components in cultivated and wild tetraploid wheats. J Cereal Sci 50:210–218

Doyle JJ, Doyle JL (1990) Isolation of plant DNA from fresh tissue. Focus 12:13–15

Elouafi I, Nachit MM, Martin LM (2001) Identification of a microsatellite on chromosome 7B showing a strong linkage with yellow pigment in durum wheat (Triticum turgidum L. var. durum). Hereditas 135:255–261

Fu BX (2008) Asian noodles: history, classification, raw materials, and processing. Food Res Int 41:888–902

Fu BX, Schlichting L, Pozniak CJ, Singh AK (2011) A fast, simple, and reliable method to predict pasta yellowness. Cereal Chem 88:264–270

He X, Zhang Y, He Z, Wu Y, Ciao Y (2008) Characterization of phytoene synthase 1 gene (Psy1) located on common wheat chromosome 7A and development of a functional marker. Theor Appl Genet 116:213–221

He X, He Z, Ma W, Appels R, Xia X (2009a) Allelic variants of phytoene synthase 1 (Psy1) genes in Chinese and CIMMYT wheat cultivars and development of functional markers for flour colour. Mol Breed 23:553–563

He X, Wang J, Ammar K, Peña RJ, Xia X, He Z (2009b) Allelic variants at the PSY-A1 and PSY-B1 loci in durum wheat and their associations with grain yellowness. Crop Sci 49:2058–2064

Hentschel V, Kranl K, Hollmann J, Lindhauer MG, Bohm V, Bitsch R (2002) Spectrophotometric determination of yellow pigment content and evaluation of carotenoids by high-performance liquid chromatography in durum wheat grain. J Agric Food Chem 50:6663–6668

Hirschberg J (2001) Carotenoid biosynthesis in flowering plants. Curr Opin Plant Biol 4:210–218

Howitt CA, Cavanagh CR, Bowerman AF, Cazzonelli C, Rampling L, Mimica JL, Pogson BJ (2009) Alternative splicing, activation of cryptic exons and amino acid substitutions in carotenoid biosynthetic genes are associated with lutein accumulation in wheat endosperm. Funct Integr Genomics 9:363–376

International Grains Council (2013) World production of durum wheat. The Council, London, England

Littell RC, Milliken GA, Stroup WW, Wolfinger RD (1996) SAS system for mixed models. SAS Institute Inc., Cary

Mohammadi M, Blake T, Budde AD, Chao SM, Hayes PM, Horsley RD, Obert DE, Ullrich SE, Smith KP (2015) A genome—wide association study of malting quality across eight US barley breeding programs. Theor Appl Genet 128:705–721

Myles S, Peiffer J, Brown PJ, Ersoz ES, Zhang ZW, Costich DE, Buckler ES (2009) Association mapping: critical considerations shift from genotyping to experimental design. Plant Cell 21:2194–2202

Nachit M, Baum M, Impiglia A, Ketata H (1995) Studies on some grain quality traits in durum wheat grown in Mediterranean environments. In: Di Fonzo N, Kaan F, Nachit M (Eds.) Durum wheat quality in the Mediterranean region, n. 22, Options Méditerranéennes, Zaragoza, pp. 181–187

Nazco R, Villegas D, Ammar K, Peña RJ, Moragues M, Royo C (2012) Can Mediterranean durum wheat landraces contribute to improved grain quality attributes in modern cultivars? Euphytica 185:1–17

Nazco R, Peña RJ, Ammar K, Villegas D, Crossa J, Moragues M, Royo C (2014) Variability in glutenin subunit composition of Mediterranean durum wheat germplasm and its relationship with gluten strength. J Agric Sci 152:379–393

Newton AC, Akar T, Baresel JP, Bebeli PJ, Bettencourt E, Bladenopoulos KV, Czembor JH, Fasoula DA, Katsiotis A, Koutis K, Koutsika-Sotiriou M, Kovacs G, Larsson H, de Carvalho MAAP, Rubiales D, Russell J, Dos Santos TMM, Patto MCV (2010) Cereal landraces for sustainable agriculture, A review. Agron Sustain Dev 30:237–269

Pasam RK, Sharma R, Malosetti M, van Eeuwijk FA, Haseneyer G, Kilian B, Graner A (2012) Genome—wide association studies for agronomical traits in a worldwide spring barley collection. BMC Plant Biol 12:16

Patil R, Oak M, Tamhankar S, Sourdille P, Rao V (2008) Mapping and validation of a major QTL for yellow pigment content on 7AL in durum wheat (Triticum turgidum L. ssp. durum). Mol Breed 21:485–496

Pozniak CJ, Knox RE, Clarke FR, Clarke JM (2007) Identification of QTL and association of a phytoene synthase gene with endosperm colour in durum wheat. Theor Appl Genet 114:525–537

R Development Core Team (2012) R: A language and environment for statistical computing. R Foundation for Statistical Computing, Vienna, Austria. http://www.R-project.org/

Rafalski JA (2010) Association genetics in crop improvement. Curr Opin Plant Biol 13:174–180

Ravel C, Dardevet M, Leenhardt F, Bordes J, Joseph JL, Perretant MR, Exbrayat F, Poncet C, Balfourier F, Chanliaud E, Charmet G (2013) Improving the yellow pigment content of bread wheat flour by selecting the three homoeologous copies of Psy1. Mol Breed 31:87–99

Reif JC, Zhang P, Dreisigacker S, Van Ginkel M, Hoisington D, Bohn M, Melchinger AE (2005) Wheat genetic diversity trends during domestication and breeding. Theor Appl Genet 110:859–864

Reimer S, Pozniak CJ, Clarke FR, Clarke JM, Somers DJ, Knox RE, Singh AK (2008) Association mapping of yellow pigment in an elite collection of durum wheat cultivars and breeding lines. Genome 51:1016–1025

Reynolds ME, Borlaug NE (2006) Impacts of breeding on international collaborative wheat improvement. J Agric Sci 144:3–17

Roncallo P, Cervigni GL, Jensen C, Miranda R, Carrera AD, Helguera M, Echenique V (2012) QTL analysis of main and epistatic effects for flour color traits in durum wheat. Euphytica 185:77–92

Royo C, Nazco R, Villegas D (2014) The climate of the zone of origin of Mediterranean durum wheat (Triticum durum Desf.) landraces affects their agronomic performance. Genet Resour Crop Evol 61:1345–1358

SAS Institute Inc. (2003) SAS user's guide, version 9.0. SAS Institute Inc., Cary North Caroline, USA

SAS Institute Inc. (2009) SAS user's guide, version 9.0. SAS Institute Inc., Cary, NC

SAS Institute Inc (2013) Using JMP 11. Cary, NC

Schulthess A, Schwember AR (2013) Improving durum wheat (Triticum turgidum L. var durum) grain yellow pigment content through plant breeding. Ciencia e Investigación Agraria 40:475–490

Schulthess A, Matus I, Schwember AR (2013) Genotypic and environmental factors and their interactions determine semolina color of elite genotypes of durum wheat (Triticum turgidum L. var. durum) grown in different environments of Chile. Field Crops Res 149:234–244

Singh A, Reimer S, Pozniak CJ, Clarke FR, Clarke JM, Knox RE, Singh K (2009) Allelic variation at Psy1-A1 and association with yellow pigment in durum wheat grain. Theor Appl Genet 118:1539–1548

Wu R, Ma C-X, Casella G (2002) Joint linkage and linkage disequilibrium mapping of quantitative trait loci in natural populations. Genetics 160:779–792

Zhang W, Dubcovsky J (2008) Association between allelic variation at the Phytoene synthase 1 gene and yellow pigment content in the wheat grain. Theor Appl Genet 116:635–645

Zhang W, Chao S, Manthey F, Chicaiza O, Brevis JC, Echenique V, Dubcovsky J (2008) QTL analysis of pasta quality using a composite microsatellite and SNP map of durum wheat. Theor Appl Genet 117:1361–1377
Acknowledgments
This work was financially supported by Conicyt (grant Fondecyt de Iniciación N° 11110066), INIA-Quilamapu, and MINECO-Spain project AGL-2012-37212. The authors thank the INIA-Quilamapu personnel who worked on this project for valuable help.
Electronic supplementary material
Below is the link to the electronic supplementary material.
About this article
Cite this article
Campos, K.M., Royo, C., Schulthess, A. et al. Association of phytoene synthase Psy1-A1 and Psy1-B1 allelic variants with semolina yellowness in durum wheat (Triticum turgidum L. var. durum). Euphytica 207, 109–117 (2016). https://doi.org/10.1007/s10681-015-1541-x
Received:

Accepted:

Published:

Issue Date:
Keywords
Genetic diversity

QTL

Tetraploid wheat