Abstract
Lentil (Lens culinaris Medik.) is usually grown under rainfed environments and often encounters drought stress from limited rainfall. Little information is available about shoot and root traits in association with drought tolerance. We studied variability for root and shoot traits related to drought tolerance using an F6–8 population of 133 recombinant inbred lines (RILs) from the cross ILL6002 × ILL5888. We found important variation between genotypes and also high variation in heritability values for root and shoot traits at 38 days after sowing the parents and RILs under both well-watered and drought-stressed treatments during two consecutive seasons in the greenhouse. The higher heritability values were obtained under drought stress treatment and suggest that selection in water-limited environments would be more effective in achieving genetic gains. Drought had reduced trait values, except root–shoot ratio that was likely to be enhanced underlying the importance of this trait for drought tolerance. The quantitative and continuous distributions of variation are the evidence for polygenic control of these traits and the possibility of mapping the quantitative trait loci (QTL). Statistically significant associations between root and shoot traits such as dry shoot biomass and chlorophyll content were noted, highlighting the reliability of indirect selection for underground traits (root) based on these aboveground traits in breeding programs. Significant correlations and regressions were demonstrated between dry root biomass, lateral root number, root surface area, dry shoot biomass, root–shoot ratio, chlorophyll content and drought tolerance as estimated by wilting severity from limited water supply. This shows the importance of a well-developed root system and early biomass development for drought tolerance. Identification and mapping of QTL related to studied traits in this population would be a first step for starting marker-assisted selection.
Access options
Buy single article
Instant access to the full article PDF.
US$ 39.95
Tax calculation will be finalised during checkout.
Subscribe to journal
Immediate online access to all issues from 2019. Subscription will auto renew annually.
US$ 119
Tax calculation will be finalised during checkout.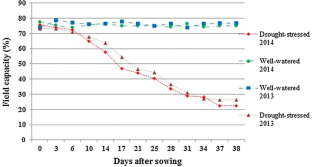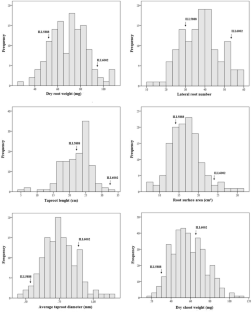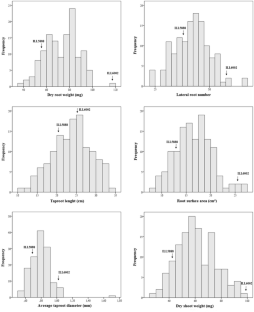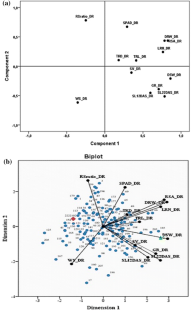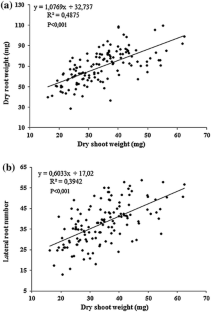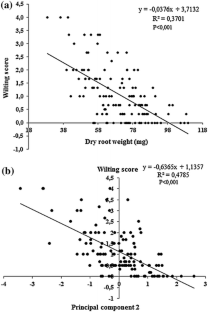 References
Abdelhamid MT (2010) Efficient root system in legume crops to stress environments. In: Yadav SS et al (eds) Climate change and management of cool season grain legume crops. Springer Science Business Media, Dordrecht. doi:10.1007/978-90-481-3709-1_13

Abramoff MD, Magalhaes PJ, Ram SJ (2004) Image processing with Image J. Biophotonics International 11(7):36–42. http://webeye.ophth.uiowa.edu/dept/biograph/abramoff/imagej.pdf. Accessed 16 Aug 2014

Aswaf A, Blair M (2012) Quantitative trait loci for rooting pattern traits of common beans grown under drought stress versus non-stress conditions. Mol Breed 30:681–695. doi:10.1007/s11032-011-9654-y

Brensha W, Kantartzi SK, Meksem K, Grier RL, Barakat A, Lightfoot DA, Kassem MA (2012) Genetic analysis of root and shoot traits in the 'Essex' by 'Forrest' recombinant inbred line (RIL) population of soybean (Glycine max (L.) Merr.). J Plant Genome Sci 1(1):1–9. doi:10.5147/jpgs.2012.0051

Cichy K, Blair MW, Mendoza CHG, Snapp SS, Kelly JD (2009) QTL analysis of root architecture traits and low phosphorus tolerance in an Andean bean population. Crop Sci 49:59–68

Cullis B, Smith AB, Coombes NE (2006) On the design of early generation variety trials with correlated data. J Agric Biol Environ Stat 11:381–393

Costa de Oliveira A, Varshney RK (2011) Introduction to root genomics. In: Costa de Oliveira A, Varshney RK (eds) Root genomics. Springer, Heidelberg. doi:10.1007/978-3-540-85546-0

Erskine W, Rihawi S, Capper BS (1990) Variation in lentil straw quality. Anim Feed Sci Technol 28(1–2):61–69. doi:10.1016/0377-8401(90)90068-J

Erskine W, Muehlbauer FJ, Sarker A, Sharma B (2009) Introduction. In: Erskine W, Muehlbauer FJ, Sarker A, Sharma B (eds) The lentil: botany, production and uses. CAB International, Oxfordshire pp. 1–3

FAO (2012) FAOSTAT http://faostat.fao.org/, FAO, Rome, Italy. Accessed 1 Aug 2014

Gahoonia TS, Ali O, Sarker A, Rahman MM, Erskine W (2005) Root traits, nutrient uptake, multi-location grain yield and benefit–cost ratio of two lentil (Lens culinaris, Medikus.) varieties. Plant Soil 272:153–161. doi:10.1007/s11104-004-4573-x

Gahoonia TS, Ali O, Sarker A, Nielsen NE, Rahman MM (2006) Genetic variation in root traits and nutrient acquisition of lentil genotypes. J Plant Nutr 29:643–655. doi:10.1080/01904160600564378

Gaur PM, Krishnamurthy L, Kashiwagi J (2008) Improving drought-avoidance root traits in chickpea (Cicer arietinum)—current status of research at ICRISAT. Plant Prod Sci 11(1):3–11

Grusak MA, Coyne CJ (2009) Variation for seed minerals and protein concentrations in diverse germplasm of lentil. Paper presented at North America Pulse Improvement Association, 20th Biennial Meeting, p. 11, Fort Collins, CO. 28–30 Oct. http://www.ars.usda.gov/research/publications/publications.htm?SEQ_NO_115=258651. Accessed 20 Jan 2015

Idrissi O, Houasli C, Nsarellah N (2013) Comparaison de lignées avancées de lentille sous stress hydrique durant la phase de floraison et formation des gousses. Nat Technol 8:53–61

International Board for Plant Genetic Resources (IBPGR) and International Center for Agricultural Research in the Dry Areas (ICARDA) (1985) Lentil descriptors. http://www.bioversityinternational.org/e-library/publications/detail/lentil-descriptors/. Accessed 16 Aug 2014

Kashiwagi J, Krishnamurthy L, Upadhyaya HD, Krishna H, Chandra S, Vadez V, Serraj R (2005) Genetic variability of drought-avoidance root traits in the mini-core germplasm collection of chickpea (Cicer arietinum L.). Euphytica 146:213–222. doi:10.1007/s10681-005-9007-1

Kashiwagi J, Krishnamurthy L, Gaur PM, Shandra S, Upadhyaya HD (2014) Estimation of gene effects of the drought avoidance root characteristics in chickpea (C. arietinum L.). Field Crop Res 105(1–2):64–69. doi:10.1016/j.fcr.2007.07.007

Kumar J, Basu DPS, Srivastava E, Chaturvedi SK, Nadarajan N, Kumar S (2012) Phenotyping of traits imparting drought tolerance in lentil. Crop Pasture Sci 63:547–554. doi:10.1071/CP12168

Kumar J, Strivastava E, Singh M (2013) Genetics of early growth vigour in lentil (Lens culinaris Medik.). J Genet 92:323–326

Lobet G, Pagès L, Draye X (2011) A novel image analysis toolbox enabling quantitative analyses of root system architecture. Plant Physiol 157:29–39

Malhotra RS, Sarker A, Saxena MC (2004) Drought tolerance in chickpea and lentil-present status and future strategies. In: Rao SC, Ryan J (eds) Challenges and strategies for dryland agriculture., CSSA Special Publication no. 32Crop Science Society of America and American Society of Agronomy, Wisconsin pp 257–273

Mia MW, Yamauchi A, Yano K, Kono Y (1996) Root system development of food legumes as affected by nodule formation. Rep Tokai Branch Crop Sci Soc Jpn 122:9–10

Oakey H, Verbyla A, Pitchford W, Cullis B, Kuchel H (2006) Joint modeling of additive and non-additive genetic line effects in single field trials. Theor Appl Genet 113:809–819

Ruta N (2008) Quantitative trait loci controlling root and shoot traits of maize under drought stress. Dissertation, Swiss Federal Institute of Technology Zurich

Saha GC, Sarker A, Chen W, Vandemark GJ, Muehlbauer FJ (2013) Inheritance and linkage map positions of genes conferring agromorphological traits in Lens culinaris Medik. Int J Agron (2013), Article ID 618926. doi:10.1155/2013/618926

Sarker A, Erskine W, Singh M (2005) Variation in shoot and root characteristics and their association with drought tolerance in lentil landraces. Genet Resour Crop Evol 52:89–97

Sarker A, Aydogan A, Chandra S, Kharrat M, Sabaghpour S (2009) Genetic enhancement for yield and yield stability. In: Erskine W, Muehlbauer FJ, Sarker A, Sharma B (eds) The lentil: botany, production and uses. CAB International, Oxfordshire pp 102–120

Saxena MC (2009) Plant morphology, anatomy and growth habit. In: Erskine W, Muehlbauer FJ, Sarker A, Sharma B (eds) The lentil: botany, production and uses. CAB International, Oxfordshire, pp 1–3

Sayed MAA (2011) QTL analysis for drought tolerance related to root and shoot traits in barley (Hordeum vulgare L.). Dissertation, Institut für Nutzpflanzenwissenschaften und Ressourcenschutz, Hohen Landwirtschaftlichen Fakultät der Rheinischen Friedrich-Wilhelms-Universität Bonn

Serraj R, Krishnamurthy L, Kashiwagi J, Kumar J, Chandra S, Crouch JH (2004) Variation in root traits of chickpea (Cicer arietinum L.) grown under terminal drought. Field Crop Res 88:115–127

Singh DH, Dikshit HK, Singh RA (2013) A new phenotyping technique for screening for drought tolerance in lentil (Lens culinaris Medik.). Plant Breed 132:185–190. doi:10.1111/pbr.12033

Stoddard FL, Balko C, Erskine W, Khan HR, Link W, Sarker A (2006) Screening techniques and sources of resistance to abiotic stresses in cool-season food legumes. Euphytica 147:167–186. doi:10.1007/s10681-006-4723-8

Thavarajah D, Thavarajah P, Sarker A, Materne M, Vandemark G, Shrestha R, Idrissi O, Hacikamiloglu O, Bucak B, Vandenber A (2011) A global survey of effects of genotype and environment on selenium concentration in lentils (Lens culinaris L.): implications for nutritional fortification strategies. Food Chem 125:72–76

Vadez V, Rao S, Kholova J, Krishnamurthy L, Kashiwaji J, Ratnakumar P, Sharma KK, Bhatnagar-Mathur P, Basu PS (2008) Root research for drought tolerance in legumes: quo vadis ? J Food Legumes 21(2):77–85

Wu W, Cheng S (2014) Root genetic research, an opportunity and challenge to rice improvement. Field Crop Res 165:111–124. doi:10.1016/j.fcr.2014.04.013
Acknowledgments
The authors thank the Islamic Development Bank for the funding support. We also thank Dr. Fred J. Muehlbauer from USDA-ARS, Washington State University, Pullman, USA and Dr. Rebecca J. McGee from Grain Legume Genetics and Physiology Research Unit, USDA-ARS, Washington State University for kindly providing the genetic material used in this study.
Conflict of interest
The authors of this study declare that they have no conflict of interest.
About this article
Cite this article
Idrissi, O., Houasli, C., Udupa, S.M. et al. Genetic variability for root and shoot traits in a lentil (Lens culinaris Medik.) recombinant inbred line population and their association with drought tolerance. Euphytica 204, 693–709 (2015). https://doi.org/10.1007/s10681-015-1373-8
Received:

Accepted:

Published:

Issue Date:
Keywords
Lentil

Root and shoot traits

Genetic variability

Drought tolerance