Abstract
Iron (Fe) toxicity is a major constraint in lowland rice. Because of its higher rusticity and adaptability to adverse soil conditions, the African rice Oryza glaberrima constitutes a new potential source of genes for rice improvement. This study aimed at mapping quantitative trait loci (QTLs) for resistance to Fe toxicity. A set of 220 BC3DH lines derived from the backcross O. sativa (Caiapo)/O. glaberrima (MG12)//O. sativa (Caiapo) was tested in hydroponics in the presence or absence of Fe2+ (0 or 250 mg L−1). The experiment was repeated twice independently in time. In each repetition, each line was repeated three times under each Fe2+ condition. A total of 28 QTLs were detected in 18 distinct chromosomal regions for 11 morphological and physiological traits. The single and joint composite interval mappings confirmed the interest of region RM5-RM246 on chromosome 1. Several QTLs were detected in new regions, including five QTLs and one joint QTL on chromosome 5, and one QTL on chromosome 10. Interestingly, the favorable allele for all these seven new QTLs were provided by the O. glaberrima cultivar MG12, i.e. the lesser investigated species. These QTLs corresponded to leaf bronzing index, dry weights, Fe concentration in the root-plaque system and stomatal conductance. Our results suggest that resistance mechanisms to Fe toxicity may differ between both cultivated rices and confirmed the possible interest of O. glaberrima as a source of new alleles for QTL detection and introgression in the perspective of improving rice resistance to Fe toxicity.
Access options
Buy single article
Instant access to the full article PDF.
USD 39.95
Price includes VAT (USA)
Tax calculation will be finalised during checkout.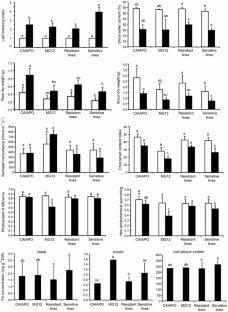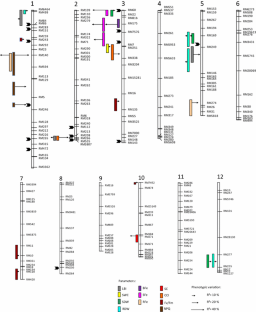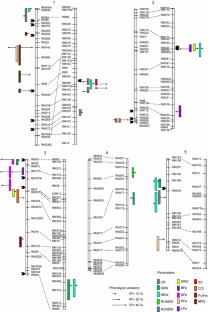 References
Ali ML, Sanchez P, Yu SB, Lorieux M, Eizenga GC (2010) Chromosome segment substitution lines: a powerful tool for the introgression of valuable genes from Oryza wild species into cultivated rice (O. sativa). Rice 3:218–234

Aluko G, Martinez J, Tohme J, Castano C, Bergman C, Oard JH (2004) QTL mapping of grain quality traits from interspecific cross Oryza sativa × O. glaberrima. Theor Appl Genet 109:630–639

Audebert A (2006a) Diagnostic of risk and approaches to iron toxicity management in lowland rice farming. In: Audebert A et al (eds) Iron toxicity in rice-based system in West Africa. Africa Rice Center, Cotonou, pp 6–17

Audebert A (2006b) Iron toxicity in rice—environmental conditions and symptoms. In: Audebert A et al (eds) Iron toxicity in rice-based system in West Africa. Africa Rice Center, Cotonou, pp 18–33

Audebert A, Fofana M (2009) Rice yield gap due to iron toxicity in West Africa. J Agron Crop Sci 195:66–76

Basten CJ, Weir BS, Zeng Z-B (1994) Zmap—A QTL cartographer. In: Smith C et al (eds) Proceedings of 5th World Congress on Genetics Applied to Livestock Production: computing strategies and software, 7–12 August 1994. Department of Animal and poultry Science, University of Guelph, Guelph, ON, Canada, pp 65–66

Basten CJ, Weir BS, Zeng Z-B (2004) QTL cartographer, version 1.17. Department of Statistics, North Carolina State University, Raleigh

Beavis WB (1998) QTL analyses: power, precision, and accuracy. In: Patterson AH (ed) Molecular dissection of complex traits. CRC Press, Boca Raton

Becana M, Moran JF, Iturbe-Ormaetxe I (1998) Iron-dependent oxygen free radical generation in plants subjected to environmental stress: toxicity and antioxidant protection. Plant Soil 201:137–147

Becker M, Asch F (2005) Iron toxicity in rice—conditions and management concepts. J Plant Nutr Soil Sci 168(4):558–573

Bimpong IK, Serraj R, Chin JH, Ramos J, Mendoza EMT, Hernandez JE, Mendioro MS, Brar DS (2011) Identification of QTLs for drought-related traits in alien introgression lines derived from crosses of rice (Oryza sativa cv. IR64) × O. glaberrima under lowland moisture stress. J Plant Biol 54(4):237–250

de Dorlodot S, Lutts S, Bertin P (2005) Effects of ferrous iron toxicity on the growth and mineral composition of an interspecific rice. J Plant Nutr 28:1–20

Djedatin G, Ndjiondjop MN, Mathieu T, Cruz MV, Sanni A, Ghesquière A, Verdier V (2011) Evaluation of African cultivated rice Oryza glaberrima for resistance to bacterial blight. Plant Dis 95(4):441–447

Doerge RW, Zeng Z-B, Weir BS (1997) Statistical issues in the search for genes affecting quantitative traits in experimental populations. Stat Sci 12(3):195–219

Doi K, Yoshimura A, Iwata N (1998) RFLP mapping and QTL analysis of heading date and pollen sterility using backcross populations between Oryza sativa L. and Oryza glaberrima Steud. Breed Sci 48(4):395–399

Dufey I, Hakizimana P, Draye X, Lutts S, Bertin P (2009) QTL mapping for biomass and physiological parameters linked to resistance mechanisms to ferrous iron toxicity in rice. Euphytica 167:143–160

Dufey I, Hiel M-P, Hakizimana P, Draye X, Lutts S, Koné B, Dramé KN, Konaté KA, Sié M, Bertin P (2012) Multienvironment Quantitative Trait Loci mapping and consistency across environments of resistance mechanisms to ferrous iron toxicity in rice. Crop Sci 52:539–550

Fang WC, Wang JW, Lin CC, Kao CH (2001) Iron induction of lipid peroxidation and effects on antioxidative enzyme activities in rice leaves. Plant Growth Regul 35(1):75–80

Fofana B, Rauber R (1999) Weed suppression ability of upland rice under low input conditions in West Africa. Weed Res 40:271–280

Green MS, Etherington JR (1977) Oxidation of ferrous iron by rice roots: a mechanism for waterlogging tolerance. J Exp Bot 28:678–690

Gutiérrez AG, Carabalí SJ, Giraldo OX, Martínez CP, Correa F, Prado G, Tohme J, Lorieux M (2010) Identification of a Rice stripe necrosis virus resistance locus and yield component QTLs using Oryza sativa × O. glaberrima introgression lines. BMC Plant Biol 10(1):6

Horton P, Ruban A (2005) Molecular design of the photosystem II light harvesting antenna: photosynthesis and photoprotection. J Exp Bot 56(411):365–373

Howeler RH (1973) Iron-induced oranging disease of rice in relation to physiochemical changes in a flooded Oxisol. Soil Sci Soc Am Proc 37:898–903

IRRI (1996) Standard evaluation system for rice, 4th edn. International Rice Research Institute, Manila

Jiang C, Zeng Z-B (1995) Multiple trait analysis of genetic mapping for quantitative trait loci. Genetics 140:1111–1127

Lander ES, Botstein D (1989) Mapping Mendelian factors underlying quantitative traits using RFLP linkage maps. Genetics 121:185–199

Li J, Xiao J, Grandillo S, Jiang L, Wan Y, Deng Q, Yuan L, McCouch SR (2004) QTL detection for rice grain quality traits using an interspecific backcross population derived from cultivated Asian rice (O. sativa L.) and African (O. glaberrima S.) rice. Genome 47:697–704

Lorieux M, Ndjiondjop MN, Ghesquiere A (2000) A first interspecific Oryza sativa × Oryza glaberrima microsatellite-based genetic linkage map. Theor Appl Genet 100:593–601

Majerus V, Bertin P, Lutts S (2007a) Effects of iron toxicity on osmotic potential, osmolytes and polyamines concentrations in the African rice (Oryza glaberrima Steud.). Plant Sci 173:96–105

Majerus V, Bertin P, Swenden V, Fortemps A, Lobreaux S, Lutts S (2007b) Organ-dependent responses of the African rice to short-term iron toxicity: ferritin regulation and antioxidative responses. Biol Plant 51:303–331

Majerus V, Bertin P, Lutts S (2009) Abscisic acid and oxidative stress implications in overall ferritin synthesis by African rice (Oryza glaberrima Steud.) seedlings exposed to short term iron toxicity. Plant Soil 324:253–265

Maji AT, Gana AS, Ukwungwu MN (2011) Responses of Oryza glaberrima accessions to rice stresses and their morphological characteristics. Afr J Agric Res 6(3):732–737

Miles C, Wayne M (2008) Quantitative trait locus (QTL) analysis. Nature Educ 1(1):208

Ndjiondjop MN, Cisse F, Girma G, Sow M, Bocco R, Djedatin G, Blandine F (2010) Morpho-agronomic and molecular characterization of Oryza glaberrima germplasm from Mali. Afr J Biotechnol 9(44):7409–7417

Nyamangyoku O (2006) Ferrous iron toxicity: mechanisms of resistance and impact on nutrient elements at the vegetative stage in cultivated rices (Oryza sativa L., Oryza glaberrima Steud. and interspecific hybrids). PhD Thesis, Université catholique de Louvain (UCL), Louvain-La-Neuve, Belgium, p 164

Sahrawat KL (2004) Iron toxicity in wetland rice and the role of other nutrients. J Plant Nutr 27:1471–1504

Sahrawat KL, Sitka M (2002) Comparative tolerance of O. sativa and O. glaberrima rice cultivars for iron toxicity in West Africa. Int Rice Res Notes 27:30–31

Sarla N, Swamy BPM (2005) Oryza glaberrima: a source for the improvement of Oryza sativa. Curr Sci 89:955–963

SAS Institute (1999) SAS/STAT User's guide, Version 8. SAS Institute, Cary

Shimizu A (2009) QTL analysis of genetic tolerance to iron toxicity in rice (Oryza sativa L.) by quantification of bronzing score. J New seeds 10(3):171–179

Shimizu A, Guerta CQ, Gregorio GB, Kawasaki S, Ikehashi H (2005) QTLs for nutritional contents of rice seedlings (Oryza sativa L.) in solution cultures and its implication to tolerance to iron-toxicity. Plant Soil 275:57–66

Stein RJ, Duarte GL, Spohr MG, Lopes SIG, Fett JP (2009) Distinct physiological responses of two rice cultivars subjected to iron toxicity under field conditions. Ann Appl Biol 154:269–277

Suh J, Ahn SN, Cho YC, Kang KH, Choi IM (2005) Mapping for QTLs for yield traits using an advanced backcross population from a cross between Oryza sativa and O. glaberrima. Korean J Breed 37:214–220

Vales MI, Schön CC, Capettini F, Chen XM, Corey AE, Mather DE, Mundt CC, Richardson KL, Sandoval-Islas JS, Utz HF, Hayes PM (2005) Effect of population size on the estimation of QTL: a test using resistance to barley stripe rust. Theor Appl Genet 111:1260–1270

Wan JL, Zhai HQ, Wan JM, Ikehashi H (2003a) Detection and analysis of QTLs for ferrous iron toxicity tolerance in rice, Oryza sativa L. Euphytica 131:201–206

Wan JL, Zhai HQ, Wan JM, Yasui H, Yoshimura A (2003b) Mapping QTL for traits associated with resistance to ferrous iron toxicity in rice (Oryza sativa L.), using japonica chromosome segment substitution lines. Yi Chuan Xue Bao 30(10):893–898

Wan JL, Zhai HQ, Wan JM, Yasui H, Yoshimura A (2004) Detection and analysis of QTLs associated with resistance to ferrous iron toxicity in rice (Oryza sativa L), using recombinant inbred lines. Acta agron sinica 30(4):329–333

Wan JL, Zhai HQ, Wan JM (2005) Mapping of QTLs for ferrous iron toxicity tolerance in rice (Oryza sativa L.). Yi Chuan Xue Bao 32(11):1156–1166

Wu P, Luo A, Zhu J, Yang J, Huang N, Senadhira D (1997) Molecular markers linked to genes underlying seedling tolerance for ferrous iron toxicity. Plant Soil 196(2):317–320

Wu P, Hu B, Liao CY, Zhu JM, Wu YR, Senadhira D, Paterson AH (1998) Characterization of tissue tolerance to iron by molecular markers in different lines of rice. Plant Soil 203:217–226

Yoshida S, Forno DA, Cock JH, Gomez KA (1976) Laboratory manual for physiological studies of rice, 3rd edn. International Rice Research Institute, Manila

Zeng Z-B (1994) Precision mapping of quantitative trait loci. Genet 136:1457–1468
About this article
Cite this article
Dufey, I., Draye, X., Lutts, S. et al. Novel QTLs in an interspecific backcross Oryza sativa × Oryza glaberrima for resistance to iron toxicity in rice. Euphytica 204, 609–625 (2015). https://doi.org/10.1007/s10681-014-1342-7
Received:

Accepted:

Published:

Issue Date:
Keywords
Abiotic stress

Fe toxicity

Rice (Oryza sativa and Oryza glaberrima)

QTL analysis