Abstract
Cabbage Fusarium wilt (CFW), caused by Fusarium oxysporum f. sp. conglutinans, is one of the most devastating diseases of cabbage worldwide. In recent years, CFW has been spreading across northern Chinad. Thus, development of resistant cultivars is necessary to control CFW. Here we report microspore culture from a cross of two elite cabbage inbred lines, 96–100 (highly resistant to CFW) and 01–20 (highly susceptible to CFW), in order to obtain doubled haploids (DHs) to cultivate cabbage materials for resistance breeding. A total of 196 DHs were obtained in 2011 and 2012 and three elite DH lines were selected from them through agronomic trait evaluation as well as marker-assisted selection. These three elite DH lines were crossed with elite cabbage inbred lines to create hybrids, which were then evaluated for their resistance and agronomic traits. Three excellent hybrids were selected. The use of microspore culture and marker-assisted selection greatly shortened the time required to obtain these excellent hybrids. These resistant varieties may become an effective control of CFW in diseased areas.
This is a preview of subscription content,
to check access.
Access this article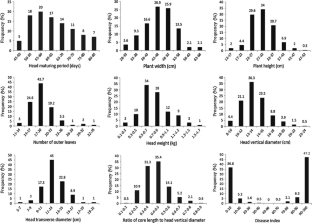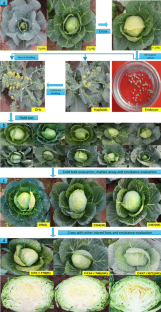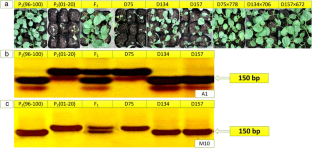 References
Abercrombie JM, Farnham MW, Rushing JW (2005) Genetic combining ability of glucoraphanin level and other horticultural traits of broccoli. Euphytica 143(1–2):145–151

Arden S (1979) Fusarium yellows of cabbage and related crops. Vegetable Crops 730

Armstrong GM, Armstrong JK (1981) Formae speciales and races of Fusarium oxysporum causing wilt diseases. The Pennsylvania State University Press, University Park PA, pp 391–39

Booth C (1971) The Genus Fusarium. CABI Publishing, Wallingford

Brant JB, Gustavo CA, Peter MG (1991) Fast and sensitive silver staining of DNA in polyacrylamide gels. Anal Biochem 196(1):80–83

Brian HT, Chantel FS (1994) A molecular marker for lateral root initiation: the RSI-1 gene of tomato (Lycopersicon esculentum Mill) is activated in early lateral root primordia. Mol Gen Genet 243:148–157

Collard BC, Jahufer MZ, Brouwer JB, Pang EC (2005) An introduction to markers, quantitative trait loci (QTL) mapping and marker-assisted selection for crop improvement: the basic concepts. Euphytica 142:169–196

Duijs JG, Voorrips RE, Visser DL, Custers JBM (1992) Microspore culture is successful in most crop types of Brassica oleracea L. Euphytica 60:45–55

Farnham MW, Keinath AP, Smith JP (2001) Characterization of Fusarium yellows resistance in collard. Plant Dis 85(8):890–894

Ferrie AMR, Caswell KL (2011) Microspore culture techniques and recent progress for haploid and doubled haploid plant production. Plant Cell Tiss Org Cult 104:301–309

Ferrie AMR, Bethune TD, Arganosa GC, Waterer D (2011) Field evaluation of doubled haploid plants in the Apiaceae: dill (Anethum graveolens L.), caraway (Carum carvi L.), and fennel (Foeniculum vulgare Mill.). Plant Cell Tiss Org Cult 104:407–413

Germana` MA (2011) Anther culture for haploid and doubled haploid production. Plant Cell Tiss Org Cult 104:283–300

Gordon SG, Kowitwanich K, Pipatpongpinyo W, Martin SK, Dorrance AE (2007) Molecular marker analysis of soybean plant introductions with resistance to Phytophthora sojae. Phytopathology 97(1):113–118

Gupta PK, Roy JK, Prasad M (2001) Single nucleotide polymorphisms: a new paradigm for molecular marker technology and DNA polymorphism detection with emphasis on their use in plants. Curr Sci 80:524–535

Keinath AP, Farnham MW, Smith P (1998) Reactions of 26 cultivars of Brassica oleracea to yellows in naturally infested soil. Biol Cult Tests 13:155

Li M, Zhang T, Li X, Yan H (2003) Fusarium wilt disease on crucifer vegetable and its pathogenic identification. Plant Prot 29(6):44–45

Lichter R (1981) Anther culture of Brassica napus in a liquid culture medium. Z Pflanzenphysiol 103:229–237

Lichter R (1982) Induction of haploid plants from isolated pollen of Brassica napus L. Z Pflanzenphysiol 105:427–434

Lichter R (1989) Efficient yield of embryoids by culture of isolated microspores of different Brassicaceae species. Plant Breed 103:119–123

Liu B, Wang Y, Zhai W, Deng J, Wang H, Cui Y, Cheng F, Wang XW, Wu JS (2013) Development of InDel markers for Brassica rapa based on whole-genome re-sequencing. Theor Appl Genet 126:231–239

Lv H, Fang Z, Yang L, Xie B, Liu Y, Zhuang M, Zhang Y, Yang Y (2011) Research on screening of resistant resources to Fusarium wilt and inheritance of the resistant gene in cabbage. Acta Hortic Sin 38(5):875–885

Lv H, Yang L, Kang J, Wang Q, Wang X, Fang Z, Liu Y, Zhuang M, Zhang Y, Lin Y, Yang Y, Xie B, Liu B, Liu J (2013) Development of InDel markers linked to Fusarium wilt resistance in cabbage. Mol Breed. doi:10.1007/s11032-013-9925-x

Morrison RH, Mengistu A, Williams PH (1994) First report of race 2 of cabbage yellows caused by Fusarium oxysporum f. sp. conglutinans in Texas. Plant Dis 78:614

Murray HG, Thompson WF (1980) Rapid isolation of high molecular weight DNA. Nucleic Acids Res 8:4321–4325

Nomura Y, Kato K, Takeuchi S (1976) Studies on the method of early selection of the resistance of cabbage to the yellows disease. Jpn Cent Agric Exp Rep 24:141–182

Ramirez-Villupadua J, Endo RM, Bosland P, Williams PH (1985) A new race of Fusarium oxysporum f. sp. conglutinans that attacks cabbage with type A resistance. Plant Dis 69(7):612–613

Randhawa Harpinder S, Muhammad A, Pozniak C, Clarke JM, Graf RJ, Fox SL, Humphreys DG, Knox RE, DePauw RM, Singh AK, Cuthbert RD, Hucl P, Spaner D (2013) Application of molecular markers to wheat breeding in Canada. Plant Breed 132(5):458–471

Smith EF (1899) The fungus infection of agricultural soils in the United States. Sci Am Surpl 48:19981–19982

Staub JE, Dane F, Reitsma K, Fazio G, Lopez-Sese A (2002) The formation of test arrays and a core collection in cucumber using phenotypic and molecular marker data. J Am Hortic Sci 127(4):558–567

Takahata Y, Keller WA (1991) High frequency embryogenesis and plant regeneration in isolated microspore culture of Brassica oleracea L. Plant Sci 74:235–242

Väli U, Brandström M, Johansson M, Ellegren H (2008) Insertion-deletion polymorphisms (indels) as genetic markers in natural populations. BMC Genet 9:8

Walker JC (1930) Inheritance of Fusarium resistance in cabbage. J Agric Res 40:721–745

Walker JC, Blank LM (1934) Fusarium resistant Danish Ballhead cabbage. J Agric Res 49:983–989

Walker JC, Hooker WJ (1945) Plant nutrition in relation to disease development. I. Cabbage yellows. Am J Bot 32:314–320

Xu Y (2010) Molecular plant breeding. CAB International

Yang L, Fang Z, Liu Y, Zhuang M, Zhang Y, Sun P (2003) Breeding of cabbage inbred line with micro-spore culture. China Veg 6:31–32

Yang Y, Lv H, Yang C, Gong H, Yang L, Xie B (2011) The methods for evaluation of cabbage resistance to Fusarium wilt and screen the sources at the seedling stage. Acta Phytophylacica Sin 38(5):425–431

Ying M, Dreyer F, Cai D, Jung C (2003) Molecular markers for genic male sterility in Chinese cabbage. Euphytica 132(2):227–234

Yuan S, Liu Y, Fang Z, Yang L, Zhuang M, Zhuang Y, Sun P (2010) Plant regeneration from microspore-derived embryos in cabbage (Brassica oleracea var. Capitata) and Broccoli (Brassica oleracea var. Italica). Bull Bot 45(2):226–233

Zhang Q, Zhou Z, Yang G, Xu C, Liu K, Sagha MA (1996) Molecular marker heterozygosity and hybrid performance in indica and japonica rice. Theor Appl Genet 93(8):1218–1224

Zhang Y, Zheng J, Wu X, Shi Y, Gu P, Li J (2007) Investigation of occurrence and damage of cabbage wilt disease in Yanqing County of Beijing. Chin Agric Sci Bull 23(5):315–320

Zhang Y, Zheng J, Xie B, Li J, Wu X, Shi Y, Ma Y (2008) Identification on pathogen of cabbage wilt disease. Acta Phytopathol Sin 38(4):337–345
Acknowledgments
This work was financially supported by grants from the National High Technology Research and Development Program of China (863 Program, 2012AA100101, 2012AA100102, 2012AA100103), the Key Projects in the National Science & Technology Pillar Program during the Twelfth Five-Year Plan Period (2012BAD02B01, 2013BAD01B04), the Earmarked Fund for the Modern Agro-Industry Technology Research System, China (nycytx-35-gw01), the Major State Basic Research Development Program (973 Program, 2012CB113906) and the National Natural Science Foundation of China (31171958, 31272180, 31272003). The work reported here was carried out in the Key Laboratory of Biology and Genetic Improvement of Horticultural Crops, Ministry of Agriculture, Beijing 100081, China.
About this article
Cite this article
Lv, Hh., Wang, Qb., Yang, Lm. et al. Breeding of cabbage (Brassica oleracea L. var. capitata) with fusarium wilt resistance based on microspore culture and marker-assisted selection. Euphytica 200, 465–473 (2014). https://doi.org/10.1007/s10681-014-1197-y
Received:

Accepted:

Published:

Issue Date:

DOI: https://doi.org/10.1007/s10681-014-1197-y
Keywords