Abstract
Whitebacked planthopper (WBPH) along with brown planthopper (BPH) has emerged as a major pest of rice in several Asian countries. Development and cultivation of varieties resistant to both planthoppers is an ecologically acceptable strategy to manage these pests. Sinna Sivappu, a Sri Lankan landrace, was reported to be resistant to both planthoppers. While inheritance of BPH resistance has been reported, the genetics of WBPH resistance in this variety is not known. Using a mapping population of 255 F2:3 families from Taichung Native (TN)1/Sinna Sivappu cross and 128 polymorphic simple sequence repeat (SSR) markers, genes or quantitative trait loci (QTLs) for WBPH resistance quantified in ten phenotypic tests were identified, adopting classical Mendelian segregation, correlation and QTL analyses. The inheritance pattern suggested that a single recessive gene controlled regulation of seedling damage score. Antixenosis or nymphal preference was influenced by two complementary recessive genes, whereas tolerance in terms of days to wilt was under the influence of a single dominant gene. Several of these phenotypic tests recorded high degree of positive or negative correlation between them, suggesting dependence or redundancy of the tests. QTL analysis revealed 13 loci associated with nine traits. Five major-effect QTLs were detected for damage score (chromosome 6), nymphal survival (chromosome 12), and days to wilt (three QTLs on chromosome 4). We suggest involvement of four WBPH resistance genes in Sinna Sivappu, designated as wbph9(t), wbph10(t), wbph11(t), and Wbph12(t). One of the recessive genes could be allelic to any of the recessive genes reported in cluster C on chromosome 6 which might confer resistance to both BPH and WBPH.
Access options
Buy single article
Instant access to the full article PDF.
US$ 39.95
Tax calculation will be finalised during checkout.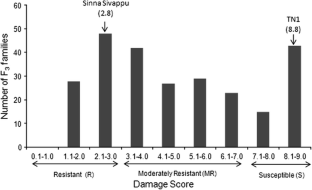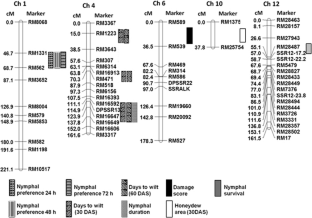 References
Alam SN, Cohen MB (1998) Detection and analysis of QTLs for resistance to the brown planthopper, Nilaparvata lugens in a doubled-haploid rice population. Theor Appl Genet 97:1370–1379

Bentur JS, Viraktamath BC (2008) Rice planthoppers strike back. A report on second international rice conference on rice planthoppers held at IRRI, Philippines during 23–25 June 2008. Curr Sci 95(4):441

Chen X, Temnykh S, Xu Y, Cho YG, McCouch SR (1997) Development of a microsatellite frame work map providing genome wide coverage in rice (Oryza sativa L.). Theor Appl Genet 95:553–567

Chen J, Huang D, Wang L, Liu G, Zhuang J (2010) Identification of quantitative trait loci for resistance to whitebacked planthopper, Sogatella furcifera, from an interspecific cross Oryza sativa × O. rufipogon. Breed Sci 60:153–159

Directorate of Rice Research (DRR) (1999) Annual Report 1998. Directorate of Rice Research, Hyderabad

Fujita D, Kohli A, Horgan FG (2013) Rice resistance to planthoppers and leafhoppers. Crit Rev Plant Sci 32:162–191

Geethanjali S, Kadirvel P, Gunathilagaraj K, Maheswaran M (2009) Detection of quantitative trait loci (QTL) associated with resistance to whitebacked planthopper, Sogatella furcifera in rice (Oryza sativa L.). Plant Breed 128:130–136

Heinrichs EA, Medrano FG, Rapusas HR (1985) Genetic evaluation for insect resistance in rice. International Rice Research Institute, Los Baños, pp 1–356

IRRI (International Rice Research Institute) (1996) Standard evaluation system for rice. International Rice Research Institute, Manila

Kalode MB, Viswanathan PRK, Seshu DV (1975) Standard test to characterize host plant resistance to brown planthopper in rice. Indian J Plant Prot 3:204–206

Kalode MB, Krishna TS, Pophalay DJ, Laxminarayana A (1977) A note on new multiple resistant donors to major insect pests of rice (Oryza sativa L.). Indian J Agric Sci 47:626–627

Khush GS, Brar DS (1991) Genetics of resistance to insects in crop plants. Adv Agron 45:223–274

Kosambi DD (1944) The estimation of map distances from recombination values. Ann Eugen 12:172–175

Santhanalakshmi S, Saikumar S, Rao Shubhada, Sai Harini A, Khera Pawan, Shashidhar HE, Kadirvel P (2010) Mapping genetic locus linked to brown planthopper resistance in rice (Oryza sativa L.). Int J Plant Breed Genet 4:13–22

Sidhu GS, Khush GS (1978) Genetic analysis of brown planthopper resistance in twenty varieties of rice (Oryza sativa L.). Theor Appl Genet 53:199–203

Sidhu N, Basal UK, Shukla KK, Saini RG (2005) Genetics of resistance to whitebacked planthopper in five rice stocks. SABRAO J Breed Genet 37:43–49

Sogawa K, Liu G, Qiang Q (2009) Prevalence of whitebacked planthoppers in Chinese hybrid rice and whitebacked planthopper resistance in Chinese japonica rice. In: Heong KL, Hardy B (eds) Planthoppers: New Threats to the Sustainability of Intensive Rice Production Systems in Asia. International Rice Research Institute, Los Baños, pp 257–280

Tan GX, Wang QM, Ren X, Huang Z, Zhu LL, He GC (2004) Two whitebacked planthopper resistance genes in rice share the same loci with those for brown planthopper resistance. Heredity 92:212–217

Theodorsson E (1988) BASIC computer program to summarize data using nonparametric and parametric statistics including Anderson–Darling test for normality. Comput Methods Prog Biomed 26:207–213

Van Ooijen JW (2006) JoinMap 4.0 Software for the calculation of genetic linkage maps in experimental populations. Kyzama BV, Wageningen, The Netherlands

Voorrips RE (2002) MapChart: software for the graphical presentation of linkage maps and QTLs. J Hered 93:77–78

Wang S, Basten CJ, Zeng ZB (2007) Windows QTL Cartographer 2.5. Department of Statistics, North Carolina State University, Raleigh, NC. User manual pp 1–87. http://statgen.ncsu.edu/qtlcart/WQTLCart.htm. Accessed 10 Dec 2013

Yamasaki M, Tsunematu H, Yoshimura A, Iwata N, Yasui H (1999) Quantitative trait locus mapping of ovicidal response in rice (Oryza sativa L.) against the whitebacked planthopper, Sogatella furcifera (Horvath). Crop Sci 39:1178–1183

Yamasaki M, Yoshimura A, Yasui H (2003) Genetic basis of ovicidal response to whitebacked planthopper Sogatella furcifera (Horvath) in rice (Oryza sativa L.). Mol Breed 12:133–143

Zeng Z (1994) Precision mapping of quantitative trait loci. Genetics 136:1457–1468

Zheng K, Huang N, Bennett J, Khush GS (1995) PCR-based marker assisted selection in rice breeding. IRRI Discussion Paper Series No. 12. International Rice Research Institute, Manila

Zhou GH, Wen JJ, Cai DJ, Li P, Xu DL, Zhang SG (2008) Southern rice black-streaked dwarf virus: a new proposed Fiji virus species in the family Reoviridae. Chin Sci Bull 53:3677–3685
Acknowledgments
We thank the Project Director, Directorate of Rice Research, Hyderabad for the facilities and encouragement. This work was partly supported by a grant from the Department of Biotechnology (DBT F.No.BT/AB/FG-2 (PH-II) Sep-2009), Government of India.
About this article
Cite this article
Ramesh, K., Padmavathi, G., Deen, R. et al. Whitebacked planthopper Sogatella furcifera (Horváth) (Homoptera: Delphacidae) resistance in rice variety Sinna Sivappu. Euphytica 200, 139–148 (2014). https://doi.org/10.1007/s10681-014-1175-4
Received:

Accepted:

Published:

Issue Date:
Keywords
Whitebacked planthopper

SSR markers

Novel gene(s)

QTLs

Oryza sativa L.