Abstract
Walnut (Juglans regia L.) resistance gene analogs (RGAs) of 35 nucleotide binding site RGAs (jrRGAPGs), 47 leucine-rich repeat RGAs (jrRGANLs), and 45 serine/threonine kinase RGAs (jrRGAPTs) conferring resistance to the pathogen Colletotrichum gloeosporioides (Penz.) Penz. and Sacc. were isolated from the resistant cultivar 'Qing Lin', the susceptible cultivar 'Yuan Lin', and their F1 hybrids using a polymerase chain reaction-based strategy. The jrRGAPGs and jrRGAPTs occurred only in 'Qing Lin', whereas the jrRGANLs were found in both parent cultivars. In 85 F1 hybrid progeny, the jrRGAPGs were found only in resistant individuals, while the jrRGANLs and jrRGAPTs were present more frequently in resistant individuals than in susceptible ones. The jrRGAPGs were highly homologous to nucleotide binding site genes from other species. Multiple alignments revealed that jrRGAPGs had P-loop, kinase-2, kinase-3, and hydrophobic GLPL motifs. Phylogenetic analysis resolved the inferred jrRGAPG amino acid sequences into distinct TIR and non-TIR clades. The jrRGANLs had no matches in GenBank and were classified into multiple subfamilies in the phylogeny. The jrRGAPTs were similar to known kinase receptor/regulators and formed two major phylogenetic clades. These results will facilitate molecular breeding strategies for walnut anthracnose resistance.
This is a preview of subscription content,
to check access.
Access this article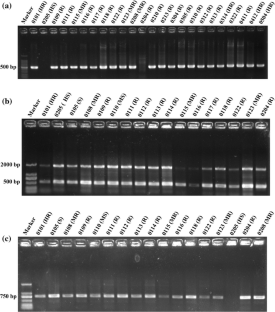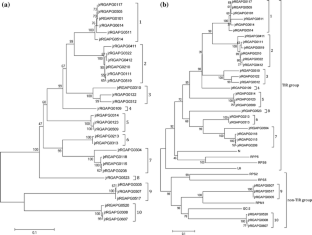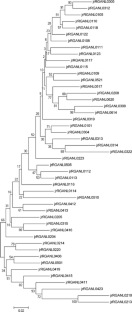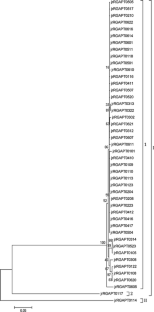 References
Annunziati M, Gras M, Pollegioni P, Mughini G, Malvolti ME, Anselmi N (2007) Resistance behavior to anthracnose disease by Gnomonia leptostyla (fr.) ces. in Juglans spp. In: 51st Congresso Annuale, Societa Italiana di Genetica Agraria (SIGA), Riva del Garda (TN) 23–26

Baldi P, Ptocchi A, Zini E, Toller C, Velasco R (2004) Cloning and linkage mapping of resistance gene homologues in apple. Theor Appl Genet 109:231–239

Bayazit S, Kazan K, Gulbitti S, Cevik V, Ayanoglu H, Ergul A (2007) AFLP analysis of genetic diversity in low chill requiring walnut (Juglans regia L.) genotypes from Hatay, Turkey. Sci Hortic-Amsterdam 111:394–398

Cana EF, Geffroy V, Macadre C, Creusot F, Imbert-Bollore P, Sevignac M, Langin T (2003) Characterization of expressed NBS–LRR resistance gene candidates from common bean. Theor Appl Genet 106:251–261

Chen XM, Line RF, Leung H (1998) Genome scanning for resistance-gene analogs in rice, barley and wheat by high-resolution electrophoresis. Theor Appl Genet 97:345–355

Chen Y, Fan C, Yang Y, He Y (2009) Relationship between resistance gene analogue and blast resistance in rice. Rice Sci 16:99–105

Collins NC, Webb CA, Seah S, Ellis JG, Hulbert SH, Pryor A (1998) The isolation and mapping of disease resistance gene analogs in maize. Mol Plant Microbe Interact 11:968–978

Collins N, Park R, Spielmeyer W, Ellis J, Pryor AJ (2001) Resistance gene analogs in barley and their relationship to rust resistance genes. Genome 44:375–381

Dangl JL, Jones JDG (2001) Plant pathogens and integrated defense responses to infection. Nature 411:826–833

Deng Z, Huang S, Ling P, Chen C, Yu C, Weber CA, Moore GA, Gmitter FG Jr (2000) Cloning and characterization of NBS–LRR class resistance-gene candidate sequences in citrus. Theor Appl Genet 101:814–822

Ding J, Zhang W, Jing Z, Chen JQ, Tian D (2007) Unique pattern of R-gene variation within populations in Arabidopsis. Mol Genet Genomics 277:619–629

Donald TM, Pellerone F, Adam-Blondon AF, Bouquet A, Thomas MR, Dry IB (2002) Identification of resistance gene analogs linked to a powdery mildew resistance locus in grapevine. Theor Appl Genet 104:610–618

Fahrentrapp J, Broggini GAL, Kellerhals M, Peil A, Richter K, Zini E, Gessler C (2012) A candidate gene for fire blight resistance in Malus × robusta 5 is coding for a CC–NBS–LRR. Tree Genet Genomes 9:237–251

Fjellstrom RG, Parfitt DE (1994) Walnut (Juglans spp.) genetic diversity determined by restriction-fragment-length-polymorphisms. Genome 37:690–700

Flor HH (1971) Current status of gene-for-gene concept. Annu Rev Phytopathol 9:275–296

Gao YL, Guo WZ, Wang L, Zhang TZ (2006) Isolation and characterization of disease resistance gene analogs and defense gene analogs in sea-island cotton (Gossypium barbadense L.). Sci China C 36:97–108 (in Chinese)

Gururani MA, Venkatesh J, Upadhyaya CP, Nookaraju A, Pandey SK, Park SW (2012) Plant disease resistance genes: current status and future directions. Physiol Mol Plant P 78:51–65

Hammond-Kosack KE, Jones JDG (1997) Plant disease resistance genes. Annu Rev Plant Biol 48:575–607

Huang Y, Zhang L (2004) Rapid and sensitive dot-matrix methods for genome analysis. Bioinformatics 20:460–466

Hunger S, Gaspero GD, Mohring S, Bellin D, Schafer-Pregal R, Borchardt DC, Durel CE, Werber M, Weisshaar B, Salamini F, Schneider K (2003) Isolation and linkage analysis of expressed disease-resistance gene analogues of sugar beet (Beta vulgarris L.). Genome 46:70–82

Hyde KD, Cai L, Cannon PF, Crouch JA, Crous PW, Damm U, Goodwin PH, Chen H, Johnston PR, Jones EBG, Liu ZY, McKenzie EHC, Moriwaki J, Noireung P, Pennycook SR, Pfenning LH, Prihastuti H, Sato T, Shivas RG, Tan YP, Taylor PWJ, Weir BS, Yang YL, Zhang JZ (2009) Colletotrichum- names in current use. Fungal Divers 39:147–182

Initiative TAG (2000) Analysis of the genome sequence of the flowering plant Arabidopsis thaliana. Nature 408:796–815

Irigoyen ML, Loarce Y, Fominaya A, Ferrer E (2004) Isolation and mapping of resistance gene analogs from the Avena strigosa genome. Theor Appl Genet 109:716–724

Joshi RK, Nayak S (2013) Perspectives of genomic diversification and molecular recombination towards R-gene evolution in plants. Physiol Mol Biol Plants 19:1–9

Joshi RK, Monhanty S, Subudhi E, Nayak S (2010) Isolation and characterization of NBS–LRR resistance gene candidates in turmeric (Curcuma longa cv. surama). Genet Mol Res 9:1796–1806

Kanazin V, Marek LF, Shoemaker RC (1996) Resistance gene analogs are conserved and clustered in soybean. Proc Natl Acad Sci USA 93:11746–11750

Kar B, Nanda S, Nayak PK, Nayak S, Joshi RK (2013) Molecular characterization and functional analysis of CzR1, a coiled-coil-nucleotide-binding-site-leucine-rich repeated R-gene from Curcuma zadoaria Loeb. that confers resistance to Pythium aphanidermatum. Physiol Mol Plant P 83:59–68

Kim SH, Kwon SI, Saha D, Anyanwu NC, Gassmann W (2009) Resistance to the Pseudomonas syringae effector HopA1 is governed by the TIR–NBS–LRR Protein RPS6 and is enhanced by mutations in SRFR1. Plant Physiol 150:1723–1732

Lara-Marquez A, Zavala-Paramo MG, Lopez-Romero E, Calderon-Cortes N, Lopez-Gomez R, Conejo-Saucedo U, Cano-Camacho H (2011) Cloning and characterization of a pectin lyase gene from Colletotrichum Lindemuthianum and comparative phylogenetic/structural analyses with genes from phytopathogenic and saprophytic/opportunistic microorganisms. BMC Microbiol 11:260

Lu Y, Xu WH, Xie YX, Zhang X, Pu JJ, Qi YX, Li HP (2011) Isolation and characterization of nucleotide-binding site and C-terminal leucine-rich repeat-resistance gene candidates in bananas. Genet Mol Res 10:3098–3108

Mago R, Nair S, Mohan M (1999) Resistance gene analogues from rice: cloning, sequencing and mapping. Theor Appl Genet 99:50–57

Maiti SM, Paul S, Pal A (2012) Isolation, characterization and structure analysis of a non-TIR–NBS–LRR encoding candidate gene from MYMIV-resistant Vigna mungo. Mol Biotechnol 52:217–233

Martin GB, Brommonschenkel SH, Chunwongse J, Frary A, Ganal MW, Spivey R, Wu T, Earle ED, Tanksley SD (1993) Map-based cloning of a protein kinase gene conferring disease resistance in tomato. Science 262:1432–1436

Meyers BC, Dickerman AW, Michelmore RW, Sivaramakrishnan S, Sobral BW, Young ND (1999) Plant disease resistance genes encode members of an ancient and diverse protein family within the nucleotide-binding superfamily. Plant J 20:317–332

Michelmore R (2000) Genomic approaches to plant disease resistance. Curr Opin Plant Biol 3:125–131

Miyara I, Shnaiderman C, Meng X, Vargas WA, Diza-Minguez JM, Sherman A, Thon M, Prusky D (2012) Role of nitrogen-metabolism genes expressed during pathogenicity of the alkalinizing Colletotrichunm gloeosporioides and their differential expression in acidifying pathogens. Mol Plant Microbe Interact 25:1251–1263

Neale DB, Kremer A (2011) Forest tree genomics: growing resources and applications. Nat Rev Genet 12:111–122

Nicese FP, Hormaza JI, McGranahan GH (1998) Molecular characterization and genetic relatedness among walnut (Juglans regia L.) genotypes based on RAPD markers. Euphytica 101:199–206

Pan Q, Wendel J, Fluhr R (2000) Divergent evolution of plant NBS–LRR resistance gene homologues in dicot and cereal genomes. J Mol Evol 50:203–213

Plocik A, Layden J, Kesseli R (2004) Comparative analysis of NBS domain sequences of NBS–LRR disease resistance genes from sunflower, lettuce, and chicory. Mol Phylogenet Evol 31:153–163

Pollegioni P, Van der Linden G, Belisario A, Gras M, Anselmi N, Olimpieri I, Luongo L, Santini A, Turco E, Mugnozza GS, Malvolti ME (2012) Mechanisms governing the response to anthracnose pathogen in Juglans spp. J Biotechnol 159:251–264

Prusky D, McEvoy JL, Leverentz B, Conway WS (2001) Local modulation of host pH by Colletotrichum species as a mechanism to increase virulence. Mol Plant Microbe Interact 14:1105–1113

Que YX, Xu LP, Lin JW, Chen RK (2009) Isolation and characterization of NBS–LRR resistance gene analogs from sugarcane. Acta Agronomica Sinica 35:631–639

Radwan O, Bouzidi MF, Nicolas P, Mouzeyar S (2004) Development of PCR markers of the P15/P18 locus for resistance to Plasmopara halstedii in sunflower, Helianthus annuus L. from complete CC–NBS–LRR sequences. Theor Appl Genet 109:176–185

Rajesh PN (2001) Chickpea genomics: BAC library construction, resistance gene analog (RGA) mapping and tagging double-podded trait. PhD Dissertation, University of Pune, Pune, India

Ramachandra SB, Sathyanarayana NR, Subramonium S, Shetty SH (2011) Isolation, cloning and characterization of resistance gene analogues in peerl millet base on conserved nucleotide-binding sites. Phytopathology 159:382–389

Reddy BL, Reddy DS, Narasu ML, Sivaramakrishnan S (2011) Characterization of disease resistance gene homologues isolated from finger millet (Eleusine coracana L. Gaertn). Mol Breed 27:315–328

Seehalak W, Moonsom S, Metheenukul P, Tantasawat P (2011) Isolation of resistance gene analogs from grapevine resistant and susceptible to downy mildew and anthracnose. Sci Hortic-Amsterdam 128:357–363

Song WY, Wang GL, Chen LL, Kim HS, Pi LY, Holsten T, Gardner J, Wang B, Zhai WX, Zhu LH, Fauquet C, Ronald P (1995) A receptor kinase-like protein encoded by the rice disease resistance gene, Xa-21. Science 270:1804–1806

Soriano JM, Vilanova S, Romero C, Liacer G, Badenes ML (2005) Characterization and mapping of NBS–LRR resistance gene analogs in apricot (Prunus armeniaca L.). Theor Appl Genet 110:980–989

Takken FL, Goverse A (2012) How to build a pathogen detector: structural basis of NB-LRR function. Curr Opin Plant Biol 15:375–384

Tameling WIL, Vossen JH, Albrecht M, Lengauer T, Berden JA, Haring MA, Cornelissen BJC, Takken FLW (2006) Mutations in the NB-ARC domain of I-2 that impair ATP hydrolysis cause autoactivation. Plant Physiol 140:1223–1245

Tamura K, Peterson D, Peterson N, Stecher G, Nei M, Kumar S (2011) MEGA5: molecular evolutionary genetics analysis using maximum likelihood, evolutionary distance, and maximum parsimony methods. Mol Biol Evol 28:2731–2739

Than PP, Jeewon R, Hyde KD, Pongsupasamit S, Mongkolporn O, Taylor PW (2008) Characterization and pathogenicity of Colletotrichum species associated with anthracnose on chilli (Capsicum spp.) in Thailand. Plant Pathol 57:562–572

Thompson JD, Higgins DG, Gibson TJ (1994) CLUSTAL W: improving the sensitivity of progressive multiple sequence alignment through sequence weighting, position-specific gap penalties and weight matrix choice. Nucleic Acids Res 22:4673–4680

Totad AS, Fakrudin B, Kuruvinashetti MS (2005) Isolation and characterization of resistance gene analogs (RGAs) from sorghum (Sorghum bicolor L. Moench). Euphytica 143:179–188

van der Biezen EA, Jones JD (1998) The NB-ARC domain: a novel signaling motif shared by plant resistance gene products and regulators of cell death in animals. Curr Biol 8:R226–R227

Wan H, Yuan W, Ruan M, Ye Q, Wang R, Li Z, Zhou G, Yao X, Yang Y (2013) Identification, phylogeny and expression analysis of Pto-like genes in pepper. Plant Mol Biol Rep 31:901–916

Wang ZH, Borromeo ES, Teng P, Leung H, Zhu YY (2000) Differentiation of rice varieties cultivated in Yunnan, China, using PCR markers corresponding to conserved motifs of disease resistance genes. Int Rice Res Notes 25:11–12

Wang C, Yang X, Chen D, Zhang J, Liu G (2005) DNA molecular markers in peanut II: RGA marker. J Peanut Sci 34:5–7 (in Chinese)

Whitham S, Dinesh-Kunmar SP, Choi D, Hehl R, Corr C, Baker B (1994) The product of the Tobacco Mosaic Virus resistance gene N: similarity to Toll and Interleukin-1 receptor. Cell 78:1101–1115

Woeste K, Burns R, Rhodes O, Michler C (2002) Thirty polymorphic nuclear microsatellite loci from black walnut. J Hered 93:58–60

Wu J, Gu YQ, Hu Y, You FM, Dandekar AM, Leslie CA, Aradhya M, Dvorak J, Luo MC (2012) Characterizing the walnut genome through analyses of BAC end sequences. Plant Mol Biol 78(1–2):95–107

Xu Q, Wen X, Deng X (2005) Isolation of TIR and nonTIR NBS–LRR resistance gene analogues and identification of molecular markers linked to a powdery mildew resistance locus in chestnut rose (Rosa roxburghii Tratt). Theor Appl Genet 111:819–830

Yan GP, Chen XM, Line RF, Wellings CR (2003) Resistance gene-analog polymorphism markers co-segregating with the YR5 gene for resistance to wheat stripe rust. Theor Appl Genet 106:636–643

Yang L, Li D, Li Y, Gu X, Huang S, Garcia-Mas J, Weng Y (2013) A 1,681-locus consensus genetic map of cultivated cucumber including 67 NB-LRR resistance gene homolog and ten gene loci. BMC Plant Biol 13:53

You FM, Deal KR, Wang J, Britton MT, Fass JN, Lin D, Dandekar A, Leslie CA, Aradhya M, Luo MC, Dvorak J (2012) Genome-wide SNP discovery in walnut with an AGSNP pipeline updated for SNP discovery in allogamous organisms. BMC Genom 13:354

Zhang Y, Zhang SG, Qi LW, Liu B, Xiong BQ, Gao JM, Chen XQ, Chen CB, Li XL, Song WQ (2006) Cloning and characterization of disease resistance gene analogs from Poplar (Populus tremula) Chromosome 1. Int J Plant Sci 167:403–412

Zhang Q, Zhang ZY, Liu SZ, Zheng HQ, Lin YZ, An XM, Li Y, Li HX (2008) Characterization of resistance gene analogs with a nucleotide binding site isolated from a triploid white poplar. Plant Biol 10:310–322

Zhang R, Zhu AD, Wang XJ, Yu J, Zhang HR, Gao JS, Cheng YJ, Deng XX (2010) Development of Juglans regia SSR markers by data mining of the EST database. Plant Mol Biol Report 28:646–653

Zhang HL, Wang YJ, Zhang CH, Wang XP, Li HE, Xu WR (2011) Isolation, characterization and expression analysis of resistance gene candidates in pear (Pyrus spp.). Sci Hortic-Amsterdam 127:282–289

Zhao P, Woeste KE (2011) DNA markers identify hybrids between butternut (Juglans cinerea L.) and Japanese walnut (Juglans ailantifolia Carr.). Tree Genet Genomes 7:511–533

Zhu Q, Bennetzen JL, Smith SM (2013) Isolation and diversity analysis of resistance gene homologues from switchgrass. Gene/Genomes/Genetics. doi:10.1534/g3.112.005447
Acknowledgments
This study was supported by a grant from the National Natural Science Foundation of China (No. 31170632), the National "Twelfth Five-Year" Plan for Science & Technology Support (No. 2013BAD14B01), and the Improved Variety Program of Shandong Province of China (No. 2012LZ010).
About this article
Cite this article
An, H., Yang, K. Resistance gene analogs in walnut (Juglans regia) conferring resistance to Colletotrichum gloeosporioides . Euphytica 197, 175–190 (2014). https://doi.org/10.1007/s10681-013-1050-8
Received:

Accepted:

Published:

Issue Date:

DOI: https://doi.org/10.1007/s10681-013-1050-8
Keywords