Abstract
Hemp (Cannabis sativa) has a highly variable sexual phenotype. In dioecious hemp, the sex is controlled by heteromorphic sex chromosomes according to an X-to-autosomes equilibrium. However, in monoecious hemp, the sex determinism remains widely unknown and has never been related to a quantitative approach of sex expression. The present paper aims to contribute to the comprehension of the sex determinism in monoecious hemp by assessing the genotypic variability of its sex expression and establishing its sex chromosomes. Five monoecious and one dioecious cultivars were grown in controlled conditions under several photoperiods. The monoecy degree of 194 monoecious plants was recorded at each node by a figure ranging from 0 (male flowers only) to 6 (female flowers only). The genome size of 55 plants was determined by flow cytometry. The DNA of 115 monoecious plants was screened with the male-associated marker MADC2. The monoecy degree varied significantly among monoecious cultivars from 3.36 ± 2.28 in 'Uso 31' to 5.70 ± 0.81 in the most feminised 'Epsilon 68'. The variation of monoecy degree among cultivars remained consistent across trials despite a significant "cultivar × trial" interaction and partly agreed with their earliness. The genome size of monoecious plants (1.791 ± 0.017 pg) was not different from that of females (1.789 ± 0.019 pg) but significantly lower than that of males (1.835 ± 0.019 pg). MADC2 was absent from all monoecious plants. These results strongly support that cultivars of monoecious hemp have the XX constitution and that their sex expression has a genetic basis.
Access options
Buy single article
Instant access to the full article PDF.
USD 39.95
Price excludes VAT (USA)
Tax calculation will be finalised during checkout.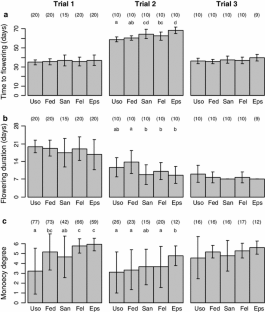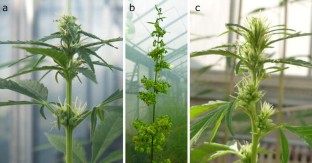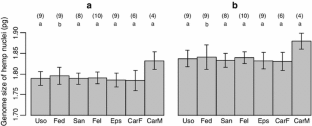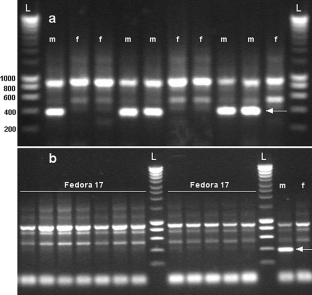 References
Ainsworth C (2000) Boys and girls come out to play: the molecular biology of dioecious plants. Ann Bot 86:211–221

Amaducci S, Colauzzi M, Bellocchi G, Venturi G (2008a) Modelling post-emergent hemp phenology (Cannabis sativa L.): theory and evaluation. Eur J Agron 28:90–102

Amaducci S, Colauzzi M, Zatta A, Venturi G (2008b) Flowering dynamics in monoecious and dioecious hemp genotypes. J Ind Hemp 13:5–19

Arabidopsis Genome Initiative (2000) Analysis of the genome sequence of the flowering plant Arabidopsis thaliana. Nature 108:796–815

Arnoux M (1966) Influence des facteurs du milieu sur l'expression de la sexualité du chanvre monoïque (Cannabis sativa L.). II: Action de la nutrition azotée. Ann Amélior Plantes 16:123–134

Bennett MD, Price HJ, Johnston S (2008) Anthocyanin inhibits propidium iodide DNA fluorescence in Euphorbia pulcherrima: implications for genome size variation and flow cytometry. Ann Bot 101:777–790

Bocsa I, Karus M (1998) The cultivation of hemp: botany, varieties, cultivation and harvesting. Hemptech, Sebastopol

Borthwick HA, Scully NJ (1954) Photoperiodic responses in hemp. Bot Gaz 116:14–29

Chailakhyan MK, Khryanin VN (1978) The influence of growth regulators absorbed by the root on sex expression in hemp plants. Planta 138:181–184

Chailakhyan MK, Khryanin VN (1979) The role of leaves in sex expression in hemp and spinach. Planta 144:205–207

Costich D, Meagher T, Yurkow E (1991) A rapid means of sex identification in Silene latifolia by use of flow cytometry. Plant Mol Biol Rep 9:359–370

de Meijer EPM, Bagatta M, Carboni A, Crucitti P, Moliterni VMC, Ranalli P, Mandolino G (2003) The inheritance of chemical phenotype in Cannabis sativa L. Genetics 163:335–346

Dolezel J, Bartos J (2005) Plant DNA flow cytometry and estimation of nuclear genome size. Ann Bot 95:99–110

Dolezel J, Göhde W (1995) Sex determination in dioecious plants Melandrium album and M. rubrum by using high-resolution flow cytometry. Cytometry 19:103–106

Dolezel J, Greilhuber J (2010) Nuclear genome size: are we getting closer? Cytometry Part A 77A:635–642

Dolezel J, Sgorbati S, Lucretti S (1992) Comparison of three DNA fluorochromes for flow cytometric estimation of nuclear DNA content in plants. Physiol Plantarum 85:625–631

Dolezel J, Greilhuber J, Lucretti S, Meister A, Lysak MA, Nardi L, Obermayer R (1998) Plant genome size estimation by flow cytometry: inter-laboratory comparison. Ann Bot 82(Suppl. A):17–26

Faeti V, Mandolino G, Ranalli P (1996) Genetic diversity of Cannabis sativa L. germplasm based on RAPD markers. Plant Breed 115:367–370

Faux AM, Draye X, Lambert R, d'Andrimont R, Raulier P, Bertin P (2013) The relationship of stem and seed yields to flowering phenology and sex expression in monoecious hemp (Cannabis sativa L.). Eur J Agron 47:11–22

Flores-Sanchez IJ, Verpoorte R (2008) Secondary metabolism in Cannabis. Phytochem Rev 7:615–639

Forapani S, Carboni A, Paoletti C, Moliterni VMC, Ranalli P, Mandolino G (2001) Comparison of hemp varieties using random amplified polymorphic DNA markers. Crop Sci 41:1682–1689

Freeman DC, Harper KT, Charnov EL (1980) Sex change in plants: old and new observations and new hypotheses. Oecologia 47:222–232

Heslop-Harrison J (1956) Auxin and sexuality in Cannabis sativa. Physiol Plantarum 9:588–597

Hirata K (1924) Cytological basis of the sex determination in Cannabis sativa L. Jpn J Genet 4:198–201

Lisson SN, Mendham NJ, Carberry PS (2000) Development of a hemp (Cannabis sativa L.) simulation model. 2. The flowering response of two hemp cultivars to photoperiod. Aust J Exp Agr 40:413–417

Loureiro J, Rodriguez E, Dolezel J, Santos C (2006) Comparison of four nuclear isolation buffers for plant DNA flow cytometry. Ann Bot 98:679–689

Mandolino G, Carboni A (2004) Potential of marker-assisted selection in hemp genetic improvement. Euphytica 140:107–120

Mandolino G, Carboni A, Forapani S, Faeti V, Ranalli P (1999) Identification of DNA markers linked to the male sex in dioecious hemp (Cannabis sativa L.). Theor Appl Genet 98:86–92

Mandolino G, Carboni A, Bagatta M, Moliterni VMC, Ranalli P (2002) Occurrence and frequency of putatively Y chromosome linked DNA markers in Cannabis sativa L. Euphytica 126:211–218

Menzel MY (1964) Meiotic chromosomes of monoecious Kentucky hemp (Cannabis sativa). Bull Torrey Bot Club 91:193–205

Mohan Ram HY, Jaiswal VS (1972) Induction of male flowers on female plants of Cannabis sativa by gibberellins and its inhibition by abscisic acid. Planta 105:263–266

Moliterni VMC, Cattivelli L, Ranalli P, Mandolino G (2004) The sexual differentiation of Cannabis sativa L.: a morphological and molecular study. Euphytica 140:95–106

Murray MG, Thompson WF (1980) Rapid isolation of high molecular weight plant DNA. Nucleic Acids Res 8:4321–4325

Otto F (1992) Preparation and staining of cells for high-resolution DNA analysis. In: Radbruch A (ed) Flow cytometry and cell sorting. Springer-Verlag, Berlin, pp 101–104

Peil A, Flachowsky H, Schumann E, Weber WE (2003) Sex-linked AFLP markers indicate a pseudoautosomal region in hemp (Cannabis sativa L.). Theor Appl Genet 107:102–109

Praça-Fontes M, Carvalho C, Clarindo W, Cruz C (2011) Revisiting the DNA C-values of the genome size-standards used in plant flow cytometry to choose the "best primary standards". Plant Cell Rep 30:1183–1191

Ranalli P, Venturi G (2004) Hemp as a raw material for industrial applications. Euphytica 140:1–6

Rode J, In-Chol K, Saal B, Flachowky H, Kriese U, Weber WE (2005) Sex-linked SSR markers in hemp. Plant Breed 124:167–170

Sakamoto K, Shimomura K, Komeda Y, Kamada H, Satoh S (1995) A male-associated DNA sequence in a dioecious plant, Cannabis sativa L. Plant Cell Physiol 36:1549–1554

Sakamoto K, Akiyama Y, Fukui K, Kamada H, Satoh S (1998) Characterization, genome sizes and morphology of sex chromosomes in hemp (Cannabis sativa L.). Cytologia 63:459–464

Sakamoto K, Abe T, Matsuyama T, Yoshida S, Ohmido N, Fukui K, Satoh S (2005) RAPD markers encoding retrotransposable elements are linked to the male sex in Cannabis sativa L. Genome 48:931–936

SAS Institute Inc (2012) SAS® 9.3 help and documentation. SAS Institute Inc., Cary, NC

Sengbusch RV (1952) Ein weiterer beitrag zur vererbung des geschlechts bei hanf als grundlage für die züchtung eines monözischen hanfes. Z Pflanzenzüchtung 31:319–338

Struik PC, Amaducci S, Bullard MJ, Stutterheim NC, Venturi G, Cromack HTH (2000) Agronomy of fibre hemp (Cannabis sativa L.) in Europe. Ind Crop Prod 11:107–118

Summerfield RJ, Asumadu H, Ellis RH, Qi A (1998) Characterization of the photoperiodic response of post-flowering development in maturity isolines of soyabean [Glycine max (L.) Merrill] 'Clark'. Ann Bot 82:765–771

Taliaferro CM, Hopkins AA, Henthorn JC, Murphy CD, Edwards RM (1997) Use of flow cytometry to estimate ploidy level in Cynodon species. Int Turfgrass Soc Res J 8:385–392

Torjek O, Bucherna N, Kiss E, Homoki H, Finta-Korpelova Z, Bocsa I, Nagy I, Heszky L (2002) Novel male-specific molecular markers (MADC5, MADC6) in hemp. Euphytica 127:209–218

Truta E, Olteanu N, Surdu S, Zamfirache MM, Oprica L (2007) Some aspects of sex determinism in hemp. Analele Stiintifice ale Universitatii ''Alexandru Ioan Cuza'', Sectiunea Genetica si Biologie Moleculara VIII:31–39

Vagera J, Paulikova D, Dolezel J (1994) The development of male and female regenerants by in vitro androgenesis in dioecious plant Melandrium album. Ann Bot 73:455–459

van der Werf HMG, Hassken HJ, Wijlhuizen M (1994) The effect of daylength on yield and quality of fibre hemp (Cannabis sativa L.). Eur J Agron 3:117–123

van der Werf HMG, Mathijssen EWJM, Haverkort AJ (1996) The potential of hemp (Cannabis sativa L.) for sustainable fibre production: a crop physiological appraisal. Ann Appl Biol 129:109–123

Westergaard M (1958) The mechanism of sex determination in dieocious flowering plants. Adv Genet 9:217–281

Wilson RN, Heckman JW, Somerville CR (1992) Gibberellin is required for flowering in Arabidopsis thaliana under short days. Plant Physiol 100:403–408
Acknowledgments
We thank Prof. Bernadette Govaerts and the platform Statistical Methodology and Computing Support (UCL, Belgium) for their valuable advice on statistics, Dr. Olivier Hardy (ULB, Belgium) and Prof. Jan Suda (Charles University, Czech Republic) for their advice on flow cytometry, and the Fédération Nationale des Producteurs de Chanvre (France) for the genetic material. This work was supported by the Fonds de la Recherche Scientifique (Grant Number 1.5.279.08).
About this article
Cite this article
Faux, AM., Berhin, A., Dauguet, N. et al. Sex chromosomes and quantitative sex expression in monoecious hemp (Cannabis sativa L.). Euphytica 196, 183–197 (2014). https://doi.org/10.1007/s10681-013-1023-y
Received:

Accepted:

Published:

Issue Date:

DOI: https://doi.org/10.1007/s10681-013-1023-y
Keywords