Abstract
Advanced backcross rice lines MIb 4853-9 and 6885-2 harbor major seedling cold tolerance QTL qCTS4 and qCTS12 from the temperate japonica M202 in the genetic background of the indica IR50. Previous studies have shown that these lines exhibit the same tolerance, based on visual ratings, under constant and intermittent exposure to cold stress. However, some differences between the MIb lines with regard to physiological stress indicators are observed under constant exposure and a clear difference is detected using a cold stress recovery assay. Genotyping with over 120 SSR markers did not detect any polymorphisms. Here we report using a reduced representation sequencing method called Restriction Enzyme Site Comparative Analysis to identify M202 introgressions unique to each MIb line as candidate loci for the cold stress recovery trait.
Access options
Buy single article
Instant access to the full article PDF.
USD 39.95
Price excludes VAT (USA)
Tax calculation will be finalised during checkout.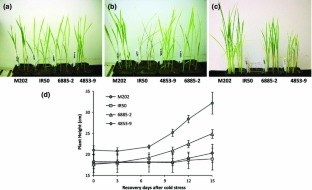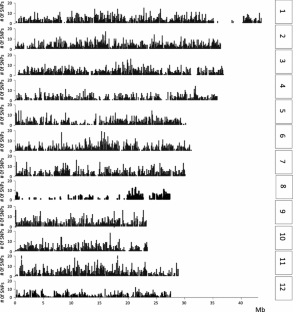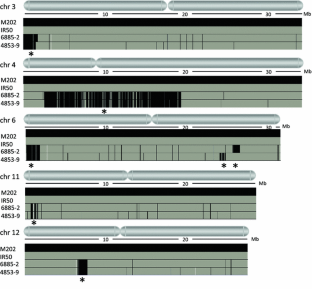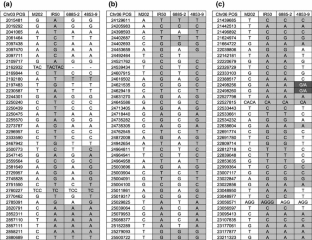 References
Andaya VC, Mackill DJ (2003) Mapping of QTLs associated with cold tolerance during the vegetative stage in rice. J Exp Bot 54:2579–2585

Andaya VC, Tai TH (2006) Fine mapping of the qCTS12 locus, a major QTL for seedling cold tolerance in rice. Theor Appl Genet 113:467–475

Andaya VC, Tai TH (2007) Fine mapping of the qCTS4 locus associated with seedling cold tolerance in rice (Oryza sativa L.). Mol Breed 20:349–358

Davey JW, Hohenlohe PA, Etter PD, Boone JQ, Catchen JM, Blaxter ML (2011) Genome-wide genetic marker discovery and genotyping using next-generation sequencing. Nat Rev Genet 12:499–510

Huang X, Feng Q, Qian Q, Zhao Q, Wang L, Wang A, Guan J, Fan D, Weng Q, Huang T, Dong G, Sang T, Han B (2009) High-throughput genotyping by whole-genome resequencing. Genome Res 19:1068–1076

Jiang GH, He YQ, Xu CG, Li XH, Zhang Q (2004) The genetic basis of stay-green in rice analyzed in a population of doubled haploid lines derived from an indica by japonica cross. Theor Appl Genet 108:688–698

Kim S, Kim D, Tai TH (2012) Evaluation of rice seedling cold tolerance to constant and intermittent low temperature stress. Rice Sci 19:295–308

Li H, Durbin R (2009) Fast and accurate short read alignment with Burrows-Wheeler Transform. Bioinformatics 25:1754–1760

Li H, Handsaker B, Wysoker A, Fennell T, Ruan J, Homer N, Marth G, Abecasis G, Durbin R (1000) Genome Project Data Processing Subgroup (2009) The Sequence alignment/map (SAM) format and SAMtools. Bioinformatics 25:2078–2079

Monson-Miller J, Sanchez-Mendez D, Fass J, Henry I, Tai TH, Comai L (2012) Reference genome-independent assessment of mutation density using restriction enzyme-phased sequencing. BMC Genom 13:72

Tai T, Tanksley S (1990) A rapid and inexpensive method for isolation of total DNA from dehydrated plant tissue. Plant Mol Biol Rep 8:297–303

van Os H, Andrzejewski S, Bakker E, Barrena I, Bryan G, Caromel B, Ghareeb B, Isidore E, De Jong W, van Koert P, Lefebvre V, Milbourne D, Ritter E, van der Voort J, Rousselle-Bourgeois F, van Vliet J, Waugh R, Visser R, Bkker J, van Eck H (2006) Construction of a 10,000-marker ultradense genetic recombination map of potato: providing a framework for accelerated gene isolation and a genomewide physical map. Genetics 173:1075–1087

Varshney RK, Nayak SN, May GD, Jackson SA (2009) Next-generation sequencing technologies and their implications for crop genetics and breeding. Trends Biotechnol 27:522–530

Xie W, Feng Q, Yu H, Huang X, Zhao Q, Xing Y, Yu S, Han B, Zhang Q (2010) Parent-independent genotyping for constructing an ultrahigh-density linkage map based on population sequencing. Proc Natl Acad Sci USA 107:10578–10583

Yu H, Xie W, Wang J, Xing Y, Xu C, Li X, Xiao J, Zhang Q (2011) Gains in QTL detection using an ultra-high density SNP map based on population sequencing relative to traditional RFLP/SSR markers. PLoS ONE 6:e17595
Acknowledgments
This work was supported by USDA-ARS CRIS Project 5306-21000-017-00D (T.H.T.) and California Rice Research Board Project RB-3 (T.H.T.). The authors gratefully acknowledge the technical support of P. Colowit. Thanks to Dr. V. C. Andaya and Dr. S. N. Ahn for comments on improving this manuscript.
Additional information
Mention of trade names or commercial products in this publication is solely for the purpose of providing specific information and does not imply recommendation or endorsement by the U.S. Department of Agriculture. USDA is an equal opportunity provider and employer.
About this article
Cite this article
Kim, SI., Tai, T.H. High resolution genotyping by restriction enzyme-phased sequencing of advanced backcross lines of rice exhibiting differential cold stress recovery. Euphytica 192, 107–115 (2013). https://doi.org/10.1007/s10681-013-0894-2
Received:

Accepted:

Published:

Issue Date:

DOI: https://doi.org/10.1007/s10681-013-0894-2
Keywords