Abstract
For the purpose of developing closely-linked molecular markers to the Ms locus, a restorer-of-fertility gene in onions (Allium cepa L.), bulked segregant analysis and randomly amplified polymorphic DNA (RAPD) analyses were utilized. Five RAPD markers polymorphic between male-fertile and male-sterile bulks were identified. These RAPD markers were converted into a simple PCR marker or cleaved amplified polymorphic sequence (CAPS) markers after sequencing the RAPD products and obtaining flanking sequences of the RAPD markers by genome walking. A linkage map was constructed with the Ms locus and flanking markers using a F2 population. There was no recombinant between the Ms locus and two CAPS markers, jnurf05 and jnurf17. To increase resolution among these closely linked molecular markers and the Ms locus, a total of 1,346 F2:3 and 2,927 F2:4 plants were analyzed with two flanking markers for detection of recombinants. Segregation of male-fertility phenotypes in large-sized populations confirmed allelic segregation distortion in favor of the recessive Ms allele. Analysis of the recombinants with closely linked markers revealed only two recombinants between the Ms locus and the jnurf05 markers among 4,273 segregating plants, showing very tight linkage between the two loci. However, linkage disequilibrium between the two loci was not too strong among the breeding lines. Despite weak linkage disequilibrium, these tightly linked markers are useful in accurate marker-assisted selection of the Ms alleles and ultimate isolation of the Ms gene by map-based cloning approach.
Access options
Buy single article
Instant access to the full article PDF.
USD 39.95
Price excludes VAT (USA)
Tax calculation will be finalised during checkout.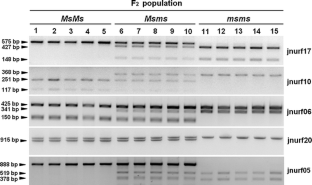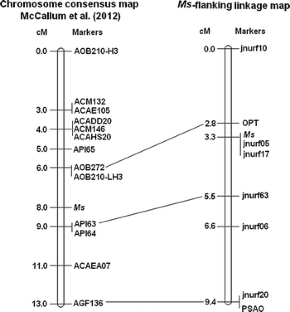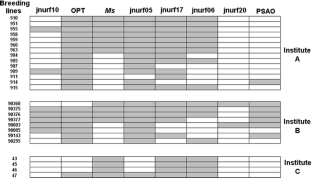 References
Abdelnoor RV, Christensen AC, Mohammed S, Munoz-Castillo B, Moriyama H, Mackenzie SA (2006) Mitochondrial genome dynamics in plants and animals: convergent gene fusions of a MutS homologue. J Mol Evol 63:165–173

Allen JO, Fauron CM, Mink P, Roark L, Oddiraju S, Lin GN, Meyer L, Sun H, Kim K, Wang C, Du F, Xu D, Gibson M, Cifrese J, Clifton SW, Newton KJ (2007) Comparisons among two fertile and three male-sterile mitochondrial genomes of maize. Genetics 177:1173–1192

Andersen JR, Lübberstedt T (2003) Functional markers in plants. Trends Plant Sci 8:554–560

Arumuganathan K, Earle ED (1991) Nuclear DNA content of some important plant species. Plant Mol Rep 9:208–218

Backert S, Neilsen BL, Börner T (1997) The mystery of the rings: structure and replication of mitochondrial genomes from higher plants. Trend Plant Sci 2:477–483

Bang H, Cho DY, Yoo K, Yoon M, Patil BS, Kim S (2011) Development of simple PCR-based markers linked to the Ms locus, a restorer-of-fertility gene in onion (Allium cepa L.). Euphytica 179:439–449

Bellaoui M, Martin-Canadell A, Pelletier G, Budar F (1998) Low-copy-number molecules are produced by recombination, actively maintained and can be amplified in the mitochondrial genome of Brassicaceae: relationship to reversion of the male sterile phenotype in some cybrids. Mol Gen Genet 257:177–185

Bentolila S, Alfonso AA, Hanson MR (2002) A pentatricopeptide repeat-containing gene restores fertility to cytoplasmic male-sterile plants. Proc Natl Acad Sci 99(10887–10892):20

Berninger E (1965) Contribution à l'étude de la sterilité mâle de l'oignon (Allium cepa L.). Ann Amélior Plant 15:183–199

Boore JL (1999) Animal mitochondrial genomes. Nucleic Acids Res 27:1767–1780

Bradeen JM, Havey MJ (1995) Randomly amplified polymorphic DNA in bulb onion and its use to assess inbred integrity. J Am Soc Hortic Sci 120:752–758

Brown GG, Formanova N, Jin H, Wargachuk R, Dendy C, Patil P, Laforest M, Zhang J, Cheung WY, Landry BS (2003) The radish Rfo restorer gene of Ogura cytoplasmic male sterility encodes a protein with multiple pentatricopeptide repeats. Plant J 35:262–272

Budar F, Touzet P, De Paepe R (2003) The nucleo-mitochondrial conflict in cytoplasmic male sterilities revised. Genetica 117:3–16

Civardi L, Xia Y, Edwards KJ, Schnable PS, Nikolau BJ (1994) The relationship between genetic and physical distances in the cloned a1-sh2 interval of the Zea mays L. genome. Proc Natl Acad Sci USA 91:8268–8272

Desloire S, Gherbi H, Laloui W, Marhadour S, Clouet V, Cattolico L, Falentin C, Giancola S, Renard M, Budar F, Small I, Caboche M, Delourme R, Bendahmane A (2003) Identification of the fertility restoration locus, Rfo, in radish, as a member of the pentatricopeptide-repeat protein family. EMBO Rep 4:588–594

Doyle JJ, Doyle JL (1987) A rapid DNA isolation procedure for small quantities of fresh leaf tissue. Phytochem Bull 19:11–15

Engelke T, Terefe D, Tatlioglu T (2003) A PCR-based marker system monitoring CMS-(S), CMS-(T) and (N)-cytoplasm in the onion (Allium cepa L.). Theor Appl Genet 107(162–167):21

Fujii S, Toriyama K (2009) Suppressed expression of retrograde-regulated male sterility restores pollen fertility in cytoplasmic male sterile rice plants. Proc Natl Acad Sci 106:9513–9518

Fujii S, Bond CS, Small ID (2011) Selection patterns on restorer-like genes reveal a conflict between nuclear and mitochondrial genomes throughout angiosperm evolution. Proc Natl Acad Sci 108:1723–1728

Gillman JD, Bentolila S, Hanson MR (2007) The petunia restorer of fertility protein is part of a large mitochondrial complex that interacts with transcripts of the CMS-associated locus. Plant J 49:217–227

Gökçe AF, Havey MJ (2002) Linkage equilibrium among tightly linked RFLPs and the Ms locus in open-pollinated onion populations. J Am Soc Hortic Sci 127:944–946

Gökçe AF, McCallum J, Sato Y, Havey MJ (2002) Molecular tagging of the Ms locus in onion. J Am Soc Hortic Sci 127:576–582

Hanson MR, Bentolila S (2004) Interactions of mitochondrial and nuclear genes that affect male gametophyte development. Plant Cell 16:S154–S169

Havey MJ (1995) Identification of cytoplasms using the polymerase chain reaction to aid in the extraction of maintainer lines from open-pollinated populations of onion. Theor Appl Genet 90:263–268

Havey MJ (2000) Diversity among male-sterility-inducing and male-fertile cytoplasms of onion. Theor Appl Genet 101:778–782

Hu J, Wang K, Huang W, Liu G, Gao Y, Wang J, Huang Q, Ji Y, Qin X, Wan L, Zhu R, Li S, Yang D, Zhu Y (2012) The rice pentatricopeptide repeat protein RF5 restores fertility in Hong-Lian cytoplasmic male-sterile lines via a complex with the glycine-rich protein GRP162. Plant Cell 24:109–122

Itabashi E, Iwata N, Fujii S, Kazama T, Toriyama K (2011) The fertility restorer gene, Rf2, for Lead Rice-type cytoplasmic male sterility of rice encodes a mitochondrial glycine-rice protein. Plant J 65:359–367

Janska H, Sarria R, Woloszynska M, Arrieta-Montiel M, Mackenzie SA (1998) Stoichiometric shifts in the common bean mitochondrial genome leading to male sterility and spontaneous reversion to fertility. Plant Cell 10:1163–1180

Jones HA, Clarke A (1943) Inheritance of male sterility in the onion and the production of hybrid seed. Proc Am Soc Hortic Sci 43:189–194

Jones HA, Emsweller SL (1936) A male-sterile onion. Proc Am Soc Hortic Sci 34:582–585

Kanazawa A, Tsutsumi N, Hirai A (1994) Reversible changes in the composition of the population of mtDNAs during dedifferentiation and regeneration in tobacco. Genetics 138:865–870

Kim S, Binzel ML, Yoo KS, Park S, Pike LM (2004) Pink (P), a new locus responsible for a pink trait in onions (Allium cepa) resulting from natural mutations of anthocyanidin synthase. Mol Genet Genomics 272:1827

Kim S, Lim H, Park S, Cho K, Sung S, Oh D, Kim K (2007) Identification of a novel mitochondrial genome type and development of molecular makers for cytoplasm classification in radish (Raphanus sativus L.). Theor Appl Genet 115:1137–1145

Kim S, Lee E, Cho DY, Han T, Bang H, Patil BS, Ahn YK, Yoon M (2009) Identification of a novel chimeric gene, orf725, and its use in development of a molecular marker for distinguishing three cytoplasm types in onion (Allium cepa L.). Theor Appl Genet 118(433–441):23

King JJ, Bradeen JM, Bark O, McCallum JA, Havey MJ (1998) A low-density genetic map of onion reveals a role for tandem duplication in the evolution of an extremely large diploid genome. Theor Appl Genet 96:52–62

Klein RR, Klein PE, Mullet JE, Minx P, Rooney WL, Schertz KF (2005) Fertility restorer locus Rf1 of sorghum (Sorghum bicolor L.) encodes a pentatricopeptide repeat protein not present in the collinear region of rice chromosome 12. Theor Appl Genet 111:994–1012

Kmiec B, Woloszynska M, Janska H (2006) Heteroplasmy as a common state of mitochondrial genetic information in plants and animals. Curr Genet 50:149–159

Knoop V (2004) The mitochondrial DNA of land plants: peculiarities in phylogenetic perspective. Curr Genet 46:123–139

Koizuka N, Imai R, Fujimoto H, Hayakawa T, Kimura Y, Kohno-Murase J, Sakai T, Kawasaki S, Imamura J (2003) Genetic characterization of a pentatricopeptide repeat protein gene, orf687, that restores fertility in the cytoplasmic male-sterile Kosena radish. Plant J 34:407–415

Komori T, Ohta S, Murai N, Takakura Y, Kuraya Y, Suzuki S, Hiei Y, Imaseki H, Nitta N (2004) Map-based cloning of a fertility restorer gene, Rf-1, in rice (Oryza sativa L.). Plant J 37:315–325

Kosambi DD (1944) The estimation of map distance from recombination values. Ann Eugen 12(172–175):24

Kubo T, Newton KJ (2008) Angiosperm mitochondrial genomes and mutations. Mitochondrion 8:5–14

Laser KD, Lersten NR (1972) Anatomy and cytology of microsporogenesis in cytoplasmic male sterile angiosperms. Bot Rev 38:425–454

Lorieux M, Perrier X, Goffinet B, Lanaud C, González de león D (1995) Maximum-likelihood models for mapping genetic markers showing segregation distortion. 2. F2 populations. Theor Appl Genet 90:81–89

Lu H, Romero-Severson J, Bernardo R (2002) Chromosomal regions associated with segregation distortion in maize. Theor Appl Genet 105:622–628

Martin WJ, McCallum J, Shigyo M, Jakse J, Kuhl JC, Yamane N, Pither-Joyce M, Gokce AF, Sink KC, Town CD, Havey MJ (2005) Genetic mapping of expressed sequences in onion and in silico comparisons with rice show scant colinearity. Mol Genet Genomics 274:197–204

McCallum J, Clarke A, Pither-Joyce M, Shaw M, Butler R, Brash D, Scheffer J, Sims I, van Heusden S, Shigyo M, Havey MJ (2006) Genetic mapping of a major gene affecting onion bulb fructan content. Theor Appl Genet 112:958–967

McCallum J, Pither-Joyce M, Shaw M, Kenel F, Davis S, Butler R, Scheffer J, Jakse J, Havey MJ (2007) Genetic mapping of sulfur assimilation genes reveals a QTL for onion bulb pungency. Theor Appl Genet 114:815–822

McCallum J, Baldwin S, Shigyo M, Deng Y, van Heusden S, Pither-Joyce M, Kenel F (2012) AlliumMap—a comparative genomics resource for cultivated Allium vegetables. BMC Genomics 13:168

Mézard C (2006) Meiotic recombination hotspots in plants. Biochem Soc Trans 34(531–534):25

Michelmore RW, Paran I, Kesseli RV (1991) Identification of markers linked to disease-resistance genes by bulked segregant analysis: a rapid method to detect markers in specific genomic regions by using segregating populations. Proc Natl Acad Sci 88:9828–9832

Oldenburg DJ, Bendich AJ (2001) Mitochondrial DNA from the Liverwort Marchantia polymorpha: circularly permuted linear molecules, head-to-tail concatemers, and a 5′ protein. J Mol Biol 310:549–562

Palmer JD, Herbon LA (1987) Unicircular structure of the Brassica hirta mitochondrial genome. Curr Genet 11:565–570

Riaz S, Tenscher AC, Rubin J, Graziani R, Pao SS, Walker MA (2008) Fine-scale genetic mapping of two Pierce's disease resistance loci and a major segregation distortion region on chromosome 14 of grape. Theor Appl Genet 117:671–681

Sakai T, Imamura J (1993) Evidence for a mitochondrial sub-genome containing radish AtpA in a Brassica napus cybrid. Plant Sci 90:95–103

Sandhu AS, Abdelnoor RV, Mackenzie SA (2007) Transgenic induction of mitochondrial rearrangements for cytoplasmic male sterility in crop plants. Proc Natl Acad Sci 104:1766–1770

Sato Y (1998) PCR amplification of CMS-specific mitochondrial nucleotide sequences to identify cytoplasmic genotypes of onion (Allium cepa L.). Theor Appl Genet 96:367–370

Schweisguth B (1973) Étude d'un nouveau type de stérilité male chez l'oignon, Allium cepa L. Ann Amélior Plant 23:221–233

Shedge V, Arrieta-Montiel M, Christensen AC, Mackenzie SA (2007) Plant mitochondrial recombination surveillance requires unusual RecA and MutS homologs. Plant Cell 19:1251–1264

Sloan DB, Alverson AJ, Chuckalovcak JP, Wu M, McCauley DE, Palmer JD, Taylor DR (2012) Rapid evolution of enormous, multichromosomal genomes in flowering plant mitochondria with exceptionally high mutation rates. PLoS Biol 10:e1001241

Small ID, Peeters N (2000) The PPR motif—a TPR-related motif prevalent in plant organellar proteins. Trends Biochem Sci 25:45–47

Small I, Suffolk R, Leaver CJ (1989) Evolution of plant mitochondrial genomes via substoichiometric intermediates. Cell 58:69–76

Stam P (1993) Construction of integrated genetic linkage maps by means of a new computer package: JoinMap. Plant J 3:739–744

van Heusden AW, van Ooijen JW, Vrielink-van Ginkel R, Verbeek WHJ, Wietsma WA, Kik C (2000) A genetic map of an interspecific cross in Allium based on amplified fragment length polymorphism (AFLPTM) markers. Theor Appl Genet 100:118–126

Wang Z, Zou Y, Li X, Zhang Q, Chen L, Wu H, Su D, Chen Y, Guo J, Luo D, Long Y, Zhong Y, Liu Y (2006) Cytoplasmic male sterility of rice with Boro II cytoplasm is caused by a cytotoxic peptide and is restored by two related PPR motif genes via distinct modes of mRNA silencing. Plant Cell 18:676–687

Wilkie SW, Isaac PG, Slater RJ (1993) Random amplified polymorphic DNA (RAPD) markers for genetic analysis in Allium. Theor Appl Genet 86:497–504

Xu Y, Zhu L, Xiao J, Huang N, McCouch SR (1997) Chromosomal regions associated with segregation distortion of molecular markers in F2, backcross, doubled haploid and recombinant inbred populations in rice (Oryza sativa L.). Mol Gen Genet 253:535–545

Zaegel V, Guermann B, Le Ret M, Andrés C, Meyer D, Erhardt M, Canaday J, Gualberto JM, Imbault P (2006) The plant-specific ssDNA binding protein OSB1 is involved in the stoichiometric transmission of mitochondrial DNA in Arabidopsis. Plant Cell 18:3548–3563
Acknowledgments
This research was supported by the Agriculture Research Center program and a grant (110046-3) of the Ministry for Food, Agriculture, Forestry and Fisheries, Korea, and a grant (PJ005407), the Specific Joint Agricultural Research-promoting Projects, RDA, Republic of Korea. We thank Seung-Hee Kim, Ji-wha Hur, and Jeong-Ahn Yoo for their dedicated technical help.
Electronic supplementary material
Below is the link to the electronic supplementary material.
About this article
Cite this article
Park, J., Bang, H., Cho, D.Y. et al. Construction of high-resolution linkage map of the Ms locus, a restorer-of-fertility gene in onion (Allium cepa L.). Euphytica 192, 267–278 (2013). https://doi.org/10.1007/s10681-012-0851-5
Received:

Accepted:

Published:

Issue Date:

DOI: https://doi.org/10.1007/s10681-012-0851-5
Keywords