Abstract
Interactions of 17 sugar beet lines and cultivars with four isolates of Macrophomina phaseolina (the causal agent of charcoal rot) and one isolate of Rhizoctonia solani (the causal agent of crown and root rot) were studied in separate experiments under greenhouse conditions. The isolates of Macrophomina were taken from their host plants, sugar beet (two isolates), soybean and sesame. In the first experiment, the colonized toothpick was used as inoculum. In the second experiment, six-month-old sugar beet plants were inoculated with barley seeds colonized with M. phaseolina. For the inoculation of sugar beet lines with R. solani, the colonized corn seeds were used. Root symptoms were recorded four weeks after inoculation, by estimating the proportion of the root surface infected by the pathogens, using a 1–9 standard scale. Our results showed a significant difference among lines and cultivars in their resistance to these two pathogens. Line B8618 was found to be considerably resistant to the isolates of the both pathogens. The inoculation methods of Macrophomina isolates had no significant effect on the results. The interaction between isolate and cultivar was not also significant in Macrophomina-resistant lines. Therefore, it appears that the response of sugar beet lines to the tested fungal isolates was not differential. These resistant lines showed a high resistance to all the tested M. phaseolina isolates. Our results revealed that the Macrophomina-resistant lines also showed resistance to R. solani. Furthermore, the sugar beet drought tolerant lines (M293, M362 and M345) were susceptible to the tested M. phaseolina and R. solani isolates.
Access options
Buy single article
Instant access to the full article PDF.
USD 39.95
Price excludes VAT (USA)
Tax calculation will be finalised during checkout.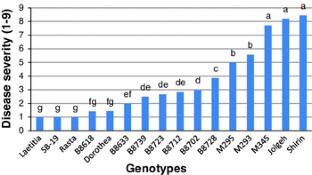 References
Ahmad Y, Hameed A, Ghaffar A (2006) Enzymatic activity of fungal pathogens in corn. Pak J Bot 38(4):1305–1316

Ahmadi M, Majidi-Heravan E, Sadeghian SY, Mesbah M, Darvish F (2011) Drought tolerance variability in S1 pollinator lines developed from a sugar beet open population. Euphytica 178:339–349

Alaghebandzadeh N, Rezaiee S, Mahmoudi B, Zamanizadeh H (2008) Pathogenic and genotypic analysis among Iranian isolates of Macrophomina phaseolina. Phytopathol 98:S11

Almeida AMR, Abdelnoor RV, Arias CAA, Carvalho VP, Jacoud Filho DS, Marin SRR, Benato LC, Pinto MC, Carvalho CGP (2003) Genotypic diversity among brazilian isolates of Macrophomina phaseolina revealed by RAPD. Fitopatologia Brasileira 28:279–285

Amadioha AC (1998) Cellulolytic enzyme production by Rhizoctonia bataticola. Arch Phytopath Pflanz 31:415–421

Ashby SF (1927) Macrophomina phaseolina (Maubl.) Comb. Nov. The pycnidial stage of Rhizoctonia bataticola (Taub.) Butl. Trans Br Mycol Soc 12:141–147

Asher MJC, Hanson L (2006) Fungal and bacterial diseases. In: AP Draycott (Ed.) Sugar beet Blackwell publishing, pp 286–316

Banihashemi Z (1998) Phytophthora rot of sugar beet root and sunflower stem in province of Fars Iran. Iran J Plant Pathol 4:239

Beas-Fernandez R, De Santiago-De Santiago A, Hernandez-Delgado S, Mayek-Perez N (2006) Characterization of Mexican and non-Mexican isolates of Macrophomina phaseolina based on morphological characteristics, pathogenicity on bean seeds and endoglucanase genes. J Plant Pathol 88(1):53–60

Bugbee WM (1993) A pectin lyase inhibitor protein from cell walls of sugar beet. Phytopathology 83:63–68

Buttner G, Pfahler B, Marlander B (2004) Greenhouse and field techniques for testing sugar beet for resistance to Rhizoctonia root and crown rot. Plant Breed 123:158–166

Cook DA, Scott RK (1993) The sugar beet crop: science into practice. Champan and Hall, New York

Ershad D (2009) Fungi of Iran. Iranian research institute of plant protection, Tehran 531 pp.

Gaskill JO, Mumford DL, Ruppel EG (1970) Preliminary report on breeding for combined resistance to leaf spot, curly top and Rhizoctonia. J Am Soc Sugar Beet Tech 16:207–213

Hecker RJ, Ruppel EG (1977) Rhizoctonia root rot resistance in sugar beet: breeding and related research. J Am Soc Sugar Beet Technol 19:246–256

Holliday P, Punithalingam E (1970) Macrophomina phaseolina. Descriptions of pathogenic fungi and Bacteria No. 275, Commonweslth Mycological Institiue, England

Jones RW, Canada S, Wang H (1998) Highly variable minichoromosomes and highly conserved endoglucanase genes in the phytopathogenic fungus Macrophomina phaseolina. Can J Bot 76:694–698

Mahmoudi, SB, Soltani J (2005) Sugar beet root rot in Iran. Newsletter of Iranian Sugar Industries Research and Training Center, 16(178): 14–18

Mahmoudi SB, Mesbah M, Alizadeh A (2004) Pathogenic variability of Rhizoctonia solani in sugar beet. Iran J Plant pathol 40:253–280

Mahmoudi SB, Mesbah M, Rahimian H, Noruzi P (2005) Genetic diversity of sugar beet isolates of Rhizoctonia solani revealed by RAPD-PCR and ITS-rDNA analysis. Iran J Plant pathol 41:523–542

Marcus L, Barash I, Sneh B, Koltin Y, Finkler A (1986) Purification and characterization of pectinolytic enzymes produced by virulent and hypovirulent isolates of Rhizoctonia solani. Physiol Mol Plant Pathol 29:325–336

Martin FN, English JT (1997) Population genetics of soilborne fungal plant pathogens. Phytopathol 87:446–447

Mayek-Perez N, Garcia–Espinosa R, Lopez-Castaneda C, Acosta-Gallegos JA, Simpson J (2002) water relation, histopathology and growth of common bean (Phaseolus vulgaris L.) during pathogenesis of Macrophomina phaseolina under drought stress. Physiol Mol Plant Pathol 60:185–195

Mayek-Perez N, Lopez-Castaneda C, Gonzalez-Chavira M, Garcia–Espinosa R, Acosta-Gallegos JA, De la Martinez-Vega O, Simpson J (2001) Variability of Mexican isolates of Macrophomina phaseolina on basis of pathogenesis and AFLP genotype. Physiol Mol Plant Pathol 59:257–264

McDonald BA, Linde C (2002) Pathogen population genetics, evolutionary potential, and durable resistance. Annu Rev Phytopathol 40:349–379

Naito S, Sugitomo T (1981) Histopathological observation on root rot of sugar beet by different anastomosis groups of Rhizoctonia solani. Hokkaido Natl Agr Exp Sta Res Bull 131:95–110

Pearson CAS, Leslie JF, Schwenk FW (1987) Host preference correlated with chlorate resistance in Marophomina phaseolina. Plant Dis 71:828–831

Raeyatpanah S, Alavi SV, Arab G (2007) Reaction of some soybean advanced lines to charcoal rot disease, Macrophomina phaseolina (Tassi) Goid in East Mazandaran. Seed Plant J 23:181–189

Raoufi M, Farrokhonejad R, Mahmoudi SB (2003) Identification and pathogenicity of Fusarium species associated with sugar beet root and crown rot in Iran. Sugar Beet J 19(2):109–122

Ruppel EG (1972) Correlation of cultural characters and source of isolates with pathogenicity of Rhizoctonia solani from sugar beet. Phytopathol 62:202–205

Scholten OE, Panella LW, DeBock TSM, Lange W (2001). A greenhouse test for screening sugarbeet (Beta vulgaris) for resistance to Rhizoctonia solani. Eur J Plant Pathol 107: 161–166

Schuster ML, Jensen SG, Sayre RM (1958) Toothpick method of inoculating sugar beets for determining pathogenicity of Rhizoctonia solani. J Am Soc Sugar Beet Technol 10:142–149

Sheikholeslami M, Hajaroud G, Okhovat M (1998) Fungi causing sugar beet post-harvest root rot in Kermanshah. Iran J Plant Pathol 34:84–92

Tomkins CM (1938) Charcoal rots of sugar beet. Hilgardia 12(1):75–81

van den Boogert PHJF, Bonants PJM, Schneider JHM (1998) Molecular detection of pathogenic subgroups of Rhizoctonia silani AG-2-2. 7th Int Cong Plant Pathol: 3.3.74

Vandermark G, Martinez O, Pecina V, Alvarado MJ (2000) Assessment of genetic relationships among isolates of Macrophomina phaseolina using a simplified AFLP technique and two different methods of analysis. Mycologia 92:659–664

Whitney ED, Duffus JE (1986) Compendium of beet diseases and insects. APS press

Windels CE, Panella LW, Ruppel EG (1995) Sugar beet germplasm resistant to Rhizoctonia root and crown rot withstands disease caused by several pathogenic isolates of Rhizoctonia solani AG-2-2. Sugar beet. Research and Extension Reports, 26: 179–185
Acknowledgments
The author is grateful to Iran National Science Foundation for financial support of the study. The drought tolerant S1 lines were kindly supplied by Dr. Masoud Ahmadi. The author is thankful to Dr. Abazar Rajabi and Dr. Omid Eini for the critical review of the manuscript.
About this article
Cite this article
Mahmoudi, S.B., Ghashghaie, S. Reaction of sugar beet S1 lines and cultivars to different isolates of Macrophomina phaseolina and Rhizoctonia solani AG-2-2IIIB. Euphytica 190, 439–445 (2013). https://doi.org/10.1007/s10681-012-0832-8
Received:

Accepted:

Published:

Issue Date:

DOI: https://doi.org/10.1007/s10681-012-0832-8
Keywords
Charcoal rot

Drought

Rhizoctonia solani

Sugar beet