Abstract
Miniature Ping (mPing) is the first active miniature inverted-repeat transposable element to be identified in rice, and its mobilization is activated by stress treatments. We have examined the mobilization of mPing in four NERICA (New Rice for Africa) lines and 13 interspecific lines. All 17 lines are inbred progenies derived from crosses between Oryza sativa variety WAB56-104 as the recurrent parent and the O. glaberrima variety CG14 as the donor parent. We found that 16 of the 17 lines studied inherited mPing together with its autonomous partner, Pong, from WAB56-104. Transposon display of mPing disclosed polymorphic banding patterns among these lines. Most importantly, seven of the lines displayed clear polymorphic banding patterns for mPing, indicating that mPing might have been mobilized in these lines. Locus-specific PCR analysis also confirmed the mobilization of mPing. These results signify that interspecific hybridization may activate the transposition of mPing. Based on these results, we discuss the potential use of the mPing system as an efficient tool for gene tagging in interspecific hybrid rice.
Access options
Buy single article
Instant access to the full article PDF.
US$ 39.95
Tax calculation will be finalised during checkout.
Subscribe to journal
Immediate online access to all issues from 2019. Subscription will auto renew annually.
US$ 119
Tax calculation will be finalised during checkout.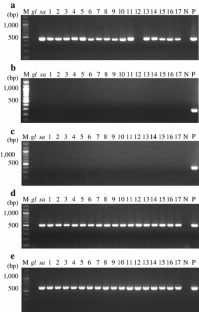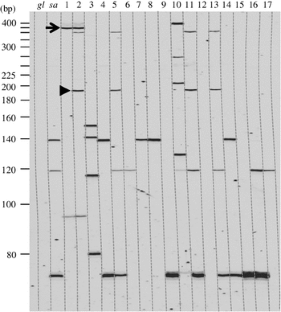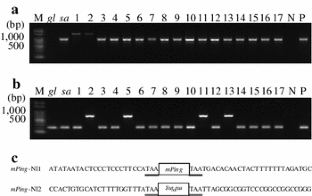 References
An G, Jeong DH, Jung KH, Lee S (2005) Reverse genetic approaches for functional genomics of rice. Plant Mol Biol 59:111–123

Baack EJ, Rieseberg LH (2007) A genomic view of introgression and hybrid speciation. Curr Opin Genet Dev 17:513–518

Casa AM, Nagel A, Wessler SR (2004) MITE display. Methods Mol Biol 260:175–188

Ghesquiere A, Sequier J, Second G, Lorieux M (1997) First step toward a rational use of African rice O. glaberrima in rice breeding through a 'contig line' concept. Euphytica 96:31–39

Hancock CN, Zhang F, Wessler SR (2010) Transposition of the Tourist-MITE mPing in yeast: an assay that retains key features of catalysis by the class 2 PIF/Harbinger superfamily. Mobile DNA 1:5

Hegarty MJ, Hiscock SJ (2005) Hybrid speciation in plants: new insights from molecular studies. New Phytol 100:735–741

Hirochika H, Sugimoto K, Otsuki Y, Tsugawa H, Kanda M (1996) Retrotransposons of rice involved in mutations induced by tissue culture. Proc Natl Acad Sci USA 93:7783–7788

Huang J, Zhang K, Shen Y, Huang Z, Li M, Tang D, Gu M, Cheng Z (2009) Identification of a high frequency transposon induced by tissue culture, nDaiz, a member of the hAT family in rice. Genomics 93:274–281

Jiang N, Wessler SR (2002) Rice non-autonomous DNA transposon STOWAWAY13_OS. Repbase Rep 2:7

Jiang N, Bao Z, Zhang X, Hirochika H, Eddy SR, McCouch SR, Wessler SR (2003) An active DNA transposon family in rice. Nature 421:163–167

Jones MP, Mande S, Aluko K (1997a) Diversity and potential of Oryza glaberrima Steud. in upland rice breeding. Breed Sci 47:395–398

Jones MP, Dingkuhn M, Aluko GK, Semon M (1997b) Interspecific Oryza Sativa L. X O. Glaberrima Steud. progenies in upland rice improvement. Euphytica 92:237–246

Karki S, Tsukiyama T, Okumoto Y, Rizal G, Naito K, Teraishi M, Nakazaki T, Tanisaka T (2009) Analysis of distribution and proliferation of mPing family transposons in a wild rice (Oryza rufipogon Griff.). Breed Sci 59:297–307

Kikuchi K, Terauchi K, Wada M, Hirano HY (2003) The plant MITE mPing is mobilized in anther culture. Nature 421:167–170

Kim CM, Je BI, Piao HL, Park SJ, Kim MJ, Park SH, Park JY, Park SH, Lee EK, Chon NS, Won YJ, Lee GH, Nam MH, Yun DW, Lee MC, Cha YS, Lee KH, Eun MY, Han CD (2002) Reprogramming of the activity of the activator/dissociation transposon family during regeneration in rice. Mol Cells 14:231–237

Lin X, Long L, Shan X, Zhang S, Shen S, Liu B (2006) In planta mobilization of mPing and its putative autonomous element Pong in rice by hydrostatic pressurization. J Exp Bot 57:2313–2323

Linares OF (2002) African rice (Oryza glaberrima): history and future potential. Proc Natl Acad Sci USA 99:16360–16365

McClintock B (1984) The significance of responses of the genome to challenge. Science 226:792–801

Miyao A, Tanaka K, Murata K, Sawaki H, Takeda S, Abe K, Shinozuka Y, Onosato K, Hirochika H (2003) Target site specificity of the Tos17 retrotransposon shows a preference for insertion within genes and against insertion in retrotransposon-rich regions of the genome. Plant Cell 15:1771–1780

Moon S, Jung KH, Lee D, Jiang WZ, Koh HJ, Heu MH, Lee DS, Suh HS, An G (2006) Identification of active transposon dTok, a member of the hAT family, in rice. Plant Cell Physiol 47:1473–1483

Murray MG, Thompson WF (1980) Rapid isolation of high molecular weight plant DNA. Nucleic Acids Res 8:4321–4326

Naito K, Cho E, Yang G, Campbell MA, Yano K, Okumoto Y, Tanisaka T, Wessler SR (2006) Dramatic amplification of a rice transposable element during recent domestication. Proc Natl Acad Sci USA 103:17620–17625

Nakazaki T, Okumoto Y, Horibata A, Yamahira S, Teraishi M, Nishida H, Inoue H, Tanisaka T (2003) Mobilization of a transposon in the rice genome. Nature 421:170–172

Ngezahayo F, Xu C, Wanf H, Jiang L, Pang J, Liu B (2009) Tissue culture-induced transpositional activity of mPing is correlated with cytosine methylation in rice. BMC Plant Biol 9:91

O'Neill RJW, O'Neill MJ, Graves JAM (1998) Undermethylation associated with retroelement activation and chromosome remodeling in an interspecific mammalian hybrid. Nature 393:68–72

Oki N, Okumoto Y, Tsukiyama T, Naito K, Nakazaki T, Tanisaka T (2007) A novel transposon Pyong in the japonica rice variety Gimbozu. Kinki J Crop Sci Breed 52:39–42

Saito H, Yuan Q, Okumoto Y, Doi K, Yoshimura A, Inoue H, Teraishi M, Tsukiyama T, Tanisaka T (2009) Multiple alleles at Early flowering 1 locus making variation in the basic vegetative growth period in rice (Oryza sativa L.). Theor Appl Genet 119:315–323

Sarla N, Swamy BPM (2005) Oryza glaberrima: a source for the improvement of Oryza sativa. Curr Sci 89:955–963

Semagn K, Ndjiondjop MN, Lorieux M, Jones M, McCouch S (2007) Molecular profiling of an interspecific rice population derived from a cross between WAB56-104 (Oryza sativa) and CG 14 (Oryza glaberrima). Afr J Biotechnol 6:2014–2022

Shaked H, Kashkush K, Ozkan H, Feldman M, Levy AA (2001) Sequence elimination and cytosine methylation are rapid and reproducible responses of the genome to wide hybridization and allopolyploidy in wheat. Plant Cell 13:1749–1759

Shan X, Liu Z, Dong Z, Wang Y, Chen Y, Lin X, Long L, Han F, Dong Y, Liu B (2005) Mobilization of the active MITE transposons mPing and Pong in rice by introgression from wild rice (Zizania latifolia Griseb.). Mol Biol Evol 22:976–990

Somado EA, Guei RG, Keya SO (2008) NERICA: the new rice for Africa—a compendium. Pragati Offset, Hyderabad

Tagawa T, Hirao K, Kubota F (2000) A specific feature of nitrogen utilization efficiency in leaf photosynthesis in O. glaberrima Steud. J Crop Sci 69:74–79

Tsugane K, Maekawa M, Takagi K, Takahara H, Qian Q, Eun CH, Iida S (2006) An active DNA transposon nDart causing leaf variegation and mutable dwarfism and its related elements in rice. Plant J 45:46–57

Xu X, Walters C, Antolin MF, Alexander ML, Luts S, Ge S, Wen J (2010) Phylogeny and biogeography of the eastern Asian-North American disjunct wild-rice genus (Zizania L., Poaceae). Mol Phylogenet Evol 55:1008–1017

Yang G, Zhang F, Hancock CN, Wessler SR (2007) Transposition of the rice miniature inverted repeat transposable element mPing in Arabidopsis thaliana. Proc Natl Acad Sci USA 104:10962–10967

Yano M, Katayose Y, Ashikari M, Yamanouchi U, Monna L, Fuse T, Baba T, Yamamoto K, Umehara Y, Nagamura Y, Sasaki T (2000) Hd1, a major photoperiod sensitivity quantitative trait locus in rice, is closely related to the Arabidopsis flowering time gene CONSTANS. Plant Cell 12:2473–2483
Acknowledgments
We thank the WARDA for providing the plant materials of the NERICA and interspecific lines. This study was supported by grants from the Ministry of Education, Culture, Sports and Technology of Japan in the form of Grants-in-Aid for Scientific Research, 21380004.
About this article
Cite this article
Yasuda, K., Tsukiyama, T., Karki, S. et al. Mobilization of the active transposon mPing in interspecific hybrid rice between Oryza sativa and O. glaberrima . Euphytica 192, 17–24 (2013). https://doi.org/10.1007/s10681-012-0810-1
Received:

Accepted:

Published:

Issue Date:
Keywords
Interspecific cross

Interspecific hybrid rice

Mobilization

mPing

Transposon