Abstract
Sheath lesions, grain sterility and grain discolouration of rice caused by Pseudomonas fuscovaginae can cause yield losses of up to 100 %. The most sustainable method of managing this disease is the use of host plant resistance. To identify sources of resistance an inoculation method that is practical, rapid and reliable is needed. We compare three different inoculation methods. Results showed that the pin-prick method is appropriate for identifying sources of resistance to P. fuscovaginae, while the spray method could be useful for mass screening of rice genotypes. The seed-soaking method was also evaluated and has showed potential in detection of early disease resistance. A total of 16 Multiparent Advanced Generation Inter-Crosses and 20 OryzaSNP set varieties from the International Rice Research Institute were evaluated using the pin-prick and seed-soaking methods. All growth stages were susceptible to the pathogen and the 107 cfu mL−1 inoculum concentration was optimal for discriminating between resistant and susceptible genotypes. For the pin-prick method, a single point assessment of disease severity at 14 days post-inoculation could be used instead of the AUDPC values to classify genotypes. An index of reduction in seedling height 10 days after seed soaking was established for the classification of the genotypes reaction to the disease. Resistant varieties identified using both the pin-prick and seed-soaking methods could be verified for use in disease resistance breeding programs. Of the 36 genotypes evaluated 22 were found to be resistant at the late booting or early panicle exsertion stage by pin-prick method, while 25 were resistant at the seed to germination stage. No correlation was found between the resistance classification of varieties between the two inoculation methods, indicating that there could be different mechanisms of resistance to P. fuscovaginae in rice.
This is a preview of subscription content, log in to check access.
Access options
Buy single article
Instant access to the full article PDF.
US$ 39.95
Price includes VAT for USA
Subscribe to journal
Immediate online access to all issues from 2019. Subscription will auto renew annually.
US$ 199
This is the net price. Taxes to be calculated in checkout.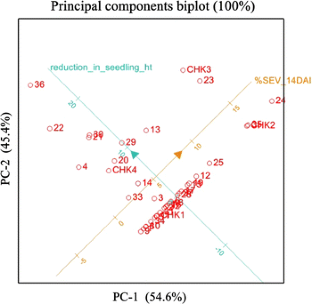 References
Batoko H, Kinet JM, Maraite H, Bouharmont.   (1991) Susceptibility to brown sheath rot of rice correlated to sensitivity to bacterial toxin. Parasitica 47:151–163

Batoko H, Bouharmont J, Maraite H (1994) Inhibition of rice (Oryza sativa L.) seedling elongation by a Pseudomonas fuscovaginae toxin. Euphytica 76:139–143

Batoko H, Bouharmont J, Kinet JM, Maraite H (1997a) Involvement of toxins produced by Pseudomonas fuscovaginae in aetiology of rice bacterial sheath brown rot. J Phytopathol 145:525–531

Batoko H, Bouharmont J, Maraite H (1997b) Biological effects of toxins produced by Pseudomonas fuscovaginae on rice and in vitro selection for resistance. In: Poisson C, Rakotoarisoa J (eds) Conference rice for highlands, Centre Cooperation Int Rech Agronomique Developpement, 75116 Paris, pp 113–118

Bua B, Adipala E, Opio F (1998) Screening cowpea germplasm for resistance to bacterial blight in Uganda. Int J Pest Manag 44:185–189

Cortesi P, Bartoli F, Pizzatti C, Bertocchi D, Schaad NW (2008) Panicle sterility and grain discolouration: new and emerging bacterial diseases of rice in Italy. In: Fatmi M, Collmer A, Iacobellis NS, Mansfield J, Murillo J, Schaad NW, Ullrich M (eds) Pseudomonas syringae pathovars and related pathogens—identification, epidemiology and genomics. Springer, Dordrecht, pp 391–411

Cother EJ, Stodart B, Ash G (2009a) Improving understanding and management of rice pathogens in Cambodia. Project Final Report. Australian Center for International Agricultural Research, ACIAR, Canberra ACT 2601 Australia, pp 1–46

Cother EJ, Stodart B, Noble DH, Reinke R, van de Ven RJ (2009b) Polyphasic identification of Pseudomonas fuscovaginae causing sheath and glume lesions on rice in Australia. Australas Plant Pathol 38:247–261

Cottyn BJG (2003) Bacteria associated with rice seed from Philippine farmers' fields, Universiteit Gent (Belgium). http://proquest.umi.com/pqdweb?did=764701491&Fmt=7&clientId=20870&RQT=309&VName=PQD. Accessed 28 Oct 2009. Belgium, 236 pp

Cottyn B, Certz MT, Mew TW (1994) Bacteria. In: Mew TW, Misra JK (eds) A manual of rice seed health testing. International Rice Research Institute, Manila, pp 29–46

Cottyn B, George T, Vera Cruz CM (2002) Characterization of rice sheath rot from Siniloan, Philippines, International Rice Research Newsletter, IRRI, Los Banos, Laguna, pp 39–40

Crop Protection Compendium (2008) Report—Pseudomonas fuscovaginae. http://www.cabicompendium.org/cpc/report.asp?Criteria=T/NAM;T/TX1;TX2;t?H…2008-10-07

Detry JF, Chapeaux JP, Tilquin JP (1991) Estimation of rice bacterial sheath brown rot (BSR) and rice blast (Bl) severity in five Burundi highland swamps. Int Rice Res Newsl 16:20–21

Develey-Riviere M-P, Galina E (2007) Resistance to pathogens and host developmental stage: a multifaceted relationship within the plant kingdom. New Phytol 175:405–416. doi:10.1111/j.1469-8137.2007.02130.x

Duveiller E, Miyajima K, Snacken F, Autrique A, Maraite H (1988) Characterization of Pseudomonas fuscovaginae and differentiation from other fluorescent pseudomonads occurring on rice in Burundi. J Phytopathol 122:97–107. doi:10.1111/j.1439-0434.1988.tb00995.x

Haynes KG, Weingartner D (2004) The use of area under disease progress curve to assess resistance to late blight in potato. Am J Potato Res 81:137–141

IRRI (1996) Standard evaluation system for rice. International Rice Research Institute, Manila

Jaunet T, Laguerre G, Lemanceau P, Frutos R, Notteghem JL (1995) Diversity of Pseudomonas fuscovaginae and other fluorescent pseudomonads isolated from disease rice. Phytopathology 85:1534–1541

Jaunet T, Notteghem JL, Rapilly F (1996) Pathogenicity process of Pseudomonas fuscovaginae, the causal agent of sheath brown rot of rice. J Phytopathol 144:425–430

Jeger MJ, Viljanen-Rollinson SLH (2001) The use of the area under the disease-progress curve (AUDPC) to assess quantitative disease resistance in crop cultivars. Theor Appl Genet 102:32–40

Kapulnik Y, Gafny R, Okon Y (1985) Effect of Azospirillum spp. inoculation on root development and NO3 uptake in wheat (Triticum aestivum cv. Miriam) in hydroponic systems. Can J Bot 63:627–631

Kozaka T (1961) Ecological studies on sheath blight of rice plants caused by Pellicularia sasakii (Shirai) S. Ito and its chemical control. Chugoku Agric Res 20:1–133

Leyna H, Coyne DP (1985) The effect of inoculation methods, pathogenic variability and inoculum concentrations on reactions and genetics of resistance to isolates of Xanthomonas campestris pv. phaseoli (Smith) dye in leaves and pods of dry beans. Annual Report of the Bean Improvement Cooperative 28:70–71

Macapuguay F, Mnzaya M (1988) Progress on irrigated rice agronomy at Usangu village—M'beya zone—Tanzania. Int Rice Comm Newsl 37:40–44

Madden LV, Hughes G, van den Bosch F (2007) The study of plant disease epidemics. APS Press, St. Paul, MN

McNally KL, Childs KL, Bohnert R, Davidson RM, Zhao K, Ulat VJ, Zeller G, Clark M, Hoen DR, Bureau TE, Stokowsi R, Ballinger DG, Frazer KA, Cox DR, Padhukasahasram B, Bustamante CD, Weigel D, Mackill DJ, Bruskiewich RM, Ratsch G, Buell CR, Leung H, Leach JE (2009) Genomewide SNP variation reveals relationships among landraces and modern varieties of rice. Proc Natl Acad Sci USA 106:12273–12278

Miyajima K, Tanii A, Akita T (1983) Pseudomonas fuscovaginae sp. nov., nom. rev. Int J Syst Bacteriol 33:656–657. doi:10.1099/00207713-33-3-656

Platz G (2001) The onset and effectiveness of adult plant resistance (APR) in Tallon barley, Australian Barley Technical Symposium, Agency for Food and Fibre Sciences, QDPI, Hermitage Research Station, M/S, Warwick QLD 4370

Razak AA, Zainudin NAIM, Sidiqe SNM, Ismail NA, Mohamad NmIn, Salleh B (2009) Sheath brown rot disease of rice caused by Pseudomonas fuscovaginae in the Peninsular Malaysia. J Plant Prot Res 49:244–249

Rott P (1987) Brown rot (Pseudomonas fuscovaginae) of the leaf sheath of rice in Madagascar, CABI Abstracts, Institute de recherches Agronomiques Tropicales et des Cultures Vivrieres. http://www.cababstractsplus.org/abstracts/Abstract.aspx?AcNo=19881157248. Accessed 01 March 2010

Rott P, Honegger J, Notteghem JL, Ranomenjanahary S (1991) Identification of Pseudomonas fuscovaginae with biochemical, serological, and pathogenicity tests. Plant Dis 75:843–846

Tanii A, Miyajima K, Akita T (1976) The sheath brown rot disease of rice plant and its causal bacterium, Pseudomonas fuscovaginae A. Tanii, K. Miyajima & T. Akita sp. nov. Ann Phytopathol Soc Jpn 42:540–548

Tekauz A (1986) Effect of plant age and leaf position on the reaction of barley to Pyrenophora teres. Can J Plant Pathol 8:380–386. doi:10.1080/07060668609501773

Valladeres-Sanchez NE, Coyne DP, Schuster ML (1979) Differential reaction of leaves and pods of Phaseolus germplasm to strains of Xanthomonas phaseoli and transgressive segregation for tolerance from crosses of susceptible germplasm. J Am Soc Hortic Sci 104:648–654

Zeier J (2005) Age-dependent variations of local and systemic defence responses in Arabidopsis leaves towards an avirulent strain of Pseudomonas syringae. Physiol Mol Plant Pathol 66:30–39

Zeigler RS, Alvarez E (1987) Bacterial sheath brown rot of rice caused by Pseudomonas fuscovaginae in Latin America. Plant Dis 71:592–597. doi:10.1094/PD-71-0592

Zeigler RS, Aricapa G, Hoyos E (1987) Distribution of fluorescent Pseudomonas spp. causing grain and sheath discoloration of rice in Latin America. Plant Dis 71:896–900
Acknowledgments
We are grateful to the staff of the Plant Breeding, Genetics and Biotechnology Division of the International Rice Research Institute (IRRI) for their substantial contributions to our work. This work was supported by the Charles Sturt University Postgraduate Research Scholarship and IRRI.
About this article
Cite this article
Adorada, D.L., Stodart, B.J., Cruz, C.V. et al. Standardizing resistance screening to Pseudomonas fuscovaginae and evaluation of rice germplasm at seedling and adult plant growth stages. Euphytica 192, 1–16 (2013). https://doi.org/10.1007/s10681-012-0804-z
Received:

Accepted:

Published:

Issue Date:
Keywords
Sheath brown rot

Inoculation

Disease resistance

MAGIC

OryzaSNP

AUDPC