Abstract
Genetic distance analysis among quality protein maize (QPM) inbred lines and the correlation of genetic distance with heterosis would help to design breeding strategy and predict hybrid performance. This study was carried out to determine the amount of genetic diversity among QPM inbred lines using SSR markers and morphological distances; to classify the inbred lines according to their relationships; and to estimate the correlations of SSR markers and morphological distances with hybrid performance, heterosis and specific combining ability (SCA). One-hundred and five hybrids generated by diallel crossing of 15 QPM inbred lines were evaluated with the 15 parents for 17 morphological traits at Harare, Zimbabwe and Bako, Ethiopia and also examined for DNA polymorphism using 40 SSR markers. SSR markers and morphological methods of genetic distance estimates showed moderately high genetic distance among the inbred lines studied. Cluster analysis based on the two distance measures grouped the 15 parental lines differently. The SSR marker-based genetic distance was positively and highly significantly correlated with grain yield (r = 0.37), and negatively and highly significantly with days to anthesis (r = −0.40) and days to silking (r = −0.42). These relationships suggest that high grain yield and earliness of QPM hybrids can be predicted from SSR marker determined distances of the parents, although the correlation values were not very high. The correlations of SSR marker distance with heterosis were too low to be of predictive value except for the case of plant height. Morphological distances were of less importance in predicting hybrid performance and SCA effects of hybrids.
Access options
Buy single article
Instant access to the full article PDF.
US$ 39.95
Tax calculation will be finalised during checkout.
Subscribe to journal
Immediate online access to all issues from 2019. Subscription will auto renew annually.
US$ 119
Tax calculation will be finalised during checkout.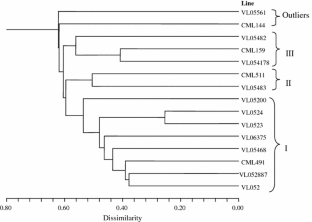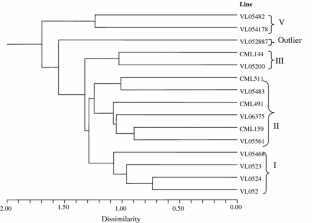 References
Ajmone-Marsan P, Castiglioni P, Fusari F, Kuiper M, Motto M (1998) Genetic diversity and its relationship to hybrid performance in maize as revealed by RFLP and AFLP markers. Theor Appl Genet 96:219–227

Bantte K, Prasanna BM (2003) Simple sequence repeat polymorphism in quality protein maize (QPM) lines. Euphytica 129:337–344

Barbosa AMM, Geraldi IO, Benchimol LL, Garcia AAF, Souza JR, Souza AP (2003) Relationship of intra- and interpopulation tropical maize single cross hybrid performance and genetic distances computed from AFLP and SSR markers. Euphytica 130:87–99

Betran FJ, Ribaut JM, Beck DL, de Leon DG (2003) Genetic diversity, specific combining ability, and heterosis in tropical maize under stress and non stress environments. Crop Sci 43:797–806

Charcosset A, Lefort-Busen MM, Gallais A (1991) Relationship between herosis and heterozgosity at marker loci: a theoretical computation. Theor Appl Genet 81:571–575

Choukan R, Hossainzadeh A, Ghannadha MR, Warburton ML, Talei AR, Mohammadi SA (2006) Use of SSR data to determine relationships and potential heterotic groupings within medium to late maturing Iranian maize inbred lines. Field Crop Res 95:212–222

CIMMYT (2004) Maize inbred lines release by CIMMYT: a compilation of 497 CIMMYT maize lines (CMLs), CML1–CML497. CIMMYT, Mexico, DF

CIMMYT (2005) Laboratory protocols: CIMMYT applied molecular genetics laboratory, 3rd edn. CIMMYT, Mexico, DF

Drinic SM, Trifunovic S, Drinic G, Konstantinov K (2002) Genetic divergence and its correlation to heterosis in maize as revealed by SSR-based markers. Maydica 4:1–8

Griffing B (1956) Concept of general and specific combining ability in relation to diallel crossing system. Aust J Biol Sci 9:463–493

Hallauer AR, Miranda JB (1988) Quantitative genetics in maize breeding, 2nd edn. Iowa State University Press, Ames, IA

Hartkamp AD, White JW, Rodríguez AA, Bänziger M, Srinivasan G, Granados G, Crossa J (2000) Maize production environments revisited: a GIS-based approach. CIMMYT, Mexico, DF

Hintze JL (1998) NCSS-2000 Statistical System for Windows. Number Cruncher Statistical Systems, Keysville, Utah 84037, Canada

Kiula BA, Lyimo NG, Botha AM (2008) Association between AFLP-based genetic distance and hybrid performance in tropical maize. Plant Breed 127:140–144

Kwon SJ, Ahn SN, Jeong EG, Hwang HG, Choi HC, Moon HP (2002) Relationship between genetic divergence and hybrid performance in Japonica rice grown in a cold water irrigated field. Euphytica 128:389–396

Lanza LLB, de Souza Jr CL, Ottoboni LMM, Vieira MLC, Souza AP (1997) Genetic distance of inbred lines and prediction of maize single-cross performance using RAPD markers. Theor Appl Genet 94:1023–1030

Legesse BW, Myburg AA, Pixley KV, Botha AM (2007) Genetic diversity of African maize inbred lines revealed by SSR markers. Hereditas 144:10–17

Legesse BW, Myburg AA, Pixley KV, Twumasi-afriye S, Botha AM (2008) Relationship between hybrid performance and AFLP based genetic distance in highland maize inbred lines. Euphytica 162:313–323

Melchinger AE (1999) Genetic diversity and heterosis. In: Coors JG, Pandey S (eds) The genetics and exploitation of heterosis in crops. ASA, CSS, and SSSA, Madison, WI, pp 99–118

Melchinger AE, Lee M, Lamkey KR, Woodman WL (1990) Genetic diversity for restriction fragment length polymorphisms: relation to estimated genetic effects in maize inbreds. Crop Sci 30:1033–1040

Melchinger AE, Messmer MM, Lee M, Woodman WL, Lamkey KR (1991) Diversity and relationships among U.S. maize inbreds revealed by restriction length polymorphisms. Crop Sci 31:669–678

Moll RH, Lonquist JH, Foreuno JV, Johnson EC (1965) The relationship of heterosis and genetic divergence in maize. Genetics 52:139–144

Parentoni SN, Magalhaes JV, Pacheco CAP, Santos MX, Abadie T, Gama EEG, Guimaraes PEO, Meirelles WF, Lopes MA, Vasconcelos MJV, Paiva E (2001) Heterotic groups based on yield-specific combining ability data and phylogenetic relationship determined by RAPD markers for 28 tropical maize open pollinated varieties. Euphytica 121:197–208

Saleh G, Abdullah D, Anuar AR (2002) Performance, heterosis and heritability in selected tropical maize single, double and three-way cross hybrids. J Agr Sci 2002:21–28

Smith JSC, Smith OS (1989) The description and assessment of distances between inbred lines of maize: II. The utility of morphological, biochemical and genetic descriptors and a scheme of testing of distinctiveness between inbred lines. Maydica 34:151–161

Smith JSC, Chin ECL, Shu H, Smith OS, Wall SJ, Senior ML, Mitchell SE, Kresovich S, Ziegle J (1997) An evaluation of the utility of SSR loci as molecular markers in maize (Zea mays L.): comparison with data from RFLPs and pedigree. Theor Appl Genet 95:163–173

Stuber CW (1994) Heterosis in plant breeding. Plant Breed Rev 12:227–251

Vasal SK, Srinivasan G, Pandey S, Cordova HS, Han GC, Gonzalez F (1992) Heterotic patterns of ninety-two white tropical CIMMYT maize lines. Maydica 37:259–270

Warburton ML, Xianchun X, Crossa J, Franco J, Melchinger AE, Frisch M, Bohn M, Hoisington D (2002) Genetic characterization of CIMMYT inbred maize lines and open pollinated populations using large scale fingerprinting methods. Crop Sci 42:1832–1840

Xu S, Liu J, Liu G (2004) The use of SSRs for predicting the hybrid yield and yield heterosis in 15 key inbred lines of Chinese maize. Hereditas 141:207–215

Yoseph B, Botha AM, Myburg AA (2006) Genetic diversity in traditional Ethiopian highland maize accessions assessed by AFLP markers and morphological traits. Biodivers Conserv 15:2655–2671

Zhang Y, Kang MS (1997) DIALLEL-SAS: a SAS program for Griffing's diallel analyses. Agron J 89:176–182
About this article
Cite this article
Wegary, D., Vivek, B. & Labuschagne, M. Association of parental genetic distance with heterosis and specific combining ability in quality protein maize. Euphytica 191, 205–216 (2013). https://doi.org/10.1007/s10681-012-0757-2
Received:

Accepted:

Published:

Issue Date:
Keywords
Heterosis

Genetic distance

Quality protein maize

Specific combining ability

Simple sequence repeats