Abstract
Tree tomato (Solanum betaceum) is an Andean small tree cultivated for its juicy fruits. Little information is available on the characterization of genetic resources and breeding of this neglected crop. We have studied the molecular diversity with AFLP markers using 11 combinations of primers of a collection of 25 S. betaceum accessions belonging to four cultivar groups, most of which had been previously morphologically characterized, as well as one accession of the wild relative S. cajanumense. A total of 197 AFLP fragments were scored, of which 84 (43 %) were polymorphic. When excluding S. cajanumense from the analysis, the number of polymorphic AFLP fragments was 78 (40 %). Unique AFLP fingerprints were obtained for every accession, but no AFLP fragments specific and universal to any of the four cultivar groups were found. The total genetic diversity (H T ) of cultivated accessions was H T  = 0.2904, while for cultivar groups it ranged from H T  = 0.1846 in the orange group to H T  = 0.2498 in the orange pointed group. Genetic differentiation among cultivar groups (G ST ) was low (G ST  = 0.2248), which was matched by low values of genetic distance among cultivar groups. The diversity of collections from Ecuador, which we hypothesize is a center of diversity for tree tomato, was similar to that from other origins (H T  = 0.2884 and H T  = 0.2645, respectively). Cluster and PCoA analyses clearly separated wild S. cajanumense from the cultivated species. However, materials of different cultivar groups and origins were intermingled in both analyses. The Mantel test correlation coefficient of the matrices of morphological and AFLP distances was low (−0.024) and non-significant. Overall, the results show that a wide diversity is present in each of the cultivar groups, indicate that Ecuador may be regarded as a center of accumulation of diversity for this crop, and confirm that AFLP and morphological characterization data are complementary. The results obtained are of value for the conservation of genetic resources and breeding of tree tomato, as an assessment of the genetic diversity and relationships among different cultivar groups and geographic origins is obtained.
Access options
Buy single article
Instant access to the full article PDF.
USD 39.95
Price includes VAT (USA)
Tax calculation will be finalised during checkout.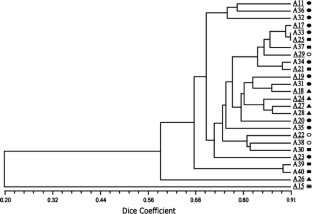 References
Acosta-Quezada PG, Martínez-Laborde JB, Prohens J (2011) Variation among tree tomato (Solanum betaceum Cav.) accessions from different cultivar groups: implications for conservation of genetic resources and breeding. Genet Resour Crop Evol 58:943–960

Benham J, Jeung JU, Jasieniuk M, Kanazin V, Blake T (1999) Genographer: a graphical tool for automated fluorescent AFLP and microsatellite analysis. Department of Plant Science, Montana State University, Bozeman

Blanca J, Prohens J, Anderson GJ, Zuriaga E, Cañizares J, Nuez F (2007) AFLP and DNA sequence variation in an Andean domesticate pepino (Solanum muricatum, Solanaceae): implications for evolution and domestication. Am J Bot 94:1219–1229

Bohs L (1989) Ethnobotany of the genus Cyphomandra (Solanaceae). Econ Bot 43:143–163

Bohs L (1991) Crossing studies in Cyphomandra (Solanaceae) and their systematic and evolutionary significance. Am J Bot 78:1683–1693

Bohs L, Nelson A (1997) Solanum maternum (Solanaceae), a new Bolivian relative of the tree tomato. Novon 7:341–345

Boyes S, Strübi P (1997) Organic acid and sugar composition of three New Zealand grown tamarillo varieties (Solanum betaceum (Cav.)). N Z J Crop Hortic Sci 25:79–83

Brown AHD (1995) The core collection at the crossroads. In: Hodgkin T, Brown AHD, van Hintum TJL, Morales EAV (eds) Core collections of plant genetic resources. John Wiley & Sons, Chichester, pp 3–19

Cohen D, van den Brink RC, MacDiarmid RM, Beck DL, Forster RLS (2000) Resistance to Tamarillo mosaic virus in transgenic tamarillos and expression of the transgenes in F1 progeny. Acta Hortic 521:43–49

Doganlar S, Frary A, Daunay MC, Lester RN, Tanksley SD (2002) Conservation of gene function in the Solanaceae as revealed by comparative mapping of domestication traits in eggplant. Genetics 161:1713–1726

Doyle JJ, Doyle JL (1987) A rapid isolation procedure for small quantities of fresh leaf tissue. Phytochem Bull 19:11–15

Enciso-Rodríguez F, Martínez R, Lobo M, Barrero LS (2010) Genetic variation in the Solanaceae fruit bearing species lulo and tree tomato revealed by Conserved Ortholog (COSII) markers. Genet Mol Biol 33:271–278

Furini A, Wunder J (2004) Analysis of eggplant (Solanum melongena)-related germplasm: morphological and AFLP data contribute to phylogenetic interpretations and germplasm utilization. Theor Appl Genet 108:197–208

García-Martínez S, Andreani L, García-Gusano M, Geuna F, Ruiz JJ (2006) Evaluation of amplified fragment length polymorphism and simple sequence repeats for tomato germplasm fingerprinting: utility for grouping closely related traditional cultivars. Genome 49:648–656

Geleta LF, Labuschagne MT, Viljoen CD (2005) Genetic variability in pepper (Capsicum annuum L.) estimated by morphological data and amplified fragment length polymorphism markers. Biodivers Conserv 14:2361–2375

Geleta N, Labuschagne MT, Viljoen CD (2006) Genetic diversity analysis in sorghum germplasm as estimated by AFLP, SSR and morpho-agronomical markers. Biodivers Conserv 15:3251–3265

Ghislain M, Zhang D, Fajardo D, Huamán Z, Hijmans RJ (1999) Marker-assisted sampling of the cultivated Andean potato Solanum phureja collection using RAPD markers. Genet Resour Crop Evol 46:547–555

Hagidimitriou M, Katsiotis A, Menexes G, Pontikis C, Loukas M (2005) Genetic diversity of major Greek olive cultivars using molecular (AFLPs and RAPDs) markers and morphological traits. J Am Soc Hortic Sci 130:211–217

Harlan JR (1992) Crops and man. American Society of Agronomy and Crop Science Society of America, Madison

Hillis DM (1987) Molecular versus morphological approaches to systematics. Annu Rev Ecol Syst 18:23–42

Jones CJ, Edwards KJ, Castiglione S, Winfield WO, Sala F, van de Wiel C, Bredemeijer G, Vosman B, Matthes M, Daly A, Brettschneider R, Bettini P, Buiatti M, Maestri B, Malcevschi A, Marmiroli N, Aert R, Volckaert G, Rueda J, Linacero R, Vázquez A, Karp A (1997) Reproducibility testing of RAPD, AFLP and SSR markers in plants by a network of European laboratories. Mol Breed 3:381–390

Kardolus JP, van Eck HJ, van den Berg RG (1998) The potential of AFLPs in biosystematics: a first application in Solanum taxonomy (Solanaceae). Plant Syst Evol 210:87–103

Lara-Cabrera SI, Spooner DM (2004) Taxonomy of North and Central American diploid wild potato (Solanum sect. Petota) species: AFLP data. Plant Syst Evol 248:129–142

Lund B (2002) Repatriation of Nordic barley germplasm. PhD dissertation, The Royal Veterinary and Agricultural University, Section of Plant Breeding and Crop Science, Copenhagen, Denmark

Mantel N (1967) The detection of disease clustering and generalized regression approach. Cancer Res 27:209–220

Mazzucato A, Papa R, Bitocchi E, Mosconi P, Nanni L, Negri V, Picarella ME, Siligato F, Soressi GP, Tiranti B, Veronesi F (2008) Genetic diversity, structure and marker-trait associations in a collection of Italian tomato (Solanum lycopersicum L.) landraces. Theor Appl Genet 116:657–669

Meudt HM, Clarke AC (2007) Almost forgotten or latest practice? AFLP applications, analyses and advances. Trends Plant Sci 12:106–117

Milbourne D, Meyer R, Bradshaw JE, Baird E, Bonar N, Provan J, Powell W, Waugh R (1997) Comparison of PCR-based marker systems for the analysis of genetic relationships in cultivated potato. Mol Breed 3:127–136

Mohammadi SA, Prasanna BM (2003) Analysis of genetic diversity in crop plants—salient statistical tools and considerations. Crop Sci 43:1235–1248

Muñoz-Falcón J, Prohens J, Vilanova S, Nuez F (2008a) Characterization, diversity, and relationships of the Spanish striped (Listada) eggplants: a model for the enhancement and protection of local heirlooms. Euphytica 164:405–419

Muñoz-Falcón J, Prohens J, Vilanova S, Ribas F, Castro A, Nuez F (2008b) Distinguishing a protected geographical indication vegetable (Almagro eggplant) from closely related varieties with selected morphological traits and molecular markers. J Sci Food Agric 89:320–328

Muñoz-Falcón J, Prohens J, Vilanova S, Nuez F (2009) Diversity in commercial varieties and landraces of black eggplants and implications for broadening the breeders' gene pool. Ann Appl Biol 154:453–465

Muñoz-Falcón J, Vilanova S, Plazas M, Prohens J (2011) Diversity, relationships and genetic fingerprinting of the Listada de Gandía eggplant landrace using genomic SSRs and EST-SSRs. Sci Hortic 129:238–246

National Research Council (1989) Lost crops of the Incas: little-known plants of the Andes with promise for world-wide cultivation. National Academy Press, Washington, DC

Nei M (1972) Genetic distance between populations. Am Nat 106:283–292

Nei M (1973) Analysis of gene diversity in subdivided populations. Proc Natl Acad Sci USA 70:3321–3323

Portis E, Baudino M, Magurno F, Lanteri S (2012) Genetic structure and preservation strategies of autochtonous vegetable crop landraces of north-western Italy. Ann Appl Biol 160:76–85

Powell W, Morgante M, Andre C, Hanafey M, Vogel J, Tingey S, Rafalski A (1996) The comparison of RFLP, RAPD, AFLP and SSR (microsatellite) markers for germplasm analysis. Mol Breed 2:225–238

Pringle GJ, Murray BG (1991) Interspecific hybridization involving the tamarillo, Cyphomandra betacea (Cav.) Sendt. (Solanaceae). N Z J Crop Hortic Sci 19:103–111

Prohens J, Nuez F (2000) The tamarillo (Cyphomandra betacea): a review of a promising small crop. Small Fruits Rev 1(2):43–68

Prohens J, Rodríguez-Burruezo A, Nuez F (2004) Breeding Andean Solanaceae fruit crops for adaptation to subtropical climates. Acta Hortic 662:129–137

Prohens J, Blanca J, Nuez F (2005) Morphological and molecular variation in a collection of eggplants from a secondary center of diversity: implications for conservation and breeding. J Am Soc Hortic Sci 130:54–63

Rodríguez-Burruezo A, Prohens J, Nuez F (2003) Performance of hybrid segregating populations of pepino (Solanum muricatum) and its relation to genetic distance among parents. J Hortic Sci Biotechnol 78:911–918

Rodríguez-Burruezo A, Prohens J, Nuez F (2008) Performance of hybrids between local varieties of eggplant (Solanum melongena) and its relation to the mean of parents and to morphological and genetic distances among parents. Eur J Hortic Sci 73:76–83

Rohlf FJ (1996) NTSYS-pc: numerical taxonomy and multivariate system, version 2.0. Exeter Software, Setauket

Sneath PHA, Sokal RR (1973) Numerical taxonomy. W. H. Freeman, San Francisco

Soller M, Beckmann J (1983) Genetic polymorphism in varietal identification and genetic improvement. Theor Appl Genet 67:25–33

Spooner DM, Peralta IE, Knapp S (2005) Comparison of AFLPs with other markers for phylogenetic inference in wild tomatoes [Solanum L. section Lycopersicon (Mill.) Wettst.]. Taxon 54:43–61

Tam SM, Mhiri C, Vogelaar A, Kerkveld M, Pearce SR, Grandbastien MA (2005) Comparative analyses of genetic diversities within tomato and pepper collections detected by retrotransposon-based SSAP, AFLP and SSR. Theor Appl Genet 110:819–831

Vasco C, Avila J, Ruales J, Svanberg U, Kamal-Eldin A (2009) Physical and chemical characteristics of golden-yellow and purple-red varieties of tamarillo fruit (Solanum betaceum Cav.). Int J Food Sci Nutr 60:278–288

Veteläinen M, Gammelgard E, Valkonen JPT (2005) Diversity of Nordic landrace potatoes (Solanum tuberosum L.) revealed by AFLPs and morphological characters. Genet Resour Crop Evol 52:999–1010

Wendel JF, Doyle JJ (1998) Phylogenetic incongruence: window into genome history and molecular evolution. In: Soltis D, Soltis P, Doyle J (eds) Molecular systematics of plants II: DNA sequencing. Kluwer Academic Publishers, Norwell, pp 265–296

Yeh FC, Boyle TJB (1997) Population genetic analysis of codominant and dominant markers and quantitative traits. Belgian J Bot 129:157
Acknowledgments
This work was partially financed by the Ministerio de Ciencia e Innovación (RF2008-00008-00-00) as well as by the Secretaría Nacional de Educación Superior, Ciencia, Tecnología e Innovación from Ecuador (SENESCYT).
About this article
Cite this article
Acosta-Quezada, P.G., Vilanova, S., Martínez-Laborde, J.B. et al. Genetic diversity and relationships in accessions from different cultivar groups and origins in the tree tomato (Solanum betaceum Cav.). Euphytica 187, 87–97 (2012). https://doi.org/10.1007/s10681-012-0736-7
Received:

Accepted:

Published:

Issue Date:
Keywords
AFLPs

Conservation

Cultivar groups

Genetic resources

Solanum betaceum

Tree tomato