Abstract
Apart from sugar production, the sugarcane plant is now viewed as a high value lowcost feedstock for renewable energy. However, in depth studies on the biomass potential of the crop are relatively new and current varieties have not been optimised to achieve the required high biomass yield for different end-uses. The objective of this study was to examine the possibility of using multivariate data analysis (MVDA) techniques in the selection of different types of high biomass canes. Sixty genotypes of different generations of crosses were evaluated for 18 inter-related traits. Principal component analysis compressed the different characters into five major principal components (PCs). The first two explained 77 % of total variation. PC1 emphasised on the cane quality traits while PC2 stressed on biomass characteristics. The biplot with the two PCs was very helpful in visualising the existing variations in the population. Cluster analysis defined six major groups in the population. Candidates from three of them were found suitable for commercial exploitation, for either sugar, fibre, or both as the main end-products. The MVDA techniques were thus found to be very effective in assessing the extent of genetic divergence between genotypes in the population and in the selection of different types of high biomass canes for multipurpose use. It was also clear that sucrose content was positively associated with cane diameter while high fibre varieties tended to be thinner and taller than the traditional commercial varieties.
Access options
Buy single article
Instant access to the full article PDF.
USD 39.95
Price excludes VAT (USA)
Tax calculation will be finalised during checkout.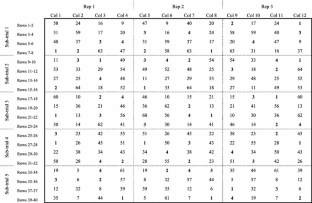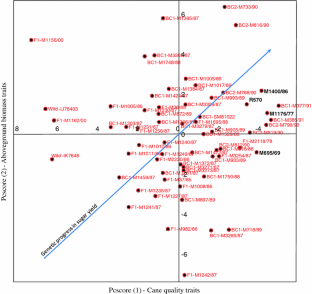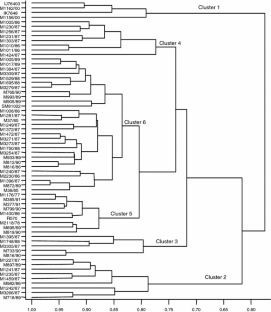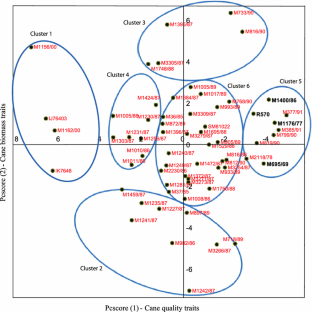 References
Alexander AG (1985) The energy cane alternative. Elsevier, Amsterdam

Amalraj VA, Rakkiyappan P, Neelamathi D, Chinnaraj S, Subramanian S (2008) Wild cane as a renewable source for fuel and fibre in the paper industry. Curr Sci 95:1599–1602

Badaloo MGH, Ramdoyal K (2003) Variation and inheritance of quantitative traits in commercial × S. spontaneum crosses. In: Proceedings Annual Meeting of Agricultural Scientists (AMAS), Réduit, pp 169–178

Becker HC, Leon J (1988) Stability analysis in plant breeding. Plant Breed 101:1–23

Brumbley SM, Purnell MP, Petrasouits LA, Nielsen LK, Twine PH (2007) Developing the sugarcane biofactory for high value biomaterials. Int Sugar J 109:5–15

Cullis BR, Gleeson AC (1991) Spatial analysis of field experiments: an extension to two dimensions. Biometrics 47:1449–1460

Ferraro DO, Riveroa DE, Ghersaa CM (2009) An analysis of the factors that influence sugarcane yield in Northern Argentina using classification and regression trees. Field Crops Res 112:149–157

Flores F, Gutierrez JC, Lopez J, Moreno MT, Cubero JI (1997) Multivariate analysis approach to evaluate a germplasm collection of Hedyssarum coronarium L. Genet Resour Crop Evol 44:545–555

Fox PN, Crossa C, Romagosa I (1997) Multi-environment testing and genotype x environment interaction. In: Kempton RA (ed), Statistical methods for plant variety evaluation. Chapman and Hall, London, pp 117–138

Gilmour AR, Cullis BR, Verbyla AP (1997) Accounting for natural and extraneous variation in the analysis of field experiments. J Agric Biol Environ Stat 2:269–293

Gilmour AR, Cullis BR, Gogel B, Welham SJ, Thompson R (2008) ASReml, release 30. VSN International Ltd, Hemel Hempstead

Gleeson AC, Cullis BR (1987) Residual maximum likelihood (REML) estimation of a neighbour model for field experiments. Biometrics 43:248–277

Hemaprabha G, Govindaraj P, Balasundaram N, Singh NK (2005) Genetic diversity analysis of Indian sugarcane breeding pool based on sugarcane specific STMS markers. Sugar Tech 7:9–14

Jackson P, Wei X, O'Shea M, Rae A, Cox M (2009) Breeding sugarcane for sugar plus energy production, nineth sugarcane breeding and germplasm workshop. International Society of Sugarcane Technologists (ISSCT), Cairns

Joomun N, Parmessur Y, Dookun-Saumtally A (2005) Application of microsatellite markers to the sugarcane breeding programme. In: Annual Meeting of Agricultural Scientists (AMAS)

Klass DL (2004) Biomass for renewable energy and fuels, encyclopedia of energy. Elsevier, New York

Legendre BL, Burner DM (1995) Biomass production of sugarcane cultivars and early-generation hybrids. Biomass Bioenerg 8:55–61

Mamet LD (1992) Breeding for earliness of ripening in sugar cane. University of Cambridge, Darwin College, p 241

Manly BFJ (1988) Multivariate statistical methods—a primer. Chapman and Hall, Boca Raton

MSIRI (1964) Annual Report. Mauritius Sugar Industry Research Institute

MSIRI (1968) Annual Report. Mauritius Sugar Industry Research Institute

MSIRI (2008) Annual Report. Mauritius Sugar Industry Research Institute

Nair NV, Balakrishnan R, Sreenivasan TV (1998) Variability for quantitative traits in exotic hybrid germplasm of sugarcane. Genet Resour Crop Evol 45:459–464

Nayamuth AR, Mangar K, Ramdoyal K, Badaloo MGH (2005) Early sucrose accumulation, a promising characteristic to use in sugarcane improvement programs. International Society of Sugar Cane Technologists (ISSCT), Guatemala pp 421–429

Panhar RN, Keerio HK, Khan MA, ARajpute M, Unar GS, Mastoi MI, Chohan M, Sumro AF, Keerio AR (2003) Relationship between yield and yield contributing traits in sugarcane (Saccharum spontaneum L). Pak J Appl Sci 3:97–99

Parish DH, Feillafe SM (1965) Notes on the 1:100 000 soil map of Mauritius Occasional paper. Mauritius Sugar Industry Research Institute p 22

Pezzotti M, Tomassini C, Falcinelli M, Veronesi F (1994) Evaluation of an Italian germplasm collection of Dactylis glomerata L. using multivariate approach. J Genet Plant Breed 48:17–23

Popi J, Rajnpreht J, Kannenberg LW, Paul KP (2001) Random amplified polymorphic DNA-based evaluation of diversity in the hierarchical, open-ended population enrichment maize breeding system. Crop Sci 40:619–625

Ramdoyal K, Badaloo MGH (2007) An evaluation of interspecific families of different nobilized groups in contrasting environments for breeding novel sugarcane clones for biomass. Intern Soc Sugar Cane Technol (ISSCT) 26:625–632

Rao PS, Kennedy A (2004) Genetic improvement of sugarcane for sugar, fibre and biomass. Ministry of Agriculture and Rural Development National Agric, Barbados

Rao MS, Weerathaworn P (2009) Diversification of breeding program to develop multipurpose sugarcane cultivars. Sugar Tech 11:77–79

Sapra RL, Lal SK (2003) A strategy for selecting diverse accessions using Principal Component Analysis from a large germplasm collection of soybean. Plant Genet Resour 1:151–156. doi:101079

Terajima Y, Matsuoka M, Irei S, Sakaigaichi T, Fukuhara S, Ujihara K, Ohara S, Tatsuhiro H, Sugimoto A (2007) Breeding for high-biomass sugarcane and its utilisation in Japan. International Society of Sugar Cane Technologists (ISSCT), pp 759–763

Tew TL, Cobill RM (2008) Genetic improvement of sugarcane (Saccharum spp.) as an energy crop. In: Vermerris W (ed) Genetic improvement of Bioenergy Crops. Springer, pp 249–272

Tew T, Hale A, Pan Y, Richard E (2009) Energy cane breeding and selection in Louisiana—a progress report. Nineth Sugarcane Breeding and Germplasm Workshop. International Society of Sugarcane Technologists (ISSCT), Cairns

Wang LP, Jackson PA, Lu X, Fan YH, Foreman JW, Chen XK, Deng HH, Fu C, Ma L, Aitken KS (2008) Evaluation of Sugarcane × Saccharum spontaneum Progeny for Biomass Composition and Yield Components. Crop Sci 48:951–961

Yao Y, Xuan Z, He Y, Lutts S, Korpelainen H, Li C (2007) Principal component analysis of intraspecific responses of tartary buckwheat to UV-B radiation under field conditions. Environ Exp Bot 61:237–245
Acknowledgments
We thank Mrs. N. Meethoo of the MSIRI Plant Breeding Department for her active participation in the project. We are also grateful to the Director, Dr. R. Ng Kee Kwong for reviewing the paper and for his interest to publish this work.
About this article
Cite this article
Santchurn, D., Ramdoyal, K., Badaloo, M.G.H. et al. From sugar industry to cane industry: investigations on multivariate data analysis techniques in the identification of different high biomass sugarcane varieties. Euphytica 185, 543–558 (2012). https://doi.org/10.1007/s10681-012-0682-4
Received:

Accepted:

Published:

Issue Date:

DOI: https://doi.org/10.1007/s10681-012-0682-4
Keywords
Sugarcane biomass

Interspecific programme

MVDA

PCA

Cluster analysis

Bioenergy