Abstract
The aim of this work was to map quantitative trait loci (QTLs) associated with flour yellow color (Fb*) and yellow pigment content (YPC) in durum wheat (Triticum turgidum L. var. durum). Additionally, QTLs affecting flour redness (Fa*) and brightness (FL*) color parameters were investigated. A population of 93 RILs (UC1113 × Kofa) was evaluated in three locations of Argentina over 2 years. High heritability values (>94%) were obtained for Fb* and YPC, whereas FL* and Fa* showed intermediate to high values. The main QTLs affecting Fb* and YPC overlapped on chromosome arms 4AL (4AL.2), 6AL (6AL.2), 7AS, 7AL, 7BS (7BS.2) and 7BL (7BL.2). The 7BL.1 QTL included the Psy-B1 locus, but one additional linked QTL was detected. A novel minor QTL located on 7AS affected Fb*, with an epistatic effect on YPC. An epistatic interaction occurred between the 7AL and 7BL.2 QTLs. The 4AL.2 QTL showed a strong effect on Fb* and was involved in two digenic epistatic interactions. The 6AL.2 QTL explained most of the variation for Fb* and YPC. The main QTLs affecting FL* and Fa* were located on 2BS and 7BL, respectively. These results confirm the complex inheritance of flour color traits and open the possibility of developing perfect markers to improve pasta quality in Argentinean breeding programs.
Access options
Buy single article
Instant access to the full article PDF.
USD 39.95
Price includes VAT (USA)
Tax calculation will be finalised during checkout.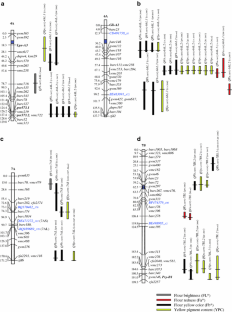 References
Blanco A, Schiavulli A, Colasuonno P, Gadaleta A, Sonnante G, Pignone D (2009) Mapping of phytoene synthase (psy2) genes on group 5 chromosomes of durum wheat. In: Proceedings of the 19th International Triticeae Mapping Initiative, Clermont-Ferrand, France; August 31–September 4

Blanco A, Colasuonno P, Gadaleta A, Mangini G, Schiavulli A, Simeone R, Digesù A, De Vita P, Mastrangelo AM, Cattivelli L (2011) Quantitative trait loci for yellow pigment concentration and individual carotenoid compounds in durum wheat. J Cereal Sci 54:255–264

Borrelli GM, De Leonardis AM, Platani C, Troccoli A (2008) Distribution along durum wheat kernel of the components involved in semolina colour. J Cereal Sci 48:494–502

Carrera A, Echenique V, Zhang W, Helguera M, Manthey F, Schrager A, Picca A, Cervigni G, Dubcovsky J (2007) A deletion at the Lpx-B1 locus is associated with low lipoxygenase activity and improved pasta color in durum wheat (Triticum turgidum ssp. durum). J Cereal Sci 45:67–77

Cenci A, Somma S, Chantret N, Dubcovsky J, Blanco A (2004) PCR identification of durum wheat BAC clones containing genes coding for carotenoid biosynthesis enzymes and their chromosome localization. Genome 47:911–917

Churchill GA, Doerge RW (1994) Empirical threshold values for quantitative trait mapping. Genetics 138:963–971

Clarke FR, Clarke JM, Mccaig TN, Knox RE, Depauw RM (2006) Inheritance of yellow pigment concentration in seven durum wheat crosses. Can J Plant Sci 86:133–141

Cong L, Wang C, Li Z, Chen L, Yang G, Wang Y, He G (2009) cDNA cloning and expression analysis of wheat (Triticum aestivum L.) phytoene and ζ-carotene desaturase genes. Mol Biol Reports 37:3351–3361

Conti V, Roncallo PF, Beaufort V, Cervigni GL, Miranda R, Jensen CA, Echenique VC (2011) Mapping of main and epistatic effect QTLs associated to grain protein and gluten strength using a RIL population of durum wheat. J Appl Genet 52:287–298

Crawford AC, Shaw K, Stefanova K, Lambe W, Ryan K, Wilson R, Barclay I, McLean R, Moore C, Francki M (2008) A molecular toolbox for xanthophyll genes in wheat. Proceedings of the 11th International Wheat Genetics Symposium, Australia, 24–29 August. http://ses.library.usyd.edu.au/bitstream/2123/3487/1/P226.pdf

Crawford AC, Stefanova K, Lambe W, McLean R, Wilson R, Barclay I, Francki MG (2011) Functional relationships of phytoene synthase 1 alleles on chromosome 7A controlling flour colour variation in selected Australian wheat genotypes. Theor Appl Genet 123:95–108

Dick JW, Quick JS (1983) A modified screening test for rapid estimation of gluten strength in early-generation durum wheat breeding lines. Cereal Chem 60:315–318

Digesu AM, Platani C, Cattivelli L, Mangini G, Blanco A (2009) Genetic variability in yellow pigment components in cultivated and wild tetraploid wheats. J Cereal Sci 50:10–218

Elouafi I, Nachit MM, Martin LM (2001) Identification of a microsatellite on chromosome 7B showing a strong linkage with yellow pigment in durum wheat (Triticum turgidum L. var. durum). Hereditas 135:255–261

Fares C, Platani C, Tamma G, Leccese F (1991) Microtest per la valutazione del colore in genotipi di frumento duro. Molini d'Italia, Anno XLII, vol 12, pp 19–21

He XY, Zhang YL, He ZH, Wu YP, Xiao YG, Ma CX, Xia XC (2008) Characterization of phytoene synthase 1 gene (Psy1) located on common wheat chromosome 7A and development of a functional marker. Theor Appl Genet 116:213–221

He XY, He ZH, Ma W, Appels R, Xia XC (2009a) Allelic variants of phytoene synthase 1 (Psy1) genes in Chinese and CIMMYT wheat cultivars and development of functional markers for flour colour. Mol Breed 23:553–563

He XY, Wang J, Ammar K, Peña RJ, Xia XC, He ZH (2009b) Allelic variants at the Psy-A1 and Psy-B1 loci in durum wheat and their associations with grain yellowness. Crop Sci 49:2058–2064

Hentschel V, Kranl K, Hollmann J, Lindhauer MG, Bohm V, Bitsch R (2002) Spectrophotometric determination of yellow pigment content and evaluation of carotenoids by high-performance liquid chromatography in durum wheat grain. J Agric Food Chem 50:6663–6668

Hessler TG, Thomson MJ, Benscher D, Nachit MM, Sorrells ME (2002) Association of a lipoxygenase locus, Lpx-B1, with variation in lipoxygenase activity in durum wheat seeds. Crop Sci 42:1695–1700

Hirschberg J (2001) Carotenoid biosynthesis in flowering plants. Curr Opin Plant Biol 4:210–218

Howitt CA, Cavanagh CR, Bowerman AF, Cazzonelli C, Rampling L, Mimica JL, Pogson BJ (2009) Alternative splicing, activation of cryptic exons and amino acid substitutions in carotenoid biosynthetic genes are associated with lutein accumulation in wheat endosperm. Funct Int Genomics 9:363–376

Kao CH, Zeng Z-B, Teasdale RD (1999) Multiple interval mapping for quantitative trait loci. Genetics 152:1203–1216

Mares D, Campbell A (2001) Mapping components of flour and noodle colour in Australian wheat. Aust J Agric Res 52:1297–1309

Matsuo RR, Dexter JE (1980) Relationship between some durum wheat physical characteristics and semolina milling properties. Can J Plant Sci 60:49–53

McIntosh RA, Yamazaki Y, Devos KM, Dubcovsky J, Rogers WJ, Appels R (2003) Catalogue of gene symbols for wheat. Proceedings of the 10th International Wheat Genetics Symposium. Instituto Sperimentale per la Cerealicoltura; Rome, vol 4, 77 pp

Patil RM, Oak MD, Tamhankar SA, Sourdille P, Rao VS (2008) Mapping and validation of a major QTL for yellow pigment content on 7AL in durum wheat (Triticum turgidum L. ssp. durum). Mol Breed 21:485–496

Piepho HP (2000) A mixed-model approach to mapping quantitative trait loci in barley on the basis of multiple environment data. Genetics 156:2043–2050

Pozniak CJ, Knox RE, Clarke FR, Clarke JM (2007) Identification of QTL and association of a phytoene synthase gene with endosperm colour in durum wheat. Theor Appl Genet 114:525–537

Ramya P, Chaubal A, Kulkarni K, Gupta L, Kadoo N, Dhaliwal HS, Chhuneja P, Lagu M, Gupta V (2010) QTL mapping of 1000-kernel weight, kernel length, and kernel width in bread wheat (Triticum aestivum L.). J Appl Genet 51:421–429

Reimer SO, Pozniak CJ, Clarke FR, Clarke JM, Somers DJ, Knox RE, Singh AK (2008) Association mapping of yellow pigment in an elite collection of durum wheat cultivars and breeding lines. Genome 51:1016–1025

SAS Institute Inc (2010) Base SAS® 9.2 procedures guide: statistical procedures, 3rd edn. SAS Institute Inc, Cary

Singh A, Reimer S, Pozniak CJ, Clarke FR, Clarke JM, Knox RE, Singh AK (2009) Allelic variation at Psy1-A1 and association with yellow pigment in durum wheat grain. Theor Appl Genet 118:1539–1548

Somers DJ, Isaac P, Edwards K (2004) A high-density microsatellite consensus map for bread wheat (Triticum aestivum L.). Theor Appl Genet 109:1105–1114

Sun X-Y, Wu K, Zhao Y, Kong F-M, Han G-Z, Jiang H-M, Huang X-J, Li R-J, Wang H-G, Li S–S (2009) QTL analysis of kernel shape and weight using recombinant inbred lines in wheat. Euphytica 165:615–624

Van Ooijen JW (1992) Accuracy of mapping quantitative trait loci in autogamous species. Theor Appl Genet 84:803–811

Wang DL, Zhu J, Li ZK, Paterson AH (1999) Mapping QTLs with epistatic effects and QTL × environment interactions by mixed linear model approaches. Theor Appl Genet 99:1255–1264

Wang S, Basten CJ, Zeng Z (2004) Windows QTL cartographer. V2.0 Program in statistical genetics. North Carolina State University, North Carolina. http://www.statgen.ncsu.edu/qtlcart/WQTLCart.htm

Watanabe N, Akond AS, Nachit MM (2006) Genetic mapping of the gene affecting polyphenol oxidase activity in tetraploid durum wheat. J Appl Genet 47:201–205

Yang J, Zhu J, Williams RW (2007) Mapping the genetic architecture of complex traits in experimental populations. Bioinformatics 23:1527–1536

Yi N, Xu S, Allison DB (2003) Bayesian model choice and search strategies for mapping interacting quantitative trait loci. Genetics 165:867–883

Zhang W, Dubcovsky J (2008) Association between allelic variation at the Phytoene synthase 1 gene and yellow pigment content in the wheat grain. Theor Appl Genet 116:635–645

Zhang LP, Yan J, Xia XC, He ZH, Sutherland M (2006) QTL mapping for kernel yellow pigment content in common wheat. Acta Agron Sin 32:41–45

Zhang W, Chao S, Manthey F, Chicaiza O, Brevis JC, Echenique V, Dubcovsky J (2008) QTL analysis of pasta quality using a composite microsatellite and SNP map of durum wheat. Theor Appl Genet 117:1361–1377

Zhang Y, Wu Y, Xiao Y, He Z, Zhang Y, Yan J, Zhang Y, Xia X, Ma C (2009) QTL mapping for flour and noodle colour components and yellow pigment content in common wheat. Euphytica 165:435–444

Zhang C, Dong C, He X, Zhang L, Xia X, He Z (2011) Allelic variants at the TaZds-D1 locus on wheat chromosome 2DL and their association with yellow pigment content. Crop Sci 51:1580–1590
Acknowledgments
We gratefully acknowledge Dr. Jorge Dubcovsky for providing the molecular map and the mapping population to conduct the present analysis. This project was supported by Consejo Nacional de Investigaciones Científicas y Técnicas (CONICET), Universidad Nacional del Sur (UNS) and Agencia Nacional de Promoción Científica y Tecnológica (ANPCyT, PICT 1011). We thank José Bariffi, Liliana Wehrhahne, Pavan Chand Akkiraju and Patricia Gomez for help with field experiments. We also thank Dr. John Rogers from Universidad Nacional del Centro, Bs. As., Argentina for reading the manuscript.
Electronic supplementary material
Below is the link to the electronic supplementary material.
Fig. S1 QTLs mapping of flour brightness (FL*), flour redness (Fa*), flour yellow color (Fb*) and yellow pigment content (YPC) on chromosomes 1B, 5A and 5B in the linkage map of the UC1113 × Kofa RIL population. The centromere is indicated by a grey square. Markers are indicated to the right and their corresponding cumulative genetic distances are indicated to the left. Vertical bars represent the QTL confidence interval with 2-LOD drop off with the name (environment) at the top and the position of the peak is indicated by a horizontal line (genetic map from Zhang et al., 2008) (PPT 195 kb)
About this article
Cite this article
Roncallo, P.F., Cervigni, G.L., Jensen, C. et al. QTL analysis of main and epistatic effects for flour color traits in durum wheat. Euphytica 185, 77–92 (2012). https://doi.org/10.1007/s10681-012-0628-x
Received:

Accepted:

Published:

Issue Date:
Keywords
Quantitative trait loci (QTLs)

Triticum turgidum L. var. durum

Flour color parameters

Yellow pigment content