Abstract
In jute (Corchorus olitorius), quantitative trait loci (QTL) analysis was conducted to study the genetics of eight fibre yield traits and two fibre quality traits. For this purpose, we used a mapping population consisting of 120 recombinant inbred lines (RILs) and also used a linkage map consisting of 36 SSR markers that was developed by us earlier (Das et al. 2011). The RIL population was derived from the cross JRO 524 (coarse fibre) × PPO4 (fine fibre) following single seed descent. Using single-locus analysis involving composite interval mapping, a total of 21 QTLs were identified for eight fibre yield traits whereas for fibre quality (fibre fineness), only one QTL was detected. The QTL for fibre fineness explained 8.31–10.56% of the phenotypic variation and was detected in two out of three environments. Using two-locus analysis involving QTLNetwork, as many as 11 M-QTLs were identified for seven fibre yield traits (excluding top diameter) and one M-QTL was identified for fibre fineness which accounted for 4.57% of the phenotypic variation. For six fibre yield traits, we detected 16 E-QTLs involved in nine QQ epistatic interactions. For fibre fineness, four E-QTLs involved in two QQ epistatic interactions and for fibre strength, six E-QTLs involved in three QQ epistatic interactions were identified. Eight out of the 11 M-QTLs observed for the fibre yield traits were also involved in QE interactions; for fibre fineness and fibre strength, no QE interactions were observed.
Access options
Buy single article
Instant access to the full article PDF.
US$ 39.95
Tax calculation will be finalised during checkout.
Subscribe to journal
Immediate online access to all issues from 2019. Subscription will auto renew annually.
US$ 119
Tax calculation will be finalised during checkout.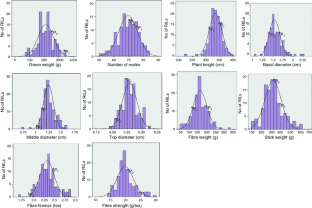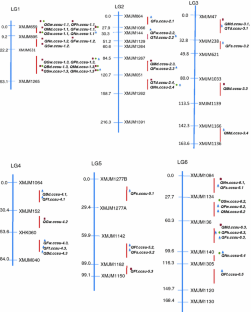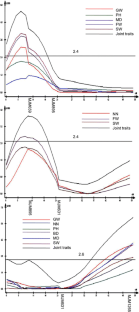 References
Bandhyopadhyay SB (1965) Assessment of jute fibre bundle strength II T.R.L Jute fibre bundle strength testers. Jute Bull 27:11

Bandyopadhyay SB, Sinha NG (1968) An instrument for the measurement of fineness of fibres. Indian J Technol 7:59–62

Benor S, Fuschs J, Frank R, Blattner (2011) Genome size variation in Corchorus olitorius (Malvaceae s.l.) and its correlation with elevation and phenotypic traits. Genome 54:575–585

Börner A, Schumann E, Fürste A, Cöster H, Leithold B, Röder MS, Weber WE (2002) Mapping of quantitative trait loci determining agronomic important characters in hexaploid wheat (Triticum aestivum L.). Theor Appl Genet 105:921–936

Breseghello F, Sorrells ME (2007) QTL analysis of kernel size and shape in two hexaploid wheat mapping populations. Field Crops Res 101:172–179

Campbell KG, Bergman CJ, Gualberto DG, Anderson JA, Giroux MJ, Hareland G, Fulcher RG, Sorrells ME, Finney PL (1999) Quantitative trait loci associated with kernel traits in soft × hard wheat cross. Crop Sci 39:1184–1195

Churchill GA, Doerge RW (1994) Empirical threshold values for quantitative trait mapping. Genetics 138:963–971

Cuthbert JL, Somers DJ, Brûlé'-Babel AL, Brown PD, Crow GH (2008) Molecular mapping of quantitative trait loci for yield and yield components in spring wheat (Triticum aestivum L.). Theor Appl Genet 117:595–608

Das M, Banerjee S, Dhariwal R, Mir RR, Vyas S, Topdar N, Kundu A, Khurana JP, Tyagi AK, Sarkar D, Sinha MK, Balyan HS, Gupta PK (2011) Development of SSR markers and construction of a first generation linkage map in jute. J Genetics (Under review)

Dholakia BB, Ammiraju JSS, Singh H, Lagu MD, Röder MS, Rao VS, Dhaliwal HS, Ranjekar PK, Gupta VS (2003) Molecular marker analysis of kernel size and shape in bread wheat. Plant Breed 122:392–395

Doerge RW, Churchill GA (1996) Permutation tests for multiple loci affecting a quantitative character. Genetics 142:285–294

Goldringer I, Brabant P, Gallais A (1997) Estimation of additive and epistatic genetic variances for agronomic traits in a population of doubled-haploid lines of wheat. Heredity 79:60–71

Groos C, Robert N, Bervas E, Charmet G (2003) Genetic analysis of grain protein content, grain yield and thousand-kernel weight in bread wheat. Theor Appl Genet 106:1032–1040

Gupta PK (2002) Molecular markers and QTL analysis in crop plants. Curr Sci 83:113–114

Hackett CA (2002) Statistical methods of QTL mapping in cereals. Plant Mol Biol 48:585–599

He DH, Lin ZX, Zhang XL, Nie YC, Guo XP, Feng CD, Stewart JM (2005) Mapping QTLs of traits contributing to yield and analysis of genetic effects in tetraploid cotton. Euphytica 144:141–149

He DH, Lin ZX, Zhang XL, Zhang YX, Li W, Nie YC, Guo XP (2008) Dissection of genetic variance of fibre quality in advanced generations from an interspecific cross of Gossypium hirsutum and G. barbadense. Plant Breed 127:286–294

Johnson WC, Gepts P (2002) The role of epistasis in controlling seed yield and other agronomic traits in an Andean × Mesoamerican cross of common bean (Phaseolus vulgaris L.). Euphytica 125:69–79

Karmakar PG, Hazra SK, Ramasubramanium T, Mandal RK, Sinha MK, Sen HS (eds) (2008) Jute and allied fibre updates: production and technology. Central Research Institute for Jute and Allied Fibres, Barrackpore, p 327

Kearsey MJ (2002) QTL analysis: problems and possible solutions. In: Kang MS (ed) Quantitative genetics, genomics and plant breeding. CABI, Wallingford, pp 45–58

Kearsey MJ, Farquhar AGL (1998) QTL analysis in plants: where are we now? Heredity 80:137–142

Kohel R, Yu J, Park YH, Lazo G (2001) Molecular mapping and characterization of traits controlling fibre quality in cotton. Euphytica 121:163–172

Kulwal PL, Singh R, Balyan HS, Gupta PK (2004) Genetic basis of pre-harvest sprouting tolerance using single-locus and two-locus QTL analyses in bread wheat. Funct Integr Genom 4:94–101

Kumar A (2008) Analysis of quantitative traits loci (QTL) for some important traits in bread wheat. A PhD thesis submitted to Ch. Charan Singh University, Meerut

Kumar N, Kulwal PL, Balyan HS, Gupta PK (2007) QTL mapping for yield and yield contributing traits in two mapping populations of bread wheat. Mol Breed 19:163–177

Kumar N, Roy JK, Kulwal PL, Balyan HS, Gupta PK (2009) QTL analysis for growth related traits in intervarietal mapping population of common wheat. J Genet Breed 61:30–38

Lark KG, Chase K, Adler FR, Mansur LM, Orf JH (1995) Interactions between quantitative trait loci in which trait variation, at one locus is conditional upon a specific allele at another. Proc Natl Acad Sci USA 92:4656–4660

Li JZ, Huang XQ, Heinrichs F, Ganal MW, Röder MS (2005) Analysis of QTLs for yield, yield components, and malting quality in a BC3-DH population of spring barley. Theor Appl Genet 110(2):356–363

Li S, Jia J, Wei X, Zhang X, Li L, Chen H, Fan Y, Sun H, Zhao X, Lei T, Xu Y, Jiang F, Wang H, Li L (2007) An intervarietal genetic map and QTL analysis for yield traits in wheat. Mol Breed 20:167–178

Ma XQ, Tang JH, Teng WT, Yan JB, Meng YJ, Li JS (2007) Epistatic interaction is an important genetic basis of grain yield and its components in maize. Mol Breed 20:41–51

Mahmood T, Rahman MH, Stringam GR, Yeh F, Good AG (2006) Identification of quantitative trait loci (QTL) for oil and protein contents and their relationships with other seed quality traits in Brassica juncea. Theor Appl Genet 113:1211–1220

Marza F, Bai GH, Carver BF, Zhou WC (2006) Quantitative trait loci for yield and related traits in the wheat population Ning7840 × Clark. Theor Appl Genet 112:688–698

Mauricio R (2001) Mapping quantitative trait loci in plants: uses and caveats for evolutionary biology. Nat Rev Genet 2:370–381

McIntosh RA, Hart GE, Devos KM, Gale MD, Rogers WJ (1998) Catalogue of gene symbols for wheat. In: Slinkard, AE (ed) Proceedings of the 9th International Wheat Genetics Symposium, University of Saskatchewan, pp 1–236

McIntosh RA, Devos KM, Dubcovsky J, Rogers WJ (2001) Catalogue of gene symbols for wheat: 2001 supplement. Wheat Info Ser 93:40–60

Mei HW, Li ZK, Shu QY, Guo LB, Wang YP, Yu XQ, Ying CS, Luo LJ (2005) Gene actions of QTLs affecting several agronomic traits resolved in a recombinant inbred rice population and two backcross populations. Theor Appl Genet 110:649–659

Mir RR, Banerjee S, Das M, Gupta V, Tyagi AK, Sinha MK, Balyan HS, Gupta PK (2009) Development and characterization of large scale simple sequence repeats in jute. Crop Sci 49:1687–1694

Narain P (2003) Evolutionary genetics and statistical genomics of quantitative characters. Proc Natl Sci Acad India B 36:273–352

Paterson AH, Damon S, Hewitt JD, Zamir JD, Rabinowitch HD, Lincoln SE, Lander ES, Tanksley SD (1991) Mendelian factors underlying quantitative traits in tomato: comparison across species, generations and environments. Genetics 127:181–197

Paterson AH, Saranga Y, Menz M, Jiang CXR, Wright J (2003) QTL analysis of genotype × environment interactions affecting cotton fiber quality. Theor Appl Genet 106:384–396

Quarrie SA, Steed A, Calestani C, Semikhodskii A, Lebreton C, Chinoy C, Steele N, Pljevljakusic D, Waterman E, Weyen J, Schondelmaier J, Habash DZ, Farmer P, Saker L, Clarkson DT, Abugalieva A, Yessimbekova M, Turuspekov Y, Abugalieva S, Tuberosa R, Sanguineti M-C, Hollington PA, Aragues R, Royo A, Dodig D (2005) A high-density genetic map of hexaploid wheat (Triticum aestivum L.) from the cross Chinese Spring × SQ1 and its use to compare QTLs for grain yield across a range of environments. Theor Appl Genet 110:865–880

Saeed M, Guo W, Ullah I, Tabbasam N, Zafar Y, Rahman M, Zhand T (2011) QTL mapping for physiology, yield and plant architecture traits in cotton (Gossypium hirsutum L.) grown under well-watered versus water-stress conditions. Elect J Bot. doi:10.2225/vol14-issue3-fulltext-3

Shen X, Guo W, Zhu X, Yuan Y, Yu JZ, Kohel RJ, Zhang T (2005a) Molecular mapping of QTLs for fiber qualities in three diverse lines in Upland cotton using SSR markers. Mol Breed 15:169–181

Shen X, Zhang T, Guo W, Zhu W, Zhang X (2005b) Mapping fiber and yield QTLs with main, epistatic and QTL × environment interaction effects in recombinant inbred lines of upland cotton. Crop Sci 46:61–66

Sinha MK, Guharoy MK, Sasmal BC (1989) Triallel cross approach to genetical analysis of fibre yield in jute. Phytobreedon 5:13–18

Tanksley SD (1993) Mapping polygenes. Annu Rev Genet 27:205–233

Thomas WTB, Powell W, Waugh R, Chalmers KJ, Barua UM, Jack P, Lea V, Forster BP, Swanston JS, Ellis RP, Hanson PR, Lance RCM (1995) Detection of QTL for agronomic, yield, grain and disease characters in spring barley. Theor Appl Genet 91:1037–1047

Wang DL, Zhu J, Li ZK, Paterson AH (1999) A computer software for mapping quantitative trait loci: QTL with main effects, epistatic effects and QTL × environment interactions. Copyright by Zhejiang University, Hangzhou

Wang B, Wu Y, Guo W, Zhu X, Huang N, Zhang T (2007a) QTL analysis and epistasis effects dissection of fiber qualities in an elite cotton hybrid grown in second generation. Crop Sci 47:1384–1392

Wang B, Guo W, Zhu X, Wu Y, Huang N, Zhang T (2007b) QTL mapping of yield and yield components for elite hybrid derived-RILs in upland cotton. J Genet Genomics 34:35–45

Wang RX, Hai L, Zhang XY, You GX, Yan CS, Xiao SH (2009) QTL mapping for grain filling rate and yield-related traits in RILs of the Chinese winter wheat population Heshangmai × Yu8679. Theor Appl Genet 118:313–325

Xiao J, Li J, Yuan L, Tanksley SD (1996) Identification of QTLs affecting traits of agronomic importance in a recombinant inbred population derived from a subspecific rice cross. Theor Appl Genet 92:230–234

Xing YZ, Tan YF, Hua JP, Sun XL, Xu CG, Zhang Q (2002) Characterization of the main effects, epistatic effects and their environmental interactions of QTLs on the genetic basis of yield traits in rice. Theor Appl Genet 105:248–257

Xu S (2002) QTL analysis in plants. In: Camp NJ, Cox A (eds) Methods in molecular biology, vol 195: quantitative trait loci: methods and protocols. Humana Press Inc., Totowa

Xu Y (2010) Molecular plant breeding. CABI, Wallingford, p 736

Yang J, Zhu J, Williams RW (2007) Mapping the genetic architecture of complex traits in experimental populations. Bioinformatics 23:1527–1536

Yu SB, Li JX, Xu CG, Tan YF, Li XH, Zhang Q (2002) Identification of quantitative trait loci and epistatic interactions for plant height and heading date in rice. Theor Appl Genet 104:619–625

Zhang Z, Friesen TL, Simons KJ, Xu SS, Faris JD (2008) Development, identification, and validation of markers for marker-assisted selection against the Stagonospora nodorum toxin sensitivity genes Tsn1 and Snn2 in wheat. Mol Breed 23:35–49

Zhang Z, Rong J, Waghmare VN, Chee PW, May OL, Wright RJ, Gannaway JR, Paterson AH (2011) QTL alleles for improved fiber quality from a wild Hawaiian cotton, Gossypium tomentosum. Theor Appl Genet 123:1975–1988

Zhao J, Becker HC, Zhang D, Zhang Y, Ecke W (2005) Oil content in a European × Chinese Rapeseed population: QTL with additive and epistatic effects and their genotype–environment interactions. Crop Sci 45:51–59

Zhuang J-Y, Fan Y–Y, Rao Z-M, Wu JL, Xia YW, Zheng KL (2002) Analysis on additive effects and additive-by-additive epistatic effects of QTLs for yield traits in a recombinant inbred line population of rice. Theor Appl Genet 105:1137–1145
Acknowledgments
The financial support from the Department of Biotechnology (DBT), Ministry of Science and Technology, Government of India is gratefully acknowledged.
About this article
Cite this article
Das, M., Banerjee, S., Topdar, N. et al. QTL identification for molecular breeding of fibre yield and fibre quality traits in jute. Euphytica 187, 175–189 (2012). https://doi.org/10.1007/s10681-011-0603-y
Received:

Accepted:

Published:

Issue Date:
Keywords
Corchorus olitorius

Quantitative trait loci

Fibre fineness

Main-effect QTL

Epistatic QTL