Abstract
Chromosome duplication—autopolyploidization—may affect plant morphology and breeding systems, ultimately enabling the production of improved genotypes. In this study, the autotetraploid lines obtained from the self-incompatible diploid Hylocereus monacanthus and the autooctapolyploid lines obtained from the self-compatible tetraploid H. megalanthus were studied and compared with the donor accessions. The resulting H. monacanthus autotetraploids exhibit lower fruit weight, seed number, and pollen viability than the donor plant, but it has larger pollen grains. Although the resulting H. megalanthus autooctaploids had larger pollen grains and lower pollen viability compared with the donor plant, only aborted fruits were obtained from these lines. The most valuable change observed was the breakdown of the self-incompatibility system in the H. monacanthus autotetraploid lines. This research provides important information on the horticultural value of vine cacti autopolyploid lines.
Access options
Buy single article
Instant access to the full article PDF.
USD 39.95
Price includes VAT (USA)
Tax calculation will be finalised during checkout.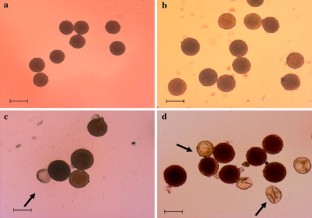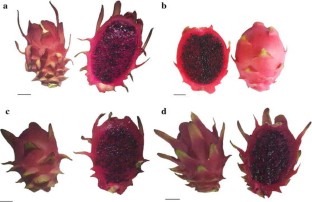 Abbreviations
GSI:

Gametophytic self-incompatibility

SI:

Self-incompatibility
References
Barbeau G (1990) La pitahaya rouge, un nouveau fruit exotique. Fruits 45:141–147

Barthlott W, Hunt DR (1993) Cactaceae. In: Kubitzki K (ed) The families and the genera of vascular plants, vol 2. Springer-Verlag, Berlin, pp 161–196

Britton NL, Rose JN (1963) The Cactaceae. Vol II. Dover, New York, pp 183–212

Campos JMS, Davide LC, Salgado CC, Santos FC, Costa PN, Silva PS, Alves CCS, Viccini LF, Pereira AV (2009) In vitro induction of hexaploid plants from triploid hybrids of Pennisetum purpureum and Pennisetum glaucum. Plant Breed 128:101–104

Ceccarelli M, Minelli S, Falcinelli M, Cionini PG (1993) Genome size and plant development in hexaploid Festuca arundinacea. Heredity 71:555–560

Comai L (2005) The advantages and disadvantages of being polyploid. Nature 6:836–846

Dag A, Mizrahi Y (2005) Effect of pollination method on fruit set and fruit characteristics in the vine cactus Selenicereus megalanthus ("yellow pitaya"). J Hortic Sci Biotech 80:618–622

Dhooghe E, Grunewald W, Leus L, Van-Labeke MC (2009) In vitro polyploidisation of Helleborus species. Euphytica 165:89–95

Doležel J, Binarova P, Lucretti S (1989) Analysis of nuclear DNA content in plant cells by flow cytometry. Biol Plantarum 31:113–120

Dutt M, Vasconcellos M, Song KJ, Gmitter FG, Grosser JW (2010) In vitro production of autotetraploid Ponkan mandarin (Citrus reticulate Blanco) using cell suspension cultures. Euphytica 173:235–242

Eeckhaut TGR, Werbrouck SPO, Leus LWH, van-Bockstaele EJ, Debergh PC (2004) Chemically induced polyploidization in Spathiphillum wallisii Regal through somatic embryogenesis. Plant Cell Tiss Organ Cult 78:241–246

Entani T, Takayama S, Iwano M, Shiba H, Che FS, Isogai A (1999) Relationship between polyploidy and pollen self-incompatibility phenotype in Petunia hybrida Vilm. Biosci Biotech Biochem 63:1882–1888

Gaikwad KJ, Jambhale ND, Bhave SG (2009) Induction of polyploidy in watermelon (Cirullus lanatus (Thunb.) Matsum and Nakai. Agric Biol Res 25:110–118

Glowaka K, Jezowski S, Kaczmarek Z (2010) In vitro induction of polyploidy by colchicine treatment of shoots and preliminary characterization of induced polyploids in two Miscanthus species. Ind Crop Prod 32:88–96

Gmitter FG, Ling XB (1991) Embryogenesis in vitro and nonchimerictetraploid plant-recovery from undeveloped Citrus ovules treated with colchicine. J Am Soc Hortic Sci 116:317–321

Grant V, Grant KA (1979) The pollination spectrum in the Southwestern American Cactus flora. Plant Syst Evol 133:29–37

Hammer K (2001) Cactaceae. In: Hanelt P, Institute of Plant Genetics, Crop Plant Research (eds) Mansfeld′s encyclopedia of agricultural and horticultural crops (except ornamentals). Springer, Berlin, pp 198–222

Heslop-Harrison J, Heslop-Harrison Y (1970) Evaluation of pollen viability by enzymatically induced fluorescence intracellular hydrolysis of fluorescein diacetate. Stain Techn 45:115–120

Hunt D (2006) The new Cactus Lexicon. dh Books, Milborne Port

Kadota M, Niimi Y (2002) In vitro induction of tetraploid plants from diploid Japanese pear cultivars (Pyrus pyrifolia N. cv. Hosui). Plant Cell Rep 21:282–296

Karle R, Parks CA, O'Leary MC, Boyle TH (2002) Polyploidy-induced changes in the breeding behavior of Hatiora x graeseri (Cactaceae). J Am Soc Hortic Sci 127:397–403

Kermani MJ, Sarasan V, Roberts AV, Yokoya K, Wentworth J, Sieber VK (2003) Oryzalin-induced chromosome doubling in Rosa and its effect on plant morphology and pollen viability. Theor Appl Genet 107:1195–1200

Kondorosi E, Roudier F, Gendreau E (2000) Plant cell-size control: growing by ploidy? Curr Opin Plant Biol 3:488–492

Kubayashi T, Shimamura T (1952) Morphological and cytological studies on induced polyploidy in Sesamumindicum L. Jpn J Genet 27:157–171

Kulkarni M, Borse T (2010) Induced polyploidy with gigas expression for root traits in Capsicum annum L. Plant Breed 129:461–464

Lichtenzveig J, Abbo S, Nerd A, Tel-Zur N, Mizrahi Y (2000) Cytology and mating systems in the climbing cacti Hylocereus and Selenicereus. Am J Bot 87:1058–1065

Liu G, Li Z, Bao M (2007) Colchicine-induced chromosome doubling in Planatus acerifolia and its effect on plant morphology. Euphytica 157:145–154

Livermore JR, Johnstone FE (1940) The effect of chromosome doubling on the crossability of S. chacoense, S. jamesii and S. bulbocastanum with S. tuberosum. Am Potato J 17:169–172

McMurphy LM, Rayburn AL (1992) Chromosomal and cell size analysis of cold tolerant maize. Theor Appl Genet 84:798–802

Merten S (2003) A review of Hylocereus production in the United States. J PACD 5:98–105

Mizrahi Y, Nerd A (1999) Climbing and columnar cacti: new arid land fruit crops. In: Janick J (ed) Perspective on new crops and new uses. ASHS Press, Alexandria, pp 358–366

Nerd A, Mizrahi Y (1997) Reproductive biology of cactus fruits crops. Hortic Rev 18:321–346

Nerd A, Tel-Zur N, Mizrahi Y (2002) Fruits of vine and columnar cacti. In: Nobel PS (ed) Cacti biology and uses. University of California Press, Berkeley, pp 185–198

Nobel PS, De La Barrera E (2004) CO2 uptake by the cultivated hemiepiphytic cactus, Hylocereus undatus. Ann Appl Biol 144:1–8

Pandy KK (1968) Cholchicine-induced changes in the self-incompatibility behaviour of Nicotiana. Genetica 39:257–271

Predieri S, Fasolo F, Filiti N (1989) In vitro colchicine treatments on strawberry (Fragaria × ananassa Duch.) shoots. Acta Hortic 265:191–194

Riddle NC, Kato A, Birchler JA (2006) Genetic variation for the response to ploidy change in Zea mays L. Theor Appl Genet 114:101–111

Rieseberg LH, Willis JH (2007) Plant speciation. Science 317:910–914

Sarracino JM, Vorsa N (1991) Self and cross fertility in cranberry. Euphytica 58:129–136

Son TK, Kim JH, Rico CM, Chung IK (2009) Effects of self-incompatibility control substance on self-pollination, fruit set, fruit weight, and number of seeds in Pear. Hort Environ Biotechnol 50:492–496

Takayama S, Isogai A (2005) Self-incompatibility in plants. Annu Rev Plant Biol 56:467–489

Tel-Zur N, Abbo S, Bar-Zvi D, Mizrahi Y (2004) Genetic relationships among Hylocereus and Selenicereus vine cacti (Cactaceae): evidence from hybridization and cytological studies. Ann Bot 94:527–534

Tel-Zur N, Mizrahi Y, Cisneros A, Mouyal J, Schneider B, Doyle JJ (2011a) Phenotypic and genomic characterization of a vine cactus collection (Cactaceae). Genet Resour Crop Evol 58:1075–1085

Tel-Zur N, Dudai M, Raveh E, Mizrahi Y (2011b) In situ induction of chromosome doubling in vine cacti (Cactaceae). Sci Hortic 129:570–576

Valiente-Banuet A, Santos Gally R, Arizmendi MC, Casas A (2007) Pollination biology of the hemiepiphytic cactus Hylocereus undatus in the Tehuacán Valley, Mexico. J Arid Environ 68:1–8

Viehmannova I, Cusimamani EF, Bechyne M, Vyvadilova M, Greplova M (2009) In vitro induction of polyploidy in yacon (Smallanthus sonchifolius). Plant Cell Tiss Organ Cult 97:21–25

Weiss J, Nerd A, Mizrahi Y (1994) Flowering behavior and pollination requirements in climbing cacti with fruit crop potential. HortScience 29:1487–1492

Xu L, Najeeb U, Naeem MS, Daud MK, Cao JS, Gong HJ, Shen WQ, Zhou WJ (2010) Induction of tetraploidy in Juncus effuses by colchicine. Biol Plantarum 54:659–663

Ye YM, Tong J, Shi XP, Yuan W, Li GR (2010) Morphological and cytological studies of diploid and colchicine-induced tetraploid lines of crape myrtle (Lagerstroemia indica L.). Sci Hortic 124:95–101

Zhang Z, Dai H, Xiao M, Liu X (2008) In vitro induction of tetraploids in Phlox subulata L. Euphytica 159:59–65

Zhang QY, Luo FX, Liu L, Guo FC (2010) In vitro induction of tetraploids in crape myrtle (Lagerstroemia indica L.). Plant Cell Tiss Organ Cult 101:41–47

Zlesak DC, Thill CA, Anderson NO (2005) Trifluralin-mediated polyploidization of Rosa chinesisminina (Sims) Voss seedlings. Euphytica 141:281–290
About this article
Cite this article
Cohen, H., Tel-Zur, N. Morphological changes and self-incompatibility breakdown associated with autopolyploidization in Hylocereus species (Cactaceae). Euphytica 184, 345–354 (2012). https://doi.org/10.1007/s10681-011-0536-5
Received:

Accepted:

Published:

Issue Date:
Keywords
Flow cytometry

Fruit weight

Hand pollination

Pollen size and viability

Seed weight