Abstract
Chickpea (Cicer arietinum L.) is known to be salt-sensitive and in many regions of the world its yields are restricted by salinity. Recent identification of large variation in chickpea yield under salinity, if genetically controlled, offers an opportunity to develop cultivars with improved salt tolerance. Two chickpea land races, ICC 6263 (salt sensitive) and ICC 1431 (salt tolerant), were inter-crossed to study gene action involved in different agronomic traits under saline and control conditions. The generation mean analysis in six populations, viz. P1, P2, F1, F2, BC1P1 and BC1P2, revealed significant gene interactions for days to flowering, days to maturity, and stem Na and K concentrations in control and saline treatments, as well as for 100-seed weight under salinity. Seed yield, pods per plant, seeds per plant, and stem Cl concentration were controlled by additive effects under saline conditions. Broad-sense heritability values (>0.5) for most traits were generally higher in saline than in control conditions, whereas the narrow-sense heritability values for yield traits, and stem Na and K concentrations, were lower in saline than control conditions. The influence of the sensitive parent was higher on the expression of different traits; the additive and dominant genes acted in opposite directions which led to lower heritability estimates in early generations. These results indicate that selection for yield under salinity would be more effective in later filial generations after gene fixation.
Access options
Buy single article
Instant access to the full article PDF.
US$ 39.95
Tax calculation will be finalised during checkout.
Subscribe to journal
Immediate online access to all issues from 2019. Subscription will auto renew annually.
US$ 119
Tax calculation will be finalised during checkout.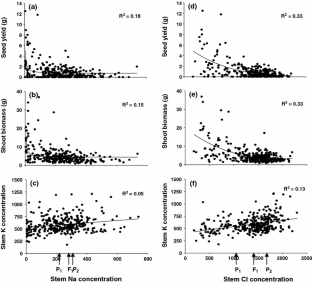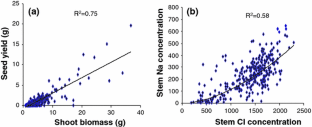 References
Akbar M, Gunawardena IE, Ponnamperuma FN (1986) Breeding for salt stresses. In: Progress in rainfed lowland rice. International Rice Research Institute, Manila, pp 263–272

Ashraf M (1998) Components of genetic variation of salt tolerance in pigeon pea (Cajanus cajan (L.) Millsp.). Arch Agron Soil Sci 43:409–416

Ashraf M, Waheed A (1993) Responses of some genetically diverse lines of chick pea (Cicer arietinum L.) to salt. Plant Soil 154:257–266

Ashraf M, Waheed A (1998) Components of genetic variation of salt tolerance in chickpea (Cicer arietinum L.). Arch Agron Soil Sci 42:415–424

Beaver RJ, Mosjidis JA (1988) Important considerations in the analysis of generation means. Euphytica 39:233–235

Bishnol NR, Laura JS, Sharma KD, Singh N (1990) Effect of salinity, salinization and desalinization on flowering and various yield parameters in pea (Pisum sativum L.) and chickpea (Cicer arietinum L.). Int J Trop Agric 8:148–153

Boursier P, Lauchli A (1989) Mechanisms of chloride partitioning in the leaves of salt-stressed Sorghum bicolor L. Physiol Plant 77:537–544

Cavalli LL (1952) An analysis of linkage in quantitative inheritance. In: Rieve ECE, Waddingon CH (eds) Quantitative inheritance. HMSO, London, p 144

Colmer TD, Munns R, Flowers TJ (2005) Improving salt tolerance of wheat and barley: future prospects. Aust J Exp Agric 45:1425–1443

Cramer GR, Alberico GJ, Schmidt C (1994) Salt tolerance is not associated with the sodium accumulation of two maize hybrids. Aust J Plant Physiol 21:675–692

Dhingra HR, Kajal N, Chhabra S, Varghese TM (1996) Flowering pattern and yield correlation in gram (Cicer arietinum) under influence of salinity and growth-regulators. Indian J Agric Sci 66:230–233

Dua RP (1992) Differential response of chickpea (Cicer arietinum L.) genotypes to salinity. J Agric Sci (Camb) 119:361–371

FAOSTAT (2011) http://faostat.fao.org/. Accessed 11 July 2011

Flowers TJ, Gaur PM, Gowda CLL, Krishnamurthy L, Samineni S, Siddique KHM, Turner NC, Vadez V, Varshney RK, Colmer TD (2010) Salt sensitivity in chickpea. Plant Cell Environ 33:490–509

Foolad MR (1997) Genetic basis of physiological traits related to salinity tolerance in tomato, Lycopersicon esculentum Mill. Plant Breed 116:53–58

Gardner CO (1963) Estimation of genetic parameters in cross fertilizing plants and their implications in plant breeding. In: Hanson WD, Robinson HF (eds) Statistical genetics and plant breeding. NAS-NCR, Washington, pp 53–94

Hayman BI (1958) The separation of epistatic from additive and dominance variation in generation means. Heredity 12:371–390

Johansen C, Saxena NP, Chauhan YS, Subbrao GV, Pundir RPS, Kumar Rao JVDK, Jana MK (1990) Genotypic variation in salinity response of chickpea and pigeonpea. In: Singh SK (ed) Proceedings of the international congress of plant physiology. Society of Plant Physiology and Biochemistry, New Delhi, pp 977–983

Koval VS, Rigin BV (1993) Definition of number of salt tolerance genes of barley (Hordeum vulgare). Rep Acad Sci (Russ) 331:518–520

Lauter DJ, Munns DN (1986) Salt resistance of chickpea genotypes in solutions salinized with NaCl or Na2SO4. Plant Soil 95:271–279

Lauter DJ, Munns DN (1987) Salt sensitivity of chickpea during vegetative growth and at different humidities. Aust J Plant Physiol 14:171–180

Lee DJ, Shannon JG, Vuong TD, Nguyen HT (2009) Inheritance of salt tolerance in wild soybean (Glycine soja Sieb. and Zucc) accession PI483463. J Hered 100:798–801

Luo Q, Yu B, Liu Y (2005) Differential sensitivity to chloride and sodium ions in seedlings of Glycine max and G. soja under NaCl stress. J Plant Physiol 162:1003–1012

Mamo T, Richter C, Heiligtag B (1996) Salinity effects on the growth and ion contents of some chickpea (Cicer arietinum L.) and lentil (Lens culinaris medic) varieties. J Agron Crop Sci (Zeitschrift Fur Acker und Pflanzenbau) 176:235–247

Mather K (1949) Biometrical genetics. Methuen and Co Ltd., London

Mather K, Jinks JL (1971) Biometrical genetics. Chapman and Hall Ltd., London

Mather K, Jinks JL (1982) Introduction to biometrical genetics, 3rd edn. Chapman and Hall Ltd., London

Munns R, Tester M (2008) Mechanisms of salinity tolerance. Annu Rev Plant Biol 59:651–681

Munns R, Rebetzke GJ, Husain S, James RA, Hare A (2003) Genetic control of sodium exclusion in durum wheat. Aust J Agric Res 54:627–635

Murumkar CV, Chavan PD (1986) Influence of salt stress on biochemical processes in chickpea, Cicer arietinum L. Plant Soil 96:439–443

Rengasamy P (2006) World salinization with emphasis on Australia. J Exp Bot 57:1017–1023

Samineni S, Siddique KHM, Gaur PM, Colmer TD (2011) Salt sensitivity of the vegetative and reproductive stages in chickpea (Cicer arietinum L.): podding is a particularly sensitive stage. Environ Exp Bot 71:260–268

Vadez V, Krishnamurthy L, Serraj R, Gaur PM, Upadhyaya HD, Hoisington DA, Varshney RK, Turner NC, Siddique KHM (2007) Large variation in salinity tolerance in chickpea is explained by differences in sensitivity at the reproductive stage. Field Crops Res 104:123–129

Yan X, Zheng S, He Y, Huang N (1992) Rice genotypes differing in salt tolerance I. Growth response and NaCl accumulation of whole plants and their corresponding callus cultures. J Plant Nutr 15:2653–2666
Acknowledgments
The research fellowship, 'Endeavour Postgraduate Award' awarded to SS by the Department of Education, Employment and Workplace relationships (DEEWR), Australia, to pursue PhD is greatly acknowledged. SS also thanks Mr. BV Rao and Mr. MD Aziz for their technical support. Research funds provided by Australian Research Council (ARC) and Council of Grain Growers Organisation (COGGO) to conduct research are greatly acknowledged.
About this article
Cite this article
Samineni, S., Gaur, P.M., Colmer, T.D. et al. Estimation of genetic components of variation for salt tolerance in chickpea using the generation mean analysis. Euphytica 182, 73 (2011). https://doi.org/10.1007/s10681-011-0496-9
Received:

Accepted:

Published:
Keywords
Chickpea

Cicer arietinum

Generation mean analysis

Genetics

Salinity tolerance

Tissue sodium and chloride