Abstract
Pre-harvest sprouting (PHS) greatly reduces the quality and economic value of wheat grain. In this study, a total of 168 International Maize and Wheat Improvement Center (CIMMYT) wheat germplasm lines were examined to characterize the haplotypes of Vp-1A, Vp-1B and Vp-1D, which are located on the long arms of chromosomes 3A, 3B and 3D, respectively. Among them, five new alleles of Vp-1Aa (the wild allele) were identified on chromosome 3A, and designated as Vp-1Ab, Vp-1Ac, Vp-1Ad, Vp-1Ae and Vp-1Af, respectively. The main difference between Vp-1Aa and the newly identified alleles was in the numbers of CTT repeats located in the third intron, but Vp-1Af also had 6 and 2 bp deletions at positions 2860–2865 bp and 2880–2881 bp, and possessed five SNPs within the same intron region. In the Vp-1B locus, several alleles (Vp-1Ba, Vp-1Bb, Vp-1Bc, Vp-1Bd, Vp-1Be and Vp-1Bf) have already been identified. In the present material only two, the already known allele Vp-1Bc, and a new one, designated as Vp-1Bg, were detected. Compared with Vp-Ba, Vp-1Bg had additional insertion of TCC at position 2372 bp and a 9 bp change from CTGCATC AC to GCATCAGTG at 2417–2425 bp. However, no polymorphism was detected in Vp-1D. The frequencies of Vp-1Aa Vp-1Ab, Vp-1Ac, Vp-1Ad, Vp-1Ae, and Vp-1Af were 65, 10, 11, 4, 5 and 5%, respectively. For Vp-1B, 155 out of the 168 lines were Vp-1Bc; the remaining 13 were Vp-1Bg. Analyses of the germination index (GI) and abscisic acid (ABA) sensitivity showed that genotypes with Vp-1Ab or Vp-1Af showed higher PHS resistance than the ones with other alleles, suggesting that they might be valuable for CIMMYT breeding program or germplasm introduction. The results presented here will underpin the introduction of germplasm from CIMMYT and the improvement of PHS resistance, both in CIMMYT and elsewhere.
Access options
Buy single article
Instant access to the full article PDF.
US$ 39.95
Tax calculation will be finalised during checkout.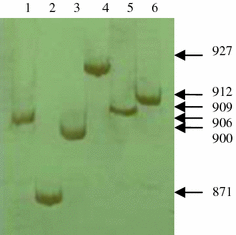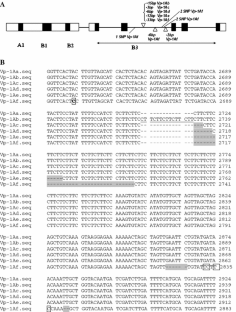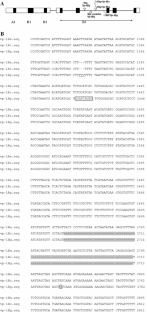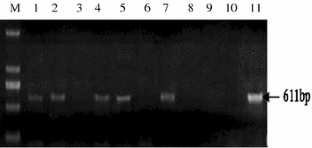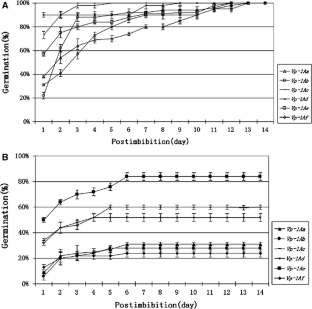 Abbreviations
CIMMYT:

International Maize and Wheat Improvement Center

PHS:

Pre-harvest sprouting

Vp-1 :

Viviparous-1

ABA:

Abscisic acid

SSR:

Simple sequence repeat

QTL:

Quantitative trait locus
References
Bailey PC, McKibbin RS, Lenton JR (1999) Genetic map location for orthologous VP1 genes in wheat and rice. Theor Appl Genet 98:281–284

Bassam BJ, Caetano-Anolles G, Gresshoff PM (1991) Fast and sensitive sliver staining of DNA in polyacrylamide gels. Annal Biochem 196:80–83

Carrari F, Perez-Flores L, Lijavetzky D, Enciso S, Sanchez R, Benech-Arnold R, Iusem N (2001) Cloning and expression of a sorghum gene with homology to maize vp1, its potential involvement in pre-harvest sprouting resistance. Plant Mol Biol 45:631–640

Carson CB, Hattori T, Rosenkrans L, Vasil V, Peterson PA, McCarty DR (1997) The quiescent/colorless alleles of viviparous1 show that the conserved B3 domain of Vp1 is not essential for ABA-regulated gene expression in the seed. Plant J 12:1231–1240

Chang C, Zhang HP, Feng JM, Yin B, Si HQ, Ma CX (2009a) Identifying alleles of Viviparous-1B associated with pre-harvest sprouting in micro-core collections of Chinese wheat germplasm. Mol Breed 25:481–490

Chang C, Feng JM, Si HQ, Yin B, Zhang HP, Ma CX (2009b) Validating a novel allele of viviparous-1 (Vp-1Bf) associated with high seed dormancy of Chinese wheat landrace, Wanxianbaimaizi. Mol Breed 25:517–525

Corbineau F, Benamar A, Come D (2000) Changes in sensitivity to abscisic acid of the developing and maturing embryo of two wheat cultivars with different sprouting susceptibility. Isr J Plant Sci 48:189–197

Derera NF (1990) A perspective of sprouting research. In: Ringlud K, Mosleth E, Mares DJ (eds) Fifth international symposium on pre-harvest sprouting in cereal, pp 1–11

Devos KM, Dubcovsky J, Dvorak J, Chinoy CN, Gale MD (1995) Structural evolution of wheat chromosome 4A, 5A and 7B and its impact on recombination. Theor Appl Genet 91:282–288

Flintham JE (2000) Different genetic components control coat-imposed and embryo-imposed dormancy in wheat. Seed Sci Res 10:43–50

Flintham JE, Adlam R, Bassoi M, Holdsworth M, Gale M (2002) Mapping genes for resistance to sprouting damage in wheat. Euphytica 126:39–45

Fondon JW III, Garner HR (2004) Molecular origins of rapid and continuous morphological evolution. Proc Natl Acad Sci USA 1010:18058–18063

Gale MD, Lenton JR (1987) Preharvest sprouting in wheat: a complex genetic and physiological problem affecting bread making quality in UK wheat. Asp Appl Biol 15:115–124

Gale KR, Ma W, Zhang W, Rampling L, Hill AS, Appels R, Morris P, Morrel M (2001) Simple high-throughput DNA markers for genotyping in wheat. In: Eastwood R et al (eds) 10th Australian wheat breeding assembly proceedings, pp 26–31

Giraudat J, Hauge BM, Valon C, Smalle J, Parcy F, Goodman HM (1992) Isolation of the Arabidopsis ABI3 gene by positional cloning. Plant Cell 4:1251–1261

Groos C, Gay G, Perretant MR, Gervais L, Bernard M, Dedryver F, Charmet G (2002) Study of the relationship between pre-harvest sprouting and grain color by quantitative trait loci analysis in a white × red grain bread wheat cross. Theor Appl Genet 104:39–47

Groot SPC, Karssen CM (1992) Dormancy and germination of abscisic acid-deficient tomato seeds: studies with the sitiens Mutant. Plant Physiol 99:952–958

Hattori T, Terada T, Hamasuna ST (1994) Sequence and functional analysis of the rice gene homologous to maize Vp1. Plant Mol Biol 24:805–810

Heisey PW, Lantican MA, Dubin HJ (2002) Impacts of international wheat breeding research in developing countries 1966–97. CIMMYT, Mexico

Hill A, Nantel A, Rock CD, Quatrano RS (1996) A conserved domain of the viviparous-1 gene product enhances the DNA binding activity of the bZIP protein EmBP-1 and other transcription factors. J Biol Chem 271:3366–3374

Hoecker U, Vasil IK, McCarty DR (1995) Integrated control of seed maturation and germination programs by activator and repressor functions of Viviparous-1 of maize. Genes Dev 9:2459–2469

Humphreys DG, Noll J (2002) Methods for characterization of preharvest sprouting tolerance in a wheat breeding program. Euphytica 126:61–65

Jarne P, Lagoda PJL (1996) Microsatellites, from molecules to populations and back. Trends Ecol Evol 11:424–429

Jones HD, Peters NC, Holdsworth MJ (1997) Genotype and environment interact to control dormancy and differential expression of the VIVIPAROUS 1 homologue in embryos of Avena fatua. Plant J 12:911–920

Kato K, Nakamura W, Tabiki T, Miura H (2001) Detection of loci controlling seed dormancy on group 4 chromosome of wheat and comparative mapping with rice and barley genomes. Theor Appl Genet 102:980–985

Kawakami N, Miyake Y, Noda K (1997) ABA insensitivity and low ABA levels during seed development of non-dormant wheat mutants. J Exp Bot 48:1415–1421

King DG (1997) Evolutionary tuning knobs. Endeavor 21:36–40

Koornneef M, Jorna ML, Brinkhorst Van der Swan DLC, Karssen CM (1982) The isolation of abscisic acid (ABA)-deficient mutants by selection of induced revertants in non-germinating gibberellin sensitive lines of Arabidopsis thaliana (L.) Heynh. Theor Appl Genet 61:385–393

Kruglyak S, Durrett RT, Schug MD, Aquadro CF (1998) Equilibrium distributions of microsatellite repeat length resulting from a balance between slippage events and point mutation. Proc Natl Acad Sci USA 95:10774–10778

Kulwal PL, Singh R, Balyan HS, Gupta PK (2004) Genetic basis of pre-harvest sprouting tolerance using single-locus and two-locus QTL analyses in bread wheat. Funct Integr Genom 4:94–101

Lenton J (2001) Opportunities for the manipulation of development of temperate cereals. Adv Bot Res 34:127–164

Li CD, Ni PX, Francki M, Hunter A, Zhang Y, Schibeci D, Li H, Tarr A, Wang J, Cakir M, Yu J, Bellgard M, Lance R, Appels R (2004) Genes controlling seed dormancy and pre-harvest sprouting in a rice–wheat–barley comparison. Funct Integr Genomics 4:84–93

Lillemo M, Chen F, Xia XC, William M, Pena RJ, Trethowan R, He ZH (2006) Puroindoline hardness alleles in CIMMYT bread wheat germplasm. J Cereal Sci 44:86–92

Lohwasser U, Roder MS, Borner A (2005) QTL mapping of the domestication traits pre-harvest sprouting and dormancy in wheat (Triticum aestivum L.). Euphytica 143:247–249

Mares D, Mrva K, Cheong J, Williams K, Watson B, Storlie E, Sutherland M, Zou Y (2005) A QTL located on chromosome 4A associated with dormancy in white- and red-grained wheats of diverse origin. Theor Appl Genet 111:1357–1364

McCarty DR, Carson CB, Stinard PS, Robertson DS (1989) Molecular analysis of VIVIPAROUS-1: an abscisic acid insensitive mutant of maize. Plant Cell 1:523–532

McCarty DR, Hattori T, Carson CB, Vasil V, Lazar M, Vasil IK (1991) The Viviparous-1 developmental gene of maize encodes a novel transcriptional activator. Cell 66:895–905

McKibbin RS, Wilkinson MD, Bailey PC, Flintham JE, Andrew LM, Lazzeri PA, Gale MD, Lenton JR, Holdsworth MJ (2002) Transcripts of Vp-1 homologues are misspliced in modern wheat and ancestral species. Proc Natl Acad Sci USA 99:10203–10208

Morris CF, Moffatt JM, Sears RG, Paulsen GM (1989) Seed dormancy and responses of caryopses, embryos, and calli to abscisic acid in wheat. Plant Physiol 90:643–647

Nakamura S, Toyama T (2001) Isolation of a VP1 homologue from wheat and analysis of its expression in embryos of dormant and non-dormant cultivars. J Exp Bot 52:875–876

Nakamura S, Komatsuda T, Miura H (2007) Mapping diploid wheat homologues of Arabidopsis seed ABA signaling genes and QTLs for seed dormancy. Theor Appl Genet 114:1129–1139

Nambara E, Keith K, McCourt P, Naito S (1994) Isolation of an internal deletion mutant of the Arabidopsis thaliana ABI3 gene. Plant Cell Physiol 35:509–513

Osa M, Kato K, Mori M, Shindo C, Torada A, Miura H (2003) Mapping QTLs for seed dormancy and the Vp1 homologue on chromosome 3A in wheat. Theor Appl Genet 106:1491–1496

Rajaram S, van Ginkel M (2001) Mexico: 50 years of international wheat breeding. In: Bonjean AP, Angus WJ (eds) The world wheat book. A history of wheat breading. Lavoisier, Paris, pp 579–604

Rohde A, Prinsen E, Rycke De, Engler G, Van MM, Boerjan W (2002) PtABI3 impinges on the growth and differentiation of embryonic leaves during bud set in poplar. Plant Cell 14:1885–1901

Roy JK, Prasad M, Varshney RK (1999) Identification of a microsatellite on chromosomes 6B and a STS on 7D of bread wheat showing an association with pre-harvest sprouting tolerance. Theor Appl Genet 99:336–340

Shen Q, Gomez-Cadenas A, Zhang P, Walker-Simmons MK, Sheen J, Ho TH (2001) Dissection of abscisic acid signal transduction pathways in barley aleurone layers. Plant Mol Biol 47:437–448

Steinkellner H, Scheiber-Mojdehkar B, Goldenberg H, Sturm B (2010) A high throughput electrochemiluminescence assay for the quantification of frataxin protein levels. Anal Chim Acta 659:129–132

Suzuki M, Kao CY, Mctarty DR (1997) The conserved B3 domain of VIVIPAROUS1 has a cooperative DNA binding activity. Plant Cell 9:799–807

Tan BC, Schwartz SH, Zeevaart JAD, McCarty DR (1997) Genetic control of abscisic acid biosynthesis in maize. Proc Natl Acad Sci USA 94:12235–12240

Tan MK, Sharp PJ, Lu MQ, Hows N (2006) Genetics of grain dormancy in a white wheat. Aust J Agric Res 57:1157–1165

Tautz D, Schlotterer C (1994) Simple sequences. Curr Opin Genet Dev 4:832–837

Utsugi S, Nakamura S, Noda K, Maekawa M (2008) Structural and functional properties of Viviparous1 genes in dormant wheat. Gene Genet Syst 83:153–166

Verstrepen KJ, Jansen A, Lewitter F, Fink GR (2005) Intragenic tandem repeats generate functional variability. Nat Gen 37:986–990

Vinces MD, Legendre M, Caldara M, Hagihara M, Verstrepen KJ (2009) Unstable tandem repeats in promoters confer transcriptional evolvability. Science 324:1213–1216

Walker-Simmons MK (1987) ABA levels and sensitivity in developing wheat embryos of sprouting resistant and susceptible cultivars. Plant Physiol 84:61–66

Walker-Simmons MK (1988) Enhancement of ABA responsiveness in wheat embryos at higher temperature. Plant Cell Environ 11:769–775

Weber JL, Wong C (1993) Mutation of human short tandem repeats. Hum Mol Genet 2:1123–1128

Wilkinson M, Lenton J, Holdsworth M (2005) Transcripts of VP-1 homologues are alternatively spliced within the Triticeae tribe. Euphytica 143:243–246

Xia LQ, Ganal MW, Shewry PR, He ZH, Yang Y, Roder M (2008) Evaluation of the Viviparous-1 gene alleles in the European wheat varieties. Euphytica 159:411–417

Xia LQ, Yang Y, Ma YZ, Chen XM, He ZH, Roder MS, Jones HD, Shewry PR (2009) What can the Viviparous-1 gene tell us about wheat pre-harvest sprouting? Euphytica 168:385–394

Xiao SH, Zhang XY, Yan CS, Lin H (2002) Germplasm improvement for preharvest sprouting resistance in Chinese white-grained wheat: an overview of the current strategy. Euphytica 126:35–38

Yang Y, Ma YZ, Xu ZS, Chen XM, He ZH, Yu Z, Wilkinson M, Jones HD, Shewry PR, Xia LQ (2007a) Isolation and characterization of Vp-1 genes in wheat varieties with distinct pre-harvest sprouting tolerance and ABA sensitivity. J Exp Bot 58(11):2863–2871

Yang Y, Zhao XL, Xia LQ, Chen XM, He ZH, Roder MS (2007b) Development and validation of a Vp-1 STS marker for pre-harvest sprouting in Chinese wheats. Theor Appl Genet 115:971–980

Yang Y, Chen XM, He ZH, Roder M, Xia LQ (2009) Distribution of Vp-1 alleles in Chinese white-grained landraces, historical and current wheat cultivars. Cereal Res Commun 37:169–177

Zhang XR, Garreton V, Chua NH (2006) The AIP2 E3 ligase acts as a novel negative regulator of ABA signalling by promoting ABI degradation. Genes Dev 19:1532–1543
Acknowledgments
This project was partly funded by the China National Basic Research Program (2009CB118300). Rothamsted Research receives grant-aided support from the Biotechnology and Biological Sciences Research Council (BBSRC) of the UK. The work was partially supported by a BBSRC China Partnering Award (CPA 1604).
About this article
Cite this article
Sun, Y.W., Jones, H.D., Yang, Y. et al. Haplotype analysis of Viviparous-1 gene in CIMMYT elite bread wheat germplasm. Euphytica 186, 25–43 (2012). https://doi.org/10.1007/s10681-011-0482-2
Received:

Accepted:

Published:

Issue Date:
Keywords
CIMMYT wheats

Pre-harvest sprouting

Viviparous-1

Haplotype

Seed dormancy