Abstract
We report the first successful production of PRSV-P resistant backcross (BC) papaya plants following intergeneric hybridisation between C. papaya and a Vasconcellea species after 50 years of reports on unsuccessful attempts. This follows our previous reports of PRSV-P resistant F1 hybrids developed by intergeneric hybridisation between C. papaya and V. quercifolia. One PRSV-P resistant BC 1 (BC1) plant was produced after 114,839 seeds were dissected from 940 fruits. The seeds yielded 1,011 embryos and 733 germinated in vitro from which 700 developed into plantlets that were screened in a glasshouse and in the field under high disease pressure and exposure to inoculation by viruliferous aphids. From the PRSV-P resistant backcross 1 (BC1) male plant, 1465 plants [137 BC2, 546 SbC2 (BC2 sib-crosses), 147 BC3, 379 SbC3 and 256 BC4] were grown from seed and inoculated with PRSV-P and virus resistant BC3 and BC4 plants were selected from these generations. Presence or absence of virus was confirmed by ELISA serological tests. BC plants generally developed mild symptoms of PRSV-P after periods ranging from 5 to 18 months in the field but many showed the ability to produce new growth free of symptoms. All control plants developed severe symptoms after 3 months in the field. Some BC3 and BC4 plants were free from viral infection after 18 months in the field. Subsequently they developed very mild symptoms on their leaves and a few ringspots on their fruit. They continued to grow vigorously and produce fruit for 3 years under high disease pressure provided by the infected controls and other susceptible plants. Good quality marketable fruit were produced on these plants. Application of these results should lead to restoration of the papaya industry in virus-infested regions of the Philippines and worldwide.
Access options
Buy single article
Instant access to the full article PDF.
US$ 39.95
Tax calculation will be finalised during checkout.
Subscribe to journal
Immediate online access to all issues from 2019. Subscription will auto renew annually.
US$ 119
Tax calculation will be finalised during checkout.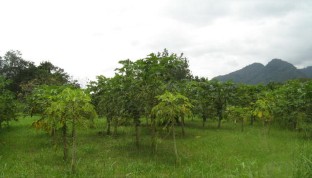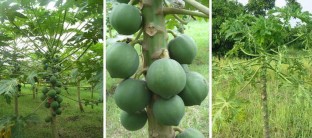 References
Badillo VM (2000) Carica L. vs. Vasconcella St. Hil. (Caricaceae): con la rehabilitacion de este ultimo. Ernstia 10:74–79

Capoor SP, Varma PM (1958) A mosaic disease of papaya in Bombay. Indian J of Agric Sci 28:225–233

Chen MW, Chen CC, Wang DN, Chen FC (1991) Somatic embryogenesis and plant regeneration from immature embryos of Carica papaya × Carica cauliflora cultured in vitro. Can J Bot 69:1913–1918

Conover RA (1964) Distortion ringspot, a severe virus disease of papaya in Florida. Proc Fla State Hort Soc 77:447–448

Drew RA (1992) Improved techniques for in vitro propagation and germplasm storage of papaya. Hort Sci 27:1122–1124

Drew RA, O'Brien CM, Magdalita PM (1998) Development of Carica interspecific hybrids. Acta Hort 461:285–292

Drew RA, Siar SV, O'Brien CM, Magdalita PM, Sajise AGC (2006a) Breeding for papaya ringspot virus resistance in Carica papaya L. via hybridisation with Vasconcellea quercifolia. Aust J Exp Agric 46:413–418

Drew RA, Siar SV, O'Brien CM, Sajise AGC (2006b) Progress in backcrossing between Carica papaya × Vasconcellea quercifolia intergeneric hybrids and C. papaya. Aust J Exp Agric 46:419–424

Gonsalves D, Vegas A, Prasartsee V, Drew R, Suzuki J, Tripathi S (2005) Developing papaya to control papaya ringspot virus by transgenic resistance, intergeneric hybridisation, and tolerance breeding. Plant Breed Rev 26:35–78

Hamilton RA (1986) A preliminary report on occurrence and control of papaya mosaic virus in the Philippines. Philippine Council for Agriculture, Forestry and Natural Resources Research and Development (PCARRD), Los Banos

Holmes FO, Hendrix J, Ireka W, Jensen DD, Linder RC, Storey WB (1948) Ringspot of papaya (Carica papaya) in the Hawaii islands. Phytopathology 38:310–312

Horovitz S, Jimenez H (1967) Cruzamientos interspecificos y intergenericos in Caricaceas y sus implicaciones fitotecnicas. Agron Trop (Maracay) 17:323–343

Jiménez H, Horovitz S (1958) Cruzabilidad entre especies de Carica. Agron Trop 7:207–215

Jobin-Décor MP, Graham GC, Henry RJ, Drew RA (1997) RAPD and isozyme analysis of genetic relationships between Carica papaya and wild relatives. Genet Resour Crop Ev 44:471–477

Khuspe S, Hendre R, Mascarenhas A, Jaganathan V, Thombre M, Joshi A (1980) Utilization of tissue culture to isolate interspecific hybrids in Carica. In: National symposium on plant tissue culture. Genetic manipulation and somatic hybridization of plant cells. Bhabha Atomic Research Center, Bombay

Kulkarni HY (1970) Decline viruses of papaw (Carica papaya L.) in East Africa. Ann Appl Biol 66:1–9

Lindner RC, Jensen DD, Ikeda W (1945) Ringspot: new papaya plunderer. Hawaii Farm Home 8:10–14

Litz RE (1985) Papaya (Carica papaya L.). In: Bajaj YPS (ed) Biotechnology in agriculture and forestry I. Trees I. Springer-Verlag, Berlin, pp 220–232

Litz RE, Conover RA (1983) High-frequency somatic embryogenesis from Carica suspension cultures. Ann Bot 51:683–686

Magdalita PM, Villegas VN, Pimentel RB, Bayot RG (1988) Reaction of papaya (Carica papaya L.) and related Carica species to ringspot virus. Philip J Crop Sci 13:129–132

Magdalita PM, Adkins SW, Godwin ID, Drew RA (1996) An improved embryo-rescue protocol for a Carica interspecific hybrid. Aust J Bot 44:343–353

Manshardt RM, Drew RA (1998) Biotechnology of papaya. Acta Hort 461:65–73

Manshardt RM, Wenslaff TF (1989a) Zygotic polyembryony in interspecific hybrids of Carica papaya and C. cauliflora. J Am Soc Hort Sci 114:684–689

Manshardt RM, Wenslaff TF (1989b) Interspecific hybridization of papaya with other Carica species. J Am Soc Hort Sci 114:689–694

Mekako HU, Nakasone HY (1975) Interspecific hybridization among 6 Carica species. J Am Soc Hort Sci 100:237–242

Moore G, Litz R (1984) Biochemical markers for Carica papaya, C. cauliflora, and plants from somatic embryos of their hybrid. J Am Soc Hort Sci 109:213–218

Opina OS (1986) Studies on a new virus disease of papaya in the Philippines. Food Fert Technology Centre Bulletin 33:157–168

Sawant A (1958) Relationships in the genus Carica. Evolution 12:263–266

Storey WB (1976) Papaya. In: Simmonds NW (ed) Evolution of crop plants. Longman Inc, New York, pp 21–24

Thomas JE, Dodman RL (1993) The first record of papaya ringspot virus-type P from Australia. Australas Plant Pathol 22:1–7

Van Droogenbroeck B, Maertens I, O'Brien C, Drew RA, Gheysen G (2005) Maternal inheritance of cytoplasmic organelles in intergeneric hybrids of Carica papaya L. and Vasconcellea spp. (Caricaceae Dumort., Brassicales). Euphytica 143:161–168
About this article
Cite this article
Siar, S.V., Beligan, G.A., Sajise, A.J.C. et al. Papaya ringspot virus resistance in Carica papaya via introgression from Vasconcellea quercifolia . Euphytica 181, 159–168 (2011). https://doi.org/10.1007/s10681-011-0388-z
Received:

Accepted:

Published:

Issue Date:
Keywords
Embryo rescue

In vitro culture

Philippine strain of PRSV-P