Abstract
In order to implement reliable marker-assisted selection systems for the restorer-of-fertility locus (Ms) in onions (Allium cepa L.), simple PCR-based codominant markers linked to the Ms locus were developed. Based on the EST probe sequences of previously reported RFLP markers, full-length genomic sequences of the gene encoding putative oligopeptide transporter (OPT) was obtained by RACE. The first intron contained two 108 and 439-bp indel polymorphisms between the two Ms allele-linked OPT alleles. A simple PCR marker for OPT was developed by designing a primer pair on the flanking regions of the 108-bp indel which is created by two tandem repeats. The second simple PCR marker was developed from the EST probe encoding photosystem I subunit O (PsaO). Two 14 and 39-bp tandem repeats were identified from the 5′ upstream sequences of the PsaO-coding gene, which were isolated by genome walking. Three different compositions of these tandem repeats were identified from diverse onion germplasm. A primer set binding to the flanking sequence of these polymorphic repeats was used to amplify three different marker haplotypes. The OPT marker was tightly linked to the Ms locus at a distance of 1.5 cM, but the analysis of the linkage relationship showed little linkage disequilibrium between the marker and the Ms locus. Even so, these simple PCR markers are valuable tools for the marker-assisted selection of segregating individuals in onion F1 hybrid breeding programs.
Access options
Buy single article
Instant access to the full article PDF.
USD 39.95
Price excludes VAT (USA)
Tax calculation will be finalised during checkout.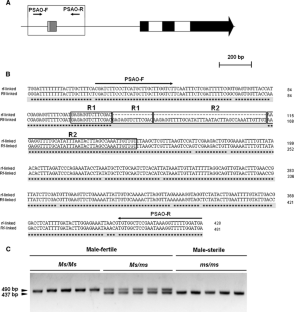 References
Abdelnoor RV, Yule R, Elo A, Christensen AC, Meyer-Gauen G, Mackenzie SA (2003) Substoichiometric shifting in the plant mitochondrial genome is influenced by a gene homologous to MutS. Proc Natl Acad Sci 100:5968–5973

Abdelnoor RV, Christensen AC, Mohammed S, Munoz-Castillo B, Moriyama H, Mackenzie SA (2006) Mitochondrial genome dynamics in plants and animals: convergent gene fusions of a MutS homologue. J Mol Evol 63:165–173

Albert B, Godelle B, Gouyon PH (1998) Evolution of the plant mitochondrial genome: dynamics of duplication and deletion of sequences. J Mol Evol 46:155–158

Andersen JR, Lübberstedt T (2003) Functional markers in plants. Trends Plant Sci 8:554–560

Arrieta-Montiel M, Lyznik A, Woloszynska M, Janska H, Tohme J, Mackenzie S (2001) Tracing evolutionary and developmental implications of mitochondrial stoichiometric shifting in the common bean. Genetics 158:851–864

Benson G (1999) Tandem repeats finder: a program to analyze DNA sequences. Nucleic Acids Res 27:573–580

Bentolila S, Alfonso AA, Hanson MR (2002) A pentatricopeptide repeat-containing gene restores fertility to cytoplasmic male-sterile plants. Proc Natl Acad Sci 99:10887–10892

Berninger E (1965) Contribution à l'étude de la sterilité mâle de l'oignon (Allium cepa L.). Ann Amélior Plant 15:183–199

Bilgen M, Karaca M, Onus AN, Ince AG (2004) A software program combining sequence motif searches with keywords for finding repeats containing DNA sequences. Bioinformatics 20:3379–3386

Bois PRJ (2003) Hypermutable minisatellites, a human affair? Genomics 81:349–355

Brown GG, Formanova N, Jin H, Wargachuk R, Dendy C, Patil P, Laforest M, Zhang J, Cheung WY, Landry BS (2003) The radish Rfo restorer gene of Ogura cytoplasmic male sterility encodes a protein with multiple pentatricopeptide repeats. Plant J 35:262–272

Budar F, Touzet P, De Paepe R (2003) The nucleo-mitochondrial conflict in cytoplasmic male sterilities revised. Genetica 117:3–16

Cannon SB, Sterck L, Rombauts S, Sato S, Cheung F, Gouzy J, Wang X, Mudge J, Vasdewani J, Schiex T, Spannagl M, Monaghan E, Nicholson C, Humphray SJ, Schoof H, Mayer KFX, Rogers J, Quétierk F, Oldroyd GE, Debellé F, Cook DR, Retzel EF, Roe BA, Town CD, Tabata S, Van de Peer Y, Young ND (2006) Legume genome evolution viewed through the Medicago truncatula and Lotus japonicas genomes. Proc Natl Acad Sci 103:14959–14964

Cui X, Wise RP, Schnable PS (1996) The rf2 nuclear restorer gene of male-sterile T-cytoplasm maize. Science 272:1334–1336

de Givry S, Bouchez M, Chabrier P, Milan D, Schiex T (2005) CarthaGene: multipopulation intergrated genetic and radiated hybrid mapping. Bioinformatics 21:1703–1704

Desloire S, Gherbi H, Laloui W, Marhadour S, Clouet V, Cattolico L, Falentin C, Giancola S, Renard M, Budar F, Small I, Caboche M, Delourme R, Bendahmane A (2003) Identification of the fertility restoration locus, Rfo, in radish, as a member of the pentatricopeptide-repeat protein family. EMBO Rep 4:588–594

Engelke T, Terefe D, Tatlioglu T (2003) A PCR-based marker system monitoring CMS-(S), CMS-(T) and (N)-cytoplasm in the onion (Allium cepa L.). Theor Appl Genet 107:162–167

Fauron CMR, Havlik M, Brettell RIS (1990) The mitochondrial genome organization of a maize fertile cmsT revertant line is generated through recombination between two sets of repeats. Genetics 124:423–428

Fuji S, Toriyama K (2009) Suppressed expression of RETROGRADE-REGULATED MALE STERILITY restores pollen fertility in cytoplasmic male sterile rice plants. Proc Natl Acad Sci 106:9513–9518

Gillman JD, Bentolila S, Hanson MR (2007) The petunia restorer of fertility protein is part of a large mitochondrial complex that interacts with transcripts of the CMS-associated locus. Plant J 49:217–227

Gökçe AF, Havey MJ (2002) Linkage equilibrium among tightly linked RFLPs and the Ms locus in open-pollinated onion populations. J Am Soc Hort Sci 127:944–946

Gökçe AF, McCallum J, Sato Y, Havey MJ (2002) Molecular tagging of the Ms locus in onion. J Am Soc Hort Sci 127:576–582

Gothandam KM, Kim E, Cho H, Chung Y (2005) OsPPR1, a pentatricopeptide repeat protein of rice is essential for the chloroplast biogenesis. Plant Mol Biol 58:421–433

Hanson MR (1991) Plant mitochondrial mutations and male sterility. Annu Rev Genet 25:461–486

Hanson MR, Bentolila S (2004) Interactions of mitochondrial and nuclear genes that affect male gametophyte development. Plant Cell 16:S154–S169

Havey MJ (1995) Identification of cytoplasms using the polymerase chain reaction to aid in the extraction of maintainer lines from open-pollinated populations of onion. Theor Appl Genet 90:263–268

Havey MJ (2000) Diversity among male-sterility-inducing and male-fertile cytoplasms of onion. Theor Appl Genet 101:778–782

Hawkins JS, Grover CE, Wendel JF (2008) Repeated big bangs and the expanding universe: directionality in plant genome size evolution. Plant Sci 174:557–562

He J, Ke L, Hong D, Xie Y, Wang G, Liu P, Yang G (2008) Fine mapping of a recessive genic male sterility gene (Bnms3) in rapeseed (Brassica napus) with AFLP- and Arabidopsis-derived PCR markers. Theor Appl Genet 117:11–18

Janska H, Sarria R, Woloszynska M, Arrieta-Montiel M, Mackenzie SA (1998) Stoichiometric shifts in the common bean mitochondrial genome leading to male sterility and spontaneous reversion to fertility. Plant Cell 10:1163–1180

Jeffreys AJ, Wilson V, Thein SL (1985) Hypervariable 'minisatellite' regions in human DNA. Nature 314:67–73

Jones HA, Clarke A (1943) Inheritance of male sterility in the onion and the production of hybrid seed. Proc Am Soc Hort Sci 43:189–194

Jones HA, Emsweller SL (1936) A male-sterile onion. Proc Am Soc Hort Sci 34:582–585

Kanazawa A, Tsutsumi N, Hirai A (1994) Reversible changes in the composition of the population of mtDNAs during dedifferentiation and regeneration in tobacco. Genetics 138:865–870

Kazama T, Nakamura T, Watanabe M, Sugita M, Toriyama K (2008) Suppression mechanism of mitochondrial ORF79 accumulation by Rf1 protein in BT-type cytoplasmic male sterile rice. Plant J 55:619–628

Kim S, Yoon M (2010) Comparison of mitochondrial and chloroplast genome segments from three onion (Allium cepa L.) cytoplasm types and identification of trans-splicing intron of cox2. Curr Genet, in press, doi:10.1007/s00294-010-0290-6

Kim S, Binzel ML, Yoo KS, Park S, Pike LM (2004) Pink (P), a new locus responsible for a pink trait in onions (Allium cepa) resulting from natural mutations of anthocyanidin synthase. Mol Genet Genomics 272:1827

Kim S, Lee E, Cho DY, Han T, Bang H, Patil BS, Ahn YK, Yoon M (2009) Identification of a novel chimeric gene, orf725, and its use in development of a molecular marker for distinguishing three cytoplasm types in onion (Allium cepa L.). Theor Appl Genet 118:433–441

Klein RR, Klein PE, Mullet JE, Minx P, Rooney WL, Schertz KF (2005) Fertility restorer locus Rf1 of sorghum (Sorghum bicolor L.) encodes a pentatricopeptide repeat protein not present in the collinear region of rice chromosome 12. Theor Appl Genet 111:994–1012

Knoop V (2004) The mitochondrial DNA of land plants: peculiarities in phylogenetic perspective. Curr Genet 46:123–139

Koizuka N, Imai R, Fujimoto H, Hayakawa T, Kimura Y, Kohno-Murase J, Sakai T, Kawasaki S, Imamura J (2003) Genetic characterization of a pentatricopeptide repeat protein gene, orf687, that restores fertility in the cytoplasmic male-sterile Kosena radish. Plant J 34:407–415

Komori T, Ohta S, Murai N, Takakura Y, Kuraya Y, Suzuki S, Hiei Y, Imaseki H, Nitta N (2004) Map-based cloning of a fertility restorer gene, Rf-1, in rice (Oryza sativa L.). Plant J 37:315–325

Kosambi DD (1944) The estimation of map distance from recombination values. Ann Eugen 12:172–175

Lurin C, Andres C, Aubourg S, Bellaoui M, Bitton F, Bruyere C, Caboche M, Debast C, Gualberto J, Hoffmann B, Lecharny A, Le Ret M, Martin-Magniete M, Mireau H, Peeters N, Renou J, Szurek B, Taconnat L, Small I (2004) Genome-wide analysis of Arabidopsis pentatricopeptide repeat proteins reveals their essential role in organelle biogenesis. Plant Cell 16:2089–2103

Mackenzie SA, Chase CD (1990) Fertility restoration is associated with loss of a portion of the mitochondrial genome in cytoplasmic male-sterile common bean. Plant Cell 2:905–912

Martin WJ, McCallum J, Shigyo M, Jakse J, Kuhl JC, Yamane N, Pither-Joyce M, Gokce AF, Sink KC, Town CD, Havey MJ (2005) Genetic mapping of expressed sequences in onion and in silico comparisons with rice show scant colinearity. Mol Gen Genomics 274:197–204

Murray MG, Thompson WF (1980) Rapid isolation of high-molecular-weight plant DNA. Nucleic Acids Res 8:4321–4326

Neeraja CN, Maghirang-Rodriguez R, Pamplona A, Heuer S, Collard BCY, Septiningsih EM, Vergara G, Sanchez D, Xu K, Ismail AM, Mackill DJ (2007) A marker-assisted backcross approach for developing submergence-tolerant rice cultivars. Theor Appl Genet 115:767–776

Nieto C, Morales M, Orjeda G, Clepet C, Monfort A, Sturbois B, Puigdomènech P, Pitrat M, Caboche M, Dogimont C, Garcia-Mas J, Aranda MA, Bendahmane A (2006) An elF4E allele confers resistance to an uncapped and non-polyadenylated RNA virus in melon. Plant J 48:452–462

Palmer JD (1988) Intraspecific variation and multicircularity in Brassica mitochondrial DNAs. Genetics 118:341–351

Palmer JD, Herbon LA (1987) Unicircular structure of the Brassica hirta mitochondrial genome. Curr Genet 11:565–570

Ramu P, Kassahun B, Senthilvel S, Kumar CA, Jayashree B, Folkertsma RT, Reddy LA, Kuruvinashetti MS, Haussmann BIG, Hash CT (2009) Exploiting rice-sorghum synteny for targeted development of EST-SSRs to enrich the sorghum genetic linkage map. Theor Appl Genet 119:1193–1204

Sandhu AS, Abdelnoor RV, Mackenzie SA (2007) Transgenic induction of mitochondrial rearrangements for cytoplasmic male sterility in crop plants. Proc Natl Acad Sci 104:1766–1770

Sato Y (1998) PCR amplification of CMS-specific mitochondrial nucleotide sequences to identify cytoplasmic genotypes of onion (Allium cepa L.). Theor Appl Genet 96:367–370

Schmitz-Linneweber C, Small I (2008) Pentatricopeptide repeat proteins: a socket set for organelle gene expression. Trends Plant Sci 13:663–670

Schweisguth B (1973) Étude d'un nouveau type de stérilité male chez l'oignon, Allium cepa L. Ann Amélior Plant 23:221–233

Sharopova N (2008) Plant simple sequence repeats: distribution, variation, and effects on gene expression. Genome 51:79–90

Shedge V, Arrieta-Montiel M, Christensen AC, Mackenzie SA (2007) Plant mitochondrial recombination surveillance requires unusual RecA and MutS homologs. Plant Cell 19:1251–1264

Small ID, Peeters N (2000) The PPR motif—a TPR-related motif prevalent in plant organellar proteins. Trends Biochem Sci 25:45–47

Small I, Suffolk R, Leaver CJ (1989) Evolution of plant mitochondrial genomes via substoichiometric intermediates. Cell 58:69–76

The Arabidopsis Genome Initiative (2000) Analysis of the genome sequence of the flowering plant Arabidopsis thaliana. Nature 408:796–815

Vergnaud G, Denoeud F (2000) Minisatellites: mutability and genome architecture. Genome Res 10:899–907

Wang Z, Zou Y, Li X, Zhang Q, Chen L, Wu H, Su D, Chen Y, Guo J, Luo D, Long Y, Zhong Y, Liu Y (2006) Cytoplasmic male sterility of rice with Boro II cytoplasm is caused by a cytotoxic peptide and is restored by two related PPR motif genes via distinct modes of mRNA silencing. Plant Cell 18:676–687

Ward BL, Anderson RS, Bendich AJ (1981) The mitochondrial genome is large and variable in a family of plants (Cucurbitaceae). Cell 25:793–803

Zaegel V, Guermann B, Le Ret M, Andrés C, Meyer D, Erhardt M, Canaday J, Gualberto JM, Imbault P (2006) The plant-specific ssDNA binding protein OSB1 is involved in the stoichiometric transmission of mitochondrial DNA in Arabidopsis. Plant Cell 18:3548–3563

Zakrzewski F, Wenke T, Holtgraewe D, Weisshaar B, Schmidt T (2010) Analysis of a c0t-1 library enables the targeted identification of minisatellites and satellite families in Beta vulgaris. BMC Plant Biol 10:8. doi:10.1186/1471-2229-10-8
Acknowledgments
This research was supported by the Agriculture Research Center program and a grant (110046-3) of the Ministry for Food, Agriculture, Forestry and Fisheries, Korea, and also partially supported by a grant (PJ005407), the Specific Joint Agricultural Research-promoting Projects, RDA, Republic of Korea. We thank Seung-Hee Kim and Seon Chong for their dedicated technical help.
Electronic supplementary material
Below is the link to the electronic supplementary material.
About this article
Cite this article
Bang, H., Cho, D.Y., Yoo, KS. et al. Development of simple PCR-based markers linked to the Ms locus, a restorer-of-fertility gene in onion (Allium cepa L.). Euphytica 179, 439–449 (2011). https://doi.org/10.1007/s10681-010-0342-5
Received:

Accepted:

Published:

Issue Date:

DOI: https://doi.org/10.1007/s10681-010-0342-5
Keywords