Abstract
Five inbred lines, 10 single cross maize (Zea mays L.) hybrids and two standard cultivars as check were used to study the combining abilities and heterosis under three environmental conditions. Random amplified polymorphic DNAs (RAPDs) markers were used to study the genetic diversity (GD) and further to analyze relationship of RAPDs based GD with combining ability and heterosis in short duration maize. Spearman's rank correlation coefficients and linear regressions were analyzed to identify the most important factor determining heterosis and per se performance of the hybrids. Variances due to general combining ability (GCA), specific combining ability (SCA) and their interactions with environment were found to be significant. Twenty random primers generated 179 RAPD fragments. Of these, 102 RAPD fragments were polymorphic. GD was determined using Jaccard's similarity coefficient, and a dendogram was constructed by UPGMA cluster analysis. The RAPDs based GD exhibited non-significant negative or positive association, non-significant linear regression along with very low coefficient of determination (R 2) with SCA, high and mid parent heterosis (HP and MP) and per se performance of the hybrids. Significant positive correlations and regressions along with high coefficients of determination were recorded for SCA with HP, MP and per se performance of the hybrids. The HP and MP also established significant positive association and linear regression along with high coefficient of determination with per se performance of hybrids whereas the parental mean did not establish any significant correlations with the GD, HPH, MPH and grain yield of F1s. The present investigation, therefore, did not find any role of RAPDs based GD in determining hybrid heterosis and hybrid performance in short duration sub-tropical maize. The SCA, however, has emerged as the most important factor in determination of heterosis as well as per se performance of the hybrids in short duration maize.
Access options
Buy single article
Instant access to the full article PDF.
USD 39.95
Price excludes VAT (USA)
Tax calculation will be finalised during checkout.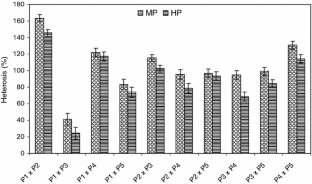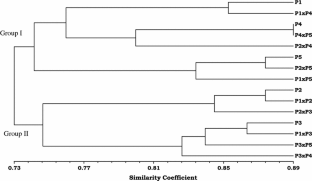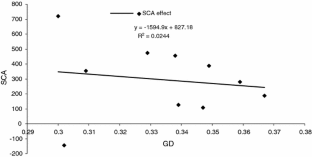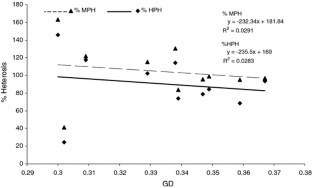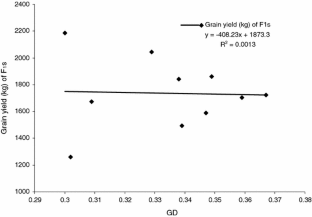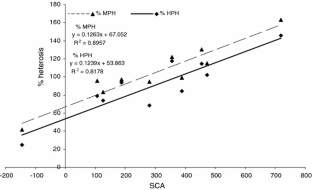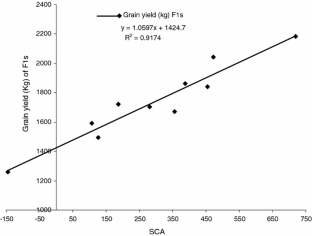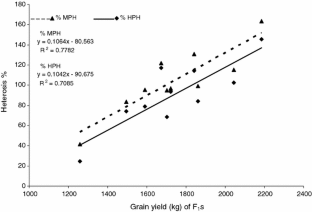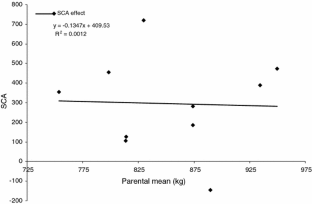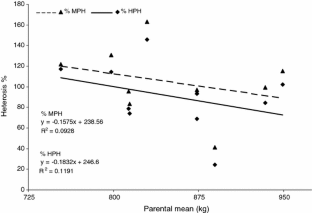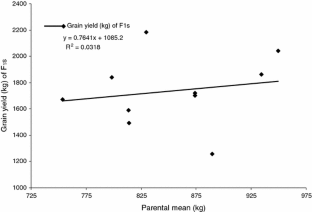 References
Ajmone-Marsan P, Egidy G, Monfredini G, di Silvestro S, Motto M (1993) RAPD markers in maize genetic analysis. Maydica 38:259–264

Ajmone-Marsan P, Castiglioni P, Fusari FI, Kuiper M, Motto M (1998) Genetic diversity and its relationship to hybrid performance in maize as revealed by RFLP and AFLP markers. Theor Appl Genet 96:219–227

Allard RW (1960) Principles of plant breeding. Wiley, NY, 485 pp

Amorim EP, Amorim VBO, dos Santos JB, de Souza AP, de Souza JC (2006) Genetic distance based on SSR and grain yield of inter and intrapopulational maize single cross hybrids. Maydica 51:507–513

Balestre M, Von Pinho RG, Souza JC, Lima JL (2008) Comparison of maize similarity and dissimilarity genetic coefficients based on microsatellite markers. Genet Mol Res 7:695–705

Balestre M, Von Pinho RG, Souza JC (2010) Prediction of maize single cross performance by mixed linear models with microsatellite marker information. Genet Mol Res 9:1054–1068

Bauman LF (1981) Review of methods used by breeders to develop superior corn inbreds. Proc Annu Corn Sorghum Ind Res Conf 36:199–208

Beck DL, Vasal SK, Crossa J (1990) Heterosis and combining ability of CIMMYT's tropical early and intermediate maturity maize (Zea mays L.) germplasm. Maydica 35:279–285

Bernardo R (1992) Relationship between single-cross performance and molecular marker heterozygosity. Theor Appl Genet 83:628–634

Betran FJ, Ribaut JM, Beck D, de Leon DG (2003) Genetic diversity, specific combining ability, and heterosis in tropical maize under stress and nonstress environments. Crop Sci 43:797–806

Charcosset A, Essioux L (1994) The effect of population structure on the relationship between heterosis and heterozygosity at marker loci. Theor Appl Genet 89:336–343

Cress CE (1966) Heterosis of the hybrid related to gene frequency difference between two populations. Genetics 53:269–274

de Souza LV, Miranda GV, Galvão JCC, Guimarães LJM, dos Santos IC (2009) Combining ability of maize grain yield under different levels of environmental stress. Pesq Agropec Bras 44:1297–1330

Dhliwayo T, Pixley K, Menkir A, Warburton M (2009) Combining ability, genetic distances and heterosis among elite CIMMYT and IITA tropical maize inbred lines. Crop Sci 49:1201–1210

Doyle JJ, Doyle JL (1990) Isolation of plant DNA from fresh tissue. Focus 12:13–15

Duvick DN (1999) Heterosis: feeding people and protecting resources. In: Coors JG, Pandey S (eds) The genetics and exploitation of heterosis in crops. ASSA/CSSA/SSA, Madison, WI, pp 19–29

Falconer DS (1981) Introduction to quantitative genetics, 2nd edn. Longman, London, 340 pp

Fonseca S, Patterson FL (1968) Hybrid vigour in a seven-parent diallel cross in common winter wheat (Triticum aestivum L.). Crop Sci 8:85–88

Griffing B (1956) Concept of general and specific combining ability in relation to diallel crossing systems. Aust J Biol Sci 9:463–493

Hallauer AR (1990) Methods used in developing maize inbreds. Maydica 35:1–16

Hallauer AR, Miranda Filho JB (1995) Quantitative genetics in maize breeding, 2nd edn. Iowa State University Press, Ames, 468 pp

Jaccard P (1908) Nouvelles recherchés sur la distribution florale. Bull Soc Vaud Sci Nat 44:223–270

Jha PB, Khehra AS (1992) Evaluation of maize inbred lines derived from two heterotic populations. Indian J Genet 52:126–131

Kendall MG (1962) Rank correlation methods, 2nd edn. Charles Griffin, London, 197 pp

Koutsika-Sotiriou MS, Karagounis Ch A (2005) Assessment of maize hybrids. Maydica 50:63–70

Laborda PR, Oliveira KM, Garcia AAF, Paterniani MEAGZ, de Souza AP (2005) Tropical maize germplasm: what can we say about its genetic diversity in the light of molecular markers? Theor Appl Genet 111:1288–1299

Lanza LLB, de Souza CL Jr, Ottoboni LMM, Vieira MLC, de Souza AP (1997) Genetic distance of inbred lines and prediction of maize single-cross performance using RAPD markers. Theor Appl Genet 94:1023–1030

Lee EA, Ash MJ, Good B (2007) Re-examining the relationship between degree of relatedness, genetic effects, and heterosis in maize. Crop Sci 47:629–635

Legesse BW, Myberg AA, Pixley KV, Twumasi-Afriyie Botha AM (2008) Relationship between hybrid performance and AFLP based genetic distance in highland maize inbred lines. Euphytica 162:313–323

Menkir A, Melake-Berhan A, The C, Ingelbrecht I, Adepoju A (2004) Grouping of tropical mid-altitude maize inbred lines on the basis of yield data and molecular markers. Theor Appl Genet 108:1582–1590

Moeller DA, Schaal BA (1999) Genetic relationships among native American maize accessions of the Great Plains assessed by RAPDs. Theor Appl Genet 99:1061–1067

Moll RH, Lonquist JH, Velez Fortuno J, Johnson EC (1965) The relationship of heterosis and genetic divergence in maize. Genetics 52:139–144

Munhoz REF, Prioli AJ, Amaral Junior AT, Scapim CA, Simon GA (2009) Genetic distance between popcorn populations based on molecular markers and correlations with heterosis estimates made by diallel analysis of hybrids. Genet Mol Res 8:951–962

Pal AK, Prodhan HS (1994) Combining ability analysis of grain yield and oil content along with some other attributes in maize (Zea mays L.). Indian J Genet 54:376–380

Paterniani MEAGZ, Sawazaki E, Dudienas C, Durate AP, Gallo PB (2000) Diallel crossing among maize lines with emphasis on resistance to foliar diseases. Genet Mol Biol 23:381–385

Prasad SK, Singh TP (1986) Heterosis in relation to genetic divergence in maize (Zea mays L.). Euphytica 35:919–924

Rohlf FJ (2000) NTSYS-pc: numerical taxonomy and multivariate analysis system. Version 2.1. Exeter Software, New York

Sambrook J, Russel DW (2001) Molecular cloning: a laboratory manual. Cold Spring Harbor Laboratory Press, Cold Spring Harbor, New York

SAS Institute (1997) SAS/STAT software: changes and enhancements through release 6.12. SAS Institute, Cary

Shieh GJ, Thseng FS (2002) Genetic diversity of Tainan-White maize inbred lines and prediction of single cross hybrid performance using RAPD markers. Euphytica 124:307–313

Shiri M, Aliyev RT, Choukan R (2010) Water stress effects on combining ability and gene action of yield and genetic properties of drought tolerance indices in maize. Res J Environ Sci 4:75–84

Singh D (1973) Diallel analysis for combining ability over several environments II. Indian J Genet 33:469–478

Smith OS (1986) Covariance between line per se and testcross performance. Crop Sci 26:540–543

Snedecor GW, Cochran WG (1989) Statistical methods. Iowa State University Press, Ames, 593 pp

Spearman C (1904) The proof and measurement of association between two things. Am J Psychol 15:72–101

Srdic J, Miladenovic-Drinic S, Pajic Z, Filipovic M (2007) Characterization of maize inbred lines based on molecular markers, heterosis and pedigree data. Genetika 39:355–363

Troyer AF (2004) Background of U.S. hybrid corn II: breeding climate and food. Crop Sci 44:370–380

Vasal SK, Srinivasan G, Han GC, Gonzalez F (1992) Heterotic patterns of eighty-eight white subtropical CIMMYT maize lines. Maydica 37:319–327

Williams JGK, Kubelik AR, Livak KJ, Rafalski JA, Tingey SV (1990) DNA polymorphisms amplified by arbitrary primers are useful as genetic markers. Nucleic Acid Res 18:6531–6535
About this article
Cite this article
Devi, P., Singh, N.K. Heterosis, molecular diversity, combining ability and their interrelationships in short duration maize (Zea mays L.) across the environments. Euphytica 178, 71–81 (2011). https://doi.org/10.1007/s10681-010-0271-3
Received:

Accepted:

Published:

Issue Date:

DOI: https://doi.org/10.1007/s10681-010-0271-3
Keywords
RAPDs markers

Maize

Combining ability

Heterosis

Rank correlation