Abstract
An Agrobacterium-mediated transformation procedure for soybean [Glycine max L. Merrill] proliferating somatic embryos is here described. The Agrobacterium tumefaciens LBA4404 strain harboring pTOK233, pCAMBIA1390-olp or pH7WG2Dwrky plasmids was used to mediate gene transfer into the plant genome. Prior to Agrobacterium inoculation, proliferative soybean embryogenic clusters were microwounded by DNA-free tungsten particle bombardment. Three independent transformation experiments were performed. In Experiment I, 26 transgenic plants were obtained from a unique clone of cv Bragg, while 580 plants were recovered from 105 clones of cv IAS5. In Experiment II, a single hygromycin-resistant clone of cv BRSMG68 Vencedora was recovered and gave rise to five plants. In Experiment III, 19 plants of cv Bragg and 48 plants of IAS5 were recovered, representing five and 14 independent transformation events, respectively. PCR and Southern analyses confirmed the transgenes' integration into plant genomes. Transgenic plants were fertile. They flowered, set pods and seeds. Transgene segregation in two T1 progenies fits the Mendelian pattern (3:1 transgenic:non-transgenic plants). This is the first report of transgenic fertile soybean plants obtained from somatic embryogenic tissues transformed by the system that combines DNA-free particle bombardment and Agrobacterium.
Access options
Buy single article
Instant access to the full article PDF.
US$ 39.95
Tax calculation will be finalised during checkout.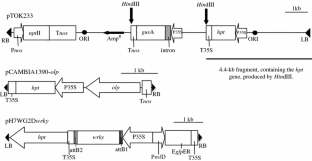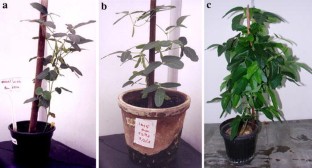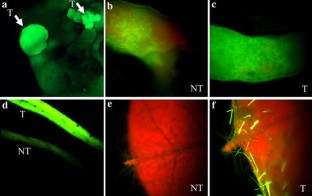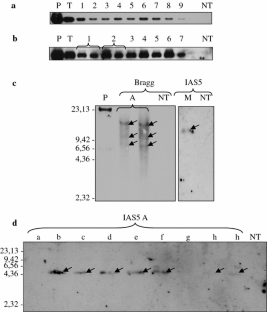 Abbreviations
2,4-D:

2,4-Dichlorophenoxyacetic acid

cv:

Cultivar

PCR:

Polymerase chain reaction
References
Abdollahi MR, Corral-Martínez P, Mousavi A, Salmanian AH, Moieni A, Seguí-Simarro JM (2009) An efficient method for transformation of pre-androgenic, isolated Brassica napus microspores involving microprojectile bombardment and Agrobacterium-mediated transformation. Acta Physiologiae Plantarum 31:1313–1317

Aragão FJL, Sarokin L, Vianna GR, Rech EL (2000) Selection of transgenic meristematic cells utilizing a herbicidal molecule results in the recovery of fertile transgenic soybean [Glycine max (L) Merrill] plants at a high frequency. Theor Appl Genet 101:1–6

Bailey MA, Boerma HR, Parrott WA (1993) Genotype effects on proliferative embryogenesis and plant regeneration of soybean. In Vitro Cell Dev Biol 29:102–108

Bidney D, Scelonge C, Martich J, Burrus M, Sims L, Huffman G (1992) Microprojectile bombardment of plant tissues increases transformation frequency by Agrobacterium tumefaciens. Plant Mol Biol 18:301–313

Brasileiro ACM, Aragão FJL, Rossi S, Dusi DM A, Barros LMG, Rech E (1996) Susceptibility of common and tepary beans to Agrobacterium spp, strains and improvement of Agrobacterium mediated transformation using microprojectile bombardment. J Am Soc Hort Sci 121:810–815

Buchheim JA, Colbum SM, Ranch JP (1989) Maturation of soybean somatic embryos and the transition to plantlet growth. Plant Physiol 89:768–775

Campbell BT, Baenziger PS, Mitra A, Sato S, Clemente T (2000) Inheritance of multiple transgenes in wheat. Crop Sci 40:1133–1141

Costamilan LM, Bertagnolli PF (2004) Cultivo de soja. XXXII Reunião de Pesquisa de Soja da Região Sul. http://www.cnpt.embrapa.br/sist-prod/soja04/index.htm. Accessed 28 March 2005

Doyle JJ, Doyle JL (1987) A rapid DNA isolation procedure for small quantities of fresh leaf tissue. Phytochem Bull 19:11–15

Droste A, Bodanese-Zanettini MH, Mundstock E, Hu CY (1994) Susceptibility of Brazilian soybean cultivars to Agrobacterium tumefaciens. Brazil J Genet 17:83–88

Droste A, Pasquali G, Bodanese-Zanettini MH (2000) Integrated bombardment and Agrobacterium transformation system: an alternative method for soybean transformation. Plant Mol Biol Rep 18:51–59

Droste A, Leite PCP, Pasquali G, Mundstock EC, Bodanese-Zanettini MH (2001) Regeneration of soybean via embryogenic suspension culture. Sci Agric 58:753–758

Droste A, Pasquali G, Bodanese-Zanettini MH (2002) Transgenic fertile plants of soybean [Glycine max (L) Merrill] obtained from bombarded embryogenic tissue. Euphytica 127:367–376

Droste A, Silva AM, Souza IF, Wiebke-Strohm B, Bücker-Neto L, Bencke M, Sauner MV, Bodanese-Zanettini MH (2010) Screening of Brazilian soybean genotypes with high potential for somatic embryogenesis and plant regeneration. Pesq Agropec Bras 45:715–720

Finer JJ, McMullen MD (1991) Transformation of soybean via particle bombardment of embryogenic suspension culture tissues. In Vitro Cell Dev Biol 27:175–182

Finer JJ, Vain P, Jones MW, McMullen MD (1992) Development of the particle inflow gun for DNA delivery to plant cells. Plant Cell Rep 11:323–328

Gamborg OL, Miller RA, Ojima K (1968) Nutrient requirements of suspension cultures of soybean root cells. Exp Cell Res 50:151–158

Gelvin SB (2003) Agrobacterium-mediated plant transformation: the biology behind the "gene-jockeying" tool. Microbiol Mol Biol Rev 1:16–37

Hiei Y, Ohta S, Komari T, Kumashiro T (1994) Efficient transformation of rice (Oryza sativa L ) mediated by Agrobacterium and sequence analysis of the boundaries of the T-DNA. Plant J 6:271–282

Hinchee MA, Connor-Ward DV, Newell CA, McDonell RE, Sato SJ, Gasser CS, Fishhoff DA, Re DB, Fraley RT, Horsch RB (1988) Production of transgenic soybean plants using Agrobacterium-mediated DNA transfer. Bio/Technol 6:915–922

Homrich MS, Passaglia LMP, Pereira JF, Bertagnolli PF, Pasquali G, Zaidi MA, Altosaar, Bodanese-Zanettini MH (2008) Resistance to Anticarsia gemmatalis Hübner (Lepidoptera, Noctuidae) in transgenic soybean (Glycine max (L) Merrill Fabales, Fabaceae) cultivar IAS5 expressing a modified Cry1Ac endotoxin. Genet Mol Biol 31:522–531

Hong HP, Zhang H, Olhoft P, Hill S, Wiley H, Toren E, Hillebrand H, Jones T, Cheng M (2007) Organogenic callus as the target for plant regeneration and transformation via Agrobacterium in soybean (Glycine max (L) Merr). In Vitro Cell Dev Biol 43:558–568

Horsch RB, Fry JE, Hoffman NL, Eichholtz D, Rogers SG, Fraley RT (1985) A simple and general method for transferring genes into plants. Science 227:1229–1231

Jefferson RA (1987) Assaying chimeric genes in plants: the GUS gene fusion system. Plant Mol Biol Rep 5:387–405

Karimi M, Bleys A, Vanderhaeghen R, Hilson P (2002) Building blocks for plant gene assembly. Plant Physiol 145:1183–1191

Ko TS, Lee S, Krasnyanski S, Korban SS (2003) Two critical factors are required for efficient transformation of multiple soybean cultivars: Agrobacterium strain and orientation of immature cotyledonary explant. Theor Appl Genet 107:439–447

Ko TS, Lee S, Farrand SK, Korban SS (2004) A partially disarmed vir helper plasmid, pKYRT1, in conjunction with 2,4-dichlorophenoxyacetic acid promotes emergence of regenerable transgenic somatic embryos from immature cotyledons of soybean. Planta 218:536–541

Kohli A, Twyman RM, Abranches R, Weget E, Stoger E, Christou P (2003) Transgene integration, organization and interaction in plants. Plat Mol Biol 52:247–258

Körbes AP, Droste A (2005) Carbon sources and polyethylene glycol on soybean somatic embryo conversion. Pesq Agropec Bras 40:211–216

Liu SJ, Wei ZM, Huang JQ (2008) The effect of co-cultivation and selection parameters on Agrobacterium-mediated transformation of Chinese soybean varieties. Plant Cell Rep 27:489–498

May GD, Afza R, Mason HS, Wiecko A, Novak FJ, Arntzen CJ (1995) Generation of transgenic banana (Musa acuminata) plants via Agrobacterium mediated transformation. Bio/technol 13:486–492

Mello-Farias PC, Chaves ALS (2008) Advances in Agrobacterium-mediated plant transformation with enphasys on soybean. Sci Agric 65:95–106

Merkle SA, Parrott WA, Flinn BS (1995) Morphogenic aspects of somatic embryogenesis. In: Thorpe TA (ed) In vitro Embryogenesis in plants. Kluwer Academic Press, Dordrecht, pp 155–203

Meurer CA, Dinkins RD, Redmond CT, Mcallister KP, Tucker DT, Walker DR, Parrott WA, Trick HN, Essig JS, Frantz HM, Finer JJ, Collins GB (2001) Embryogenic response of multiple soybean [Glycine max (L) Merr] cultivars across three locations. In Vitro Cell Dev Biol 37:62–67

Murashige T, Skoog F (1962) A revised medium for rapid growth and bioassays with tobacco tissue cultures. Physiol Plant 15:473–498

Parrott WA, Hoffman LM, Hildebrand DF, Williams EG, Collins GB (1989) Recovery of primary transformants of soybean. Plant Cell Rep 7:615–617

Paz MM, Shou H, Guo Z, Zhang Z, Banergee AK, Wang K (2004) Assessment of conditions affecting Agrobacterium-mediated soybean transformation using the cotyledonary node explants. Euphytica 136:167–179

Paz MM, Martinez JC, Kalvig AB, Fonger TM, Wang K (2006) Improved cotyledonary node method using an alternative explant derived from mature seed for efficient Agrobacterium-mediated soybean transformation. Plant Cell Rep 25:206–213

Priolli RHG, Mendes-Junio CT, Arantes NE, Contel EPB (2002) Characterization of Brazilian soybean cultivar using microsatellite markers. Genet Mol Biol 25:185–193

Sambrook J, Russel DW (2001) Molecular cloning: a laboratory manual. Cold spring Harbor Laboratory Press, New York

Sanford JC (1988) The biolistic process. Trends in Biotech 6:299–302

Sato S, Newell C, Kolacz K, Tredo L, Finer J, Hinchee M (1993) Stable transformation via particle bombardment in two different soybean regeneration systems. Plant Cell Rep 12:408–413

Stewart CN Jr, Adang MJ, All JN, Boerma HR, Cardineau G, Tucker D, Parrott WA (1996) Genetic transformation, recovery, and characterization of soybean (Glycine max [L] Merrill) transgenic for a synthetic Bacillus thuringiensis CRY IA(c) gene. Plant Physiol 112:121–129

Trick HN, Finer JJ (1997) SAAT: sonication-assisted Agrobacterium-mediated transformation. Transgenic Res 6:329–336

Trick HN, Finer JJ (1998) Sonication-assisted Agrobacterium-mediated transformation of soybean (Glycine max) embryogenic suspension culture tissue. Plant Cell Rep 17:482–488

Vain P, McMullen MD, Finer JJ (1993) Osmotic treatment enhances particle bombardment mediated transient and stable transformation of maize. Plant Cell Rep 12:84–88

Wang G, Xu Y (2008) Hypocotyl-based Agrobacterium-mediated transformation of soybean (Glycine max) and application for RNA interference. Plant Cell Rep 27:1177–1184

Wiebke B, Ferreira F, Pasquali G, Bodanese-Zanettini MH, Droste A (2006) Influence of antibiotics on embryogenic tissue and Agrobacterium tumefaciens suppression in soybean genetic transformation. Bragantia 65:543–551

Wright MO, Launis KL, Novitzky R, Duesiing JH, Harms CT (1991) A simple method for the recovery of multiple fertile plants from individual somatic embryos of soybean [Glycine max (L) Merrill]. In Vitro Cell Dev Biol 27:153–157

Yan B, Reddy MSS, Collins GB, Dinkins RD (2000) Agrobacterium tumefaciens mediated transformation of soybean [Glycine max (L) Merrill] using immature zygotic cotyledon explants. Plant Cell Rep 19:1090–1097

Yang C, Zhao T, Yu D, Gai J (2009) Somatic embryogenesis and plant regeneration in Chinese soybean (Glycine max (L) Merr)-impacts of mannitol, abscisic acid, and explant age. In vitro Cell Dev Biol 45:180–188

Zhou X, Carranco R, Vitha S, Hall TC (2005) The dark side of green fluorescent protein. New Phytol 168:313–322
Acknowledgments
We would like to thank Dr. Hiei for providing the vector pTOK233. Financial support was provided by Conselho Nacional de Desenvolvimento Científico e Tecnológico (CNPq, Brazil), Fundação de Amparo à Pesquisa do Estado do Rio Grande do Sul (FAPERGS, Brazil), Universidade do Vale do Rio dos Sinos (UNISINOS, Brazil), Centro do Agronegócio—Casa Rural (Brazil) and BIOTECSUR Project (EU 127119).
About this article
Cite this article
Wiebke-Strohm, B., Droste, A., Pasquali, G. et al. Transgenic fertile soybean plants derived from somatic embryos transformed via the combined DNA-free particle bombardment and Agrobacterium system. Euphytica 177, 343–354 (2011). https://doi.org/10.1007/s10681-010-0249-1
Received:

Accepted:

Published:

Issue Date:
Keywords
Agrobacterium tumefaciens

Embryogenic tissues

Genetic transformation

Glycine max

Somatic embryogenesis