Abstract
Triticum monococcum, the diploid A genome species, harbours enormous variability for resistance to biotic stresses. A spring type T. monococcum acc. 14087 was found to be resistant to Heterodera avenae (cereal cyst nematode, CCN). A recombinant inbred line population (RIL) developed by crossing this accession with a CCN susceptible T. boeoticum acc. 5088 was used for studying the inheritance and map location of the CCN resistance. Based on composite interval mapping two QTL, one each on chromosome 1AS and 2AS, were detected. The QTL on 1A, designated as Qcre.pau-1A, appeared to be a major gene with 26% contribution to the overall phenotypic variance whereas the QTL on 2A designated as Qcre.pau-2A contributed 13% to total phenotypic variation. Qcre.pau-1A is novel, being the only CCN resistance gene mapped in any 'A' genome species and none of the other known genes have been mapped on chromosome 1A. The QTL Qcre.pau-2A might be allelic to Cre5, a CCN resistance gene transferred from Ae. ventricosa and mapped on 2AS. The Qcre.pau-1A was transferred to cultivated wheat using T. durum cv. PBW114 as the bridging species. Selected CCN resistant F8 lines showed introgression for the molecular markers identified to be linked with CCN resistance locus Qcre.pau-1A. Thus, this gene alone could impart complete resistance against CCN. These introgression lines can be used for marker-assisted transfer of Qcre.pau-1A to elite wheat cultivars.
Access options
Buy single article
Instant access to the full article PDF.
US$ 39.95
Tax calculation will be finalised during checkout.
Subscribe to journal
Immediate online access to all issues from 2019. Subscription will auto renew annually.
US$ 119
Tax calculation will be finalised during checkout.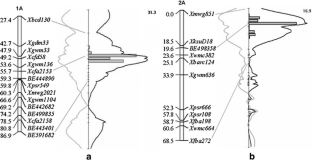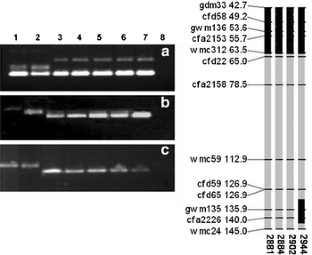 References
Asiedu R, Fisher JM, Driscoll CJ (1990) Resistance to Heterodera avenae in the rye genome of triticale. Theor Appl Genet 79:331–336

Barloy D, Lemoine J, Abelard P, Tanguy AM, Rivoal R, Jahier J (2007) Marker-assisted pyramiding of two cereal cyst nematode resistance genes from Aegilops variabilis in wheat. Mol Breeding 20:31–40

Berloo RV (1999) GGT: software for the display of graphical genotypes. J Heredity 90:328–329

Chhuneja P, Kaur S, Garg T, Ghai M, Kaur S, Prashar M, Goel RK, Bains NS, Keller B, Dhaliwal HS, Singh K (2008) Mapping of adult plant stripe rust resistance genes in diploid A genome wheat species and their transfer to bread wheat. Theor Appl Genet 116:313–324

Churchill GA, Doerge RW (1994) Empirical threshold values for quantitative trait mapping. Genetics 138:963–971

Cobb NA (1918) Estimating the nematode population of soil. Agri Tech Circ Bull Pl Ind US Department Agriculture No 1, pp 48

Delibes A, Romero D, Aguaded S, Duce A, Mena M, Lopez-Brana I, Andres MF, Artin-Sanchez JA, Garcia-Olmedo F (1993) Resistance to cereal cyst nematode (Heterodera avenae Woll.) transferred from the wild grass Aegilops ventricosa to hexaploid wheat by a stepping-stone procedure. Theor Appl Genet 87:402–408

Dhaliwal HS, Singh H, Singh KS, Randhawa HS (1993) Evaluation and cataloguing of wheat germplasm for disease resistance and quality. In: Damania AB (ed) Biodiversity and wheat improvement. Wiley, New York, pp 123–140

Dhawan SC, Nagesh M (1987) Tolerance in wheat against cereal cyst nematode, Heterodera avenae. Indian J Nematol 17:336–338

Dundas IS, Frappell DE, Crack DM, Fisher JM (2001) Deletion mapping of a nematode resistance gene on rye chromosome 6R in wheat. Crop Sci 41:1771–1778

Eastwood RF, Lagudah ES, Appels R, Hannah M, Kollmorgen JF (1991) Triticum tauschii: a novel source of resistance to cereal cyst nematode (Heterodera avenae). Aust J Agric Res 42:69–77

Eastwood RF, Lagudha ES, Appels R (1994) A directed search for DNA sequences tightly linked to cereal cyst nematode resistance genes in Triticum tauschii. Genome 37:311–319

Jahier J, Tanguy AM, Abelard P, Rivoal R (1996) Utilization of deletions to localize a gene for resistance to the cereal cyst nematode, Heterodera avenae, on an Aegilops ventricosa chromosome. Plant Breed 115:282–284

Jahier J, Rivoal R, Yu MQ, Abelard P, Tanguy AM, Barloy D (1998) Transfer of genes for resistance to cereal cyst nematode from Aegilops variabilis Eig. to wheat. J Genet Breed 52:253–257

Jahier J, Abelard P, Tanguy AM, Dedryver F, Rivoal R, Khatkar S, Bariana HS (2001) The Aegilops ventricosa segment on chromosome 2AS of the wheat cultivar 'VPM1' carries the cereal cyst nematode resistance gene Cre5. Plant Breed 120:125–128

Majnik J, Ogbonnaya FC, Moullet O, Lagudah ES (2003) The Cre1 and Cre3 nematode resistance genes are located on homoeologous loci in the wheat genome. MPMI 16:1129–1134

Manly KF, Cudmore RH Jr, Meer JM (2001) Map Manager QTX, cross-platform software for genetic mapping. Mammal Genome 12:930–932

Mao Y, Xu S (2004) Mapping QTLs for traits measured as percentages. Genet Res 83:159–168

Martin EM, Eastwood RF, Ogbonnaya FC (2004) Identification of microsatellite markers associated with cereal cyst nematode resistance gene Cre3 in wheat. Aust J Agric Res 55:1205–1211

Mokabli A, Svalette JG, Rivoal R (2002) Variation in virulence of cereal cyst nematode populations from North Africa and Asia. Nematology 4:521–525

Nicol J, Rivoal R, Taylor S, Zaharieva M (2003) Global importance of cyst (Heterodera spp.) and lesion nematodes (Pratylenchus spp.) on cereals: distribution, yield loss, use of host resistance and integration of molecular tools. Nematol Monogr Perspect 2:1–19

O'Brien PC, Fisher JM, Rathjen AJ (1980) Inheritance of resistance in two wheat cultivars to an Australian population of Heterodera avenae. Nematologica 26:69–74

Ogbonnaya FC, Seah S, Delibes A, Jahier J, López-Braña I, Eastwood RF, Lagudah ES (2001) Molecular-genetic characterisation of a new nematode resistance gene in wheat. Theor Appl Genet 102:623–629

Peng J, Ronin Y, Fahima T, Röder MS, Li Y, Nevo E, Korol A (2003) Domestication quantitative trait loci in Triticum dicoccoides, the progenitor of wheat. Proc Natl Acad Sci USA 100:2489–2494

Rivoal R, Jahier J, Hulle M (1993) Partial resistance to Heterodera avenae in wheat lines with the 6Mv chromosome from Aegilops ventricosa. J Nematol 25:265–269

Rivoal R, Bekal S, Valette S, Gauthier JP, Fradj MBH, Mokabli A, Jahier J, Nicol J, Yahyaoui A (2001) Variation in reproductive capacity and virulence on different genotypes and resistance genes of Triticeae, in the cereal cyst nematode species complex. Nematology 3:581–592

Romero M, Montes MJ, Sin E, López-Bran˜a I, Duce A, Martin-Sanchez JA, Andres MF, Delibes A (1998) A cereal cyst nematode (Heterodera avenae) resistance gene transferred from Aegilops triuncialis to hexaploid wheat. Theor Appl Genet 96:1135–1140

Safari E, Gororo NN, Eastwood RF, Lewis J, Eagles HA, Ogbonnaya FC (2005) Impact of Cre1, Cre8 and Cre3 genes on cereal cyst nematode resistance in wheat. Theor Appl Genet 110:567–572

Sharma GL, Sharma SN (2000) Evaluation of cereal cyst nematode (Heterodera avenae) resistant wheat variety in Rajasthan, India. Wheat Inf Serv 90:49–51

Sharma SN, Sain RS, Singh H (2004) Breeding for resistance to wheat nematode (Heterodera avenae). Acta Agronomica Hungaria 52:189–197

Singh I, Sakhuja PK, Singh H, Dhaliwal HS, Gill KS (1991) Sources of resistance to cereal cyst nematode (Heterodera avenae) in wild Triticum and Aegilops species. Indian J Nematol 21:145–148

Singh H, Tsujimoto H, Sakhuja PK, Singh T, Dhaliwal HS (2000) Transfer of resistance to wheat pathogens from Aegilops triuncialis into bread wheat. Wheat Inf Serv 91:5–10

Singh K, Ghai M, Garg M, Chhuneja P, Kaur P, Schnurbusch T, Keller B, Dhaliwal HS (2007) An integrated molecular linkage map of diploid wheat using a Triticum boeoticum X T. monococcum RIL population. Theor Appl Genet 115:301–312

Slootmaker LAJ, Lange W, Jochemsen G, Schepers J (1974) Monosomic analysis in bread wheat of resistance to cereal root eelworm. Euphytica 23:497–503

Smiley RW, Whittaker RG, Gourlie JA, Easley SA, Ingham RE (2005) Plant-parasitic nematodes associated with reduced wheat yield in Oregon: Heterodera avenae. J Nematology 37:297–307

Tiwari VK, Rawat N, Chhuneja P, Singh N, Aggarwal R, Randhawa GS, Dhaliwal HS, Keller B, Singh K (2009) Mapping of quantitative trait loci for grain iron and zinc concentration in A genome diploid wheat. J Heredity 100:771–776

Williams KJ, Fisher JM, Langridge P (1994) Identification of RFLP markers linked to the cereal cyst nematode resistance gene (Cre) in wheat. Theor Appl Genet 89:927–930

Williams KJ, Lewis JG, Bogacki P, Pallotta M, Willsmore KL, Kuchel H, Wallwork H (2003) Mapping of a QTL contributing to cereal cyst nematode tolerance and resistance in wheat. Aust J Agric Res 54:731–737

Williams KJ, Willsmore KL, Olson S, Matic M, Kuchel H (2006) Mapping of a novel QTL for resistance to cereal cyst nematode in wheat. Theor Appl Genet 112:1480–1486

Yu MQ, Jahier J, Person-Dedryver F (1992) Genetics of two mechanisms of resistance to Meloidogyne naasi (Franklin) in an Aegilops variabilis Eig. accession. Euphytica 58:267–273
Acknowledgements
Department of Biotechnology, Govt. of India and SDC, Switzerland, funded this project jointly under Indo-Swiss collaboration in Biotechnology. We sincerely acknowledge the financial support received from these organizations.
About this article
Cite this article
Singh, K., Chhuneja, P., Singh, I. et al. Molecular mapping of cereal cyst nematode resistance in Triticum monococcum L. and its transfer to the genetic background of cultivated wheat. Euphytica 176, 213–222 (2010). https://doi.org/10.1007/s10681-010-0227-7
Received:

Accepted:

Published:

Issue Date:
Keywords
Cereal cyst nematode

Gene transfer

Heterodera avenae

Molecular mapping

Triticum monococcum
Triticum boeoticum

QTL