Abstract
Genetic studies were conducted on an European winter wheat cultivar, Beaver, to determine the mode of inheritance of leaf rust resistance at seedling and adult plant growth stages using a recombinant doubled haploid population, Beaver/Soissons. Greenhouse studies indicated the involvement of genes Lr13 and Lr26 in governing leaf rust resistance at seedling growth stages, whereas, adult plant resistance (APR) in the field with pathotypes carrying virulence individually for Lr13 and Lr26 showed trigenic inheritance for the population. Marker regression analysis of adult plant field data indicated the involvement of six significant QTLs (chromosomes 1B, 3B, 3D, 4B, 4D and 5A) in year 2005, four QTLs (1B, 3B, 4B and 5A) in 2006, and six QTLs (1A, 1B, 3B, 4A, 4B and 5A) in 2007 for reducing leaf rust severity. QTLs on chromosomes 1B, 4B and 5A were considered the most important because of their detection across years, whereas QTLs on chromosomes 1A, 3B, 3D and 4A were either inconsistent or non-significant and unexplained. Based on an association of closely linked markers with phenotypic data, putative single gene stocks were identified for each consistent QTL and crossing was initiated to develop populations segregating for each to permit fine mapping of the identified regions.
Access options
Buy single article
Instant access to the full article PDF.
US$ 39.95
Tax calculation will be finalised during checkout.
Subscribe to journal
Immediate online access to all issues from 2019. Subscription will auto renew annually.
US$ 119
Tax calculation will be finalised during checkout.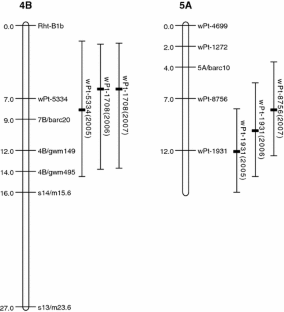 References
Bansal UK, Hayden MJ, Venkata BP, Khanna R, Saini RG, Bariana HS (2008) Genetic mapping of adult plant leaf rust resistance genes Lr48 and Lr49 in common wheat. Theor Appl Genet. doi:10.1007/s00122-008-0775-6

Bjarko ME, Line RF (1988) Heritability and number of genes controlling leaf rust resistance in four cultivars of wheat. Phytopathology 78:457–461. doi:10.1094/Phyto-78-457

Crossa J, Burgueño J, Dreisigacker S, Vargas M, Herrera-Foessel SA, Lillemo M, Singh RP, Trethowan R, Warburton M, Franco J, Reynolds M, Crouch JH, Ortiz R (2007) Association analysis of historical bread wheat germplasm using additive genetic covariance of relatives and population structure. Genetics 177:1889–1913. doi:10.1534/genetics.107.078659

Dyck PL (1987) The association of a gene for leaf rust resistance with the chromosome 7D suppressor of stem rust resistance in common wheat. Genome 29:467–469

Dyck PL (1991) Genetics of adult plant leaf rust resistance in Chinese Spring and Sturdy wheats. Crop Sci 31:309–311

Dyck PL, Sykes EE (1994) Genetics of leaf rust resistance in three spelt wheats. Can J Plant Sci 74:231–233

Kearsey MJ, Hyne V (1994) QTL analysis—a simpler marker-regression approach. Theor Appl Genet 89:698–702. doi:10.1007/BF00223708

Lagudah ES, McFadden H, Singh RP, Huerta-Espino J, Bariana HS, Spielmeyer W (2006) Molecular genetic characterization of the Lr34/Yr18 slow rusting resistance gene region in wheat. Theor Appl Genet 114:21–30. doi:10.1007/s00122-006-0406-z

Lander ES, Botstein D (1989) Mapping Mendelian factors underlying quantitative traits using RFLP linkage maps. Genetics 121:185–199

Luig NH (1983) A survey of virulence genes in wheat stem rust Puccinia graminis f. sp. tritici. Adv Plant Breed, Suppl 11 to Plant Breed

McCartney CA, Somers DJ, McCallum BD, Thomas J, Humphreys DG, Menzies JG, Brown PD (2005) Microsatellite tagging of the leaf rust resistance gene Lr16 on wheat chromosome 2BS. Mol Breed 15:329–337. doi:10.1007/s11032-004-5948-7

McIntosh RA, Wellings CR, Park RF (1995) Wheat rusts: An atlas of resistance genes. CSIRO Publications, Victoria

McIntosh RA, Devos KM, Dubcovsky J, Rogers WJ, Morris CF, Appels R, Anderson OA (2005) Catalogue of gene symbols for wheat: 2005 supplement. http://www.wheat.pw.usda.gov

Messmer MM, Seyfarth R, Keller M, Schachermayr G, Winzeler M, Zanetti S, Feuillet C, Keller B (2000) Genetic analysis of durable leaf rust resistance in winter wheat. Theor Appl Genet 100:419–431. doi:10.1007/s001220050055

Mettin D, Bluthner WD, Schlegel G (1973) Additional eveidence on spontaneous 1B/1R wheat-rye substitutions and translocations. In Sears ER, Sears LMS (eds) Proceeding of the 4th international wheat genetic symposium. Agricultural Experiment Station, University of Missouri, Columbia, Missouri, USA, pp 179–184

Nelson JC, Singh RP, Autrique JE, Sorrels ME (1997) Mapping genes conferring and suppressing leaf rust resistance in wheat. Crop Sci 37:1928–1935

Park RF, McIntosh RA (1994) Adult plant resistances to Puccinia recondita f. sp. tritici in wheat. N Z J Crop Hortic Sci 22:151–158

Pathan AK, Park RF (2006) Evaluation of seedling and adult plant resistance to leaf rust in European wheat cultivars. Euphytica 149:327–342. doi:10.1007/s10681-005-9081-4

Peterson RF, Campbell AB, Hannah AE (1948) A diagrammatic scale for estimating rust intensity on leaves and stems of cereals. Can J Res 26:496–500

Rosewarne GM, Singh RP, Huerta-Espino J, William HM, Bouchet S, Cloutier S, McFadden H, Lagudah ES (2006) Leaf tip necrosis, molecular markers and ß1-proteasome subunits associated with the slow rusting resistance genes Lr46/Yr29. Theor Appl Genet 112:500–508. doi:10.1007/s00122-005-0153-6

Schnurbusch T, Paillard S, Schori A, Messmer M, Schachermayr G, Winzeler M, Keller B (2004) Dissection of quantitative and durable leaf rust resistance in Swiss winter wheats reveals a major resistance QTL in the Lr34 region. Theor Appl Genet 108:477–484. doi:10.1007/s00122-003-1444-4

Singh RP (1992) Association between gene Lr34 for leaf rust resistance and leaf tip necrosis in wheat. Crop Sci 32:874–878

Singh RP, Kazi AM, Huerta-Espino J (1998) Lr46: a gene conferring slow-rusting resistance to leaf rust in wheat. Phytopathology 88:890–894. doi:10.1094/PHYTO.1998.88.9.890

Singh D, Park RF, McIntosh RA (2001) Postulation of leaf (brown) rust resistance genes in 70 wheat cultivars grown in United Kingdom. Euphytica 120:205–218. doi:10.1023/A:1017578217829

Snape JW, Foulkes MJ, Simmonds J, Leverington M, Fish LJ, Wang Y, Ciavarrella M (2007) Dissecting gene × environmental effects on wheat yields via QTL and physiological analysis. Euphytica 154:401–408. doi:10.1007/s10681-006-9208-2

Somers DJ, Isaac P, Edwards KJ (2004) A high density microsatellite consensus map for bread wheat (Triticum aestivum L). Theor Appl Genet 109:1105–1114. doi:10.1007/s00122-004-1740-7

Stakman EC, Stewart DM, Loegering WY (1962) Identification of physiologic races of Puccinia graminis var. tritici. United States Department of Agriculture ARS E617, Washington, DC

Suenaga K, Singh RP, Huerta-Espino J, William HM (2003) Microsatellite markers for genes Lr34/Yr18 and other quantitative trait loci for leaf rust and stripe rust resistance in bread wheat. Phytopathology 93:881–889. doi:10.1094/PHYTO.2003.93.7.881

William HM, Singh RP, Huerta-Espino J, Palacios G, Sunega K (2006) Characterization of genetic loci conferring adult plant resistance to leaf rust and stripe rust in spring wheat. Genome 49:977–990. doi:10.1139/G06-052
Acknowledgments
The research was supported by the Australian Grains Research and Development Corporation. Technical assistance provided by Dr James Hull and Mr Matthew Williams is gratefully acknowledged.
About this article
Cite this article
Singh, D., Simmonds, J., Park, R.F. et al. Inheritance and QTL mapping of leaf rust resistance in the European winter wheat cultivar 'Beaver'. Euphytica 169, 253–261 (2009). https://doi.org/10.1007/s10681-009-9959-7
Received:

Accepted:

Published:

Issue Date:
Keywords
Common wheat (Triticum aestivum)

Wheat leaf rust

Wheat brown rust

Resistance

Adult plant resistance (APR)

Genetic mapping