Abstract
Interploidy crosses between diploid daylily (Hemerocallis) cultivars (2n = 22) and tetraploid cultivars (2n = 44) were performed via in vivo hybridization aiming to produce triploid hybrid germplasm (3n = 33). Plant growth regulator-free MS based medium containing 5 levels of sucrose—1, 2, 3, 4 or 5% was used to optimize the embryo rescue medium. It was determined that the medium supplemented with 3% sucrose gave highest rate of immature hybrid embryo rescue. Thirty-seven hypothetically triploid genotypes were subjected to verification of ploidy status by root tip chromosome counting and flow cytometry. Thirty-one of them were confirmed triploids. These genotypes were in vitro propagated, acclimatized to ex vitro conditions, and planted for future field performance evaluation and environmental testing. The newly developed triploid genotypes could open new horizons for further polyploidy breeding.
Access options
Buy single article
Instant access to the full article PDF.
US$ 39.95
Tax calculation will be finalised during checkout.
Subscribe to journal
Immediate online access to all issues from 2019. Subscription will auto renew annually.
US$ 119
Tax calculation will be finalised during checkout.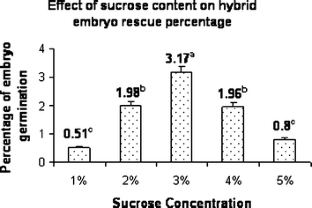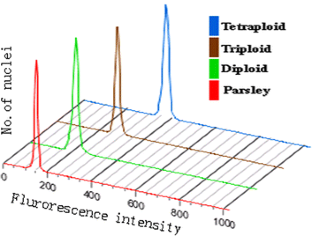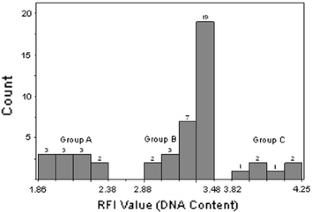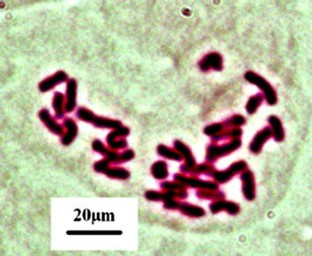 References
AHS (2009) Online daylily cultivar database: http://www.daylilydatabase.org/. Am Hemerocallis Soc

Arisumi T (1970) Experiments in breeding for triploid daylilies. Daylily J 24:33–37

Arisumi T (1973) Embryo development and seed set in crosses for triploid day Lilies. Bot Gaz 134:135–139. doi:10.1086/336693

Bennett MD (2004) Perspectives on polyploidy in plants-ancient and neo. Biol J Linn Soc Lond 82:411–423. doi:10.1111/j.1095-8312.2004.00328.x

Brennan JR (1992) Chromosomes of Hemerocallis. Daylily J 47:73–77

Brummer EC, Cazcarro PM, Luth D (1999) Ploidy determination of alfalfa germplasm accessions using flow cytometry. Crop Sci 39:1202–1207

Costich DE, Ortiz R, Meagher TR, Bruederle LP, Vorsa N (1993) Determination of ploidy level and nuclear-DNA content in blueberry by flow-cytometry. Theor Appl Genet 86:1001–1006. doi:10.1007/BF00211053

Dansi A, Mignouna HD, Pillay M, Zok S (2001) Ploidy variation in the cultivated yams (Dioscorea cayenensis-Dioscorea rotundata complex) from Cameroon as determined by flow cytometry. Euphytica 119:301–307. doi:10.1023/A:1017510402681

Dark SOS (1932) Meiosis in diploid and triploid Hemerocallis. New Phytol 31:310–320. doi:10.1111/j.1469-8137.1932.tb06788.x

Horn W (2002) Breeding for ornamentals. Kluwer Academic Publisher, Netherlands

Levin DA (1983) Polyploidy and Novelty in flowering plants. Am Nat 122:1–25. doi:10.1086/284115

Matsuoka M (1971) Spontaneous occurrence of triploid Hemerocallis in Japan. Jpn J Breed 21:275–284

Morejohn LC, Bureau TE, Molè-Bajer J, Bajer AS, Fosket DE (1987) Oryzalin, a dinitroaniline herbicide, binds to plant tubulin and inhibits microtubule polymerization in vitro. Planta 172:252–264. doi:10.1007/BF00394595

Munson RW (1989) Hemerocallis, the Daylily Journal. Timber Press, Portland, OR

Murashige T, Skoog F (1962) A revised medium for rapid growth and bioassays with tobacco tissue cultures. Physiol Plant 15:473–497. doi:10.1111/j.1399-3054.1962.tb08052.x

Notzuka K, Tsuru T, Shiraishi M (2000) Included ployploidy via in vitro chromosome doubling. J Jpn Soc Hortic Sci 69:543–551

Plodeck J (2002) The origin of the daylily cultivar traits. Hemerocallis Lett. 8:22–28

Raghavan V (2003) One hundred years of zygotic embryo culture investigations. In Vitro Cell Dev Biol Plant 39:437–442. doi:10.1079/IVP2003436

Saito H, Mizunashia K, Tanakaa S, Adachia Y, Nakano M (2003) Ploidy estimation in Hemerocallis species and cultivars by flow cytometry. Sci Hortic (Amsterdam) 97:185–192. doi:10.1016/S0304-4238(02)00150-4

Sakhanokho H, Cheatham C, Pounder JC (2004) Evaluation of techniques to induce polyploid daylilies. South Nurs Assoc Proc 49:591–594

Stout AB (1934) Daylilies: the wild species and garden clones, both old and new, of the genus Hemerocallis. Macmillan Press, New York

Tomkins JP, Wood TC, Barnes LS, Westman A, Wing RA (2001) Evaluation of genetic variation in the daylily (Hemerocallis spp.) using AFLP markers. Theor Appl Genet 102:489–496. doi:10.1007/s001220051672
Acknowledgements
This project was funded by grants from Virginia Nursery and Landscape Association and the United States Department of Agriculture, as well as through operating funds provided by the Commonwealth of Virginia.
About this article
Cite this article
Li, Z., Pinkham, L., Campbell, N.F. et al. Development of triploid daylily (Hemerocallis) germplasm by embryo rescue. Euphytica 169, 313–318 (2009). https://doi.org/10.1007/s10681-009-9958-8
Received:

Accepted:

Published:

Issue Date:
Keywords
Polyploidy

Cytology

Flow cytometry

Micropropagation

Tissue culture