Abstract
Evaluations with a uniform plant stand are fundamental for efficient selections in cassava (Manihot esculenta Crantz) breeding. However, it is difficult to correct data of missing plants. The overall objective of this study was to analyze yield losses in agronomic trials and to develop a function that satisfactorily adjusts plot yields affected by a varying number of missing plants. Eight clones were initially evaluated in different locations for five consecutive years. For every genotype, mean plot yields decreased as the number of missing plants increased. Average losses ranged from 10.6 to 78.8% by removing from one to eight plants, respectively. Yields per plant increased significantly when more than four plants were removed due to a compensatory growth effect. Graphic analyses showed that the power function was the best explaining the relationship between fresh root yield and number of harvested plants. A model that properly adjusted yield for all varieties but one is proposed. Hopefully, this formula to adjust yields will help to improve the quality of cassava trials worldwide.
Access options
Buy single article
Instant access to the full article PDF.
US$ 39.95
Tax calculation will be finalised during checkout.
Subscribe to journal
Immediate online access to all issues from 2019. Subscription will auto renew annually.
US$ 119
Tax calculation will be finalised during checkout.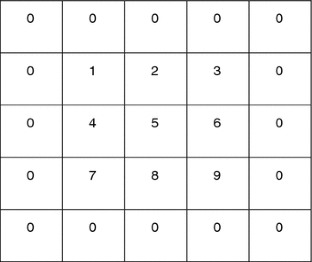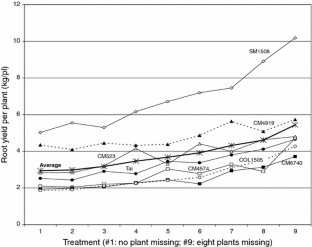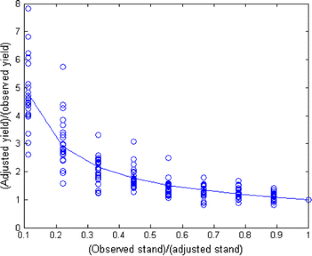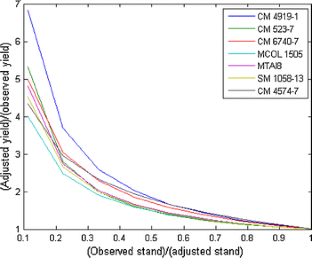 References
Alves AAC (2001) Cassava botany and physiology. In: Hillocks RJ, Thresh JM, Bellotti AC (eds) Cassava: biology production and utilization. CABI Publishing, Wallingford, pp 67–89

Boché S, Lavalle A (2004) Comparación de modelos no lineales, una aplicación al crecimiento de frutos de carozo. Rev Soc Arg Gen 8(1). http://www.s-a-e.org.ar/revista-vol8.htlm

Ceballos H, De la Cruz GA (2002) Taxonomía y Morfología de la Planta. In: Ospina B, Ceballos H (eds) La Yuca en el Tercer Milenio. CIAT, Cali, pp 17–33

Ceballos H, Fregene M, Pérez JC, Morante N, Calle F (2007) Cassava genetic improvement. In: Kang MS, Priyadarshan PM (eds) Breeding major food staples. Blackwell Publishing, Ames, pp 365–391

Gomez KA, De Datta SK (1972) Missing hill in rice experimental plots. Agron J 64:163–164

James WC, Lawrence CH, Smith CS (1973) Yield losses due to missing plants in potato crops. Am Potato J 50(10):345–352

Kamidi RE (1995) Statistical adjustment of maize grain yield for sub-optimal plots stands. Exp Agric 31:299–306

Leihner D (2001) Agronomy and cropping systems. In: Hillocks RJ, Thresh JM, Bellotti AC (eds) Cassava: biology, production and utilization. CABI Publishing, Wallingford, pp 91–113

Mead R (1968) Measurement of competition between individuals plants in a population. J Ecol 56(1):35–45

Milliken GA, Debruin RL (1978) A procedure to test hypotheses for nonlinear models. Commun Stat Theory Methods 7:65–69

Morante N, Moreno X, Pérez JC, Calle F, Lenis JI, Ortega E, Jaramillo G, Ceballos H (2005) Precision of selection in early stages of cassava genetic improvement. J Root Crops 31:81–92

Schmildt ER, Cruz CD, Zanuncio JC, Pereira PRG, Ferrão RG (2001) Avaliação de métodos de correção do estande para estimar a produtividade em milho. Pesq Agrop Bras, Brasilia 36(8):1011–1018

Vencovsky R, Cruz CD (1991) Comparação de métodos de correção do rendimeinto de parcelas com estandes variados, I. Dados Simulados. Pesq Agropec Bras, Brasilia 26(5):647-657

Verones JA, Cruz CD, Correa LA, Scapim CA (1995) Comparação de métodos da ajuste do rendimiento de parcelas con estandes variados. Pesq Agropec Bras, Brasilia 30(2):169–174

Willey RW, Heath SB (1969) The quantitative relationship between corn populations and yield. Adv Agron 21:281–321
About this article
Cite this article
Pérez, J.C., Ceballos, H., Ramírez, I.C. et al. Adjustment for missing plants in cassava evaluation trials. Euphytica 172, 59–65 (2010). https://doi.org/10.1007/s10681-009-0039-9
Received:

Accepted:

Published:

Issue Date:
Keywords
Competition

Experimental error

Missing plants

Compensatory growth