Abstract
Agronomic and fruit quality traits were evaluated and compared for three consecutive years on 1,111 seedlings coming from 15 peach and nectarine breeding crosses, grown under a Mediterranean climate. Significant differences among and within the different progenies were found for most of the traits analyzed. The breeding population segregated for several Mendelian characters such as peach or nectarine fruit, round or flat fruit, yellow or white flesh and freestone or clingstone. In addition, aborting fruit and flat fruit trees were found in our progeny, and our data seem to support multi-allelic control of both flat shape and aborting fruit. The variation within the progenies of some traits such as blooming and harvesting date, yield, fruit weight and SSC was continuous, suggesting a polygenic inheritance. Relationships between qualitative pomological traits and these agronomic and fruit quality parameters were also found. Valuable correlations among agronomic and fruit quality parameters were found, although coefficients of variation depending on the progeny should be considered. In addition, principal component analysis (PCA) revealed several relationships among quality traits in the evaluated progenies. Based on this evaluation, 26 outstanding genotypes were pre-selected from the initial breeding population for further studies.
Access options
Buy single article
Instant access to the full article PDF.
USD 39.95
Price excludes VAT (USA)
Tax calculation will be finalised during checkout.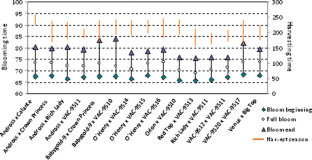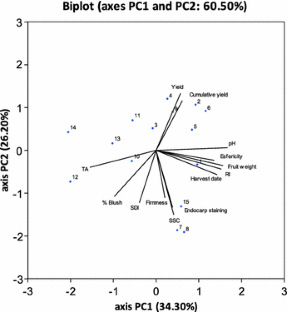 References
AOAC (1984) Official methods of analysis. AOAC, Arlington, p 1141

Badenes ML, Martínez-Calvo J, Llácer G (1998) Analysis of apricot germplasm from the European ecogeographical group. Euphytica 102:93–99

Badenes ML, LLácer G, Crisosto CH (2006) Mejora de la Calidad de Frutales de Hueso. In: Llácer G, Díez MJ, Carrillo JM, Badenes ML (eds) Mejora genética de la calidad en plantas. Sociedad Española de Ciencias Hortícolas y Sociedad Española de Genética, Valencia, pp 551–578

Bassi D, Selli R (1990) Evaluation of fruit quality in peach and apricot. Adv Hortic Sci 4:107–112

Brooks SJ, Moore JN, Murphy JB (1993) Quantitative and qualitative changes in sugar content of peach genotypes [P. persica (L.) Batsch]. J Am Soc Hortic Sci 118:97–100

Brovelli EA, Brecht JK, Sherman WB, Sims CA, Harrison JM (1999) Sensory and compositional attributes of melting- and non-melting-flesh peaches for the fresh market. J Sci Food Agric 79:707–712

Brown AG (1975) Apples. In: Jannick J, Moore JN (eds) Advances in fruit breeding. Purdue University Press, West Lafayette, pp 3–38

Byrne DH (2002) Peach breeding trends. Acta Hortic 592:49–59

Byrne DH (2003) Breeding peaches and nectarines for mild-winter climate areas: state of the art and future directions. In: Marra F, Sottile F (eds) Proceedings of the first Mediterranean peach symposium, Agrigento, Italy, pp 102–109

Byrne DH, Nikolic AN, Burns EE (1991) Variability in sugars, acids, firmness, and color characteristics of 12 peach genotypes. J Am Soc Hortic Sci 116:1004–1006

Cantín CM, Torrents J, Gogorcena Y, Moreno MA (2006) Mejora y selección de nuevas variedades de melocotonero para condiciones del Valle Medio del Ebro. Actas Horticultura 45:209–210

Cantín CM, Gogorcena Y, Moreno MA (2009a) Analysis of phenotypic variation of sugar profile in different peach and nectarine [Prunus persica (L.) Batsch] breeding progenies. J Sci Food Agric 89:1909–1917

Cantín CM, Moreno MA, Gogorcena Y (2009b) Evaluation of the antioxidant capacity, phenolic compounds and vitamin C content of different peach and nectarine [Prunus persica (L.) Batsch] breeding progenies. J Agric Food Chem 57:4586–4592

Caruso T, Sottile F (1999) La peschicoltura autunnale in Sicilia: aspetti ambientali, varietali e colturali. Frutticoltura 2:39–46

Cheng ZP (2008) Classifying criteria for major fruit traits in Prunus persica and correlation analyses among the traits. J Am Pomol Soc 62:110–118

Connors CH (1920) Some notes on the inheritance of unit characters in the peach. Proc Am Soc Hortic Sci 16:24–36

Crisosto CH, Crisosto GM (2005) Relationship between ripe soluble solids concentration (RSSC) and consumer acceptance of high and low acid melting flesh peach and nectarine [P. persica (L.) Batsch] cultivars. Postharvest Biol Technol 38:239–246

Crisosto CH, Johnson RS, Day KR, DeJong T (1997) Orchard factors affecting postharvest stone fruit quality. HortScience 32:820–823

Crisosto CH, Day KR, Crisosto GM, Garner D (2001a) Quality attributes of white flesh peaches and nectarines grown under California conditions. J Am Pomol Soc 55:45–51

Crisosto CH, Slaughter D, Garner D, Boyd J (2001b) Stone fruit critical bruising thresholds. J Am Pomol Soc 55:76–81

Crisosto CH, Crisosto GM, Metheney P (2003) Consumer acceptance of 'Brooks' and 'Bing' cherries is mainly dependent on fruit SSC and visual skin color. Postharvest Biol Technol 28:159–167

Crisosto CH, Garner D, Crisosto GM, Bowerman E (2004) Increasing 'Blackamber' plum (Prunus salicina Lindll) consumer acceptance. Postharvest Biol Technol 34:237–244

Crisosto CH, Crisosto GM, Echeverría G, Puy J (2006a) Segregation of peach and nectarine [P. persica (L.) Batsch] cultivars according to their organoleptic characteristics. Postharvest Biol Technol 39:10–18

Crisosto CH, Crisosto GM, Neri F (2006b) Understanding tree fruit quality based on consumer acceptance. Acta Hortic 712:183–189

Cunha LC, Durigan MFB, Mattiuz BH, Martins RN, Durigan JF (2007) Characterization of the maturation curve in 'Aurora-1' peaches in the region of Jaboticabal SP. Rev Bras Frutic 29:661–665

Dirlewanger E, Pronier V, Parvery C, Rothan C, Guye A, Monet R (1998) Genetic linkage map of peach [P. persica (L.) Batsch] using morphological and molecular markers. Theor Appl Genet 97:888–895

Dirlewanger E, Moing A, Rothan C, Svanella L, Pronier V, Guye A, Plomion C, Monet R (1999) Mapping QTLs controlling fruit quality in peach [P. persica (L.) Batsch]. Theor Appl Genet 98:18–31

Dirlewanger E, Graziano E, Joobeur T, Garriga-Caldere F, Cosson P, Howad W, Arús P (2004) Comparative mapping and marker-assisted selection in Rosaceae fruit crops. Proc Natl Acad Sci USA 101:9891–9896

Dirlewanger E, Cosson P, Boudehri K, Renaud C, Capdeville G, Tauzin Y, Laigret F, Moing A (2006) Development of a second-generation genetic linkage map for peach [Prunus persica (L.) Batsch] and characterization of morphological traits affecting flower and fruit. Tree Genet Genomes 3:1–13

Engel KH, Ramming DW, Flath RA, Teranishi R (1988) Investigation of volatile constituents in nectarines. 2. Changes in aroma composition during nectarine maturation. J Agric Food Chem 36:1003–1006

Esti M, Messia MC, Sinesio F, Nicotra A, Conte L, La Notte E, Palleschi G (1997) Quality evaluation of peaches and nectarines by electrochemical and multivariate analyses: relationships between analytical measurements and sensory attributes. Food Chem 60:659–666

Etienne C, Rothan C, Moing A, Plomion C, Bodénes C, Svanella-Dumas L, Cosson P, Pronier V, Monet R, Dirlewanger E (2002) Candidate genes and QTLs for sugar organic acid content in peach [P. persica (L.) Batsch]. Theor Appl Genet 105:145–159

Falconer DS, Mackay TFC (1996) Introduction to quantitative genetics. Longman, Essex, 464 pp

FAOSTAT (2007) http://www.faostat.fao.org

Fideghelli C, Della Strada G, Grassi F, Morico G (1998) The peach industry in the world: present situation and trend. Acta Hortic 465:29–40

Fleckinger J (1945) Notations phénologiques et représentations graphiques du dévelopment des bourgeons de Poirier. Congrés de Paris de l'Association francaise pour l'avancement des Sciencies, Paris, p 118

Génard M, Bruchou C (1992) Multivariate analysis of within-tree factors accounting for the variation of peach fruit quality. Sci Hortic 52:37–51

Génard M, Souty M, Holmes S, Reich M, Breuils L (1994) Correlations among quality parameters of peach fruit. J Sci Food Agric 66:241–245

Génard M, Reich M, Lobit P, Besset J (1999) Correlations between sugar and acid content and peach growth. J Hortic Sci Biotechnol 74:772–776

George AP, Nissen RJ (1992) Effects of water stress, nitrogen and paclobutrazol on flowering, yield and fruit quality of the low-chill peach cultivar Flordaprince. Sci Hortic 49:197–209

Gurrieri F, Audergon JM, Albagnac G, Reich M (2001) Soluble sugars and carboxylic acids in ripe apricot fruit as parameters for distinguishing different cultivars. Euphytica 117:183–189

Harker FR, Maindonald J, Murray SH, Gunson FA, Hallett IC, Walker SB (2002) Sensory interpretation of instrumental measurements 1: texture of apple fruit. Postharvest Biol Technol 24:225–239

Hilaire C (2003) The peach industry in France: state of art, research and development. In: Marra F, Sottile F (eds) First Mediterranean peach symposium, Agrigento, Italy, pp 27–34

Iglesias I, Echeverría G (2009) Differential effect of cultivar and harvest date on nectarine colour, quality and consumer acceptance. Sci Hortic 120:41–50

Jackson LK, Sherman WB (1980) Peach and nectarine cultivars from the University of Florida breeding program 1950–90. Proc Trop Reg Am Soc Hortic Sci 24:59–62

Jiménez S, Garín A, Albás ES, Betrán JA, Gogorcena Y, Moreno MA (2004) Effect of several rootstocks on fruit quality of 'Sunburst' sweet cherry. Acta Hortic 658:353–358

Kader AA (1994) Fruit maturity, ripening, and quality relationships. Perish Handl Newsl 80:2

Kader AA (2002) Postharvest biology and technology: an overview. In: Kader AA (ed) Postharvest technology of horticultural commodities. University of California Press, Davis, pp 39–47

Kramer A, Twigg BA (1966) Fundamentals of quality control for the food industry. Avi, Westport, p 512

Kunze OR, Aldred WH, Reeder BD (1975) Bruising characteristics of peaches related to mechanical harvesting. Trans ASAE 18:939–945

Lavilla T, Recasens I, López ML, Puy J (2002) Multivariate analysis on maturity stages, including quality and aroma, in "Royal Glory" peaches and "Big Top" nectarines. J Sci Food Agric 82:1842–1849

Lesley JW (1940) A genetic study of saucer fruit shape and other characters in the peach. Proc Am Soc Hortic Sci 37:218–222

Liverani A, Giovannini D, Brandi F (2002) Increasing fruit quality of peaches and nectarines: the main goals of ISF-FO (Italy). Acta Hortic 592:507–514

Lo Bianco R, Rieger M (2006) Carbohydrate metabolism and sink strength in peach. HortScience 41:930

López G, DeJong TM (2007) Spring temperatures have a major effect on early stages of peach fruit growth. J Hortic Sci Biotechnol 82:507–512

Ma R, Yu M, Du P, Guo H, Song H (2003) Evaluation of germplasm resources and breeding of flat peach. Acta Hortic 620:161–167

Marsh K, Attanayake S, Walker S, Gunson A, Boldingh H, MacRae E (2004) Acidity and taste in kiwifruit. Postharvest Biol Technol 32:159–168

Martínez-Calvo J, Llácer G, Cunill M, Duran S, Badenes ML (2006) Programa de mejora de melocotonero del IVIA. Actas Horticultura 45:221–222

Monet R (1979) Transmission génétique du caractère 'fruit doux' chez le pêcher. Incidence sur la sélection pour la qualité. Eucarpia Section, Tree Fruit Breeding, INRA, Angers, pp 273–276

Moreno MA (2005) Selección de patrones y variedades de melocotonero. Vida Rural 206:28–31

Mounzer OH, Conejero W, Nicolás E, Abrisqueta I, García-Orellana YV, Tapia LM, Vera J, Abrisqueta JM, Ruiz-Sánchez MC (2008) Growth pattern and phenological stages of early-maturing peach trees under a Mediterranean climate. HortScience 43:1813–1818

Muñoz C, Sepulveda G, García-Huidolero J, Sherman WB (1986) Determining thermal time and base temperature required for fruit development in low-chilling peaches. HortScience 21:520–522

Nelson KE, Schutz HG, Ahmedull M, McPherso J (1973) Flavor preferences of supermarket customers for Thompson seedless grapes. Am J Enol Vitic 24:31–40

Nicotra A, Conte L, Moser L, Fantechi P (2002) New types of high quality peaches: flat peaches (P. persica var. Platicarpa) and Ghiaccio peach series with long on tree fruit life. Acta Hortic 1–2:131–135

Ogundiwin EA, Gradziel TM, Parfitt DE, Nicolet CM, Dhingra A, Lin D, Slaughter DC, Jasieniuk MA, Crisosto CH (2009) Towards SNP and QTL discovery of peach fruit quality genes. Plant and animal genome XVII conference, San Diego, p 431

Pangborn RM (1963) Relative taste intensities of selected sugars and organic acids. J Food Sci 28:726–733

Quilot B, Kervella J, Génard M (2004a) Shape, mass and dry matter content of peaches of varieties with different domestication levels. Sci Hortic 99:387–393

Quilot B, Wu BH, Kervella J, Genard M, Foulongne M, Moreau K (2004b) QTL analysis of quality traits in an advanced backcross between Prunus persica cultivars and the wild relative species P. davidiana. Theor Appl Genet 109:884–897

Robertson JA, Meredith FI, Russell RB, Scorza R (1989) Physical, chemical and sensory evaluation of high- and low-quality peaches. Acta Hortic 254:155–159

Robertson JA, Horvat RJ, Lyon BG, Meredith FI, Senter SD, Okie WR (1990) Comparison of quality characteristics of selected yellow- and white-fleshed peach cultivars. J Food Sci 55:1308–1311

Ruiz D, Egea J (2008) Phenotypic diversity and relationships of fruit quality traits in apricot (Prunus armeniaca L.) germplasm. Euphytica 163:143–158

Sánchez-Pérez R, Ortega E, Duval H, Martínez-Gómez P, Dicenta F (2007) Inheritance and relationships of important agronomic traits in almond. Euphytica 155:381–391

Sansavini S, Gamberini A, Bassi D (2006) Peach breeding, genetics and new cultivar trends. Acta Hortic 713:23–48

Scorza R, Sherman WB (1996) Peaches. In: Janick J, Moore JN (eds) Fruit breeding. Tree and tropical fruits, vol 1. Wiley, New York, pp 325–440

Tomás-Barberán FA, Gil MI, Cremin P, Waterhouse AL, Hess-Pierce B, Kader AA (2001) HPLC-DAD-ESIMS analysis of phenolic compounds in nectarines, peaches and plums. J Agric Food Chem 49:4748–4760

Valero C, Crisosto CH, Slaughter D (2007) Relationship between nondestructive firmness measurements and commercially important ripening fruit stages for peaches, nectarines and plums. Postharvest Biol Technol 44:248–253

Vargas FJ, Romero MA (2001) Blooming time in almond progenies. Options Méditerranéennes 56:29–34

Wert TW, Williamson JG, Chaparro JX, Miller EP, Rouse RE (2007) The influence of climate on fruit shape of four low-chill peach cultivars. HortScience 42:1589–1591

Wu B, Quilot B, Kervella J, Génard M, Li S (2003) Analysis of genotypic variation of sugar and acid contents in peaches and nectarines through the principal component analysis. Euphytica 132:375–384

Wu BH, Quilot B, Génard M, Kervella J, Li SH (2005) Changes in sugar and organic acid concentrations during fruit maturation in peaches, P. davidiana and hybrids as analyzed by principal component analysis. Sci Hortic 103:429–439

Yamamoto T, Shimada T, Imai T, Yaegaki H, Haji T, Matsuta N, Yamaguchi M, Hayashi T (2001) Characterization of morphological traits based on a genetic linkage map in peach. Breed Sci 51:271–278
Acknowledgements
The authors thank J. Aparicio, J. Torrents, M. Cunill, S. Durán, and M.P. Soteras for technical assistance and E. Igartua for critical reading of the manuscript. This study was supported by the Spanish MICINN (Ministry of Science and Innovation) grants AGL-2005-05533 and AGL-2008-00283, and the Regional Government of Aragón (A44). C.M. Cantín was supported by a FPU fellowship from Spanish MICINN.
About this article
Cite this article
Cantín, C.M., Gogorcena, Y. & Moreno, M.Á. Phenotypic diversity and relationships of fruit quality traits in peach and nectarine [Prunus persica (L.) Batsch] breeding progenies. Euphytica 171, 211–226 (2010). https://doi.org/10.1007/s10681-009-0023-4
Received:

Accepted:

Published:

Issue Date:

DOI: https://doi.org/10.1007/s10681-009-0023-4
Keywords