Abstract
Direct seeding of rice is increasingly being practiced in both rainfed and irrigated areas because of labor shortage for transplanting and opportunities for crop intensification. However, poor crop establishment remains a major obstacle facing its large-scale adoption in areas prone to flooding. Screening of over 8,000 gene bank accessions and breeding lines identified a few tolerant genotypes. One of these, Khao Hlan On, was selected for mapping QTLs associated with tolerance using a backcross population with IR64 as a recurrent parent. Survival of BC2F2 lines varied from 0 to 68%, and averaged about 28%. A linkage map of 1475.7 cM with an average interval of 11.9 cM was constructed using 135 polymorphic SSRs and 1 indel marker. Five putative QTLs were detected, on chromosomes 1 (qAG-1-2), 3 (qAG-3-1), 7 (qAG-7-2), and 9 (qAG-9-1 and qAG-9-2), explaining 17.9 to 33.5% of the phenotypic variation, and with LOD scores of 5.69–20.34. Khao Hlan On alleles increased tolerance of flooding during germination for all the QTLs. Graphical genotyping of the lines with highest and lowest survival verified the detected QTLs that control tolerance and some QTLs co-localize with previously identified QTLs for traits relevant to tolerance, which warrant further studies.
Access options
Buy single article
Instant access to the full article PDF.
US$ 39.95
Tax calculation will be finalised during checkout.
Subscribe to journal
Immediate online access to all issues from 2019. Subscription will auto renew annually.
US$ 119
Tax calculation will be finalised during checkout.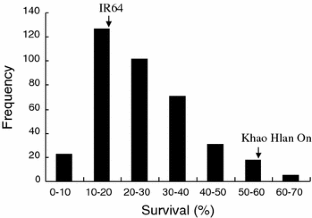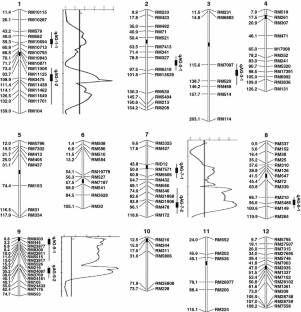 References
Atwell BJ, Waters I, Greenway H (1982) The effect of oxygen and turbulence on elongation of coleoptiles of submergence-tolerant and -intolerant rice cultivars. J Exp Bot 33:1030–1044. doi:10.1093/jxb/33.5.1030

Basten CJ, Weir BS, Zeng Z-B (1997) QTL Cartographer: a reference manual and tutorial for QTL mapping. Department of Statistics, North Carolina State University, Raleigh, NC

Biswas JK, Yamauchi M (1997) Mechanism of seedling establishment of direct-seeded rice (Oryza sativa L.) under lowland conditions. Bot Bull Acad Sin 38:29–32

Cai HW, Morishima H (2002) QTL clusters reflect character associations in wild and cultivated rice. Theor Appl Genet 100:840–846. doi:10.1007/s001220051360

Dilday RH, Mgonja MA, Amonsilpa SA, Collins FC, Wells BR (1990) Plant height vs. mesocotyl and coleoptile elongation in rice: linkage or pleiotropism? Crop Sci 30:815–818

Faris JD, Haen KM, Gill BS (2000) Saturation mapping of a gene-rich recombination hot spot region in wheat. Genetics 154:823–835

Harushima Y, Jano M, Shomura A (1998) A high-density rice genetic linkage map with 2275 markers using a single F2 population. Genetics 148:479–494

Ikehashi H (1973) Studies on the environmental and varietal differences of germination habits in rice seeds with special reference to plant breeding (in Japanese with English summary). J Cent Agric Exp Stan 19:1–60

International Rice Genome Sequencing Project (IRGSP) (2005) The map-based sequence of the rice genome. Nature 436:793–800. doi:10.1038/nature03895

Ismail AM, Ella ES, Vergara GV, Mackill DJ (2009) Mechanisms associated with tolerance of flooding during germination and early seedling growth in rice (Oryza sativa L.). Ann Bot (Lond) 103:197–209. doi:10.1093/aob/mcn211

Jiang L, Ming-yu HW, Ming C, Jian-min W (2004) Quantitative trait loci and epistatic analysis of seed anoxia germinability in rice (Oryza sativa L.). Ric Sci 11(5–6):238–244

Jiang L, Liu S, Hou M, Tang J, Chen L, Zhai H, Wan J (2006) Analysis of QTLs for seed low temperature germinability and anoxia germinability in rice (Oryza sativa L.). Field Crops Res 98:68–75. doi:10.1016/j.fcr.2005.12.015

Kordan HA (1976) Oxygen as an environmental factor in influencing normal morphogenetic development in germinating rice seedlings. J Exp Bot 27:947–952. doi:10.1093/jxb/27.5.947

Li ZK, Pinson SRM, Park WD, Paterson AH, Stansel JW (1997) Epistasis for three grain yield components in rice (Oryza sativa L.). Genetics 145:453–465

Miura K, Lin SY, Yano M, Nagamine T (2002) Mapping quantitative trait loci controlling seed longevity in rice (Oryza sativa L.). Theor Appl Genet 104:981–986. doi:10.1007/s00122-002-0872-x

Neeraja CN, Maghirang-Rodriguez R, Pamplona A, Heuer S, Collard BCY, Septiningsih EM, Vergara G, Sanchez D, Xu K, Ismail AM, Mackill DJ (2007) A marker-assisted backcross approach for developing submergence-tolerant rice cultivars. Theor Appl Genet 115:767–776. doi:10.1007/s00122-007-0607-0

Nievergelt CM, Douglas W, Smith J, Kohlenberg B, Schork NJ (2004) Large-scale integration of human genetic and physical maps. Genome Res 14:1199–1205. doi:10.1101/gr.1475304

Opik H (1973) Effect of anaerobiosis on respiratory rate, cytochrome oxidase activity and mitochondrial structure in coleoptiles of rice (Oryza sativa L.). J Cell Sci 12:725–739

Ota Y, Takemura Y (1970) Rice grain storage and seed dormancy (in Japanese). J Agric Sci Tokyo 25:218–222

Pandey S, Mortimer M, Wade L, Tuong TP, Lopez K, Hardy B (eds) (2002) Direct seeding: research strategies and opportunities. Proceedings of the international workshop on direct seeding in Asia rice systems: strategic research issues and opportunities, 25–28 January 2000, Bangkok, Thailand. International Rice Research Institute, Los Baños, Philippines, p 383

Paterson A, Tanksley S, Sorrels ME (1991) DNA markers in plant improvement. Adv Agron 44:39–90. doi:10.1016/S0065-2113(08)60578-7

Pflieger S, Lefebvre V, Causse M (2001) The candidate gene approach in plant genetics: a review. Mol Breed 7:275–291. doi:10.1023/A:1011605013259

Redoña ED, Mackill DJ (1996) Genetic variation for seedling-vigor traits in rice. Crop Sci 36:285–290

Report of Ministry of Agriculture and Irrigation Union of Myanmar (2004) Rice varieties in Myanmar. Ministry of Agriculture and Irrigation Union of Myanmar, p 333

Septiningsih EM, Prasetiyono J, Lubis E, Tai TH, Tjubaryat T, Moeljopawiro S, McCouch SR (2003) Identification of quantitative trait loci for yield and yield components in an advanced backcross population derived from the Oryza sativa variety IR64 and the wild relative O. rufipogon. Theor Appl Genet 107:1419–1432. doi:10.1007/s00122-003-1373-2

Septiningsih EM, Pamplona AM, Sanchez DL, Maghirang-Rodriguez R, Neeraja CN, Vergara GV, Heuer S, Ismail AM, Mackill DJ (2009) Development of submergence-tolerant rice cultivars: the Sub1 gene and beyond. Ann Bot (Lond) 103:151–160. doi:10.1093/aob/mcn206

Seshu DV, Krishnasamy V, Siddique SB (1988) Seed vigor in rice. In: Rice seed health. Manila (Philippines): International Rice Research Institute, pp 315–329

Siddique SB, Seshu DV, Pardee WD (1988) Rice cultivar variability for accelerated aging of seed. In: IRRI research paper series number 131. Manila (Philippines): International Rice Research Institute, pp 1–7

Takahashi N (1978) Adaptive importance of mesocotyl and coleoptile growth in rice under different moisture regimes. Aust J Plant Physiol 5:511–517

Tripathy JN, Zhang J, Robin S, Nguyen THT (2000) QTLs for cell-membrane stability mapped in rice (Oryza sativa L.) under drought stress. Theor Appl Genet 100:1197–1202. doi:10.1007/s001220051424

van Berloo R (1999) GGT: software for the display of graphical genotypes. J Hered 90:328–329. doi:10.1093/jhered/90.2.328

van Berloo R (2007) GGT: user manual Version 2.0. Wageningen (The Netherlands), Wegeningen University. Available from http://www.plantbreeding.wur.nl/Software/ggt/ggt2_manual.pdf

Xu K, Xia X, Fukao T, Canlas P, Maghirang-Rodriguez R, Heuer S, Ismail AM, Bailey-Serres J, Ronald PC, Mackill DJ (2006) Sub1A is an ethylene response factor-like gene that confers submergence tolerance to rice. Nature 442:705–708. doi:10.1038/nature04920

Yamauchi M, Winn T (1996) Rice seed vigor and seedling establishment in anaerobic soil. Crop Sci 36:680–686

Yamauchi M, Aguilar AM, Vaughan DA, Seshu DV (1993) Rice (Oryza sativa L.) germplasm suitable for direct sowing under soil surface. Euphytica 67:177–184. doi:10.1007/BF00040619

Yamauchi M, Herradura PS, Aguilar AM (1994) Genotype difference in rice postgermination growth under hypoxia. Plant Sci 100:105–113. doi:10.1016/0168-9452(94)90138-4

Young ND (1996) QTL mapping and quantitative disease resistance in plants. Annu Rev Phytopathol 34:479–501. doi:10.1146/annurev.phyto.34.1.479

Zeng ZB (1994) Precision mapping of quantitative trait loci. Genetics 136:1457–1468

Zheng K, Subudhi PK, Domingo J, Magpantay G, Huang N (1995) Rapid DNA isolation for marker assisted selection in rice breeding. Rice Genet Newsl 12:255–258
Acknowledgments
Technical assistance from E. Ella, G. Vergara, R. Maghirang-Rodriguez, A. M. Pamplona, D. Sanchez, and J. Mendoza is gratefully acknowledged. The authors thank Dr. Michael Thomson for helpful comments. The work reported here was supported in part by a grant from the German Federal Ministry for Economic Cooperation and Development (BMZ).
Electronic supplementary material
Below is the link to the electronic supplementary material.
About this article
Cite this article
Angaji, S.A., Septiningsih, E.M., Mackill, D.J. et al. QTLs associated with tolerance of flooding during germination in rice (Oryza sativa L.). Euphytica 172, 159–168 (2010). https://doi.org/10.1007/s10681-009-0014-5
Received:

Accepted:

Published:

Issue Date:
Keywords
Direct seeding

Flooding tolerance

Germination

Oryza sativa L.

QTL mapping