Abstract
Anthracnose, caused by the fungus Colletotrichum sublineolum is one of the most destructive diseases of sorghum and has been reported in most areas where the crop is grown. Several control strategies have been developed but host plant resistance has been regarded as the most effective strategy for disease control. Here, we describe the search for molecular markers that co-segregate with Cg1, a dominant gene for resistance originally identified in cultivar SC748-5. To identify molecular markers linked with the Cg1 locus, F2:3 plants derived from a cross to susceptible cultivar BTx623 were analyzed with 98 AFLP primer combinations. BTx623 was chosen as the susceptible parent because it is also one on the parents used in creating RFLP and AFLP maps and BAC libraries for sorghum. Four AFLP markers that cosegregate with disease resistance were identified, of which Xtxa6227 mapped within 1.8 cM of the anthracnose resistance locus and all four AFLP markers have been previously mapped to the end of sorghum linkage group LG-05. Sequence scanning of BAC clones spanning this chromosome led to the discovery that Xtxp549, a polymorphic simple sequence repeat (SSR) marker, mapped within 3.6 cM of the anthracnose resistance locus. To examine the efficacy of Xtxa6227 and Xtxp549 for marker-assisted selection, 13 breeding lines derived from crosses with sorghum line SC748-5 were genotyped. In 12 of the 13 lines the Xtxa6227 and Xtxp549 polymorphism associated with the Cg1 locus was still present, suggesting that Xtxp549 and Xtxa6227 could be useful for marker-assisted selection and for pyramiding of Cg1 with other genes conferring resistance to C. sublineolum in sorghum.
Access options
Buy single article
Instant access to the full article PDF.
US$ 39.95
Tax calculation will be finalised during checkout.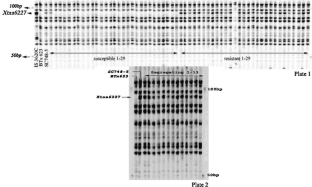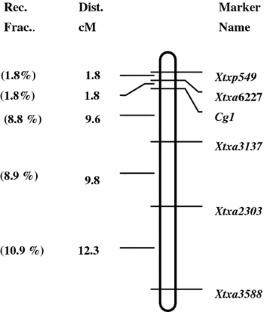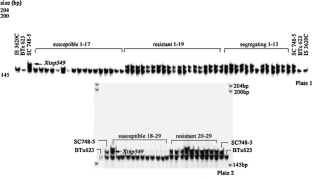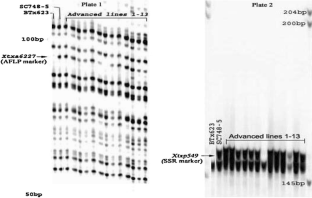 References
Agrama HA, Houssin SF, Tarek MA (2002) Cloning of AFLP markers linked to resistance to Peronosclerospora sorghi in maize. Mol Genet Genomics 267:814–819. doi:10.1007/s00438-002-0713-2

Ali MEK, Warren IIL (1992) Anthracnose of sorghum. In: de Milliano WAJ, Frederiksen RA, Bengston GD (eds) Sorghum and millets diseases: a second world review. ICRISAT, Patancheru, AP, India, pp 203–208

Boora KS, Frederiksen RA, Magill CW (1998) DNA-based markers for a recessive gene conferring anthracnose resistance in sorghum. Crop Sci 38:1708–1709

Boora KS, Frederiksen RA, Magill CW (1999) A molecular marker that segregates with sorghum leaf blight resistance in one cross is maternally inherited in another. Mol Gen Genet 261:317–322. doi:10.1007/s004380050972

Bowers JE, Abbey C, Anderson S, Chang C, Draye X, Hoppe AH et al (2003) A high-density genetic recombination map of sequence-tagged sites for sorghum, as a framework for comparative structural and evolutionary genomics of tropical grains and grasses. Genetics 165:367–386

Cardwell KF (1989) Variation in virulence of Colletotrichum graminicola (Ces.) Wils. and competition between monoconidial isolates. Ph.D. Dissertation, Texas A&M University, College Station, TX

Cardwell KF, Duncan RR, Frederiksen RA (1987) Failure of vertical resistance of selected differential sorghum cultivars due to variations in the population of Colletotrichum graminicola and the relation of rainfall incidence over seven years. Sorghum Newsl 30:82

Coleman OH, Stokes IE (1954) The inheritance of resistance to stalk red rot in sorghum. Agron J 46:61–63

Erpelding JE, Prom LK (2006) Variation for anthracnose resistance within the sorghum germplasm collection from Mozambique, Africa. Plant Pathol J 5:28–34

Gowda PSB, Xu GW, Frederiksen RA, Magill CW (1995) DNA markers for downey mildew resistance genes in sorghum. Genome 38:823–826. doi:10.1139/g95-106

Harris HB, Johnson BJ, Dobson JW Jr, Luttrell ES (1964) Evaluation of anthracnose on grain sorghum. Crop Sci 4:460–462

Jones EM (1979) The inheritance of resistance to Colletotrichum graminicola in grain sorghum, Sorghum bicolor. Ph.D. dissertation Purdue Univ., West Lafayette, IN

Kim JS, Islam-Faridi MN, Klein PE, Stelly DM, Price HJ, Klein RR et al (2005) Comprehensive molecular cytogenetic analysis of sorghum genome architecture: distribution of euchromatin, heterochromatin, genes and recombination in comparison to rice. Genetics 171:1963–1976. doi:10.1534/genetics.105.048215

Klein PE, Klein RR, Cartinhour SW, Ulanch PE, Dong J, Obert JA et al (2000) A high-throughput AFLP-based method for construct-ing integrated genetic and physical maps: progress toward a sorghum genome map. Genome Res 10:789–807. doi:10.1101/gr.10.6.789

Klein RR, Rodriguez-Herrera R, Schlueter JA, Klein PE, Yu ZH, Rooney WL (2001) Identification of genomic regions that affect grain mold incidence and other traits of agronomic importance in sorghum. Theor Appl Genet 102:307–319. doi:10.1007/s001220051647

Klein PE, Klein RR, Vrebalov J, Mullet JE (2003) Sequence-based alignment of sorghum chromosome 3 and rice chromosome 1 reveals extensive conservation of gene order and one major chromosomal rearrangement. Plant J 34:605–621. doi:10.1046/j.1365-313X.2003.01751.x

Kosambi DD (1944) The estimation of map distances from recombination values. Ann Eugen 12:172–175

Kresovich S, Barbazuk B, Bedell JA, Borrell A, Buell CR, Burke J et al (2005) Toward sequencing the sorghum genome. A U.S. National Science Foundation-sponsored workshop report. Plant Physiol 138:1898–1902. doi:10.1104/pp.105.065136

McDonald BA, Linde C (2002) Pathogen population genetics, evolutionary potential, and durable resistance. Annu Rev Phytopathol 40:349–379. doi:10.1146/annurev.phyto.40.120501.101443

Mehta PJ (2002) Genetic Anthracnose resistance genes in sorghum: characterization and molecular markers. Ph.D. dissertation Texas A&M Univ., College Station, TX

Mehta PJ, Wiltse CC, Rooney WL, Collins SD, Frederiksen RA, Hess DE et al (2005) Classification and inheritance of genetic resistance to anthracnose in sorghum. Field Crops Res 93:1–9

Menz MA, Klein RR, Mullet JE, Obert JA, Unruh NC, Klein PE (2002) A high-density genetic map of Sorghum bicolor (L.) Moench based on 2926 AFLP®, RFLP, and SSR markers. Plant Mol Biol 48:483–499. doi:10.1023/A:1014831302392

Messeguer R, Ganal M, de Vicente MC, Young ND, Bolkan H, Tanksley SD (1991) High-resolution RFLP map around the root knot nematode resistance gene (Mi) in tomato. Theor Appl Genet 82:529–536. doi:10.1007/BF00226787

Ngugi HK, Julian AM, King SB, Peacocke BJ (2000) Epidemiology of sorghum anthracnose (Colletotrichum sublineolum) and leaf blight (Exserohilum turcicum) in Kenya. Plant Pathol 49:129–140. doi:10.1046/j.1365-3059.2000.00424.x

Oh BJ, Frederiksen RA, Magill CW (1994) Identification of molecular markers linked to head smut resistance gene (Shs) in sorghum by RFLP and RAPD analyses. Phytopathology 84(8):830–833. doi:10.1094/Phyto-84-830

Pande S, Mughogho LK, Bandyopadhyay R, Karunakar RI (1991) Variation in pathogenicity and cultural characteristics of sorghum isolates of Colletotrichum graminicola in India. Plant Dis 75:778–783

Pastor-Corrales MA (1980) Variation in pathogenicity of Colletotrichum graminicola (Cesati) Wilson and in symptom expression of anthracnose of Sorghum bicolor (L.) Moench. Ph.D. Dissertation, Texas A&M University, College Station, TX

Pauli AW, Stickler FC, Lawless JR (1964) Developmental phases of grain sorghum as influenced by variety, location and planting date. Crop Sci 4:10–13

Powell P, Ellis M, Alaeda M, Sotomayer AM (1977) Effect of natural anthracnose epiphytotic on yield, grain quality, seed health and seed borne fungi in Sorghum Bicolor. Sorghum Newsl 20:77–78

Reyes L, Frederiksen RA, Thakur HJ (1969) Anthracnose incidence on grain sorghum in the South Texas Costal Bend area in 1968. In: Proceedings of the Sixth Biennial Grain Sorghum Research and Utilization Conference, Amarillo, TX. 5–7 Mar 1969. Grain Sorghum Producers Association. Lubbock, TX, pp 8–9

Rosenow DT, Frederiksen RA (1982) Breeding for disease resistance in sorghum. In: House LR, Mughogho LK, Peacock JM (eds) Sorghum in the Eighties. Proc of the International Symposium on Sorghum, Pantancheru, AP, India. 2–7 Nov 1981. ICRISAT, Patancheru, AP, India, pp 447–455

Sheriff C, Whelan MJ, Arnold GM, Bailey JA (1995) rDNA sequence analysis confirms the distinction between Colletotrichum graminicola and C. sublineolum. Mycol Res 99:475–478

Singh M, Chaudhary K, Singal HR, Magill CW, Boora KS (2006) Identification and characterization of RAPD and SCAR markers linked to anthracnose resistance gene in sorghum [Sorghum bicolor (L.) Moench]. Euphytica 149:179–187. doi:10.1007/s10681-005-9065-4

Sutton BC (1980) The Coelomycetes. Commonwealth Mycological Institute, Kew, UK, p 696

Tenkouano A (1993) Genetic and ontogenic analysis of anthracnose resistance in Sorghum bicolor (L.) Moench. Ph.D. Dissertation, Texas A&M University, College Station, TX

Thakur RP, Mathur K (2000) Anthracnose. In: Frederiksen RA, Odvody GN (eds) Compendium of sorghum diseases. The American Phytopathological Society, St Paul, Minneapolis, MN

Thomas MD, Sissoko I, Sacco M (1995) Development of leaf anthracnose and its effect on yield and grain weight of sorghum in West Africa. Plant Dis 80:151–153

Van Dommelen A, Keijers V, Somers E, Vanderleyden J (2002) Cloning and characterisation of the Azospirillum brasilense glnD gene and analysis of a glnD mutant. Mol Genet Genomics 266:813–820. doi:10.1007/s00438-001-0598-5

Warren HL (1986) Leaf anthracnose. In: Frederiksen RA (ed) Compendium of sorghum diseases. The American Phytopathological Society, St. Paul, Minneapolis, MN, pp 10–11

Wharton PS, Julian AM, O'Connell RJ (2001) Ultrastructure of the Infection of Sorghum bicolor by Colletotrichum sublineolum. Phytopathology 91(3):149–157. doi:10.1094/PHYTO.2001.91.2.149

Wiltse CC (1998) A survey of anthracnose resistant sorghum germplasm lines to identify additional resistance genes. M.S. Dissertation, Texas A&M University, College Station, TX
About this article
Cite this article
Ramasamy, P., Menz, M.A., Mehta, P.J. et al. Molecular mapping of Cg1, a gene for resistance to anthracnose (Colletotrichum sublineolum) in sorghum. Euphytica 165, 597 (2009). https://doi.org/10.1007/s10681-008-9791-5
Received:

Accepted:

Published:
Keywords
Anthracnose disease

Molecular markers

Genetic Map

BAC